Hello --
Welcome to Issue
#233
of the
Social Work E-News!
Thank you for subscribing to receive this email newsletter, which is brought to you by the publisher of
The New Social Worker
magazine,
SocialWorker.com
,
SocialWorkJobBank.com
, and other social work publications.
First and foremost, I hope this issue of the E-News finds you safe and well. Since our last issue, the COVID-19 pandemic has had major impacts on us, our profession, and the people social workers serve. It is a time of extreme stress for everyone. It affects social workers in some unique ways, and we also know that it will and already is amplifying many inequities and social injustices in our society.
I want to commend every social worker working throughout this pandemic, whether you have moved to electronic communication (and all that entails) with clients and co-workers, or you are on the front lines responding to in-person needs in settings such as child protection, hospital social work, and others.THANK YOU for all you are doing.
The New Social Worker
has been working to provide information that is helpful to social workers in navigating issues related to the pandemic. You can find our
COVID-19 page here
. More will be included in our Spring/Summer issue, coming out soon.
We observed Social Work Month in March. I hope you'll take time to look at our
Social Work Month 2020
pages, as we had great contributions this year.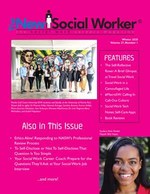 Here's a

quick link

for immediate download of the PDF edition for Winter 2020:
Highlights: responding to NASW's professional review process, self-disclosure, travel social work, preparing for job interview questions, self-care apps, and more. See listing below (after the "Featured Excerpt").
---
Have you subscribed to our mailing lists? You can go to
http://www.socialworker.com/Subscribe_to_The_New_Social_Worker
and
subscribe (free)
to receive an email reminder and table of contents of each issue of
The New Social Worker
magazine when it is available. If you are a subscriber to the E-News (which you are reading now), this does NOT mean that you are automatically subscribed to
The New Social Worker
magazine.
They are two different publications.
Are you one of our
180,000

+
fans on
Facebook
? Connect with us—we love connecting with you!
Until next time,
Linda Grobman, ACSW, LSW
Publisher/Editor
THE NEW SOCIAL WORKER®
April marks several observances, including but not limited to:
National Child Abuse Prevention Month
Sexual Assault Awareness Month
Autism Awareness Month
National Poetry Month
Job Corner/Current Job Openings
Recently Posted Jobs on SocialWorkJobBank.com (Click to see full job postings)
Find jobs
for new grads and experienced social work practitioners at
http://www.socialworkjobbank.com
, THE NEW SOCIAL WORKER's online job board and career center.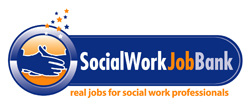 If you or your agency are
hiring social workers,
don't forget to post your jobs on SocialWorkJobBank.com. Please check the SocialWorkJobBank
"products/pricing" page
for job posting options and SPECIAL offers. 
Job seeker services are FREE—including
searching current job openings
, posting your confidential résumé/profile, and receiving email job alerts. Please let employers know that you saw their listings in the SOCIAL WORK E-NEWS and at SocialWorkJobBank.com.
Safety and COVID-19 in Our Professional Social Work Roles: Responsibilities, Rights, and Resources
Editor's Note: This excerpt is from THE NEW SOCIAL WORKER's website. Read the complete article at:
by Erlene Grise-Owens,  Ed.D., LCSW, MSW, MRE, and Linda May Grobman, MSW, ACSW, LSW
We hear you. Social workers are experiencing anxiety (rightfully so) about basic safety in professional roles during the COVID-19 pandemic. This perilous time has moved a basic premise of self-care, i.e., safety, to the forefront. Here, we provide an initial response, with resources, to help. Please, share your experiences and suggestions. And we'll continue to update as this complex situation evolves.
Supervisors and Administrators: Please, use this response to inform your actions and advocacy with the organization to protect your staff - which has reverberating effects.  
All Professionals:  You may be experiencing directives that put you at risk or confusion about expectations. Please, use this message to consider your actions, inform your supervisor and colleagues, and advocate for your safety and the safety of those around you.
Safety Is a Basic Need
In a time of crisis, it is tempting to forego basic needs. However, remember that your physical safety (as well as psychological) is paramount. Bluntly, you cannot continue to serve clients if your health is compromised or even results in your death. Keeping this mindset may seem morbid; but, it is necessary. 
You are not being unrealistic to expect that your safety is prioritized. As with all self-care, this mindset is not being selfish or unprofessional. Actually, your self-care/safety impacts your ability to provide ethical, competent services. For instance, if you aren't protected, you're putting those with whom you have contact (your family, clients, colleagues, and so forth) at risk. 
By now, we have all heard the guidelines for "flattening the curve" to minimize the risk of getting and/or spreading the coronavirus. Keep a physical distance of at least six feet from others. Wash your hands for at least 20 seconds (you can sing a song or recite a mantra to time yourself) with soap and water, and do it often. Avoid touching your face with unwashed hands.
The safest and recommended (in some cases, required) course of action is to stay home except for "essential" activities. Many, if not most, "non-essential' workplaces (for-profit, nonprofit, and government), by state or local order or voluntarily, have closed physical locations for the safety of both employees and customers/clients.
Social workers are providing essential services from home, using telehealth and other technology. For those in workplaces such as health care, domestic violence, and child welfare agencies, "essential" usually means going into homes, as well as medical and other settings. We are hearing alarming reports of shortages of personal protective equipment (PPE), putting health care workers - including social workers - at risk.
We have deep respect and appreciation for all you are doing. Your safety is important to us. You are important.
Read the rest of this article at:
Selected articles from the Winter 2020 issue:
You receive a notice that someone has issued a request for professional review, claiming you have breached the NASW Code of Ethics. What are your next steps? This is Part 2 of a 2-part series.
The social work literature typically frames self-disclosure as a complex and controversial use-of-self practice. Inquiring minds still want to know: "Should I do it or not?" That question is too simple.
Travel social workers work at short-term assignments in a variety of locations. Travel allows much time for self-reflection and growth.
Be ready for various interview formats and behavioral interviewing. Your Social Work Career Coach Jennifer Luna provides sample interview questions to help you prepare for your social work job interview.
Stephen asked social workers on Twitter what self-care apps they use. Most common were meditation and fitness apps.
Military spouses in social work face challenges such as needing to learn new local resources every few years, licensure mobility, and frequent termination with clients.
Art is a powerful means of expression. These three art pieces by social work educator Wendy Turner address issues of racism, homophobia, and sexism.
For the full Table of Contents and full text of all articles in this issue, please
download the PDF.
Share With the Profession
Write for THE NEW SOCIAL WORKER
I am seeking a limited number of articles for THE NEW SOCIAL WORKER website and magazine. Is there an issue that you are passionate about that corresponds with an upcoming "awareness" month, week, or day; holiday; or time of year/season? Or an issue you have experienced as a social worker or social work student that you would like to share with peers? These are good places to start to identify a topic for a timely article for our website.
In addition, we are accepting articles of up to 500 words for our website on issues related to the COVID-19 pandemic.
For the magazine, we are seeking articles on social work career development, field placement issues, and fields of practice.
Our style is conversational and educational, and web articles typically run 500-750 words. Feature articles typically run 1,250-1,500 words. We want positive articles that social workers can use to help them advance in their careers.
I also welcome submissions of poetry, photographs, illustrations, artwork, videos, audio, and other creative work depicting social work and related topics.
Submit articles to Linda Grobman with a subject line that says "Submission—(insert title or topic of submission)." Attach your submission as a Word file. Please include in this file: title of submission, your name as you want it to appear with your article, body of your submission, a brief bio about yourself.  I will then review your submission and let you know if I need anything else and/or whether it is accepted for publication.
Please email
Linda Grobman
with ideas for longer (1,250-1,500 words) "feature articles" for
THE NEW SOCIAL WORKER
magazine.
Thank you!
Special for the Social Work E-News
Five Questions To Ask Yourself Before Starting a Nonprofit Corporation
by Gary M. Grobman, Ph.D.
Each year, hundreds of thousands of individuals apply to their state corporation bureaus to create nonprofit organizations, and more than a hundred thousand apply to the Internal Revenue Service for federal tax-exempt status—most under Section 501(c)(3) of the Internal Revenue Code. Almost all applications are approved routinely.  The IRS disapproved only 45 of 86,672 501(c)(3) applications in FY 2018, with approval of 7,682 delayed for one reason or another. State applications are also, for the most part, approved routinely upon payment of a fee and filing of Articles of Incorporation.
Yet, many who create these organizations feel blindsided by the limitations of this form of business organization. Often, the organization founder has a vision of accomplishing a specific purpose in a particular way. It is not unusual for the individual creating a nonprofit organization to spend many more hours dealing with the internal affairs of running the corporation—such as developing bylaws, finding board members, raising money, submitting government accountability forms, and building a website—than engaging in tasks that directly relate to the organization's charitable mission.
Incorporation comes with many advantages—among them limited liability, tax advantages, perpetual life of the organization beyond the life of the founder, and the strength that comes from decision-making by a group of board members rather than a single person. Incorporation, particularly when accompanied by federal tax-exempt status, provides the public with a signal that there is some degree of accountability and transparency required—often necessary for public support and acceptance.
But with these advantages come disadvantages.
1. Loss of Centralized Control
Many organizations are formed and run by a charismatic leader with a vision of how to accomplish a particular task or mission.  However, in a nonprofit corporation, decisions can no longer be made in a vacuum by one person without oversight or accountability. Instead, they are legally under the purview of a board of directors. Decisions have to withstand scrutiny of all persons on the board, some of whom may be hostile or have personal axes to grind. By definition, boards of directors are committees, and committees often make decisions that are compromises to mollify members with divergent viewpoints and competing interests.
For those used to making quick decisions "on the fly" and who revel in not having to answer to anyone, incorporation can be a personally shackling experience and can dilute one's control over the organization.
2. Paperwork, Paperwork, Paperwork
Even in the smallest nonprofit corporation, the paperwork load related to corporate status can at times be overwhelming. There are deadlines for virtually every filing. Keeping ahead of the paperwork wave requires discipline, commitment, and a sense of humor. Forms get misfiled or otherwise lost in the bureaucracy or mail.
3. Expenses in Money and Time
Significant resources are required to establish a corporation and run it efficiently. No law prohibits running a corporation from one's home with a staff of volunteers. Legally, the only monetary requirement is to pay a fee to file Articles of Incorporation. Yet, incorporating often sets off a chain of events that dramatically increases the organization's complexity. Opening up corporate bank accounts, doing expense reports, filing taxes, and doing the paperwork described above are difficult tasks to accomplish solely with volunteer labor. Raising the funds necessary to hire a person to do all of this work—in addition to coordinating the work related to carrying out the mission of the organization itself—adds to this burden and requires even more filing and paperwork.
Many of these tasks would be required even in the absence of a decision to incorporate. One can avoid much of the "wasted" time and energy by keeping "small," but this places a substantial limit on what one can accomplish. Experiencing the disadvantages of incorporation is the cost one incurs to receive the substantial benefits.
Nonprofits and Private Benefit
Generally, nonprofits must operate differently and with different motivations from those of their for-profit counterparts. There is a general legal doctrine that prohibits nonprofits from acting in a manner that results in "private inurement" to individuals, i.e., the transfer of earnings or profits from the corporation to its "owners." The basic principle at work here is that a for-profit is intended to benefit its owners, whereas a nonprofit is intended to further a purpose.
The decision to incorporate is a mere formality for most leaders who envision a large organization with employees, contracts, offices, property, and equipment. Maintaining an unincorporated organization with annual revenue and expenditures comfortably in five figures is cumbersome, at best, if not impossible. It is at the low end of the scale where the decision to incorporate is most important.
It would be ludicrous to consider incorporation for the Saturday morning running group get-together, which collects two dollars from each of its eight members to pay for the refreshments after the run. Yet, when the group expands to 300 members, dues are collected to finance a race, the municipality demands that the club purchase insurance to indemnify against accidents, and the club wants a grant from an area foundation to purchase sophisticated race timing equipment with the intention of renting it to organizations that are hosting local 5K race fundraisers, then incorporation is clearly the option of choice.
For anyone who wants to address a social problem (and what social worker hasn't considered this at some point?), starting up a formal nonprofit organization is just one option. The questions below are presented to help you explore whether nonprofit corporation status is the right option for you, or whether there is a better structure to achieve your goals.
1. What is the specific mission I hope to accomplish, and is there really a need for this in my community?
Is there an existing organization that could accomplish what you want? You might consider approaching that organization to advocate for providing the service you feel is needed. Or perhaps advocate for that organization being a fiscal sponsor (see
https://nonprofitquarterly.org/fiscal-sponsorship-a-balanced-overview/
) so you can manage the particular service under the management of that established organization. Or volunteer to write a grant for an existing organization that will fund the services you seek that are currently unavailable. At a minimum, you might get some ideas about what some of the pitfalls might be of providing services to your targeted service recipients.
2. Is there another way to accomplish what I intend without forming a nonprofit corporation?
Although most states regulate fundraising (39 and the District of Columbia, at last count), almost every state that does regulate nonprofits has a "small potatoes" exemption. That provision permits you to create an informal organization (or none at all) and simply raise small amounts of money, typically $25,000 or less annually (such as by creating a GoFundMe page) and avoiding all of the administrative tasks of creating a formal nonprofit corporation. Keep in mind that the liability protections provided by corporate status alone may justify pursuing the incorporation option.
3. Am I willing to accept the legal limitations that apply to nonprofit corporations?
Am I willing to accept the legal limitations that apply to nonprofit corporations, such as accountability, the traditional bifurcation of governance (by a volunteer board) and management (by paid staff), and the prohibition against inurement? Many who have a vision for a nonprofit organization chafe at the thought of a board of individuals having the authority to govern the organization and make decisions (including firing them, if they assume the role of CEO rather than board chair), with the power to overrule by majority vote what the founder wants to do. If you must have complete control over all activities, then incorporation may be too frustrating for you.
4. Can I raise sufficient funds to support the infrastructure of the organization for startup when income is not likely to be high during the initial years?
Do I have confidence that I can raise sufficient funds to support the infrastructure of the organization for startup when income is not likely to be high during the initial years? Startup costs for a nonprofit corporation may be high (salaries, benefits, rent, insurance, office equipment, government fees, marketing costs, among others). It can take some time before grantmanship, donations, and client fees catch up to expenses. Hundreds of nonprofit corporations fail each year (as do organizations of all types) because of unrealistic cash-flow projections.
5. Am I treading on someone else's turf? Can I compete successfully for board members, funding, volunteers, and clients?
Established nonprofits typically have substantial political capital in the form of board members, clients, donors, volunteers, and other stakeholders. If they perceive your organization as a threat rather than as a potential collaborator, they may actively make it difficult for you to achieve the purpose for which you are forming the organization. If you are sincere in forming the organization to achieve a particular mission, it makes sense to approach like-minded organizations for assistance and advice. There may be good reasons an existing organization has decided not to provide services to a particular segment of their constituency that you believe needs to be served. At a minimum, it is counterproductive to have an established organization oppose what you are doing, even if you perceive their fear of being threatened as baseless.
Gary M. Grobman, Ph.D., is Special Projects Director for White Hat Communications and the author of
T
he Nonprofit Handbook
(8th Edition) and other nonprofit management books published by White Hat Communications. He served as the executive director of a statewide 501(c)(4) advocacy nonprofit for 13 years.
LOOKING FOR MEANINGFUL READING MATERIAL?

Days in the Lives of Social Workers: 62 Professionals Tell "Real-Life" Stories From Social Work Practice (5th Edition)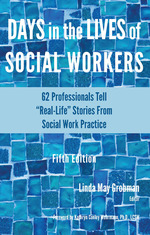 LOVE TO READ ABOUT WHAT SOCIAL WORKERS ARE DOING?
Spend a day with social workers in 62 different settings, and learn about the many career paths available to you. Did you ever wish you could tag along with a professional in your chosen field, just for a day? DAYS IN THE LIVES OF SOCIAL WORKERS allows you to take a firsthand, close-up look at the real-life days of 62 professional social workers as they share their stories. Join them on their journeys, and learn about the rewards and challenges they face.
"While the broadness of social work is what brings many people into the profession, at times it can be overwhelming. Fortunately, we have Linda May Grobman to help social workers navigate their careers through the eyes of those with real life experience. The 5th edition of Days in the Lives of Social Workers includes traditional and non-traditional career paths that offer a practical and realistic snapshot of the diverse fields of social work. An added bonus is the updated list of professional organizations, web resources, and social media, blogs and podcasts. This is a must have for social workers at any stage in their career!"
Jennifer Luna, MSSW
Director, Dinitto Career Center
The University of Texas at Austin, Steve Hicks School of Social Work
---
The A-to-Z Self-Care Handbook for Social Workers and Other Helping Professionals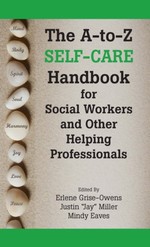 STAY ON TRACK WITH A SELF-CARE PLAN!
The A-to-Z format in this book provides 26 practical strategies for your personal self-care plan. Learn how to make a SMART plan and keep yourself accountable. Easy to read and essential for any social worker or helping professional.
---
BEDTIME READING/GIFTS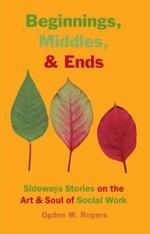 BEGINNINGS, MIDDLES, & ENDS: SIDEWAYS STORIES ON THE ART & SOUL OF SOCIAL WORK
A DELIGHTFUL GIFT FOR SOCIAL WORKERS AT ANY STAGE IN THEIR CAREERS
With just the right blend of humor and candor, each of these stories contains nuggets of wisdom that you will not find in a traditional textbook. They capture the essence and the art and soul of social work.
---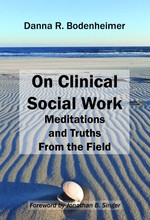 Available in Paperback and Hardcover: ON CLINICAL SOCIAL WORK: MEDITATIONS AND TRUTHS FROM THE FIELD
is Dr. Danna Bodenheimer's NEWEST book.

A MEANINGFUL AND BEAUTIFUL GIFT
The beautiful, full-color book - now in paperback and hardcover - makes a meaningful gift for you, a student, or a colleague.
Jonathan Singer of the Social Work Podcast wrote the foreword to this book, and he said, "Danna pays attention to life's details with a psychotherapist's insight and writes about them with the passion of a slam poet. She speaks to the soul of social work and inspires us to think about more than just social work."
Jonathan B. Singer, Ph.D., LCSW, Associate Professor, Loyola University Chicago, Founder and host, Social Work Podcast
---
White Hat Communications, publisher of THE NEW SOCIAL WORKER magazine and the Social Work E-News, has published several
books about social work
. These books make great gifts (for graduation, holidays, or other occasions) for yourself, or for your friends, students, and colleagues in social work!
ADDITIONAL INFORMATION

Find more information on our secure online catalog at:
Most of our publications are available at
Amazon.com
and other bookstores. (Some are available in Kindle format, as well as print.)
Most of our books are also available as ebooks at
VitalSource
.
---
Network with us:
Make sure you don't miss your copy of the Social Work E-News!
Your email program may sometimes think an email that you really want to read is unwanted and send it to your "junk" folder. To make sure you receive the Social Work E-News in your inbox, add newsletters@socialworkermail.com to your email program's safe sender list, or ask your organization's Information Technology department to whitelist it.

IN THIS ISSUE
Editor's Eye
This Month

Job Corner/Current Job Openings

Featured Excerpt

Share With the Profession
Specia for the Social Work E-News

Reminders

NEWSLETTER NECESSITIES
You have subscribed to receive this free newsletter.
To unsubscribe, follow the "unsubscribe" link at the bottom of this newsletter. To change the address for your subscription, please use the "change email address" link at the bottom of this newsletter.

ABOUT THIS NEWSLETTER
THE NEW SOCIAL WORKER® SOCIAL WORK E-NEWS is published by:
White Hat Communications (publisher of THE NEW SOCIAL WORKER® magazine and THE NEW SOCIAL WORKER® ONLINE)
Harrisburg, PA 17110-0390
Advertising: To place a job listing, sponsor this newsletter, place a banner ad on our website, or advertise in THE NEW SOCIAL WORKER magazine, email lindagrobman@socialworker.com for rates and further information.
News: Please send brief social work-related news items to lindagrobman@socialworker.com for consideration.
PRIVACY
Your subscription email address will only be used to deliver this e-newsletter and to occasionally inform you of updates from its publisher. Your email address will not be given to anyone else or used for any other purpose as a result of your subscription to this newsletter.
Copyright 2020 White Hat Communications. All rights reserved. Permission is granted to forward this entire newsletter, with all information intact, by email to social work colleagues, students, and others interested in social work, for personal use only. You may also print out this newsletter for personal use. All other uses of this material require permission from the publisher at: lindagrobman@socialworker.com