Hello --
Welcome to Issue #204 of the Social Work E-News! Thank you for subscribing to receive this email newsletter, which is brought to you by the publisher of The New Social Worker magazine, SocialWorker.com, SocialWorkJobBank.com, and other social work publications.
Veterans Day was observed this past weekend. We appreciate all who have served and continue to serve. The Department of Veterans Affairs (VA) is one of the largest employers of social workers, with more than 8,000 employed throughout the system. Rachel Dietkus Miller wrote a great article about reasons to consider a VA social work career. Read:
11 Excellent Reasons To Consider VA for Your Social Work Career
.
Thanksgiving is only a week and a half away. I send you good wishes, and I am thankful that you are a part of our social work community. Erlene Grise-Owens wrote about gratitude for her Self-Care A-to-Z blog this month. Read:
Gratitude as Focus, Frame, and Fuel for Self-Care
. And Danna Bodenheimer has an important perspective on gratitude and forgiveness at the holidays, in her piece from last year. Read:
Saying No to Gratitude and Forgiveness
.
Reminder: Our Fall issue is out! This issue includes some important articles for all social workers summarizing the NEW NASW Code of Ethics (taking effect January 1) and the new standards for technology in social work practice. If you have not yet read these articles and the related documents, please do! Other highlights include articles on interrupting Islamophobia, resilience for social workers, female genital cutting, making the most of your time as a social work student, asking for professional references, and more.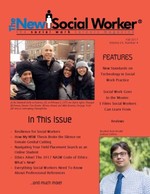 Here's a

quick link

for immediate download of the PDF edition for Fall 2017:
Most articles from the fall issue can be read on our website, as well. See listing below (after the "Featured Excerpt").
---
---
If you go to our
website
, you will see a small red icon in the lower right corner. (It may only show in certain browsers.) This is a new feature that allows you to subscribe to notifications, if you choose to do so. Click on the icon to sign up and stay up to date on new articles and other news from
The New Social Worker.
Have you subscribed to our mailing lists? You can go to
http://www.socialworker.com/Subscribe_to_The_New_Social_Worker
and
subscribe (free)
to receive an email reminder and table of contents of each issue of
The New Social Worker
magazine when it is available. If you are a subscriber to the E-News (which you are reading now), this does NOT mean that you are automatically subscribed to
The New Social Worker
magazine.
They are two different publications.
Are you one of our

167,000

+

fans on Facebook? Connect with us—we love connecting with you!
Until next time,
Linda Grobman, ACSW, LSW
Publisher/Editor
THE NEW SOCIAL WORKER®
Networking:
Become a leader in social work
 
At Loyola University Chicago, you can advance your career while creating change in the lives of those you help. Ranked among the top 25 percent of graduate programs in the country by U.S. News and World Report, Loyola's School of Social Work offers access to more than 300 field placements and countless opportunities to learn from our experienced faculty. 

Graduate students can expect:


Small class sizes
Explorative discussions
A collaborative environment
Expert faculty with a wide range of specialties

All admitted students are automatically considered for Loyola scholarships—and can apply to more than 20 external awards. Approximately 10 to 15 percent of students are awarded a scholarship totaling $9,500. Start at Loyola—and empower yourself and your world.

Register for an online information session
Tuesday, November 21 • Noon CST
---
BEDTIME READING/GIFTS FOR SOCIAL WORK GRADUATES
Now in Paperback and Hardcover!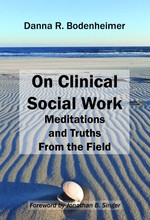 ON CLINICAL SOCIAL WORK: MEDITATIONS AND TRUTHS FROM THE FIELD
is Dr. Danna Bodenheimer's NEW book. Published in July by The New Social Worker Press, it  reached #1 in new social work releases on Amazon.
The beautiful, full-color book - now in paperback
and
hardcover - makes a meaningful gift for you, a student, or a colleague.
It is

available
now
at
Amazon
and
Barnes and Noble
(and other bookstores, too).
Jonathan Singer of the Social Work Podcast wrote the foreword to this book, and he said, "Danna pays attention to life's details with a
psychotherapist's insight
and writes about them with the
passion of a slam poet.
She speaks to the soul of social work and inspires us to think about more than just social work."
Jonathan B. Singer, Ph.D., LCSW, Associate Professor, Loyola University Chicago, Founder and host, Social Work Podcast
---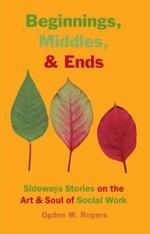 What does a life in social work look like?
You might look at it as a series of "sideways" stories! "If life were black and white, we'd have no need for social work." Read Ogden Rogers' collection,
Beginnings, Middles, & Ends: Sideways Stories on the Art & Soul of Social Work.
Available on
Amazon.com
(print and Kindle), Google Play (e-book), directly from the
publisher
, and other bookstores.
Do you know a social worker or social work student who loves to read? This book is a welcome retreat from academic textbooks.
Beginnings, Middles, and Ends by Ogden W. Rogers is a thought-provoking book about the evolution of the author's career in the field of social work. The real-life stories are whimsical as well as enlightening. You follow the yellow brick road of a social work career and feel the passion and dedication that is required of those who are engaged in the social work profession.... A great read for anyone entering the profession, or if you are involved and feel your passion flickering, this book will surely re-ignite your love. --Mildred Mit Joyner, MSW, LCSW, Emerita Director and Professor of Social Work, West Chester University of Pennsylvania
---
Real World Clinical Social Work: Find Your Voice and Find Your Way
A ground-breaking book by Dr. Danna Bodenheimer, LCSW, from The New Social Worker Press
ISBN: 978-1-929109-50-0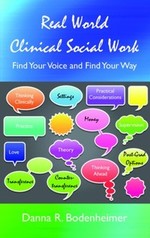 223 pages
Available now at:
"Danna Bodenheimer has written an insider's guide to clinical social work that doesn't make the reader feel like an outsider. This book is the clinical supervisor you always wanted to have: brilliant yet approachable, professional yet personal, grounded and practical, yet steeped in theory, and challenging you to dig deeper." Jonathan B. Singer, Ph.D., LCSW, Associate Professor of Social Work, Loyola University Chicago, Founder and Host, Social Work Podcast
---
The A-to-Z Self-Care Handbook for Social Workers and Other Helping Professionals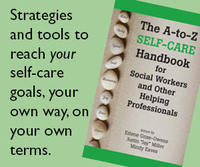 The A-to-Z format in this book provides 26 practical strategies for your personal self-care plan. Learn how to make a SMART plan and keep yourself accountable. Easy to read and essential for any social worker or helping professional.
ISBN: 978-1-929109-53-1
---
Advertise With Us
If you would like to reach our audience of 47,000+ social workers and others interested in social work with information about your program or social work-related product, please contact Linda for information on advertising in THE NEW SOCIAL WORKER, the Social Work E-News, or on our website at SocialWorker.com.
November marks several observances, including but not limited to:
National Hospice and Palliative Care Month
National Adoption Awareness Month
National Alzheimer's Disease Awareness Month
Veterans Day (November 11)
Great American Smokeout (November 16)
Resilience for Social Workers: How To Increase Flexibility, Energy, and Engagement in the Face of Challenge

Editor's Note: This excerpt is from the Fall 2017 issue of THE NEW SOCIAL WORKER. Read the complete article at:
by Elizabeth Whitney, MSW, LICSW
I arrive at the conference center tired and distracted, aware of the gnawing anxiety that has been with me since starting my new job months earlier. "Who am I—feeling this way—to be teaching about resilience?" I wonder. As I scan the presentation space, taking deep breaths to calm my nerves, I also remember, "Who else?"
Resilience is not about eliminating anxiety, fear, or uncertainty. Cultivating resilience allows us to face these and other stressful experiences with greater confidence, so we have the resources to bounce back. This article provides an introduction to tools and resources for building resilience and working with, rather than avoiding or distancing from, the realities that confront us.
Social work, practiced conscientiously, is a practice of the head and the heart. Effective social work demands deep engagement at all levels of intervention. To do this work requires presence, self-knowledge, acceptance, and flexibility. One has to be willing to "not know," even when having practiced for a long time. To do this work demands tenacity in the face of imperfect systems and inadequate funding. Grounded in a commitment to serve often-marginalized individuals, families, and communities, a career as a social worker may also bring a host of challenges, including the increasingly trying conditions within which we work.
To address these realities, workshops and articles on stress reduction, avoidance of compassion fatigue, and burnout prevention have proliferated with the promise of teaching social workers how to cut down, manage, or create space from situations that overwhelm us. Within these approaches, however, is a deep and troubling contradiction.
Burnout is synonymous with breakdown; compassion fatigue with depletion. Inherent in both is a presumption of finite capacity within each person that, unless carefully guarded, can be used up. The best that can be achieved is to stave off or protect against becoming drained of a precious ability to care, or when nearing a depleted state, to take time away to refill ourselves with purpose and energy. Furthermore, the source of this damage and brokenness, against which social workers are counseled to buttress themselves, is often posited as being the very people we seek to help. Nowhere within this worldview do we find ideas about abilities, or promises of the capacity for growth.
Resilience - A Strengths-Based Approach
Resilience, on the other hand, draws from and reinforces a strengths perspective. The concept of resilience springs from a belief that, fundamentally, we have personal wisdom and capacity to persevere and grow from experience. Adopting a resilience mindset helps us to tap into these capacities and to flourish, even in the face of challenge. Rather than seeing our work as ultimately draining, we incorporate the challenges we face into meaning-making. Difficulties are expected as part of the whole of what we do. When resilient, we seek to understand adversities that arise, to continually cultivate attitudes of curiosity, and to formulate actions for solutions and justice.
The Merriam-Webster dictionary defines resilience as "an ability to recover from or adjust easily to misfortune or change." Karen Reivich and Andrew Shatte, in their practical book The Resilience Factor (2003), discuss resilience as having to do with the ability to regulate emotions, attention, and behavior. Furthermore, recent research shows that how you interpret and how you respond to stress is related to how much stress you will feel. Early research by Suzanne Kobasa (1979) identified three critical factors for resilience: control, commitment, and challenge. Resilient people believe that they can influence events and situations, are engaged and find work as a source of meaning, and see change and uncertainty as opportunities for growth more than as stressors.
Resilient social workers rely on habits of mind and actions to foster attitudes of open curiosity and awareness of judgment that sustain them through the vicissitudes of their often difficult work. A focus on resilience allows us to move from the deficit perspective posited by avoidance of burnout to a sustainable framework based on day-to-day positive practices. With resilience, we are more able to keep our minds free from limiting thoughts, to access courage and creativity, to connect with others rather than withdraw, and ultimately, to find new possibilities for ourselves and the people we serve. Buoyed by resilience, we are more able to confront and work with problems without losing connection to ourselves or engagement with those we serve. At its simplest, working on resilience is about being proactive rather than reactive.
Editor's Note: This excerpt is from the Fall 2017 issue of THE NEW SOCIAL WORKER. Read the complete article at:
---
Here are some highlights from the Fall 2017 issue:
Student Role Model - Joshua Collins (in PDF format only)
...and much more! For the full Table of Contents and full text of all articles in this issue, please download the PDF.
BONUS:  Read recent online exclusive articles:
Vice President Developmental Disabilities Goshen/Rockland Programs
The Vice President will be responsible for the overall management of the Developmental Disabilities Goshen IRA Programs and Rockland IRA Campus Programs. He/She will supervise the Assistant Vice President of Goshen/Rockland Campus Programs and Clinical Coordinator.  The VP will be actively involved in DD managed care preparedness. He/She assumes administrative coverage of the entire DD Department in the absence of the Senior Vice President of Rockland IRA Community/Bronx Developmental Disabilities Programs, and will be on-call 24 hours per day, seven (7) days per week.  To be successful, the Vice President must be adaptable, a strategic thinker, and able to develop and implement strategies to support the program and Agency's strategic growth plans.
Qualifications and Requirements:
The candidate must have a Master's in Social Work (MSW).  A Licensed Social Worker (LMSW) required, QIDP.  A minimum of five (5) years of experience working with individuals with developmental disabilities or behavioral challenges in a residential setting is required. A minimum of five (5) years of progressive, supervisory, broad based management experience and three years of supervisory experience working in an OPWDD setting.  Knowledgeable in managed care.   Exceptional communication, analytical, organizational, interpersonal, writing, and problem-solving skills. A valid, non-restricted driver license is required.
Contact: Dr. Heather Waitman
Phone: 845-359-3400
---
Find jobs
for new grads and experienced social work practitioners at
http://www.socialworkjobbank.com
, THE NEW SOCIAL WORKER's online job board and career center.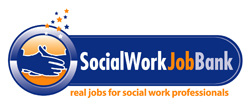 If you or your agency are
hiring social workers,
don't forget to post your jobs on SocialWorkJobBank.com. Please check the SocialWorkJobBank
"products/pricing" page
for job posting options and SPECIAL offers. 
Job seeker services are FREE—including searching current job openings, posting your confidential résumé/profile, and receiving email job alerts. Please let employers know that you saw their listings in the SOCIAL WORK E-NEWS and at SocialWorkJobBank.com.
There are
1,045 jobs
currently posted on SocialWorkJobBank.com. Check it out today.
HeathCare.gov Open Enrollment Period
The open enrollment period in the U.S. for health insurance sold on the Affordable Care Act exchanges (and off-exchange) began November 1 and ends December 15. If you or your clients are self-employed or otherwise are responsible for purchasing your own health insurance, you have until
December 15, 2017,
to choose a plan for 2018 (in most states). Plans can be purchased on the marketplace at
HealthCare.gov
. Plans are also available off-marketplace.
---
Write for THE NEW SOCIAL WORKER
I am seeking a limited number of articles for THE NEW SOCIAL WORKER website and magazine. Is there an issue that you are passionate about that corresponds with an upcoming "awareness" month, week, or day? This is a good way to identify a topic for a timely article.
Other topics of interest include: social work field placement issues, technology, self-care, licensing, and career development.
Our style is conversational and educational, and web articles typically run 500-750 words. Feature articles typically run 1,250-1,500 words. We want positive articles that social workers can use to help them advance in their careers.
I also welcome submissions of poetry, photographs, illustrations, artwork, videos, audio, and other creative work depicting social work and related topics.
Submit articles to Linda Grobman with a subject line that says "Submission—(insert title or topic of submission). Attach your submission as a Word file.  Please include in this file: title of submission, your name as you want it to appear with your article, body of your submission, a brief bio about yourself.  I will then review your submission and let you know if I need anything else and/or whether it is accepted for publication.
Please email
Linda Grobman
with ideas for longer (1,250-1,500 words) "feature articles" for
THE NEW SOCIAL WORKER
magazine.
Thank you!
---
White Hat Communications, publisher of THE NEW SOCIAL WORKER magazine and the Social Work E-News, has published several
books about social work
. These books make great gifts (for graduation, holidays, or other occasions) for yourself, or for your friends, students, and colleagues in social work!
HOW TO ORDER
All of our books are available through our secure online store at:
Some of our books are also available as ebooks at
VitalSource
.
IN THIS ISSUE
Editor's Eye
Words from Our Sponsors
This Month
Featured Excerpt

Job Corner/Current Job Openings

Reminders

NEWSLETTER NECESSITIES
You have subscribed to receive this free newsletter.
To unsubscribe, follow the "unsubscribe" link at the bottom of this newsletter. To change the address for your subscription, please use the "change email address" link at the bottom of this newsletter.

ABOUT THIS NEWSLETTER
THE NEW SOCIAL WORKER® SOCIAL WORK E-NEWS is published by:
White Hat Communications (publisher of THE NEW SOCIAL WORKER® magazine and THE NEW SOCIAL WORKER® ONLINE)
Harrisburg, PA 17110-0390
Advertising: To place a job listing, sponsor this newsletter, place a banner ad on our website, or advertise in THE NEW SOCIAL WORKER magazine, email lindagrobman@socialworker.com for rates and further information.
News: Please send brief social work-related news items to lindagrobman@socialworker.com for consideration.
PRIVACY
Your subscription email address will only be used to deliver this e-newsletter and to occasionally inform you of updates from its publisher. Your email address will not be given to anyone else or used for any other purpose as a result of your subscription to this newsletter.
Copyright 2017 White Hat Communications. All rights reserved. Permission is granted to forward this entire newsletter, with all information intact, by email to social work colleagues, students, and others interested in social work, for personal use only. You may also print out this newsletter for personal use. All other uses of this material require permission from the publisher at: lindagrobman@socialworker.com