Hello --
Welcome to Issue
#230
of the
Social Work E-News!
Thank you for subscribing to receive this email newsletter, which is brought to you by the publisher of
The New Social Worker
magazine,
SocialWorker.com
,
SocialWorkJobBank.com
, and other social work publications.
Social Work Month
(March) will be here before you know it!
The New Social Worker
is still seeking your submission of an essay or photo for our Social Work Month Project 2020. The submission deadline is
January 29, 2020
. Please see our
Social Work Month 2020 Call for Submissions
.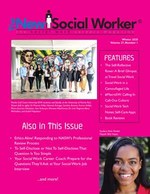 Here's a

quick link

for immediate download of the PDF edition for Winter 2020:
Highlights: responding to NASW's professional review process, self-disclosure, travel social work, preparing for job interview questions, self-care apps, and more. See listing below (after the "Featured Excerpt").
---
Have you subscribed to our mailing lists? You can go to
http://www.socialworker.com/Subscribe_to_The_New_Social_Worker
and
subscribe (free)
to receive an email reminder and table of contents of each issue of
The New Social Worker
magazine when it is available. If you are a subscriber to the E-News (which you are reading now), this does NOT mean that you are automatically subscribed to
The New Social Worker
magazine.
They are two different publications.
Are you one of our

180,000

+

fans on

Facebook

? Connect with us—we love connecting with you!
Until next time,
Linda Grobman, ACSW, LSW
Publisher/Editor
THE NEW SOCIAL WORKER®
January marks several observances, including but not limited to:
Human Trafficking Awareness Month
Cervical Health Awareness Month
National Birth Defects Prevention Month
Martin Luther King Jr. Day (January 20)
Job Corner/Current Job Openings
Social Work Manager - Elder Services Plan
The Social Work Manager for the Elder Service Plan (ESP) provides supervision to the ESP Social Workers and manages the functions of the SW Department including establishing/updating caseloads and maintaining own caseloads, performing assessments, counseling participants, family/caregivers and providing case management.
Duties include hiring, evaluating, training, supervising SW staff, budgeting, documentation review, consultations for Care Teams, completing intakes, assisting w/end of life issues & development of policies.
LISCW w/5 yrs experience including 2 yrs of supervisory, therapy and Geriatric experience. Harbor Health is an Equal Opportunity Employer M/F/V/D.
---
---
Find jobs
for new grads and experienced social work practitioners at
http://www.socialworkjobbank.com
, THE NEW SOCIAL WORKER's online job board and career center.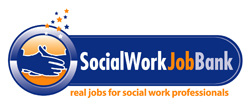 If you or your agency are
hiring social workers,
don't forget to post your jobs on SocialWorkJobBank.com. Please check the SocialWorkJobBank
"products/pricing" page
for job posting options and SPECIAL offers. 
Job seeker services are FREE—including searching
current job openings
, posting your confidential résumé/profile, and receiving email job alerts. Please let employers know that you saw their listings in the SOCIAL WORK E-NEWS and at SocialWorkJobBank.com.
Ethics Alive! Responding to NASW's Professional Review Process

Editor's Note: This excerpt is from THE NEW SOCIAL WORKER's Winter 2020 issue. Read the complete article at:
by Allan Barsky, JD, MSW, PhD
     You've got mail. Unfortunately, unlike the mail in the movie of the same name, this letter is not part of an email romance. It is a letter from the Office of Ethics and Professional Review of the National Association of Social Workers (NASW) letting you know that a client or other person has issued a request for professional review (PR). The request claims you have breached the Code of Ethics. What do you do? Panic? Become angry? Feel defensive? Regardless of the feelings you experience, you may need time to process them. You may also want to consult with a colleague or supervisor who can help you process these feelings. This article is not about how to process your feelings, but rather, about the practical steps you may take to respond ethically and effectively to this request for PR.
    Remember that the NASW's PR process is one of the ways in which the NASW promotes ethical practice, holds social workers accountable, and provides clients and others with an avenue for redressing ethical concerns about social workers. We should respect clients' rights to have their concerns addressed. Also, we should be open to the PR process as a means of resolving concerns in a collaborative manner.
    Note that most cases accepted for PR go through a mediation process, not a court-like adjudication process. Only some of the more serious allegations, including allegations of sexual relations with clients, go directly to a hearing process. If mediation does not result in agreement, the case may be referred to a hearing. Accordingly, it may be in your and your client's best interests to resolve the concerns through mediation.
    Know that a PR request does not necessarily result in a professional review process. Upon receiving notification of the PR request, you will have 14 days to respond to the PR request. Your response is very important, because it will be used by the NASW's Intake Committee to help determine whether to proceed with PR. Along with the notification of the PR request, you will receive the complainant's statement of alleged breaches of the NASW (2018) Code of Ethics, a copy of the NASW (2012) Procedures for Professional Review manual, the complainant's pledge of confidentiality, and forms that you are to submit in response to the complaint. You may feel overwhelmed or uncertain about how to respond. You may, however, request an NASW consultant to help you through the process, including how to complete your written response.
Selected articles from the Winter 2020 issue:
You receive a notice that someone has issued a request for professional review, claiming you have breached the NASW Code of Ethics. What are your next steps? This is Part 2 of a 2-part series.
The social work literature typically frames self-disclosure as a complex and controversial use-of-self practice. Inquiring minds still want to know: "Should I do it or not?" That question is too simple.
Travel social workers work at short-term assignments in a variety of locations. Travel allows much time for self-reflection and growth.
Be ready for various interview formats and behavioral interviewing. Your Social Work Career Coach Jennifer Luna provides sample interview questions to help you prepare for your social work job interview.
Stephen asked social workers on Twitter what self-care apps they use. Most common were meditation and fitness apps.
Military spouses in social work face challenges such as needing to learn new local resources every few years, licensure mobility, and frequent termination with clients.
The New Social Worker's book review of Biased: Uncovering the Hidden Prejudice That Shapes What We See, Think and Do
The New Social Worker's book review of How To Be an Antiracist.
The New Social Worker's book review of People and Climate Change: Vulnerability, Adaptation, and Social Justice
The New Social Worker's book review of Old and High: A Guide to Understanding the Neuroscience and Psychotherapeutic Treatment of Baby Boom Adults' Substance Use, Abuse, and Misuse
The New Social Worker's book review of The Hospice Team: Who We Are and How We Care
Art is a powerful means of expression. These three art pieces by social work educator Wendy Turner address issues of racism, homophobia, and sexism.
This article was published in our Winter 2020 issue. We subsequently received feedback that led to its retraction and removal five days later on Monday, January 13. Click on above link for full retraction statement.

For the full Table of Contents and full text of all articles in this issue, please
download the PDF.
Recent Web-Exclusive Articles
The New Social Worker - Social Work Month 2020 Call for Submissions
March is Social Work Month!  As in previous years,
The New Social Worker
will publish a Social Work Month series online—our
Social Work Month Project 2020
.
The submission deadline is

January 29, 2020

.
We are seeking submissions in the following categories from social work students, practitioners, and educators.
Submission Categories
The National Association of Social Workers (NASW) has chosen as its 2020 Social Work Month theme: Social Workers: Generations Strong. In keeping with this theme, write an essay (500 words maximum) about a social work mentor, mentee, or other social worker who has inspired you. What was it about the person that was inspiring? What is/was special about this person? Give examples of what they did that was special or had a major impact on you as a social worker. Tell a story.  Include a photo.
Write an essay (500 words maximum) focusing on a particular field of social work practice that has meaning for you or that you are interested in. This can be a story from your practice, reflections on why you chose your field, what you have learned about the field, why it is important, what you want others to know about the field. This essay should focus on one area/field of practice, rather than the profession of social work as a whole.
Social work selfies/snapshots. Submit a photo of yourself representing something about social work—what you do, what you like, what the profession means to you, what you want others to know, how you "do" self-care. For example, you might submit a photo of yourself in your office, holding a sign about social work, or wearing clothing that represents social work (such as a social work t-shirt).  Include a short paragraph to tell what the photo represents. Be creative!
All submissions must include the following to be considered:
your name and social work credentials, as they are to appear with your submission
school you attend or graduated from
expected graduation date, if you are a student
your contact information (email required)
title of the submission (make it creative and brief)
a short bio (no more than 50 words)
the following statement:  "If accepted, I ___________ (fill in your full name), grant The New Social Worker/White Hat Communications all rights to this submission. I understand it may be published on its websites, on its social media channels, and/or in its publications."
Each person may submit ONE entry.
File Formats:
Essay submissions: submit in a Word file.
Photo submissions: submit photo in a JPG file, with the descriptive paragraph in a Word file.
Send submissions and questions to
Linda Grobman, publisher/editor
. Attach your file(s) to an email, and please include "Social Work Month Submission" and the title of your submission in the email subject line. If you would like to include a photo of yourself, or other photos to illustrate your essay, attach it/them to your email as JPG files.
Please do not send your submissions more than once. Before you send your submission, make sure it is the best it can be! Proofread, make corrections, and edit. It can be helpful to have someone look at your work and give you feedback.
Please pass this call for submissions along to others who may be interested.
Submissions that do not follow the above instructions will not be considered. Entries must be received by January 29, 2020.
---
University of Iowa National Poetry Contest for Social Workers

The University of Iowa School of Social Work National Poetry Contest for Social Workers in now open for submissions. The deadline is January 31, 2020. As in previous years, the 1st, 2nd, and 3rd place poems will be published in The New Social Worker. In addition, the writers of the top three poems will receive cash prizes.
Write for THE NEW SOCIAL WORKER
I am seeking a limited number of articles for THE NEW SOCIAL WORKER website and magazine. Is there an issue that you are passionate about that corresponds with an upcoming "awareness" month, week, or day; holiday; or time of year/season? Or an issue you have experienced as a social worker or social work student that you would like to share with peers? These are good places to start to identify a topic for a timely article for our website.
For the magazine, we are seeking articles on social work career development, field placement issues, and fields of practice.
Our style is conversational and educational, and web articles typically run 500-750 words. Feature articles typically run 1,250-1,500 words. We want positive articles that social workers can use to help them advance in their careers.
I also welcome submissions of poetry, photographs, illustrations, artwork, videos, audio, and other creative work depicting social work and related topics.
Submit articles to Linda Grobman with a subject line that says "Submission—(insert title or topic of submission)." Attach your submission as a Word file. Please include in this file: title of submission, your name as you want it to appear with your article, body of your submission, a brief bio about yourself.  I will then review your submission and let you know if I need anything else and/or whether it is accepted for publication.
Please email
Linda Grobman
with ideas for longer (1,250-1,500 words) "feature articles" for
THE NEW SOCIAL WORKER
magazine.
Thank you!
GET READY FOR HOLIDAY GIFT-GIVING SEASON!
Days in the Lives of Social Workers: 62 Professionals Tell "Real-Life" Stories From Social Work Practice (5th Edition)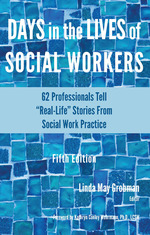 LOVE TO READ ABOUT WHAT SOCIAL WORKERS ARE DOING?
Spend a day with social workers in 62 different settings, and learn about the many career paths available to you. Did you ever wish you could tag along with a professional in your chosen field, just for a day? DAYS IN THE LIVES OF SOCIAL WORKERS allows you to take a firsthand, close-up look at the real-life days of 62 professional social workers as they share their stories. Join them on their journeys, and learn about the rewards and challenges they face.
"While the broadness of social work is what brings many people into the profession, at times it can be overwhelming. Fortunately, we have Linda May Grobman to help social workers navigate their careers through the eyes of those with real life experience. The 5th edition of Days in the Lives of Social Workers includes traditional and non-traditional career paths that offer a practical and realistic snapshot of the diverse fields of social work. An added bonus is the updated list of professional organizations, web resources, and social media, blogs and podcasts. This is a must have for social workers at any stage in their career!"
Jennifer Luna, MSSW
Director, Dinitto Career Center
The University of Texas at Austin, Steve Hicks School of Social Work
---
The A-to-Z Self-Care Handbook for Social Workers and Other Helping Professionals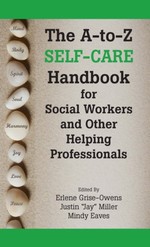 START THE YEAR WITH A SELF-CARE PLAN!
The A-to-Z format in this book provides 26 practical strategies for your personal self-care plan. Learn how to make a SMART plan and keep yourself accountable. Easy to read and essential for any social worker or helping professional.
---
BEDTIME READING/GIFTS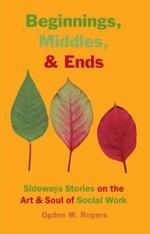 BEGINNINGS, MIDDLES, & ENDS: SIDEWAYS STORIES ON THE ART & SOUL OF SOCIAL WORK
A DELIGHTFUL GIFT FOR SOCIAL WORKERS AT ANY STAGE IN THEIR CAREERS
With just the right blend of humor and candor, each of these stories contains nuggets of wisdom that you will not find in a traditional textbook. They capture the essence and the art and soul of social work.
---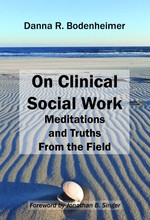 Now in Paperback and Hardcover: ON CLINICAL SOCIAL WORK: MEDITATIONS AND TRUTHS FROM THE FIELD
is Dr. Danna Bodenheimer's NEWEST book.

A MEANINGFUL AND BEAUTIFUL GIFT
The beautiful, full-color book - now in paperback and hardcover - makes a meaningful gift for you, a student, or a colleague. It is

available

 

now

at Amazon and Barnes and Noble (and other bookstores, too).
Jonathan Singer of the Social Work Podcast wrote the foreword to this book, and he said, "Danna pays attention to life's details with a psychotherapist's insight and writes about them with the passion of a slam poet. She speaks to the soul of social work and inspires us to think about more than just social work."
Jonathan B. Singer, Ph.D., LCSW, Associate Professor, Loyola University Chicago, Founder and host, Social Work Podcast
---
White Hat Communications, publisher of THE NEW SOCIAL WORKER magazine and the Social Work E-News, has published several
books about social work
. These books make great gifts (for graduation, holidays, or other occasions) for yourself, or for your friends, students, and colleagues in social work!
HOW TO ORDER
Our books are available through our secure online store at:
Most of our publications are available at
Amazon.com
and other bookstores. (Some are available in Kindle format, as well as print.)
Many of our books are also available as ebooks at
VitalSource
.
---
Network with us:
Make sure you don't miss your copy of the Social Work E-News!
Your email program may sometimes think an email that you really want to read is unwanted and send it to your "junk" folder. To make sure you receive the Social Work E-News in your inbox, add newsletters@socialworkermail.com to your email program's safe sender list, or ask your organization's Information Technology department to whitelist it.

IN THIS ISSUE
Editor's Eye
This Month

Job Corner/Current Job Openings

Featured Excerpt

News & Resources

Reminders

NEWSLETTER NECESSITIES
You have subscribed to receive this free newsletter.
To unsubscribe, follow the "unsubscribe" link at the bottom of this newsletter. To change the address for your subscription, please use the "change email address" link at the bottom of this newsletter.

ABOUT THIS NEWSLETTER
THE NEW SOCIAL WORKER® SOCIAL WORK E-NEWS is published by:
White Hat Communications (publisher of THE NEW SOCIAL WORKER® magazine and THE NEW SOCIAL WORKER® ONLINE)
Harrisburg, PA 17110-0390
Advertising: To place a job listing, sponsor this newsletter, place a banner ad on our website, or advertise in THE NEW SOCIAL WORKER magazine, email lindagrobman@socialworker.com for rates and further information.
News: Please send brief social work-related news items to lindagrobman@socialworker.com for consideration.
PRIVACY
Your subscription email address will only be used to deliver this e-newsletter and to occasionally inform you of updates from its publisher. Your email address will not be given to anyone else or used for any other purpose as a result of your subscription to this newsletter.
Copyright 2020 White Hat Communications. All rights reserved. Permission is granted to forward this entire newsletter, with all information intact, by email to social work colleagues, students, and others interested in social work, for personal use only. You may also print out this newsletter for personal use. All other uses of this material require permission from the publisher at: lindagrobman@socialworker.com