Hello --
Welcome to Issue #189 of the Social Work E-News! Thank you for subscribing to receive this email newsletter, which is brought to you by the publisher of The New Social Worker magazine, SocialWorker.com, SocialWorkJobBank.com, and other social work publications.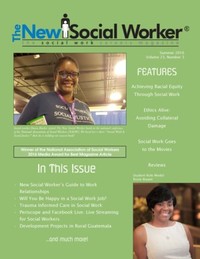 Here's a

quick link

for immediate download of the PDF edition for Summer 2016:
Most articles from the summer issue can now be read on our website, as well. Highlights include: trauma informed care, work relationships, Periscope and Facebook for social workers, being happy and successful in your social work job/career, and more!
---
New!
In the last e-news, I announced that the newest book from
The New Social Worker Press
was available in print. I am delighted to let you know that the
Kindle edition is now available for pre-order
, and at a special discounted pre-order price!
The A-to-Z Self-Care Handbook for Social Workers and Other Helping Professionals
—edited by Erlene Grise-Owens, Justin "Jay" Miller, and Mindy Eaves—takes readers through the alphabet to discover a variety of self-care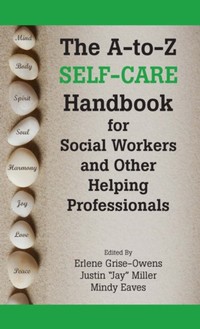 strategies and develop a personalized self-care plan.
Order the book now at:
This book is ideal for individuals or for group trainings on self-care. If your agency is interested in buying it in bulk for training or other purposes, please contact
me
.
...a caring and useful resource for helping professionals concerned about burnout, stress, staff turnover, and wellness.... By focusing on insights and reflections and providing resources and strategies, The A-to-Z Self-Care Handbook is a practical guide and an empowering book.
DR. BARBARA W. SHANK, Ph.D., MSW, Dean and Professor, School of Social Work, University of St. Thomas, St. Catherine University, Chair, Board of Directors, Council on Social Work Education
---
Have you subscribed to our mailing lists? You can go to
http://www.socialworker.com/Subscribe_to_The_New_Social_Worker
and
subscribe (free)
to receive an email reminder and table of contents of each issue of
The New Social Worker
magazine when it is available. If you are a subscriber to the E-News (which you are reading now), this does NOT mean that you are automatically subscribed to
The New Social Worker
magazine.
They are two different publications.
Are you one of our

151,000

+

fans on Facebook? Connect with us—we love connecting with you!
Until next time,
Linda Grobman, ACSW, LSW
Publisher/Editor
THE NEW SOCIAL WORKER®
Networking:
August marks several observances, including but not limited to:
National Breastfeeding Month
National Immunization Awareness Month
World Breastfeeding Week (first week of August)
National Health Center Week (second full week of August)
What Every New Social Worker Needs To Know... Trauma Informed Care in Social Work
Editor's Note: This excerpt is from the Summer 2016 issue of THE NEW SOCIAL WORKER. Read the complete article at:
by Elisa Kawam, Ph.D., and Marcos J. Martinez, Ph.D.
As social workers, we work with populations with long and complex histories of abuse and violence combined with pressing physical, mental, emotional, social, and spiritual needs. Even when we are not serving the most vulnerable, we still may be working with people who have endured a traumatic event, which has affected their lives and their well-being.     
Due in part to the recognition that traumatic events are increasingly common and that the effects of such can be negative (Briere & Scott, 2014), trauma informed care is becoming popularized among the helping professions. Although trauma and trauma informed care are complicated, understanding them better enables social workers to care for the needs of their clients from a deeply holistic perspective.
Thus, the intent of this article is to describe the basics of trauma, trauma informed care, and applying trauma informed care in practice and policy settings. Certainly not an exhaustive guide to trauma informed care, this is an overview intended to introduce this subject and stimulate interest in it.
The Nature of Trauma
A traumatic event is an experience in which individuals fear for their lives or the lives of those close to them (American Psychiatric Association, 2013). Traumatic events include child maltreatment, domestic violence, poverty, gang/community violence, natural disasters, and war. Traumatic experiences can be experienced directly, or indirectly by witnessing the trauma of another. In this manner, seeing an act of violence against someone else may be traumatic. The frequency, chronicity, and intensity of the event must be considered (Ogden, Minton, & Pain, 2006) in determining the impact on a person. For example, an event that occurs frequently and involves a close family member, such as sexual abuse, will have a different outcome than an event that someone saw once and did not involve anyone known to that person, such as a car accident.
Trauma does not affect everyone equally, and this is partially dependent on the age/development of the person, gender, existing risks and strengths, and available social supports (Ogden, Minton, & Pain, 2006). Because of differences in hormones and societal norms, women tend to experience trauma more intensely with longer lasting symptoms than men (Ogden, Minton, & Pain, 2006). Additionally, traumatic events that occur at younger ages are thought to have more upsetting effects, as they co-occur with brain and social skill development (Schore, 2001). Finally, existing risks (addiction and mental illness, most importantly), along with the presence of a social support system, must be taken into account when understanding why traumatic events affect people differently.
Traumatic symptoms can range from mild to debilitating. When symptoms interrupt daily functioning, they may constitute a formal clinical diagnosis of Post-Traumatic Stress Disorder (PTSD), according to the DSM-V (American Psychiatric Association, 2013). Traumatic symptoms are highly individualized and, as a result, can manifest in a multitude of ways. The outcomes of trauma often affect mental functioning, social interactions, and coping mechanisms. Depression and anxiety are common, as well as difficulty eating, sleeping, parenting, and working. In addition, it is not uncommon for someone to experience flashbacks or dreams of the event(s) (intrusion) or to report that they feel easily startled (hypervigilance) by stimuli in their surroundings. Some people may notice that they are dulled to what is going on around them during routine daily activities (dissociation).
Finally, people with trauma symptoms are prone to social isolation. These individuals attempt to control their surroundings preemptively by evading any person, place, or thing that might serve as a reminder of the trauma (avoidance). Together, these four categories of symptoms not only take away from quality of life, but also make daily interaction and communication difficult.
Further, those with trauma histories are at an increased risk for addiction, substance use, and other risky behaviors, such as promiscuous sex and illegal activity. It is thought that these symptoms are side effects of traumatic exposure. These behaviors are thought to be ways of learned coping to compensate for a traumatic past. As social workers, we need to address and treat the underlying cause (the trauma) first and then treat the other issues that present (substance use, risky behavior, unemployment, or anxiety). This approach reframes the idea of the presenting problem in that the issues we deem as target behaviors may not really be what the client wants to change. These problems instead may represent the client's way of living with a trauma history. By treating the presenting problem without screening for trauma, we are, in essence, removing the client's solution to the larger issue. This approach does not get to the root cause of the problem and may do more harm than good, as a result.
The key component to understanding trauma is that it is both preventable and treatable (Herman, 1992). This is where the role of social workers comes in—acting as change agents to directly influence the lives of those who have endured traumatic events. This treatment approach is called Trauma Informed Care (TIC).
Editor's Note: This excerpt is from the Summer 2016 issue of THE NEW SOCIAL WORKER. Read the complete article at: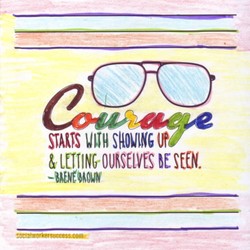 Our
Self-Care Summer Project
is in full swing! Please check out the published entries so far.
SUMMER READING/GIFTS FOR GRADUATES!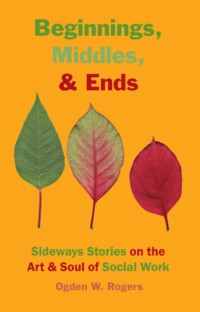 What does a life in social work look like?
You might look at it as a series of "sideways" stories! "If life were black and white, we'd have no need for social work." Read Ogden Rogers' collection,
Beginnings, Middles, & Ends: Sideways Stories on the Art & Soul of Social Work.
Available on
Amazon.com
(print and Kindle), Google Play (e-book), directly from the
publisher
, and other bookstores. Do you know a social worker or social work student who loves to read? This book is a welcome retreat from academic textbooks.
Beginnings, Middles, and Ends by Ogden W. Rogers is a thought-provoking book about the evolution of the author's career in the field of social work. The real-life stories are whimsical as well as enlightening. You follow the yellow brick road of a social work career and feel the passion and dedication that is required of those who are engaged in the social work profession.... A great read for anyone entering the profession, or if you are involved and feel your passion flickering, this book will surely re-ignite your love. --Mildred Mit Joyner, MSW, LCSW, Emerita Director and Professor of Social Work, West Chester University of Pennsylvania
---
Real World Clinical Social Work: Find Your Voice and Find Your Way
A ground-breaking book by Dr. Danna Bodenheimer, LCSW, from The New Social Worker Press
ISBN: 978-1-929109-50-0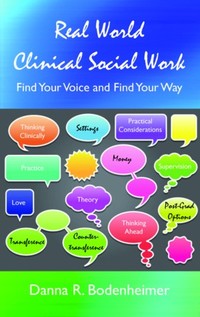 223 pages
Available now at:
"Danna Bodenheimer has written an insider's guide to clinical social work that doesn't make the reader feel like an outsider. This book is the clinical supervisor you always wanted to have: brilliant yet approachable, professional yet personal, grounded and practical, yet steeped in theory, and challenging you to dig deeper." Jonathan B. Singer, Ph.D., LCSW, Associate Professor of Social Work, Loyola University Chicago, Founder and Host, Social Work Podcast
---
Advertise With Us
If you would like to reach our audience of 45,000+ social workers and others interested in social work with information about your program or social work-related product, please contact Linda for information on advertising in THE NEW SOCIAL WORKER, the Social Work E-News, or on our website at SocialWorker.com.
Social Worker II Psych Services
Melrose-Wakefield Hospital, Melrose, MA
Department: Psych Triage
Part time with benefits - Evening shift
The Clinician provides psychiatric assessment, triage, and case management for Emergency Department and Medical Units.
LICSW required. A minimum of 5 years of experience providing psychiatric assessment, in a medical setting required. Must possess basic knowledge of medical terminology and diagnoses, familiarity with psychopharmacology and common medications for medical diagnosis. Good verbal, written, and interpersonal skills are essential.
This position is from 4 pm - midnight during the week. 
Providing over a century of medical care, Hallmark Health System is one of the most technologically advanced community health systems in the region comprised of two outstanding acute care hospitals, Lawrence Memorial Hospital of Medford and Melrose-Wakefield Hospital in Melrose. The system also includes the Hallmark Health Medical Center for outpatient care in Reading, Hallmark Health Cancer Center in Stoneham, CHEM Center for Radiation Oncology in Stoneham, CHEM Center for MRI in Stoneham, Hallmark Health VNA and Hospice and Hallmark Health Medical Associates.
Hallmark Health System offers a full comprehensive benefits package that includes 401(k) plan, choice of medical and dental plans, short- and long-term disability insurance, employee and dependent life insurance, medical and dependent care spending accounts, and more.  
and then searching for requisition #: 7469.
Hallmark Health System is proud to be an equal opportunity employer.
---
Find jobs
for new grads and experienced social work practitioners at
http://www.socialworkjobbank.com
, THE NEW SOCIAL WORKER's online job board and career center.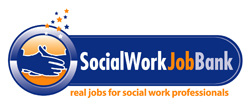 If you or your agency are
hiring social workers,
don't forget to post your jobs on SocialWorkJobBank.com. Please check the SocialWorkJobBank
"products/pricing" page
for job posting options and SPECIAL offers. 
Job seeker services are FREE—including searching current job openings, posting your confidential résumé/profile, and receiving e-mail job alerts. Please let employers know that you saw their listings in the SOCIAL WORK E-NEWS and at SocialWorkJobBank.com.
There are
1,045 jobs
currently posted on SocialWorkJobBank.com. Check it out today.
College Diabetes Network "Off to College" Booklets Available
The College Diabetes Network has worked with young adults with type one diabetes (T1D) from across the country to compile Off to College booklets and create a "Gold Standard" of resources and support for this exciting time in life. The booklets have been medically reviewed and approved by the American Diabetes Association, and their distribution has been made possible by sponsorship from Tandem Diabetes Care, Lilly Diabetes, and Dexcom, Inc.
The Off to College booklets cover everything from talking to friends and roommates, to switching clinical providers, to registering for accommodations on campus. They can help guide conversations with young adults related to transitioning, and provide them with up-to-date and relevant information and resources. The booklets are available both as hard copies for school and clinics and as digital downloads.
---
#MacroSW Media Nights
Participate in a
#MacroSW Media Night Chat
, a once-a-month Twitter chat to talk about different social problems highlighted by the press. The chats will feature a video, podcast, blog post, or article that features an important topic in macro social work practice.
The schedule for upcoming chats is as follows:
Sept. 29, 2016 - Environmental Justice with Samantha Teixeira of Boston College
Oct. 13, 2016 - Online disability advocacy: What is the role of allies? Vilissa Thompson of Ramp Your Voice & #MacroSW Chat Partner and Casey Bohrman of West Chester University
Oct. 27, 2016 - Income Inequality with Jimmy Young of California State University San Marcos
Nov. 17, 2016 - Language Matters in #MacroSW with Jonathan Singer of Loyola University and Sean Erreger of Stuck on Social Work
Dec. 22. 2016 - Human Investment (Documentary Movie) with Laurel Hitchcock of the University of Alabama at Birmingham & #MacroSW Chat Partner
Jan. 26, 2017 - Status of Child Welfare Workforce in US with Todd Sage of University of North Dakota
Feb. 23, 2017 - Indian Child Welfare Act with Melanie Sage of University of North Dakota and National Indian Child Welfare Association
Mar. 9, 2017 - Mass Incarceration with Becky Anthony and Jennifer Jewell of Salisbury University
Mar. 30, 2017 - Ethics in #MacroSW Practice with Heather McCabe of Indiana University School of Social Work
Apr. 20, 2017 - Bullied: The Jamie Nabozny Story (Documentary Movie) with Laurel Hitchcock of the University of Alabama at Birmingham & #MacroSW Chat Partner
---
NASW, CCMC collaborate to address growing demand for health care case managers
Social workers may qualify to take Commission for Case Manager Certification exam

The Commission for Case Manager Certification (CCMC) and the National Association of Social Workers (NASW) are collaborating to address the growing demand for health care case managers by giving more social workers the opportunity to earn the Commission's Certified Case Manager® (CCM®) credential.

Under the agreement, social workers who qualify for the NASW Case Management Credential will pre-qualify to take the CCMC certification exam for the same fee. For its members, NASW will provide an additional discount.
The collaboration between the oldest and largest case manager certification body and the oldest and largest social work membership organizatio creates new opportunities for bachelor degree-level social workers (and those with advanced degrees) to play an active role in hospitals, health plans, clinics, and other health care settings. The CCM is a cross-cutting certification that validates quality and ethical practice, whether the candidate comes to board certification from nursing, social work, or another allied health field.

Research by the Commission shows a majority of employers surveyed require certification as a condition of employment; more than half value certification enough that they pay the cost to take the rigorous, research-based CCM exam. The Commission also sets the standards for professional ethics through the Code of Professional Conduct for Case Managers. Alignment in principals and ideals, expressed in standards of practice and professional conduct, were critical requirements to forge the NASW and Commission collaboration.
White Hat Communications, publisher of THE NEW SOCIAL WORKER magazine and the Social Work E-News, has published several
books about social work
. These books make great gifts (for graduation, holidays, or other occasions) for yourself, or for your friends, students, and colleagues in social work!
HOW TO ORDER
All of our books are available through our secure online store at:
IN THIS ISSUE
Featured Excerpt

Job Corner/Current Job Openings
Reminders

NEWSLETTER NECESSITIES
You have subscribed to receive this free newsletter.
To unsubscribe, follow the "unsubscribe" link at the bottom of this newsletter. To change the address for your subscription, please use the "change email address" link at the bottom of this newsletter.

ABOUT THIS NEWSLETTER
THE NEW SOCIAL WORKER® SOCIAL WORK E-NEWS is published by:
White Hat Communications (publisher of THE NEW SOCIAL WORKER® magazine and THE NEW SOCIAL WORKER® ONLINE)
Harrisburg, PA 17110-0390
lindagrobman@socialworker.com

http://www.socialworker.com
Advertising: To place a job listing, sponsor this newsletter, place a banner ad on our website, or advertise in THE NEW SOCIAL WORKER magazine, email lindagrobman@socialworker.com for rates and further information.
News: Please send brief social work-related news items to lindagrobman@socialworker.com for consideration.
PRIVACY
Your subscription e-mail address will only be used to deliver this e-newsletter and to occasionally inform you of updates from its publisher. Your e-mail address will not be given to anyone else or used for any other purpose as a result of your subscription to this newsletter.
Copyright 2016 White Hat Communications. All rights reserved. Permission is granted to forward this entire newsletter, with all information intact, by email to social work colleagues, students, and others interested in social work, for personal use only. You may also print out this newsletter for personal use. All other uses of this material require permission from the publisher at: lindagrobman@socialworker.com