Hello --
Welcome to Issue #192 of the Social Work E-News! Thank you for subscribing to receive this email newsletter, which is brought to you by the publisher of The New Social Worker magazine, SocialWorker.com, SocialWorkJobBank.com, and other social work publications.
I recently attended the Council on Social Work Education Annual Program Meeting (CSWE APM) in Atlanta, GA. I want to welcome everyone who visited our exhibit at the conference and signed up for this newsletter and other publications at our exhibit table. It was great to see old friends and to meet and get to know some new ones!
Here's a

quick link

for immediate download of the PDF edition for Fall 2016:
Most articles from the fall issue can be read on our website, as well. Highlights include: coping with multiple codes of ethics, getting funding for social work studies, how to quit your job professionally and ethically, occupational social work, internalized racial oppression, becoming a social work leader, developing an emotional sense of direction, and more!
---
The A-to-Z Self-Care Handbook for Social Workers and Other Helping Professionals
—edited by Erlene Grise-Owens, Justin "Jay" Miller, and Mindy Eaves
—is the latest book from The New Social Worker Press. The book, which takes readers through the alphabet to discover a variety of self-care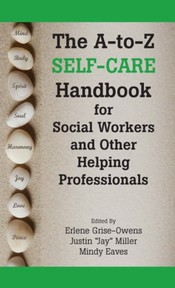 strategies and develop a personalized self-care plan, is now available in both print and Kindle formats.
Order the book now at:
This book is ideal for individuals or for group trainings on self-care. If your agency is interested in buying it in bulk for training or other purposes, please contact
me
.
...a caring and useful resource for helping professionals concerned about burnout, stress, staff turnover, and wellness.... By focusing on insights and reflections and providing resources and strategies, The A-to-Z Self-Care Handbook is a practical guide and an empowering book.
DR. BARBARA W. SHANK, Ph.D., MSW, Dean and Professor, School of Social Work, University of St. Thomas, St. Catherine University, Chair, Board of Directors, Council on Social Work Education
---
Have you subscribed to our mailing lists? You can go to
http://www.socialworker.com/Subscribe_to_The_New_Social_Worker
and
subscribe (free)
to receive an email reminder and table of contents of each issue of
The New Social Worker
magazine when it is available. If you are a subscriber to the E-News (which you are reading now), this does NOT mean that you are automatically subscribed to
The New Social Worker
magazine.
They are two different publications.
Are you one of our

155,000

+

fans on Facebook? Connect with us—we love connecting with you!
Until next time,
Linda Grobman, ACSW, LSW
Publisher/Editor
THE NEW SOCIAL WORKER®
Networking:
November marks several observances, including but not limited to:
National Family Caregivers Month
American Diabetes Month
National Alzheimer's Disease Awareness Month
National Hospice Palliative Care Month
Great American Smokeout (November 17)
International Survivors of Suicide Day (November 19)
National Family Health History Day (November 24)
Ethics Alive! Coping With Multiple Codes of Ethics as a Social Worker

Editor's Note: This excerpt is from the Fall 2016 issue of THE NEW SOCIAL WORKER. Read the complete article at:
by Allan Barsky, J.D., MSW, Ph.D.
     When social work students enter the profession, they may assume that there is just one code of ethics that they need to learn and follow. Although some social workers practice according to the tenets of a single code of ethics (often, the
National Association of Social Workers Code of Ethics
), many social workers are subject to more than one code of ethics or standards of practice. As a family mediator, for instance, I not only follow the NASW Code, but also the model standards of the Association of Family and Conciliation Courts, or AFCC (
http://www.afccnet.org/Resource-Center/Practice-Guidelines-and-Standards
). Likewise, there are distinct codes and standards of practice for social workers with specializations such as:
    So, which codes "must" social workers abide by? Which codes "should" social workers abide by? And if there are conflicts between two or more codes by which you are abiding, which code takes "precedence"?
    Professional associations are voluntary associations, meaning that one is not legally obligated to belong to these associations. Although I certainly encourage all U.S. social workers to become members of the NASW, there is no legal requirement for social workers to be members in order to practice social work. When social workers do join the NASW or another professional association, they are agreeing to abide by its code of ethics.
    Even if social workers do not join the NASW or another relevant professional association, however, they would be prudent to follow standards that apply to their areas of practice. If a social worker is sued for malpractice, for instance, courts may look at whether the worker complied with the NASW Code or with other relevant standards of practice. In a lawsuit, the question is whether the social worker lived up to a duty of care (or standards of practice) reasonably expected within the profession and area of practice. Therefore, a professional code of ethics may be relevant even if the social worker is not a current member of the association.
    Now, let's assume that a social worker is striving to follow two codes of ethics, but there are potential conflicts between their standards. How should the worker resolve these conflicts? In some instances, one code of ethics has a more stringent requirement than another. For instance, the NASW Code of Ethics has an absolute, lifetime prohibition about having sex with clients (Standard 1.09). Another code, the American Psychological Association's Code of Conduct, does not have an absolute, lifetime prohibition. Under Standard 10.06, it allows psychologists (under certain circumstances) to have sex with a former client if at least two years have passed since termination of services. Assume that a therapist is a member of both the NASW and the APA. This therapist should abide by the stricter or higher standard. If practitioners follow the lesser standard, they may be placing themselves in ethical and legal peril.
    In other cases, there may be a clear contradiction in ethical standards. Consider the ethical obligation of mediators to be "impartial" (AFCC, Standard IV). In contrast, the NASW Code says social workers should be advocates for social justice, acting to eliminate discrimination (NASW, Standard 6.04). Assume that a social worker is mediating with a family in which men are discriminating against women. The NASW Code suggests that the social worker needs to advocate for the women. The AFCC Code advises the mediator to remain impartial, not advocating for one side or the other. In this case, the conflict may be resolved by looking at the specific role of the practitioner, including what the client has agreed to during the informed consent process.
    Social workers play a very broad range of roles, including the roles of mediator, advocate, counselor, broker, listener, facilitator, and organizer. Because the NASW Code is designed to cover the broad spectrum of roles, it cannot make fine distinctions in ethical obligations that depend on the specific role that a social worker is playing with a particular client. So, although it is generally a social worker's role to advocate for social justice, this role would not fit with a worker who is playing the role of mediator with a particular family. In this case, the worker should follow the AFCC standards, which are designed for this more specific role.
    So, is a social worker who acts as an impartial mediator in violation of the NASW Code's standards related to social justice? Note that the wording of most sections of the NASW Code say that social workers "should...." The use of this term is deliberate, meaning that under most circumstances, the prescribed standard for behavior is appropriate. It also recognizes that there may be exceptions based on particular circumstances, including the role the social worker is playing.
Editor's Note: This excerpt is from the Fall 2016 issue of THE NEW SOCIAL WORKER. Read the complete article at:
---
Here are some highlights from the Fall issue:
Student Role Model: Jesse Bennett (in PDF version only)
...and more! For the full Table of Contents and full text of all articles in this issue, please dowload the PDF.
New on the Real World Clinical Social Work Blog:
BEDTIME READING/GIFTS FOR GRADUATES & HOLIDAYS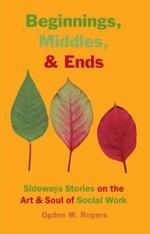 What does a life in social work look like?
You might look at it as a series of "sideways" stories! "If life were black and white, we'd have no need for social work." Read Ogden Rogers' collection,
Beginnings, Middles, & Ends: Sideways Stories on the Art & Soul of Social Work.
Available on
Amazon.com
(print and Kindle), Google Play (e-book), directly from the
publisher
, and other bookstores. Do you know a social worker or social work student who loves to read? This book is a welcome retreat from academic textbooks.
Beginnings, Middles, and Ends by Ogden W. Rogers is a thought-provoking book about the evolution of the author's career in the field of social work. The real-life stories are whimsical as well as enlightening. You follow the yellow brick road of a social work career and feel the passion and dedication that is required of those who are engaged in the social work profession.... A great read for anyone entering the profession, or if you are involved and feel your passion flickering, this book will surely re-ignite your love. --Mildred Mit Joyner, MSW, LCSW, Emerita Director and Professor of Social Work, West Chester University of Pennsylvania
---
Real World Clinical Social Work: Find Your Voice and Find Your Way
A ground-breaking book by Dr. Danna Bodenheimer, LCSW, from The New Social Worker Press
ISBN: 978-1-929109-50-0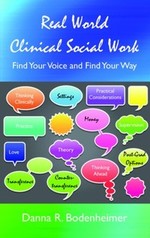 223 pages
Available now at:
"Danna Bodenheimer has written an insider's guide to clinical social work that doesn't make the reader feel like an outsider. This book is the clinical supervisor you always wanted to have: brilliant yet approachable, professional yet personal, grounded and practical, yet steeped in theory, and challenging you to dig deeper." Jonathan B. Singer, Ph.D., LCSW, Associate Professor of Social Work, Loyola University Chicago, Founder and Host, Social Work Podcast
---
Advertise With Us
If you would like to reach our audience of 47,000+ social workers and others interested in social work with information about your program or social work-related product, please contact Linda for information on advertising in THE NEW SOCIAL WORKER, the Social Work E-News, or on our website at SocialWorker.com.
CHILD AND FAMILY SERVICES MANAGER OPENING
Pechanga Tribal Government, Temecula, California

The Child and Family Services Manager (CFS) provides leadership, direction, and administration for the CFS Department.
QUALIFICATIONS, EDUCATION, & EXPERIENCE:
Minimum of Bachelor's degree in the Human Services field
Five (5) years Social Services experience
---
Seeking Online Counselors – Work from Anywhere
Are you a passionate therapist or counselor? Have you ever pondered the role of technology in psychotherapy? Talkspace, the leading online therapy company, is growing! Featured in The New York Times, The Wall Street Journal, and more, Talkspace connects people to mental health professionals through our secure website and mobile app. The platform has increased access to mental healthcare to millions of people.
As a therapist on Talkspace, you will experience the convenience of a work schedule that fits any lifestyle. Work with your clients anytime and anywhere — during the day, evenings, or weekends — whether you're home or away.
Join the largest & most dynamic clinical community in the world as we break down the stigma and barriers to mental healthcare. Start reaching new clients in your state today. Apply at www.talkspace.com/provider?ps=swn1610
---
Find jobs
for new grads and experienced social work practitioners at
http://www.socialworkjobbank.com
, THE NEW SOCIAL WORKER's online job board and career center.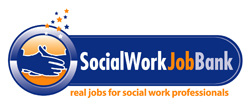 If you or your agency are
hiring social workers,
don't forget to post your jobs on SocialWorkJobBank.com. Please check the SocialWorkJobBank
"products/pricing" page
for job posting options and SPECIAL offers. 
Job seeker services are FREE—including searching current job openings, posting your confidential résumé/profile, and receiving e-mail job alerts. Please let employers know that you saw their listings in the SOCIAL WORK E-NEWS and at SocialWorkJobBank.com.
There are
1,070 jobs
currently posted on SocialWorkJobBank.com. Check it out today.
The Network for Social Work Management
Call for Proposals for 28th Annual Conference
June 15-16, 2017, Fordham University
The 2017 NSWM international conference will gather social work, health and human services managers and leaders in the early phase of new presidential leadership, in the face and wake of ever-changing social and human services landscape, lightning technological advances,  closures or mergers of nonprofit titans, sweeping changes in nonprofit law, increasingly competitive access to or attainment of funding, grand challenges and the need for more direct and urgent responsive discourses or action on social injustice, inequality, and oppression. The conference will facilitate learning and networking exchanges for personal, professional, and organizational opportunities to survive, thrive, and grow.
This year's theme focuses on
"The Business of Social Work"
and essential facets of leadership by strategically managing essential pillars:
Mission, Morals, Morale, and Money
.  Specifically, the NSWM asks that all proposals address one of this year's conference sub-themes and how it relates to one or more of the following "grand challenges":
Mission (existence, alignment, values, purpose, impact)
Morals (ethics/social justice) 
Morale (employees/culture/engagement)
Money (fundraising, funding, reporting, programs, accountability, evaluation, capital/resources).
Proposals that do not specifically address one of these pillars but focus on advancing knowledge and innovations in social work management and leadership will also be considered.
Proposal Deadline:  1/16/17
For more information, please visit NSWM's website!
---
The Charity Social Media Toolkit
Could your nonprofit use some social media help?  The
Charity Social Media Toolkit
from Skills Platform provides tips on strategy, action, networks, fundraising campaigns, style, analytics, and more.
---
2017 Social Work Distance Education Conference
Elevating Social Justice Through Distance Education
The 2017 Social Work Distance Education Conference will be held April 12-14, 2017, at the Hilton Palacio del Rio in San Antonio, TX.
The social work profession strives to fight social injustices and empower underserved communities. Through distance education, we can achieve a global connection. Distance education can be utilized to reach potential students who may not have access to the social work profession. Social work education provided through a distance learning platform allows students to grow where they live, enhancing social justice and reaching global communities.
In these high-speed, tech-driven times, it is more important than ever to share with and learn from one another. This conference provides a platform to learn together as we 
create a meaningful and effective learning environment for our growing student communities.
See
www.ollusa.edu/swde2017
for details about the conference.
White Hat Communications, publisher of THE NEW SOCIAL WORKER magazine and the Social Work E-News, has published several
books about social work
. These books make great gifts (for graduation, holidays, or other occasions) for yourself, or for your friends, students, and colleagues in social work!
HOW TO ORDER
All of our books are available through our secure online store at:
The above advertised program is not a social work degree program.
IN THIS ISSUE
Featured Excerpt

Job Corner/Current Job Openings
Reminders

NEWSLETTER NECESSITIES
You have subscribed to receive this free newsletter.
To unsubscribe, follow the "unsubscribe" link at the bottom of this newsletter. To change the address for your subscription, please use the "change email address" link at the bottom of this newsletter.

ABOUT THIS NEWSLETTER
THE NEW SOCIAL WORKER® SOCIAL WORK E-NEWS is published by:
White Hat Communications (publisher of THE NEW SOCIAL WORKER® magazine and THE NEW SOCIAL WORKER® ONLINE)
Harrisburg, PA 17110-0390
lindagrobman@socialworker.com

http://www.socialworker.com
Advertising: To place a job listing, sponsor this newsletter, place a banner ad on our website, or advertise in THE NEW SOCIAL WORKER magazine, email lindagrobman@socialworker.com for rates and further information.
News: Please send brief social work-related news items to lindagrobman@socialworker.com for consideration.
PRIVACY
Your subscription e-mail address will only be used to deliver this e-newsletter and to occasionally inform you of updates from its publisher. Your e-mail address will not be given to anyone else or used for any other purpose as a result of your subscription to this newsletter.
Copyright 2016 White Hat Communications. All rights reserved. Permission is granted to forward this entire newsletter, with all information intact, by email to social work colleagues, students, and others interested in social work, for personal use only. You may also print out this newsletter for personal use. All other uses of this material require permission from the publisher at: lindagrobman@socialworker.com