Hello --
Welcome to Issue
#208
of the
Social Work E-News!
Thank you for subscribing to receive this email newsletter, which is brought to you by the publisher of
The New Social Worker
magazine,
SocialWorker.com
,
SocialWorkJobBank.com
, and other social work publications.
HAPPY SOCIAL WORK MONTH 2018!  Throughout March, we are celebrating the social work profession by publishing messages from leaders and practitioners in the field. We have announced the winners of the Reverse Poetry Contest sponsored by The New Social Worker, in collaboration with Loyola University Chicago. AND...we will kick off our first ever webinar series.
In collaboration with BSCorbett Consulting, we offer
two webinars
this spring. The first is on
self-care
and the second on
negotiating your best salary and benefits.
I am pleased (and excited!) to present top experts on these topics. Find out more and register for the webinars.
Registration is open - reserve your seat today!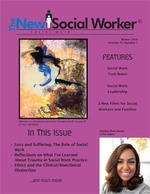 Here's a

quick link

for immediate download of the PDF edition for Winter 2018:
Most articles from the winter issue can be read on our website, as well. See listing below (after the "Featured Excerpt").
---
Have you subscribed to our mailing lists? You can go to
http://www.socialworker.com/Subscribe_to_The_New_Social_Worker
and
subscribe (free)
to receive an email reminder and table of contents of each issue of
The New Social Worker
magazine when it is available. If you are a subscriber to the E-News (which you are reading now), this does NOT mean that you are automatically subscribed to
The New Social Worker
magazine.
They are two different publications.
Are you one of our

170,000

+

fans on Facebook? Connect with us—we love connecting with you!
Until next time,
Linda Grobman, ACSW, LSW
Publisher/Editor
THE NEW SOCIAL WORKER®
Networking:
March marks several observances, including but not limited to:
National Social Work Month
Women's History Month
Problem Gambling Awareness Month
World Social Work Day - March 20
Ethics and the Clinical/Nonclinical Distinction

Editor's Note: This excerpt is from the Winter 2018 issue of THE NEW SOCIAL WORKER. Read the complete article at:
by Allan Barsky, JD, MSW, Ph.D.

     According to the National Association of Social Workers, social work is a single profession with a distinct set of values, ethical principles, and standards. Under the Council on Social Work Education's (n.d.) 2015 Educational Policy and Accreditation Standards, we have a common set of core competencies and receive common degrees at the baccalaureate or master's levels. BSW and MSW programs introduce students to the single profession concept early on, and it is not long before many students are faced with the question of whether they want to become clinical social workers. Unfortunately, people who are new to the profession may not be familiar with the notion of clinical social work, what it means, and what the other options are. This article seeks to answer these questions, as well as the question of what the clinical/nonclinical distinction means in terms of our ethical obligations.
    Clinical social work (CSW) refers to a "specialty practice area of social work which focuses on the assessment, diagnosis, treatment, and prevention of mental illness, emotional, and other behavioral disturbances. Individual, group and family therapy are common treatment modalities" (NASW, n.d.). To practice CSW, the laws in all 50 states require social workers to be licensed. To obtain licensure, they require an MSW with a CSW concentration (including classes and field), at least two years of post-MSW supervised clinical practice, and successful completion of a CSW exam (Association of Social Work Boards, n.d.). State laws provide licensed clinical social workers with a number of legal benefits, typically including the legal authority to diagnose mental health disorders, to conduct psychotherapy, to bill clients for third-party insurance reimbursement, to open an independent private practice, to provide clinical supervision, and to have the protection of "privilege" (i.e., courts cannot compel clinical social workers to testify unless clients provide permission).
    So, what is nonclinical social work (NCSW)? This term is reminiscent of the theme song for Gilligan's Island when the lyrics enumerate key characters, "There's Gilligan, the Skipper, too...." Rather than naming everyone, however, one version of the jingle states, "And the rest," as if they have no name, no special identity. What social worker wants to be defined by who they are not? For the purposes of this article, I am using the term NCSW for convenience, to indicate social workers who engage in case management, counseling, administration, advocacy, community development, social action, and any other social work role that is not specifically clinical. I apologize if the term sounds dismissive, and I certainly believe that social workers should identify themselves by who they are rather than who they are not.
    Across the United States and Canada, approximately 29% of licensed social workers have clinical licensure (Association of Social Work Boards, 2015). In most states, NCSWs can operate with either a BSW or MSW degree. About 30 states have nonclinical licensure for social workers with BSW or MSW degrees. In practice, however, people can engage in many of the nonclinical social work functions without having a social work license—and without even having a social work degree.
    Although the NASW Code of Ethics (2017) applies to all social workers, certain parts of the Code have more relevance for some social workers than for others. Part 1 of the Code refers to ethical responsibilities to clients, which certainly fits well for clinical social workers. Depending on the type of NCSW, some standards in this part may not be so relevant.
Editor's Note: This excerpt is from the Winter 2018 issue of THE NEW SOCIAL WORKER. Read the complete article at:
---
Here are some highlights from the Winter 2018 issue:
Student Role Model - Luisa Lopez, MSW student at NYU (in PDF format only)
Social work is a single profession with a distinct set of values, ethical principles, and standards. How do these apply differently for clinical and nonclinical social workers?
Most of the clients who came into my office, no matter what the diagnosis, had a history of extensive trauma, including childhood sexual abuse, physical abuse, domestic violence, neglect, and exposure to violence, among other difficult experiences.
In her final column, Valerie Arendt provides 7 tips for your social work résumé, along with some "do"s and "don't"s.
Loss and suffering often go hand-in-hand, and social work frequently entails working with individuals who have experienced loss. Examples include settings such as nursing homes, cancer programs, hospices, ICUs, addictions, prisons, and foster care.
Social work has a tradition of leadership. A good reason to become a social work leader is the fact that the profession is too important to be left to those without a social work background or a clear understanding of our profession.
One of the strengths of social work practice is our ability to be leaders in technology use. In developing new programs or creating new interventions involving technology, we are strongest when we aren't just competent, but are emergent leaders.
Macro social workers asked: What constitutes a protest song? On the surface, this seems straightforward - a topical song with a focus on social justice and social change. That said, the best songs are propelled by their themes and their quality.
Addison Cooper goes to the movies and reviews Mully, Coco, and Daddy's Home 2 through a social work lens.
Book review of Bipolar, Not So Much: Understanding Your Mood Swings and Depression.
Book review of Transgender Children and Youth: Cultivating Pride and Joy With Families in Transition.
Book review of Domestic Abuse, Child Custody, and Visitation.
...and much more! For the full Table of Contents and full text of all articles in this issue, please download the PDF.
Stay tuned throughout March for our continuing celebration of Social Work Month!
Recently Posted Jobs
Bay Cove Human Services
Van Buren Dialysis, Riverside, CA
---
Find jobs
for new grads and experienced social work practitioners at
http://www.socialworkjobbank.com
, THE NEW SOCIAL WORKER's online job board and career center.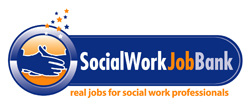 If you or your agency are
hiring social workers,
don't forget to post your jobs on SocialWorkJobBank.com. Please check the SocialWorkJobBank
"products/pricing" page
for job posting options and SPECIAL offers. 
Job seeker services are FREE—including searching current job openings, posting your confidential résumé/profile, and receiving email job alerts. Please let employers know that you saw their listings in the SOCIAL WORK E-NEWS and at SocialWorkJobBank.com.
There are
1,040 jobs
currently posted on SocialWorkJobBank.com. Check it out today.
The New Social Worker® Spring 2018 Webinar Series
Your career is important. You are important. We are pleased to bring you two expert presentations this spring to enhance your career.
---
Date: March 21, 2018
Time: 1:00-2:00 p.m. (EDT)
Date: April 18, 2018
Time: 1:00-2:00 p.m. (EDT)
We are excited to collaborate with
BSCorbett Consulting LLC
to bring you these experts as part of our Social Work Month (and beyond) celebration. We hope you will join us.


SPECIAL OFFER IN HONOR OF SOCIAL WORK MONTH:
$49/one webinar or $79/both webinars

(1.0 hour of CE credit included per webinar)
---
Write for THE NEW SOCIAL WORKER
I am seeking a limited number of articles for THE NEW SOCIAL WORKER website and magazine. Is there an issue that you are passionate about that corresponds with an upcoming "awareness" month, week, or day? This is a good way to identify a topic for a timely article.
Other topics of interest include: social work field placement issues, licensing, and career development.
Our style is conversational and educational, and web articles typically run 500-750 words. Feature articles typically run 1,250-1,500 words. We want positive articles that social workers can use to help them advance in their careers.
I also welcome submissions of poetry, photographs, illustrations, artwork, videos, audio, and other creative work depicting social work and related topics.
Submit articles to Linda Grobman with a subject line that says "Submission—(insert title or topic of submission). Attach your submission as a Word file.  Please include in this file: title of submission, your name as you want it to appear with your article, body of your submission, a brief bio about yourself.  I will then review your submission and let you know if I need anything else and/or whether it is accepted for publication.
Please email
Linda Grobman
with ideas for longer (1,250-1,500 words) "feature articles" for
THE NEW SOCIAL WORKER
magazine.
Thank you!
White Hat Communications, publisher of THE NEW SOCIAL WORKER magazine and the Social Work E-News, has published several
books about social work
. These books make great gifts (for graduation, holidays, or other occasions) for yourself, or for your friends, students, and colleagues in social work!
HOW TO ORDER
All of our books are available through our secure online store at:
Some of our books are also available as ebooks at
VitalSource
.
---
BEDTIME READING/GIFTS FOR SOCIAL WORK MONTH
Now in Paperback and Hardcover! 

ON CLINICAL SOCIAL WORK: MEDITATIONS AND TRUTHS FROM THE FIELD
is Dr. Danna Bodenheimer's NEW book. Published in July by The New Social Worker Press, it  reached #1 in new social work releases on Amazon.
The beautiful, full-color book - now in paperback and hardcover - makes a meaningful gift for you, a student, or a colleague. It is

available

 

now

at Amazon and Barnes and Noble (and other bookstores, too).
Jonathan Singer of the Social Work Podcast wrote the foreword to this book, and he said, "Danna pays attention to life's details with a psychotherapist's insight and writes about them with the passion of a slam poet. She speaks to the soul of social work and inspires us to think about more than just social work."
Jonathan B. Singer, Ph.D., LCSW, Associate Professor, Loyola University Chicago, Founder and host, Social Work Podcast
---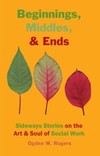 What does a life in social work look like? You might look at it as a series of "sideways" stories! "If life were black and white, we'd have no need for social work." Read Ogden Rogers' collection, Beginnings, Middles, & Ends: Sideways Stories on the Art & Soul of Social Work.
Available on Amazon.com (print and Kindle), Google Play (e-book), directly from the publisher, and other bookstores.
Do you know a social worker or social work student who loves to read? This book is a welcome retreat from academic textbooks.
"Beginnings, Middles, and Ends by Ogden W. Rogers is a thought-provoking book about the evolution of the author's career in the field of social work. The real-life stories are whimsical as well as enlightening. You follow the yellow brick road of a social work career and feel the passion and dedication that is required of those who are engaged in the social work profession.... A great read for anyone entering the profession, or if you are involved and feel your passion flickering, this book will surely re-ignite your love." --Mildred Mit Joyner, MSW, LCSW, Emerita Director and Professor of Social Work, West Chester University of Pennsylvania
---
Real World Clinical Social Work: Find Your Voice and Find Your Way
A ground-breaking book by Dr. Danna Bodenheimer, LCSW, from The New Social Worker Press
ISBN: 978-1-929109-50-0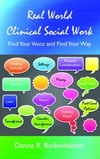 "Danna Bodenheimer has written an insider's guide to clinical social work that doesn't make the reader feel like an outsider. This book is the clinical supervisor you always wanted to have: brilliant yet approachable, professional yet personal, grounded and practical, yet steeped in theory, and challenging you to dig deeper." Jonathan B. Singer, Ph.D., LCSW, Associate Professor of Social Work, Loyola University Chicago, Founder and Host, Social Work Podcast
---
The A-to-Z Self-Care Handbook for Social Workers and Other Helping Professionals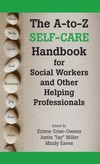 The A-to-Z format in this book provides 26 practical strategies for your personal self-care plan. Learn how to make a SMART plan and keep yourself accountable. Easy to read and essential for any social worker or helping professional.
IN THIS ISSUE
Editor's Eye
Classified Ads
This Month
Featured Excerpt

Job Corner/Current Job Openings

Reminders

NEWSLETTER NECESSITIES
You have subscribed to receive this free newsletter.
To unsubscribe, follow the "unsubscribe" link at the bottom of this newsletter. To change the address for your subscription, please use the "change email address" link at the bottom of this newsletter.

ABOUT THIS NEWSLETTER
THE NEW SOCIAL WORKER® SOCIAL WORK E-NEWS is published by:
White Hat Communications (publisher of THE NEW SOCIAL WORKER® magazine and THE NEW SOCIAL WORKER® ONLINE)
Harrisburg, PA 17110-0390
Advertising: To place a job listing, sponsor this newsletter, place a banner ad on our website, or advertise in THE NEW SOCIAL WORKER magazine, email lindagrobman@socialworker.com for rates and further information.
News: Please send brief social work-related news items to lindagrobman@socialworker.com for consideration.
PRIVACY
Your subscription email address will only be used to deliver this e-newsletter and to occasionally inform you of updates from its publisher. Your email address will not be given to anyone else or used for any other purpose as a result of your subscription to this newsletter.
Copyright 2018 White Hat Communications. All rights reserved. Permission is granted to forward this entire newsletter, with all information intact, by email to social work colleagues, students, and others interested in social work, for personal use only. You may also print out this newsletter for personal use. All other uses of this material require permission from the publisher at: lindagrobman@socialworker.com