Hello --
Welcome to Issue
#222
of the
Social Work E-News!
Thank you for subscribing to receive this email newsletter, which is brought to you by the publisher of
The New Social Worker
magazine,
SocialWorker.com
,
SocialWorkJobBank.com
, and other social work publications.
Congratulations to all NEW social work graduates! Welcome to the social work profession. Do you have a great graduation photo you would like to share? Tag us on Instagram (@newsocialworker) or Twitter (@newsocialworker).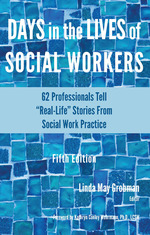 I am excited to announce that the
5th edition
of my book,
Days in the Lives of Social Workers,
is now available for pre-order! This new edition includes a total of 62 stories of social workers, each in a different role or setting. New chapters include social work in: a public library, a police department, anti-trafficking, opioid treatment, suicide prevention/intervention, adoption, a legislative office, arts-based programming, and social work education.
The New Social Worker website
is a great place to find a variety of new and archived articles on job search, social work careers, practice, ethics, and more issues for new grads.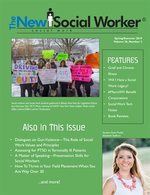 Did you hear the news? Our Spring/Summer issue is available NOW!
Read articles from the Spring/Summer issue at
http://www.socialworker.com
.
Here's a

quick link

for immediate download of the PDF edition for Spring/Summer 2019:
Highlights: gun violence dialogue and social work values, social work and autoimmune disease, your social work legacy, assessing for PTSD in terminally ill patients, loss and chronic illness, the technology monster, and more. See listing below (after the "Featured Excerpt").
---
Have you subscribed to our mailing lists? You can go to
http://www.socialworker.com/Subscribe_to_The_New_Social_Worker
and
subscribe (free)
to receive an email reminder and table of contents of each issue of
The New Social Worker
magazine when it is available. If you are a subscriber to the E-News (which you are reading now), this does NOT mean that you are automatically subscribed to
The New Social Worker
magazine.
They are two different publications.
Are you one of our

176,000

+

fans on Facebook? Connect with us—we love connecting with you!
Until next time,
Linda Grobman, ACSW, LSW
Publisher/Editor
THE NEW SOCIAL WORKER®
Networking:
May marks several observances, including but not limited to:
Mental Health Month
National Teen Pregnancy Prevention Month
National Foster Care Month
National Women's Health Week (May 12-18)
and more.
Preparing Social Workers for Underrepresented Communities
Loyola's New Online, Bilingual Master of Social Work (MSW)
The need has never been greater for social workers equipped to provide aid to Latinx, immigrant, and refugee communities. Loyola University Chicago announces the nation's first
fully online, bilingual Master of Social Work
—taught in Spanish to prepare linguistically and culturally competent social workers.
Online Bilingual MSW Highlights:
100% online
Accredited by the Council on Social Work Education (CSWE)
No GRE required
No application fee
FAFSA applicants automatically considered for scholarships
Specialization in mental health and migration studies available
Find out why Loyola's School of Social Work is named among the Top 50 Graduate Social Work Schools in the nation by U.S. News & World Report.
Application Deadlines
July 1 – Fall Session
October 1 – Spring Session
Job Corner/Current Job Openings
Alliance for Healing, White Bear Lake, MN

Alliance for Healing, White Bear Lake, MN, is looking for therapists to join our team. We have a beautiful, welcoming clinic. Our therapists work with trauma, behavioral addictions, relational betrayal, and rebuilding resiliency from loss and other life stressors. We specialize in neurofeedback - in making changes that last. This salaried position has benefits including 401K retirement plan, health/dental insurance, vacation pay, holiday pay, and training opportunities.
Must be fully licensed as a Mental Health Professional in the state of Minnesota and have an interest and experience in trauma work, relationship betrayal, attachment disorders, and compulsive behaviors. We are looking for competent, confident, and creative therapists who are committed to be part of a growing team.
To apply: Send letter of interest and resume to Diane Hovey, PhD, Alliance for Healing PA, to diane@aheartt.com or in writing to Alliance for Healing PA, 4505 White Bear Parkway, WBL, MN 55110.
---
St. Dominic's Family Services
The Vice President of Administrative Services in the Family Foster Care Program is to manage all aspects in the program related to fiscal viability, CSNYC fidelity, Record management, Policies/Procedures, Homefinding/Intake Unit, Accountability Unit Program Facilities, Program Administration (including administrative support personnel), and general office management. 
Master's in Social Work, a Licensed Social Worker (LCSW or LMSW) preferred with a minimum of (ten) 10 years experience in the field of social work and in the field of Child Welfare. A minimum of eight (8) years of supervisory experience is required.
---
Bluestone Physician Services
Bluestone Physician Services is one of the largest providers of residential primary care in the nation. In addition, Bluestone has a highly developed care coordination model for seniors and individuals living with disabilities. Our Licensed Social Workers promote patient, family, and clinical partnerships to more than 2,000 members throughout Minnesota. Join our growing team as a Care Coordinator working with seniors (MSHO/MSC+) throughout the St Paul/Mpls metro area. Through partnerships with managed care organizations, we provide case management and care coordination services ensuring DHS and CMS required activities are met for senior members (MSHO/MSC+) living in the community, group homes, assisted living facilities. From initial assessment to care planning and coordination of Medicare and Medicaid benefits & services acting as a member of the client's interdisciplinary team. This position works from home and in the field with clients. For questions, contact: Felicia Mead / 651.472.8358 To apply: www.bluestonemd.com
---
Find jobs
for new grads and experienced social work practitioners at
http://www.socialworkjobbank.com
, THE NEW SOCIAL WORKER's online job board and career center.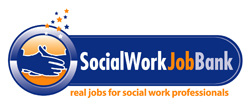 If you or your agency are
hiring social workers,
don't forget to post your jobs on SocialWorkJobBank.com. Please check the SocialWorkJobBank
"products/pricing" page
for job posting options and SPECIAL offers. 
Job seeker services are FREE—including searching
current job openings
, posting your confidential résumé/profile, and receiving email job alerts. Please let employers know that you saw their listings in the SOCIAL WORK E-NEWS and at SocialWorkJobBank.com.
The Intersection of Autoimmune Disease and Social Work: An Effective Partnership for Health

Editor's Note: This excerpt is from THE NEW SOCIAL WORKER's Spring/Summer 2019 issue.

Read the complete article at:
by Casey Hersch, MSW, LCSW
    The American Autoimmune Related Diseases Association, Inc., estimates as many as fifty million Americans suffer from autoimmune related diseases; 80 to 100 diseases fit into these categories (2018). Social workers offer services in diverse community sectors such as schools, mental health agencies, hospitals and medical clinics, nonprofits, and private practices. Clients are not often referred for mental health services following a diagnosis of autoimmune disease. It is more common that social workers will learn of other stressors—such as a diagnosis of autoimmune disease—through assessment or ongoing interactions with their clients.  Autoimmune disease may not come up in conversation, as clients can be unclear about how their illness overlaps with mental health. They may not see how a social worker can help. As an LCSW who lives with Crohn's disease—an autoimmune disease also known as Inflammatory Bowel Disease—I learned the nuances in treatment from my own personal experiences. Social workers are an integral part of the treatment team and contribute significantly to helping patients manage symptoms and heal. Therefore, understanding how to approach these patients in an ethical and diligent manner is critical.
What Is Autoimmune Disease?
    Our immune system is supposed to protect us from disease and infection. However, in the case of autoimmune disease, the immune system loses its ability to distinguish foreign invaders from the body's own self. It sees its own tissues, healthy cells, and gut microbes as a threat, and the confused immune system attacks its own body.
    Some common autoimmune diseases include:
Fibromyalgia
Rheumatoid arthritis
Endometriosis
Lyme disease (chronic)
Lupus
Sjögren's syndrome
Common Physical Aspects of Autoimmune Disease
   Many patients who have autoimmune disease experience chronic distress as evidenced by common symptoms: fatigue, joint pain and swelling, skin problems, abdominal pain or digestive issues, recurring fever, and swollen glands (Orbai, 2018). The distressing symptoms are compounded by unpredictable relapses and remissions. It is not unusual for patients suffering from autoimmune disease to have sensitivities to food, chemicals, and environmental triggers. University of Virginia rheumatologist Angela Crowley, MD, describes how autoimmune diseases can present with common symptoms, such as joint pain, alone or in combination with common symptoms overlapping other diseases. Because autoimmune disease can mimic dozens of diseases, it is important to view each patient as "unique" in their presentation of symptoms—no one patient will look the same as another patient with the same condition. This makes diagnosis challenging (Marshall, 2014).
    At the root of autoimmune disease is inflammation (Hyman, 2010). Most of us can recall being bitten by a mosquito; the swelling that results is obvious. Inflammation is a natural response by the body to protect itself from a foreign invader (in this case, the mosquito bite). The area of the bite is flooded with immune cells mounting their attack on the invader, and you can see swelling, redness, and feel heat or pain. Similarly, in autoimmune disease, the body attacks its own tissues, mounting an inflammatory response. This inflammation can have a negative impact on organs and lead to a variety of symptoms.
For the full Table of Contents and full text of all articles in this issue, please
download the PDF.
Recent Web-Exclusive Articles
Mental Health Month Resources
May is Mental Health Month. Mental Health America is "expanding upon last year's theme of #4Mind4Body and taking it to the next level, as we explore the topics of animal companionship (including pets and support animals), spirituality, humor, work-life balance, and recreation and social connections as ways to boost mental health and general wellness" (from MHA website).
You can find resources on each of these topics (and more) on MHA's website:
---
MerckManuals.com - Newly-Designed Free Website Provides Objective Health Information, Protects User Privacy
Kenilworth, N.J. (May 2019) –
MerckManuals.com
provides its users with health information that is free of advertising or sponsored content of any kind.
Use of the website is unlimited and always free. Moreover, there is no registration and visitors are never asked to provide personal information.
Visitors to the Merck Manuals website can select advanced content, appropriate for health professionals and medical students, or easier to understand information developed for patients and consumers.
Among improvements to the website are a more prominent search box, a "letter spine" for locating health topics and medical conditions alphabetically, and "quick links" to material about first aid and emergencies, normal laboratory results, and drug information.
The expanded online collection of assets includes a news feed, commentary, infographics, videos, podcasts, 3D models, health calculators and trackers, quizzes, a pill identifier, and a guide to the pronunciation of medical terms.
The digital platform allows for timely discussions of pressing social issues with significant public health implications, such as healthy travel, school bullying, and elder abuse.
---
Write for THE NEW SOCIAL WORKER
I am seeking a limited number of articles for THE NEW SOCIAL WORKER website and magazine. Is there an issue that you are passionate about that corresponds with an upcoming "awareness" month, week, or day; holiday; or time of year/season? This is a good way to identify a topic for a timely article for our website.
For the magazine, we are seeking articles on social work career development and field placement issues.
Our style is conversational and educational, and web articles typically run 500-750 words. Feature articles typically run 1,250-1,500 words. We want positive articles that social workers can use to help them advance in their careers.
I also welcome submissions of poetry, photographs, illustrations, artwork, videos, audio, and other creative work depicting social work and related topics.
Submit articles to Linda Grobman with a subject line that says "Submission—(insert title or topic of submission)." Attach your submission as a Word file. Please include in this file: title of submission, your name as you want it to appear with your article, body of your submission, a brief bio about yourself.  I will then review your submission and let you know if I need anything else and/or whether it is accepted for publication.
Please email
Linda Grobman
with ideas for longer (1,250-1,500 words) "feature articles" for
THE NEW SOCIAL WORKER
magazine.
Thank you!
The A-to-Z Self-Care Handbook for Social Workers and Other Helping Professionals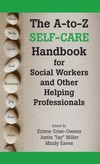 The A-to-Z format in this book provides 26 practical strategies for your personal self-care plan. Learn how to make a SMART plan and keep yourself accountable. Easy to read and essential for any social worker or helping professional.
---
BEDTIME READING/GIFTS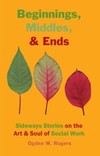 BEGINNINGS, MIDDLES, & ENDS: SIDEWAYS STORIES ON THE ART & SOUL OF SOCIAL WORK
With just the right blend of humor and candor, each of these stories contains nuggets of wisdom that you will not find in a traditional textbook. They capture the essence and the art and soul of social work.
---

Now in Paperback and Hardcover: ON CLINICAL SOCIAL WORK: MEDITATIONS AND TRUTHS FROM THE FIELD
is Dr. Danna Bodenheimer's NEWEST book.

The beautiful, full-color book - now in paperback and hardcover - makes a meaningful gift for you, a student, or a colleague. It is

available

 

now

at Amazon and Barnes and Noble (and other bookstores, too).
Jonathan Singer of the Social Work Podcast wrote the foreword to this book, and he said, "Danna pays attention to life's details with a psychotherapist's insight and writes about them with the passion of a slam poet. She speaks to the soul of social work and inspires us to think about more than just social work."
Jonathan B. Singer, Ph.D., LCSW, Associate Professor, Loyola University Chicago, Founder and host, Social Work Podcast
---
White Hat Communications, publisher of THE NEW SOCIAL WORKER magazine and the Social Work E-News, has published several
books about social work
. These books make great gifts (for graduation, holidays, or other occasions) for yourself, or for your friends, students, and colleagues in social work!
HOW TO ORDER
All of our books are available through our secure online store at:
Most of our publications are available at
Amazon.com
. (Some are available in Kindle format, as well as print.)
Many of our books are also available as ebooks at
VitalSource
.
---
Quick Link: Spring/Summer 2019

IN THIS ISSUE
Editor's Eye
This Month
From Our Sponsors

Job Corner/Current Job Openings

Featured Excerpt

News & Resources

Reminders

NEWSLETTER NECESSITIES
You have subscribed to receive this free newsletter.
To unsubscribe, follow the "unsubscribe" link at the bottom of this newsletter. To change the address for your subscription, please use the "change email address" link at the bottom of this newsletter.

ABOUT THIS NEWSLETTER
THE NEW SOCIAL WORKER® SOCIAL WORK E-NEWS is published by:
White Hat Communications (publisher of THE NEW SOCIAL WORKER® magazine and THE NEW SOCIAL WORKER® ONLINE)
Harrisburg, PA 17110-0390
Advertising: To place a job listing, sponsor this newsletter, place a banner ad on our website, or advertise in THE NEW SOCIAL WORKER magazine, email lindagrobman@socialworker.com for rates and further information.
News: Please send brief social work-related news items to lindagrobman@socialworker.com for consideration.
PRIVACY
Your subscription email address will only be used to deliver this e-newsletter and to occasionally inform you of updates from its publisher. Your email address will not be given to anyone else or used for any other purpose as a result of your subscription to this newsletter.
Copyright 2019 White Hat Communications. All rights reserved. Permission is granted to forward this entire newsletter, with all information intact, by email to social work colleagues, students, and others interested in social work, for personal use only. You may also print out this newsletter for personal use. All other uses of this material require permission from the publisher at: lindagrobman@socialworker.com