Hello --
Welcome to Issue #197 of the Social Work E-News! Thank you for subscribing to receive this email newsletter, which is brought to you by the publisher of The New Social Worker magazine, SocialWorker.com, SocialWorkJobBank.com, and other social work publications.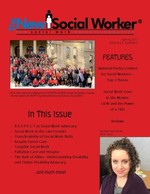 Good news!
The
Spring 2017
issue of
The New Social Worker
is available now! Read articles from the Spring issue at
http://www.socialworker.com
. 
Here's a

quick link

for immediate download of the PDF edition for Spring 2017:
Most articles from the spring issue can be read on our website, as well. Highlights include: ethics in social work advocacy, social work in Alaska, transferability of social work skills from one practice area to another, respite foster care, tangible social work, palliative care and hospice, online disability advocacy and allies, volunteer opportunities, book reviews, and more!
ANOTHER GREAT SOCIAL WORK MONTH!
The New Social Worker's
Social Work Month Project 2017
is now completed. Thank you to all who submitted entries for our project. We  published essays, artwork, and poetry showing the variety and depth of our profession. So please visit the
project's page
for these inspiring posts by social work students, practitioners, educators, and leaders.
Have you subscribed to our mailing lists? You can go to
http://www.socialworker.com/Subscribe_to_The_New_Social_Worker
and
subscribe (free)
to receive an email reminder and table of contents of each issue of
The New Social Worker
magazine when it is available. If you are a subscriber to the E-News (which you are reading now), this does NOT mean that you are automatically subscribed to
The New Social Worker
magazine.
They are two different publications.
Are you one of our

162,000

+

fans on Facebook? Connect with us—we love connecting with you!
Until next time,
Linda Grobman, ACSW, LSW
Publisher/Editor
THE NEW SOCIAL WORKER®
Networking:
April marks several observances, including but not limited to:
Sexual Assault Awareness and Prevention Month
National Alcohol Awareness Month
National Autism Awareness Month
National Child Abuse Prevention Month
National Minority Health Month
National Poetry Month
Tangible Social Work: It's Not Just Child's Play, It's Neuroscience

Editor's Note: This excerpt is from the Spring 2017 issue of THE NEW SOCIAL WORKER. Read the complete article at:
by Kristina Sargent, MSW, LISW-S
     As a fresh-out-of-graduate-school social worker, I remember being open and excited about the opportunities ahead. The sky seemed to be the limit in all the prospects social work offered, and after passing my licensure exam, I was willing and ready to explore the vast and diverse landscape of social work as my career.  After noticing a posting for an early childhood mental health specialist, I reviewed my child development class notes and had a successful interview for the position. However, I quickly felt unprepared for and was challenged by how to apply the theoretical concepts and interventions I learned in graduate school to the young children on my caseload.
What are the stages of change for a 5-year-old?
Is it possible to use Cognitive Behavioral Therapy with a pre-schooler?
How can I teach a lower functioning 4-year-old about "deep breathing" when the child does not even understand that terminology?
   It didn't take me long to realize that the social work principle of "meeting clients where they are" would require further training and some visits to yard sales and toy stores.  
     When we understand the brain and its development, we realize that children learn through experience. Just as young animals can be seen on National Geographic pouncing playfully on their mothers and pawing joyfully through foliage after insects, children also learn, explore, and heal through play. Through the repetitions of motor skills and behaviors such as in play-based behavior, brain activity is altered and the brain changes (Kolb, 2009). Truly comprehending this understanding of learning through experience and the undeniable power of play in learning, growth, and development changed everything for me about how I related with clients and families.
Story Stones
     As I received further training in play therapy, I began feeling more comfortable taking known concepts, theories, and therapeutic interventions and making them tangible. For example, instead of expecting a young child to talk about her day or process through stressful and traumatic experiences verbally, I began to use story stones. These are tangible rocks with small pictures on them that children can use to show the linear progression of an occurrence and identify the changing emotions in the story they are sharing. These visuals allow children to explore and identify what they could have done differently to change the outcome of the story (for example, take a stone representing yelling and throwing things and replace with a stone representing taking a walk). These pictured stones also became a sorting game in which clients would sort the pictures based on emotions they elicit for them, thus identifying triggers and leaving opportunities to process unresolved trauma-related experiences and gain self-awareness and self-perceptions. Who knew some little grey stones could be such a powerful tool in any social worker's office?
Editor's Note: This excerpt is from the Spring 2017 issue of THE NEW SOCIAL WORKER. Read the complete article at:
---
Here are some highlights from the Spring issue:
...and much more! For the full Table of Contents and full text of all articles in this issue, please dowload the PDF. You can also watch my
Video Table of Contents
!
---
Find jobs
for new grads and experienced social work practitioners at
http://www.socialworkjobbank.com
, THE NEW SOCIAL WORKER's online job board and career center.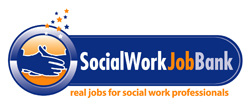 If you or your agency are
hiring social workers,
don't forget to post your jobs on SocialWorkJobBank.com. Please check the SocialWorkJobBank
"products/pricing" page
for job posting options and SPECIAL offers. 
Job seeker services are FREE—including searching current job openings, posting your confidential résumé/profile, and receiving email job alerts. Please let employers know that you saw their listings in the SOCIAL WORK E-NEWS and at SocialWorkJobBank.com.
There are
1,056 jobs
currently posted on SocialWorkJobBank.com. Check it out today.
The A-to-Z Self-Care Handbook for Social Workers and Other Helping Professionals
Edited by Erlene Grise-Owens, Justin "Jay" Miller, and Mindy Eaves. This is the latest book from The New Social Worker Press. The book, which takes readers through the alphabet to discover a variety of self-care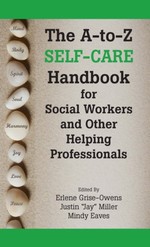 strategies and develop a personalized self-care plan, is now available in both print and Kindle formats.
Order the book now at:
This book is ideal for individuals or for group trainings on self-care. If your agency is interested in buying it in bulk for training or other purposes, please contact
me
.
...a caring and useful resource for helping professionals concerned about burnout, stress, staff turnover, and wellness.... By focusing on insights and reflections and providing resources and strategies, The A-to-Z Self-Care Handbook is a practical guide and an empowering book.
DR. BARBARA W. SHANK, Ph.D., MSW, Dean and Professor, School of Social Work, University of St. Thomas, St. Catherine University, Chair, Board of Directors, Council on Social Work Education
...well-researched and practice-based book that offers instructions, insights, and recommendations on incorporating self-care that can guide a person's practice in helping others.
Paula Lopez/PsychCentral.com
---
BEDTIME READING/GIFTS FOR SOCIAL WORKERS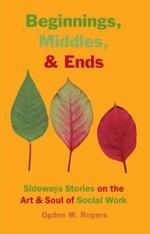 What does a life in social work look like?
You might look at it as a series of "sideways" stories! "If life were black and white, we'd have no need for social work." Read Ogden Rogers' collection,
Beginnings, Middles, & Ends: Sideways Stories on the Art & Soul of Social Work.
Available on
Amazon.com
(print and Kindle), Google Play (e-book), directly from the
publisher
, and other bookstores.
Do you know a social worker or social work student who loves to read? This book is a welcome retreat from academic textbooks.
Beginnings, Middles, and Ends by Ogden W. Rogers is a thought-provoking book about the evolution of the author's career in the field of social work. The real-life stories are whimsical as well as enlightening. You follow the yellow brick road of a social work career and feel the passion and dedication that is required of those who are engaged in the social work profession.... A great read for anyone entering the profession, or if you are involved and feel your passion flickering, this book will surely re-ignite your love. --Mildred Mit Joyner, MSW, LCSW, Emerita Director and Professor of Social Work, West Chester University of Pennsylvania
---
Real World Clinical Social Work: Find Your Voice and Find Your Way
A ground-breaking book by Dr. Danna Bodenheimer, LCSW, from The New Social Worker Press
ISBN: 978-1-929109-50-0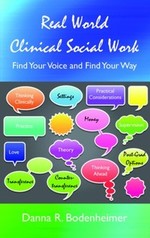 223 pages
Available now at:
"Danna Bodenheimer has written an insider's guide to clinical social work that doesn't make the reader feel like an outsider. This book is the clinical supervisor you always wanted to have: brilliant yet approachable, professional yet personal, grounded and practical, yet steeped in theory, and challenging you to dig deeper." Jonathan B. Singer, Ph.D., LCSW, Associate Professor of Social Work, Loyola University Chicago, Founder and Host, Social Work Podcast
---
Advertise With Us
If you would like to reach our audience of 47,000+ social workers and others interested in social work with information about your program or social work-related product, please contact Linda for information on advertising in THE NEW SOCIAL WORKER, the Social Work E-News, or on our website at SocialWorker.com.
Hope for the Warriors Awarded Grant to Support Master of Social Work Internship Program and Staff Capacity-Building

SPRINGFIELD, Va. (March 29, 2017) – Hope For The Warriors has been awarded a three-year grant from Altria Group, Inc., to provide major support of its Master of Social Work (MSW) Internship Program. In addition, the grant will support staff capacity-building and leadership development activities.

Hope For The Warriors is a national nonprofit dedicated to restoring a sense of self, family, and hope for veterans, service members, and military families.

The goal of the Hope For The Warriors MSW Internship Program is to train tomorrow's military and veteran mental health service providers by ensuring that interns enter the social work profession with a thorough understanding of the unique needs of military families.
During the MSW Internship Program, interns gain firsthand experience by working under Hope For The Warriors' licensed social workers. Learning opportunities include formal and experiential military cultural competency training, one-on-one interaction with service members and veterans, and training and application of trauma-informed practices to client care.
Since it was launched in 2012, the MSW Internship Program has placed more than 40 students. These interns have provided more than 20,000 hours of program support in the clinical health area to Hope For The Warriors during this period.
"We're extremely grateful to Altria Group for its three-year commitment to our Master of Social Work Internship Program," said Robin Kelleher, co-founder, president, and CEO of Hope For The Warriors. "Thanks to this grant, we're able to substantially increase the quantity and quality of case management and care coordination services, allowing us to serve more military personnel and their families."
For more information on Hope For The Warriors, visit
hopeforthewarriors.org
.
---
Write for THE NEW SOCIAL WORKER
I am seeking a limited number of articles for THE NEW SOCIAL WORKER website. Is there an issue that you are passionate about that corresponds with an upcoming "awareness" month, week, or day? This is a good way to identify a topic for a timely article.
Our style is conversational and educational, and web articles typically run 500-750 words. We want positive articles that social workers can use to help them advance in their careers.
I also welcome submissions of poetry, photographs, illustrations, artwork, videos, audio, and other creative work depicting social work and related topics.
Submit articles to Linda Grobman with a subject line that says "Submission—(insert title or topic of submission). Attach your submission as a Word file.  Please include in this file: title of submission, your name as you want it to appear with your article, body of your submission, a brief bio about yourself.  I will then review your submission and let you know if I need anything else or if it is accepted for publication.
Please email
Linda Grobman
with ideas for longer (1,250-1,500 words) "feature articles" for
THE NEW SOCIAL WORKER
magazine.
Thank you!
---
White Hat Communications, publisher of THE NEW SOCIAL WORKER magazine and the Social Work E-News, has published several
books about social work
. These books make great gifts (for graduation, holidays, or other occasions) for yourself, or for your friends, students, and colleagues in social work!
HOW TO ORDER
All of our books are available through our secure online store at:
IN THIS ISSUE
Featured Excerpt

Job Corner/Current Job Openings
Words from Our Sponsors
Reminders

NEWSLETTER NECESSITIES
You have subscribed to receive this free newsletter.
To unsubscribe, follow the "unsubscribe" link at the bottom of this newsletter. To change the address for your subscription, please use the "change email address" link at the bottom of this newsletter.

ABOUT THIS NEWSLETTER
THE NEW SOCIAL WORKER® SOCIAL WORK E-NEWS is published by:
White Hat Communications (publisher of THE NEW SOCIAL WORKER® magazine and THE NEW SOCIAL WORKER® ONLINE)
Harrisburg, PA 17110-0390
lindagrobman@socialworker.com

http://www.socialworker.com
Advertising: To place a job listing, sponsor this newsletter, place a banner ad on our website, or advertise in THE NEW SOCIAL WORKER magazine, email lindagrobman@socialworker.com for rates and further information.
News: Please send brief social work-related news items to lindagrobman@socialworker.com for consideration.
PRIVACY
Your subscription email address will only be used to deliver this e-newsletter and to occasionally inform you of updates from its publisher. Your email address will not be given to anyone else or used for any other purpose as a result of your subscription to this newsletter.
Copyright 2017 White Hat Communications. All rights reserved. Permission is granted to forward this entire newsletter, with all information intact, by email to social work colleagues, students, and others interested in social work, for personal use only. You may also print out this newsletter for personal use. All other uses of this material require permission from the publisher at: lindagrobman@socialworker.com