Hello --
Welcome to Issue #203 of the Social Work E-News! Thank you for subscribing to receive this email newsletter, which is brought to you by the publisher of The New Social Worker magazine, SocialWorker.com, SocialWorkJobBank.com, and other social work publications.
I am so excited that our Fall issue is out! This issue includes some important articles for all social workers summarizing the NEW NASW Code of Ethics (taking effect January 1) and the new standards for technology in social work practice. Every social worker needs to become very familiar with these two documents! Other highlights include articles on interrupting Islamophobia, resilience for social workers, female genital cutting, making the most of your time as a social work student, asking for professional references, and more.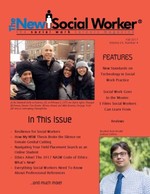 Here's a

quick link

for immediate download of the PDF edition for Fall 2017:
Most articles from the fall issue can be read on our website, as well. See listing below (after the "Featured Excerpt").
---
Thank you to those who joined us for our live author chat on September 26. We will post a video soon! Watch
our Facebook page
for an announcement of it.
---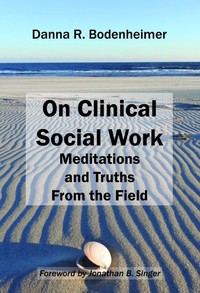 Now in Paperback! 
ON CLINICAL SOCIAL WORK: MEDITATIONS AND TRUTHS FROM THE FIELD is Dr. Danna Bodenheimer's NEW book. Published in July by The New Social Worker Press, it  reached #1 in new social work releases on Amazon.
The beautiful, full-color book - now in paperback
and
hardcover - makes a meaningful gift for you, a student, or a colleague.
It is

available
now
at
Amazon
and
Barnes and Noble
(maybe at your local bookstore, too).
Jonathan Singer of the Social Work Podcast wrote the foreword to this book, and he said, "Danna pays attention to life's details with a
psychotherapist's insight
and writes about them with the
passion of a slam poet.
She speaks to the soul of social work and inspires us to think about more than just social work."
Jonathan B. Singer, Ph.D., LCSW, Associate Professor, Loyola University Chicago, Founder and host, Social Work Podcast
We also have a supply
available from
our online store
, and we will send your order out to you right away!
---
Have you subscribed to our mailing lists? You can go to
http://www.socialworker.com/Subscribe_to_The_New_Social_Worker
and
subscribe (free)
to receive an email reminder and table of contents of each issue of
The New Social Worker
magazine when it is available. If you are a subscriber to the E-News (which you are reading now), this does NOT mean that you are automatically subscribed to
The New Social Worker
magazine.
They are two different publications.
Are you one of our

166,000

+

fans on Facebook? Connect with us—we love connecting with you!
Until next time,
Linda Grobman, ACSW, LSW
Publisher/Editor
THE NEW SOCIAL WORKER®
Networking:
October marks several observances, including but not limited to:
World Mental Health Day (October 10)
Domestic Violence Awareness Month
National Bullying Prevention Month
National Breast Cancer Awareness Month

New Standards Provide Guidelines for Social Workers in an Ever-Changing Tech World

Editor's Note: This excerpt is from the Fall 2017 issue of THE NEW SOCIAL WORKER. Read the complete article at:
by Linda May Grobman, MSW, ACSW, LSW
In June 2017, the NASW, ASWB, CSWE, and CSWA Standards for Technology in Social Work Practice were released. The 64-page document marked the culmination of a 2-year process of collaboration among the four organizations. The Task Force for Technology Standards in Social Work Practice reviewed literature and emerging standards in social work and related professions. A draft of the standards was released in Summer 2016 for public comment, and the Task Force then reviewed every comment received.
Allan Barsky, J.D., MSW, Ph.D., served as a member of the National Task Force on Practice Standards on Technology and Social Work and Chair of the NASW Task Force on Code of Ethics Revisions. "In both capacities, my colleagues and I strove to identify what types of guidance may be helpful in helping social workers determine whether and how to implement different forms of technology in social work in an ethical manner," Barsky says. "We did a lot of research on how other professions handled similar issues....We incorporated feedback from social workers representing a broad range of areas of practice. The process of developing practice standards was very dynamic, and not without controversy and spirited conflict. And now, the process and dialogue continue. Both task forces realized that any guidelines we establish today will need to be reconsidered as technology and its applications in social work continue to evolve."
According to the document's  Introduction, the standards "...are designed to guide social workers' use of technology; enhance social workers' awareness of their ethical responsibilities when using technology; and inform social workers, employers, and the public about practice standards pertaining to social workers' use of technology." The Standards provide general guidance to social workers and are best used in conjunction with the NASW
Code of Ethics
and relevant statutes and regulations. (See
Barsky's article on technology-related and other changes to the
Code of Ethics.)
Julie Gilliam, Sc.D., M.S., BSW, Lead Instructional Technologist at the University of Maryland School of Social Work, served as a member of the Technology Standards Sub-Task Force Advisory Group. She told The New Social Worker, "In my opinion, the new standards are very comprehensive in terms of the utilization of technology for social workers. The new standards doubled in size from 28 to 64 pages. The new standards cover the following topics in terms of social work and technology: presenting, designing, delivering, gathering, managing, storing, connecting, and educating."
Barsky adds, "The standards do not dictate whether social workers should use technology, or how they should use technology, but they do inform social workers about some of the complications and concerns that should be addressed when deciding whether and how to use various forms of technology in social work practice."
This comprehensive document includes four main sections:
Provision of information to the public (2 standards)
Designing and delivering services (27 standards)
Gathering, managing, and storing information (14 standards)
Social work education and supervision (12 standards)
The document provides an extensive glossary of terms, as well as resources.
Section 1 (provision of information to the public) includes standards on ethics and values, as well as representation of self and accuracy of information. Section 2 (designing and delivering services) is by far the most extensive, with 27 standards. Examples of standards in Section 2 include: ethical use of technology to deliver social work services, services requiring licensure or other forms of accreditation, informed consent, providing electronic social work services, assessing clients' relationship with technology, confidentiality, electronic payments, maintaining professional boundaries, social media policy, fundraising, using personal technology for work, and others.
Editor's Note: This excerpt is from the Fall 2017 issue of THE NEW SOCIAL WORKER. Read the complete article at:
---
Here are some highlights from the Fall 2017 issue:
Student Role Model - Joshua Collins (in PDF format only)
...and much more! For the full Table of Contents and full text of all articles in this issue, please download the PDF.
BONUS:  Read recent online exclusive articles:
Our Mental Health Team at Wakulla Correctional Institution is growing! Come join our team of caring Mental Health professionals!  
Centurion of Florida is proud to be the provider of healthcare services to the Florida Department of Corrections. 
Centurion, a partnership between MHM Services and Centene, is a leading provider of healthcare, mental healthcare, and dental services to inmates throughout the country. Due to an expansion of the mental health unit, we are currently hiring several Mental Health Professionals, for Full Time opportunities at the Wakulla Correctional Institution, located in Crawfordville, FL.  
Come to our 3-day hiring event for on-the-spot interviews:
October 12th 9am – 5pm 
October 13th 10am – 6pm
October 14th 9am – 2pm
For additional information, to RSVP or if you cannot attend, please contact: Shanda Bourne; contact information below.
Centurion of FL cares; we offer one of the best benefit packets in the area:
Health, dental, life, vision and disability insurance
401k with employer match
20 paid days off plus 8 paid holidays
Health savings account with matching employer contributions
Flexible spending accounts for health and dependent care
Wellness activity subsidy
Access to corporate discount programs
Regular and consistent work schedule
Manageable work loads
Tuition reimbursement
**NHSC Loan repayment is available for qualifying locations**
Mental Health Professionals:
Master's degree in social work, psychology, or counseling from an accredited program
Mental Health license in FL (LCSW, LMHC, LMFT)
---
Find jobs
for new grads and experienced social work practitioners at
http://www.socialworkjobbank.com
, THE NEW SOCIAL WORKER's online job board and career center.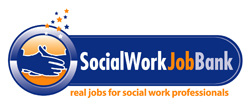 If you or your agency are
hiring social workers,
don't forget to post your jobs on SocialWorkJobBank.com. Please check the SocialWorkJobBank
"products/pricing" page
for job posting options and SPECIAL offers. 
Job seeker services are FREE—including searching current job openings, posting your confidential résumé/profile, and receiving email job alerts. Please let employers know that you saw their listings in the SOCIAL WORK E-NEWS and at SocialWorkJobBank.com.
There are
1,049 jobs
currently posted on SocialWorkJobBank.com. Check it out today.
BEDTIME READING/GIFTS FOR SOCIAL WORK GRADUATES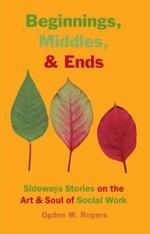 What does a life in social work look like?
You might look at it as a series of "sideways" stories! "If life were black and white, we'd have no need for social work." Read Ogden Rogers' collection,
Beginnings, Middles, & Ends: Sideways Stories on the Art & Soul of Social Work.
Available on
Amazon.com
(print and Kindle), Google Play (e-book), directly from the
publisher
, and other bookstores.
Do you know a social worker or social work student who loves to read? This book is a welcome retreat from academic textbooks.
Beginnings, Middles, and Ends by Ogden W. Rogers is a thought-provoking book about the evolution of the author's career in the field of social work. The real-life stories are whimsical as well as enlightening. You follow the yellow brick road of a social work career and feel the passion and dedication that is required of those who are engaged in the social work profession.... A great read for anyone entering the profession, or if you are involved and feel your passion flickering, this book will surely re-ignite your love. --Mildred Mit Joyner, MSW, LCSW, Emerita Director and Professor of Social Work, West Chester University of Pennsylvania
---
Real World Clinical Social Work: Find Your Voice and Find Your Way
A ground-breaking book by Dr. Danna Bodenheimer, LCSW, from The New Social Worker Press
ISBN: 978-1-929109-50-0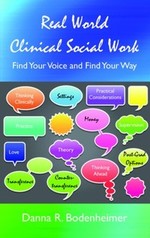 223 pages
Available now at:
"Danna Bodenheimer has written an insider's guide to clinical social work that doesn't make the reader feel like an outsider. This book is the clinical supervisor you always wanted to have: brilliant yet approachable, professional yet personal, grounded and practical, yet steeped in theory, and challenging you to dig deeper." Jonathan B. Singer, Ph.D., LCSW, Associate Professor of Social Work, Loyola University Chicago, Founder and Host, Social Work Podcast
---
Advertise With Us
If you would like to reach our audience of 47,000+ social workers and others interested in social work with information about your program or social work-related product, please contact Linda for information on advertising in THE NEW SOCIAL WORKER, the Social Work E-News, or on our website at SocialWorker.com.
Write for THE NEW SOCIAL WORKER
I am seeking a limited number of articles for THE NEW SOCIAL WORKER website and magazine. Is there an issue that you are passionate about that corresponds with an upcoming "awareness" month, week, or day? This is a good way to identify a topic for a timely article.
Other topics of interest include: social work field placement issues, technology, self-care, licensing, and career development.
Our style is conversational and educational, and web articles typically run 500-750 words. Feature articles typically run 1,250-1,500 words. We want positive articles that social workers can use to help them advance in their careers.
I also welcome submissions of poetry, photographs, illustrations, artwork, videos, audio, and other creative work depicting social work and related topics.
Submit articles to Linda Grobman with a subject line that says "Submission—(insert title or topic of submission). Attach your submission as a Word file.  Please include in this file: title of submission, your name as you want it to appear with your article, body of your submission, a brief bio about yourself.  I will then review your submission and let you know if I need anything else and/or whether it is accepted for publication.
Please email
Linda Grobman
with ideas for longer (1,250-1,500 words) "feature articles" for
THE NEW SOCIAL WORKER
magazine.
Thank you!
---
White Hat Communications, publisher of THE NEW SOCIAL WORKER magazine and the Social Work E-News, has published several
books about social work
. These books make great gifts (for graduation, holidays, or other occasions) for yourself, or for your friends, students, and colleagues in social work!
HOW TO ORDER
All of our books are available through our secure online store at:
Some of our books are also available as ebooks at
VitalSource
.
IN THIS ISSUE
Featured Excerpt

Job Corner/Current Job Openings
Words from Our Sponsors
Reminders

NEWSLETTER NECESSITIES
You have subscribed to receive this free newsletter.
To unsubscribe, follow the "unsubscribe" link at the bottom of this newsletter. To change the address for your subscription, please use the "change email address" link at the bottom of this newsletter.

ABOUT THIS NEWSLETTER
THE NEW SOCIAL WORKER® SOCIAL WORK E-NEWS is published by:
White Hat Communications (publisher of THE NEW SOCIAL WORKER® magazine and THE NEW SOCIAL WORKER® ONLINE)
Harrisburg, PA 17110-0390
Advertising: To place a job listing, sponsor this newsletter, place a banner ad on our website, or advertise in THE NEW SOCIAL WORKER magazine, email lindagrobman@socialworker.com for rates and further information.
News: Please send brief social work-related news items to lindagrobman@socialworker.com for consideration.
PRIVACY
Your subscription email address will only be used to deliver this e-newsletter and to occasionally inform you of updates from its publisher. Your email address will not be given to anyone else or used for any other purpose as a result of your subscription to this newsletter.
Copyright 2017 White Hat Communications. All rights reserved. Permission is granted to forward this entire newsletter, with all information intact, by email to social work colleagues, students, and others interested in social work, for personal use only. You may also print out this newsletter for personal use. All other uses of this material require permission from the publisher at: lindagrobman@socialworker.com