Hello --
Welcome to Issue
#205
of the
Social Work E-News!
Thank you for subscribing to receive this email newsletter, which is brought to you by the publisher of
The New Social Worker
magazine,
SocialWorker.com
,
SocialWorkJobBank.com
, and other social work publications.
We are now in what is known as the "holiday season," and I wish you all the best, whatever holiday traditions you observe.  As social workers, we know that holidays aren't always "jolly" for ourselves or our clients, and that - in fact - holidays can be distressful when one's feelings don't match all the "merry"-ness that is all around. We recently published Tami Micsky's article "
Tis the Season To Be Jolly? A Guide to Grief During the Holidays
." For additional ideas about this season, see Erlene Grise-Owens' post on
self-care during seasons of stress
.
I hope you will find this a useful reminder: The New Social Worker Press has published several books that are quite different from the usual social work textbooks. The feedback we get is that our books are
enjoyable
to read, as well as
practical
and
informative
. They make quite meaningful
gifts
for social workers and social work students! So, if you are stressed about gifts or looking to complete your shopping list with something a little different, you can find our selections at
Amazon.com
or at our
online store
.
Speaking of which...our authors have been busy with interviews in the last month. Here are interviews from The Social Workers Radio Talk Show (University at Albany):
Danna Bodenheimer interview on clinical social work (author of Real World Clinical Social Work and On Clinical Social Work)
Erlene Grise-Owens and Justin "Jay" Miller on self-care (co-editors with Mindy Eaves of The A-to-Z Self-Care Handbook for Social Workers and Other Helping Professionals)
Ogden Rogers (2014 interview) on the social work profession (author of Beginnings, Middles, and Ends)
These are well worth a listen.
LOOKING AHEAD - A CONTEST!
It is not too soon to think about Social Work Month 2018.
The New Social Worker,
in collaboration with Loyola University Chicago, is having a CONTEST! Enter our
Reverse Poetry Contest
to win
cash prizes and publication
on our website.
Read the full Reverse Poetry Contest guidelines.

Reminder: Our Fall issue is out! This issue includes important articles for all social workers summarizing the NEW NASW Code of Ethics (taking effect January 1) and the new standards for technology in social work practice. If you have not yet read these articles and the related documents, please do! Other highlights include articles on interrupting Islamophobia, resilience for social workers, female genital cutting, making the most of your time as a social work student, asking for professional references, and more.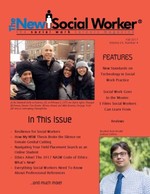 Here's a

quick link

for immediate download of the PDF edition for Fall 2017:
Most articles from the fall issue can be read on our website, as well. See listing below (after the "Featured Excerpt").
---
If you go to our
website
, you will see a small red icon in the lower right corner. (It may only show in certain browsers.) This is a new feature that allows you to subscribe to notifications, if you choose to do so. Click on the icon to sign up and stay up to date on new articles and other news from
The New Social Worker.
Have you subscribed to our mailing lists? You can go to
http://www.socialworker.com/Subscribe_to_The_New_Social_Worker
and
subscribe (free)
to receive an email reminder and table of contents of each issue of
The New Social Worker
magazine when it is available. If you are a subscriber to the E-News (which you are reading now), this does NOT mean that you are automatically subscribed to
The New Social Worker
magazine.
They are two different publications.
Are you one of our
167,000

+
fans on Facebook? Connect with us—we love connecting with you!
Until next time,
Linda Grobman, ACSW, LSW
Publisher/Editor
THE NEW SOCIAL WORKER®
Networking:
Affordable Cost – The 2018 MSW cohort is only $600 per credit hour.
 Attainable Education - Complete your online MSW program in less than two years. If you are eligible for the Advanced Standing program, you could earn an MSW in only two semesters!
 Hands-on Experience - You'll complete 900 hours of field work. In the Advanced Standing program, you'll complete 500 hours of field work.
Community - Brescia University requires one-hour weekly, evening, synchronous chats for all courses where you will experience face-to-face contact with your professors and classmates.
Commitment - Small class sizes mean you'll get the personalized attention you deserve. We will even reimburse you for the cost of your ASWB social work licensing examination (up to $230) when you pass it within 60 days of graduating!
---
Has Irvin Yalom's work influenced your career?
Our colleagues at Psychotherapy.net have released an online video course, "Irvin Yalom and the Art of Psychotherapy," showing legendary therapist Irvin Yalom conducting therapy sessions with three actual clients, along with extensive interviews and commentaries.  This is the first (and the last) time Yalom will demonstrate his clinical acumen on camera. Special offer to The New Social Worker newsletter subscribers: $20 discount with code NSW20 (through December 22 only).
---
BEDTIME READING/GIFTS FOR SOCIAL WORK GRADUATES
Now in Paperback and Hardcover! 

ON CLINICAL SOCIAL WORK: MEDITATIONS AND TRUTHS FROM THE FIELD
is Dr. Danna Bodenheimer's NEW book. Published in July by The New Social Worker Press, it  reached #1 in new social work releases on Amazon.
The beautiful, full-color book - now in paperback and hardcover - makes a meaningful gift for you, a student, or a colleague. It is

available

 

now

at Amazon and Barnes and Noble (and other bookstores, too).
Jonathan Singer of the Social Work Podcast wrote the foreword to this book, and he said, "Danna pays attention to life's details with a psychotherapist's insight and writes about them with the passion of a slam poet. She speaks to the soul of social work and inspires us to think about more than just social work."
Jonathan B. Singer, Ph.D., LCSW, Associate Professor, Loyola University Chicago, Founder and host, Social Work Podcast
---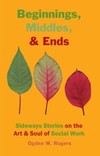 What does a life in social work look like? You might look at it as a series of "sideways" stories! "If life were black and white, we'd have no need for social work." Read Ogden Rogers' collection, Beginnings, Middles, & Ends: Sideways Stories on the Art & Soul of Social Work.
Available on Amazon.com (print and Kindle), Google Play (e-book), directly from the publisher, and other bookstores.
Do you know a social worker or social work student who loves to read? This book is a welcome retreat from academic textbooks.
Beginnings, Middles, and Ends by Ogden W. Rogers is a thought-provoking book about the evolution of the author's career in the field of social work. The real-life stories are whimsical as well as enlightening. You follow the yellow brick road of a social work career and feel the passion and dedication that is required of those who are engaged in the social work profession.... A great read for anyone entering the profession, or if you are involved and feel your passion flickering, this book will surely re-ignite your love. --Mildred Mit Joyner, MSW, LCSW, Emerita Director and Professor of Social Work, West Chester University of Pennsylvania
---
Real World Clinical Social Work: Find Your Voice and Find Your Way
A ground-breaking book by Dr. Danna Bodenheimer, LCSW, from The New Social Worker Press
ISBN: 978-1-929109-50-0
"Danna Bodenheimer has written an insider's guide to clinical social work that doesn't make the reader feel like an outsider. This book is the clinical supervisor you always wanted to have: brilliant yet approachable, professional yet personal, grounded and practical, yet steeped in theory, and challenging you to dig deeper." Jonathan B. Singer, Ph.D., LCSW, Associate Professor of Social Work, Loyola University Chicago, Founder and Host, Social Work Podcast
---
The A-to-Z Self-Care Handbook for Social Workers and Other Helping Professionals
The A-to-Z format in this book provides 26 practical strategies for your personal self-care plan. Learn how to make a SMART plan and keep yourself accountable. Easy to read and essential for any social worker or helping professional.
---
Advertise With Us
If you would like to reach our audience of 50,000+ social workers and others interested in social work with information about your program or social work-related product, please contact Linda for information on advertising in THE NEW SOCIAL WORKER, the Social Work E-News, or on our website at SocialWorker.com.
December marks several observances, including but not limited to:
World AIDS Day (December 1)
Human Rights Day (December 10)
International Human Solidarity Day (December 20)
Interrupting Islamophobia: It Takes a Social Work Village

Editor's Note: This excerpt is from the Fall 2017 issue of THE NEW SOCIAL WORKER. Read the complete article at:
by Anne C. Deepak, Ph.D.
   I have been including the topic of Islamophobia in my social work teaching since I first started teaching diversity and social justice in 2005. This topic is as urgent today as it was in 2005 and, as is true with every social justice issue we encounter in our personal and professional lives, it takes a social work village to address it. I have had the pleasure of collaborating with social work alumni and students at the undergraduate and graduate levels in building this village through supporting efforts to organize and implement university-wide events; co-presenting in class, workshops, and academic conferences; creating and managing a Facebook fan page on the topic; and by inviting alumni to make short videos included in a classroom lecture.
    On a personal note, I was living in New York City on September 11th (2001) relatively close to the Twin Towers. Immediately following the attack, people perceived to be Muslim started being targeted. This included young children, veiled women, people of all ages, and close family members. This hostility was bolstered by a misplaced sense of patriotism. As an anti-racism educator, I was concerned about the ways in which Islamophobia went unquestioned after 9/11 within social work and feminist conversations by people who are authentically concerned with issues of racism, discrimination, human rights, and social justice. I included curricular content on Islamophobia in the undergraduate social justice and diversity course through a Pakistani film, Khuda Ke Liye (In the Name of God), and in a community practice course through a documentary, Point of Attack, which addresses the impact of the Patriot Act and the policy of special registration right after 9/11 on the Pakistani community in Brooklyn. This documentary chronicles the ways in which the community organizes to question these policies and the role of non-Muslim allies in supporting the community.
What is Islamophobia?
   The term Islamophobia refers to a set of beliefs that characterizes Islam as: (1) monolithic and static, (2) separate and other rather than having common aims or values in common with other cultures, (3) inferior to the West—barbaric, irrational, primitive, and sexist, (4) an enemy—violent, supportive of terrorism, engaged in the "clash of civilizations," (5) manipulative—a political ideology used for military or political advantage, and (6) criticism of the West rejected without consideration. Hostility toward Islam is used to justify discriminatory practices and exclusions of Muslims from mainstream society. Anti-Muslim hostility is accepted as natural and normal (Runnymede Trust, 1997).
What does it mean to interrupt Islamophobia?
   My perspective on racism and all forms of oppression is that we are all part of the problem and that we can all be part of the solution. This means that it is too easy to say that the problem is "them"—the ones who are actively perpetrating hate. When we focus on "them," we avoid examining our privilege and roles in passively supporting and enabling oppression. Beverly Tatum (1997) describes racism as a system of advantage based on race and uses the metaphor of a moving sidewalk that all folks identified racially as White are standing on. Active racists are running forward on the moving sidewalk; others, many of whom reject racist views and actions, are standing quietly while still benefitting from white privilege. To interrupt this system is to make a choice to walk in the opposite direction of the moving sidewalk; this is a choice to engage in anti-racism work. This is how privilege can be used to interrupt systems of injustice.
    Islamophobia is a form of racism because it is embedded in systems, policies, laws, and stereotypes, and it is racialized. Those who are perceived to be Muslim are the targets, and this perception is shaped by racialized stereotypes. In the current political environment, non-Muslim allies are crucially needed to stand up and have conversations with their non-Muslim friends and community members, to educate them or support them in the work they are doing to stand against Islamophobia. There are places and settings that are not safe for Muslims to speak out in. As an ally and a social work educator, I work to create spaces where Muslim students feel empowered to share their experiences and spaces where allies can find their voice.
Editor's Note: This excerpt is from the Fall 2017 issue of THE NEW SOCIAL WORKER. Read the complete article at:
---
Here are some highlights from the Fall 2017 issue:
Student Role Model - Joshua Collins (in PDF format only)
...and much more! For the full Table of Contents and full text of all articles in this issue, please download the PDF.
BONUS:  Read recent online exclusive articles:
---
Find jobs
for new grads and experienced social work practitioners at
http://www.socialworkjobbank.com
, THE NEW SOCIAL WORKER's online job board and career center.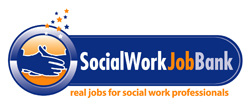 If you or your agency are
hiring social workers,
don't forget to post your jobs on SocialWorkJobBank.com. Please check the SocialWorkJobBank
"products/pricing" page
for job posting options and SPECIAL offers. 
Job seeker services are FREE—including searching current job openings, posting your confidential résumé/profile, and receiving email job alerts. Please let employers know that you saw their listings in the SOCIAL WORK E-NEWS and at SocialWorkJobBank.com.
There are
1,047 jobs
currently posted on SocialWorkJobBank.com. Check it out today.
HeathCare.gov Open Enrollment Period Ends

December 15, 2017



The open enrollment period in the U.S. for health insurance sold on the Affordable Care Act exchanges (and off-exchange) began November 1 and ends December 15. If you or your clients are self-employed or otherwise are responsible for purchasing your own health insurance, you have until
December 15, 2017,
to choose a plan for 2018 (in most states). Plans can be purchased on the marketplace at
HealthCare.gov
. Plans are also available off-marketplace.
---
Social Work Month 2018 and The New Social Worker's Reverse Poetry Contest
Submission Deadline: January 16, 2018
Win cash prizes and publication!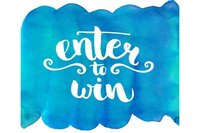 The New Social Worker®
magazine, in collaboration with Loyola University Chicago School of Social Work, is having a poetry contest! We are seeking submissions from social work practitioners and students for Social Work Month 2018. The contest is being co-coordinated by Linda May Grobman, MSW, ACSW, LSW, and Brian L. Kelly, PhD, MSW, CADC.
Submissions are to be in the form of a reverse poem. This is a poem that has one meaning when read from top to bottom and another meaning when read from bottom to top.
We chose this form of poetry for the contest, because it requires creativity and critical thinking, and it lends itself to themes of social justice.  Use your imagination!
---
Write for THE NEW SOCIAL WORKER
I am seeking a limited number of articles for THE NEW SOCIAL WORKER website and magazine. Is there an issue that you are passionate about that corresponds with an upcoming "awareness" month, week, or day? This is a good way to identify a topic for a timely article.
Other topics of interest include: social work field placement issues, technology, self-care, licensing, and career development.
Our style is conversational and educational, and web articles typically run 500-750 words. Feature articles typically run 1,250-1,500 words. We want positive articles that social workers can use to help them advance in their careers.
I also welcome submissions of poetry, photographs, illustrations, artwork, videos, audio, and other creative work depicting social work and related topics.
Submit articles to Linda Grobman with a subject line that says "Submission—(insert title or topic of submission). Attach your submission as a Word file.  Please include in this file: title of submission, your name as you want it to appear with your article, body of your submission, a brief bio about yourself.  I will then review your submission and let you know if I need anything else and/or whether it is accepted for publication.
Please email
Linda Grobman
with ideas for longer (1,250-1,500 words) "feature articles" for
THE NEW SOCIAL WORKER
magazine.
Thank you!
---
Medicare Rights Center
The Medicare Rights Center is a national, nonprofit consumer service organization dedicated to ensuring access to affordable health care for older adults and people with disabilities through counseling, advocacy, educational programs, and public policy initiatives.
The organization helps people with Medicare understand their rights and benefits, navigate the Medicare system, and secure quality health care. It offers a national helpline at 800-333-4114, as well as several free e-newsletters and a blog. Educational resources available include the free Medicare Interactive website (
www.medicareinteractive.org
), complete with hundreds of answers to Medicare questions, as well as a Medicare Interactive Pro course with CE credits (for a fee).
---
Influencing Social Policy - Call for Proposals
Policy Conference 2.0
May 31-June 2, 2018 / St. Louis, Missouri
Influencing Social Policy: The Next 20 Years!
Deadline: February 1, 2018
For 20 years, Influencing Social Policy (ISP) has supported social work faculty in their efforts to educate and mobilize students to engage in the policy process. Now it's time to set the course for the next 20 years!
Policy Conference 2.0 provides a collective space for social work students, faculty, and practitioners with a passion for social policy and policy practice to learn from each other, grapple with complex policy issues, and share research, practice, and teaching wisdom.
The conference encourages submissions for presentations, workshops, roundtables, and poster sessions on a broad range of cutting-edge, policy-focused topics.
---
White Hat Communications, publisher of THE NEW SOCIAL WORKER magazine and the Social Work E-News, has published several
books about social work
. These books make great gifts (for graduation, holidays, or other occasions) for yourself, or for your friends, students, and colleagues in social work!
HOW TO ORDER
All of our books are available through our secure online store at:
Some of our books are also available as ebooks at
VitalSource
.
IN THIS ISSUE
Editor's Eye
Classified Ads
This Month
Featured Excerpt

Job Corner/Current Job Openings

Reminders

NEWSLETTER NECESSITIES
You have subscribed to receive this free newsletter.
To unsubscribe, follow the "unsubscribe" link at the bottom of this newsletter. To change the address for your subscription, please use the "change email address" link at the bottom of this newsletter.

ABOUT THIS NEWSLETTER
THE NEW SOCIAL WORKER® SOCIAL WORK E-NEWS is published by:
White Hat Communications (publisher of THE NEW SOCIAL WORKER® magazine and THE NEW SOCIAL WORKER® ONLINE)
Harrisburg, PA 17110-0390
Advertising: To place a job listing, sponsor this newsletter, place a banner ad on our website, or advertise in THE NEW SOCIAL WORKER magazine, email lindagrobman@socialworker.com for rates and further information.
News: Please send brief social work-related news items to lindagrobman@socialworker.com for consideration.
PRIVACY
Your subscription email address will only be used to deliver this e-newsletter and to occasionally inform you of updates from its publisher. Your email address will not be given to anyone else or used for any other purpose as a result of your subscription to this newsletter.
Copyright 2017 White Hat Communications. All rights reserved. Permission is granted to forward this entire newsletter, with all information intact, by email to social work colleagues, students, and others interested in social work, for personal use only. You may also print out this newsletter for personal use. All other uses of this material require permission from the publisher at: lindagrobman@socialworker.com