Hello --
Welcome to Issue #190 of the Social Work E-News! Thank you for subscribing to receive this email newsletter, which is brought to you by the publisher of The New Social Worker magazine, SocialWorker.com, SocialWorkJobBank.com, and other social work publications.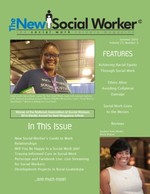 Here's a

quick link

for immediate download of the PDF edition for Summer 2016:
Most articles from the summer issue can be read on our website, as well. Highlights include: trauma informed care, work relationships, Periscope and Facebook for social workers, being happy and successful in your social work job/career, and more!
---
Thank you!
Thank you to everyone who pre-ordered the Kindle edition of
The A-to-Z Self-Care Handbook for Social Workers and Other Helping Professionals
—edited by Erlene Grise-Owens, Justin "Jay" Miller, and Mindy Eaves. The book, which takes readers through the alphabet to discover a variety of self-care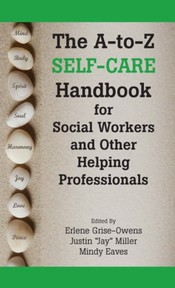 strategies and develop a personalized self-care plan, is now available in both print and Kindle formats.
Order the book now at:
This book is ideal for individuals or for group trainings on self-care. If your agency is interested in buying it in bulk for training or other purposes, please contact
me
.
...a caring and useful resource for helping professionals concerned about burnout, stress, staff turnover, and wellness.... By focusing on insights and reflections and providing resources and strategies, The A-to-Z Self-Care Handbook is a practical guide and an empowering book.
DR. BARBARA W. SHANK, Ph.D., MSW, Dean and Professor, School of Social Work, University of St. Thomas, St. Catherine University, Chair, Board of Directors, Council on Social Work Education
---
Have you subscribed to our mailing lists? You can go to
http://www.socialworker.com/Subscribe_to_The_New_Social_Worker
and
subscribe (free)
to receive an email reminder and table of contents of each issue of
The New Social Worker
magazine when it is available. If you are a subscriber to the E-News (which you are reading now), this does NOT mean that you are automatically subscribed to
The New Social Worker
magazine.
They are two different publications.
Are you one of our

153,000

+

fans on Facebook? Connect with us—we love connecting with you!
Until next time,
Linda Grobman, ACSW, LSW
Publisher/Editor
THE NEW SOCIAL WORKER®
Networking:
September marks several observances, including but not limited to:
National Suicide Prevention Awareness Month
Healthy Aging Month
National Recovery Month
Newborn Screening Awareness Month
Sexual Health Awareness Month
A New Social Work Professional's Guide to Work Relationships

Editor's Note: This excerpt is from the Summer 2016 issue of THE NEW SOCIAL WORKER. Read the complete article at:
by Valerie Arendt, MSW, MPP
In general, we spend more time at work with our co-workers than we do with our own families or personal support networks during the week. So, if you don't have strong, healthy relationships at your place of employment, work can be stressful and lead to a dissatisfying professional experience. You chose social work for a reason, and you should not only be satisfied with the impact you are having on the lives of your clients, but also have healthy day-to-day relationships with your co-workers to make your work worthwhile.
What is a healthy work relationship?
There are several characteristics that make up good, healthy relationships with anyone. We worked so hard in school learning how to develop good relationships with clients, but sometimes we forget how to manage healthy relationships with our professional colleagues. Just because we work toward the same professional mission or goal doesn't mean we can assume we are all on the same page. We all have different personalities and work styles that need to be validated.
Developing strong work relationships takes time, commitment, and practice. The website MindTools.com has a great list of characteristics that define a good work relationship:
Trust. When you trust your colleagues, you form a bond that helps you work and communicate more effectively. You can build trust with your co-workers by following through with your promises and being consistent. Recognize that what you do in your job may have an effect on the work of others. Letting things slip through the cracks may have the unintended consequence of losing the trust of your team.
Respect. When you respect the people you work with, you value their input and ideas, and they value yours. Clearly defined expectations and boundaries help create a culture of respect and hold everyone accountable. Being proactive, practicing humility, and admitting when you have made an error will help build respectful relationships with your colleagues.
Mindfulness. A good clinician has the capacity to practice self-awareness, which is having a clear understanding of your personality, including strengths, weaknesses, thoughts, motivation, and emotions. Practicing mindfulness can allow you to understand your co-workers, how they perceive you, your attitude, and your responses to them in the moment. Take responsibility for your words and actions, so your own negative emotions don't impact the people around you.
Open Communication. The more effectively you communicate with those around you, the richer your relationships will be. A culture of open, honest communication in which employees are encouraged to share their ideas and concerns gives employees the sense that they are valued.
If you work for an organization that embraces and fosters these characteristics in the work environment, you can expect long-term satisfaction.
Who we work with and what their role is should be obvious, right?
Understanding different types of work relationships can help you determine the role your existing relationships play and which ones you might need to work on. Let's define a few of the more important relationships you are likely to have.
Boss/Supervisor. In general, you will be reporting to someone at your organization. This person will manage your work and is ultimately responsible if you do well or poorly in your position. Bosses come in all supervisory styles: mentors, leaders, micromanagers, power-hungry, the "never around" boss. The key is to identify your supervisor's leadership and communication style. Communicate in the way they want you to, demonstrate initiative, do great work, and you should be able to work effectively with your manager.
Colleague. These are usually external partners you will encounter to help solve a client issue, advocate for an issue, or maybe serve on an interdisciplinary team. You aren't employed by the same organization, but you work together toward the same goal.
Team Member. There are fellow employees with whom you work on a regular basis to get your work and projects done. Good relationships with your team members are critical and will allow you to accomplish more.
Friend. This is someone you get along with, confide in, and enjoy in your work space. They fill a social need at your place of employment.
Editor's Note: This excerpt is from the Summer 2016 issue of THE NEW SOCIAL WORKER. Read the complete article at:
BEDTIME READING/GIFTS FOR GRADUATES!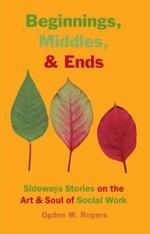 What does a life in social work look like?
You might look at it as a series of "sideways" stories! "If life were black and white, we'd have no need for social work." Read Ogden Rogers' collection,
Beginnings, Middles, & Ends: Sideways Stories on the Art & Soul of Social Work.
Available on
Amazon.com
(print and Kindle), Google Play (e-book), directly from the
publisher
, and other bookstores. Do you know a social worker or social work student who loves to read? This book is a welcome retreat from academic textbooks.
Beginnings, Middles, and Ends by Ogden W. Rogers is a thought-provoking book about the evolution of the author's career in the field of social work. The real-life stories are whimsical as well as enlightening. You follow the yellow brick road of a social work career and feel the passion and dedication that is required of those who are engaged in the social work profession.... A great read for anyone entering the profession, or if you are involved and feel your passion flickering, this book will surely re-ignite your love. --Mildred Mit Joyner, MSW, LCSW, Emerita Director and Professor of Social Work, West Chester University of Pennsylvania
---
Real World Clinical Social Work: Find Your Voice and Find Your Way
A ground-breaking book by Dr. Danna Bodenheimer, LCSW, from The New Social Worker Press
ISBN: 978-1-929109-50-0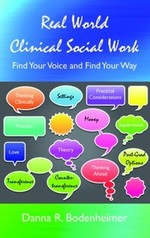 223 pages
Available now at:
"Danna Bodenheimer has written an insider's guide to clinical social work that doesn't make the reader feel like an outsider. This book is the clinical supervisor you always wanted to have: brilliant yet approachable, professional yet personal, grounded and practical, yet steeped in theory, and challenging you to dig deeper." Jonathan B. Singer, Ph.D., LCSW, Associate Professor of Social Work, Loyola University Chicago, Founder and Host, Social Work Podcast
---
Advertise With Us
If you would like to reach our audience of 45,000+ social workers and others interested in social work with information about your program or social work-related product, please contact Linda for information on advertising in THE NEW SOCIAL WORKER, the Social Work E-News, or on our website at SocialWorker.com.
---
Find jobs
for new grads and experienced social work practitioners at
http://www.socialworkjobbank.com
, THE NEW SOCIAL WORKER's online job board and career center.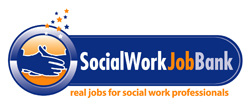 If you or your agency are
hiring social workers,
don't forget to post your jobs on SocialWorkJobBank.com. Please check the SocialWorkJobBank
"products/pricing" page
for job posting options and SPECIAL offers. 
Job seeker services are FREE—including searching current job openings, posting your confidential résumé/profile, and receiving e-mail job alerts. Please let employers know that you saw their listings in the SOCIAL WORK E-NEWS and at SocialWorkJobBank.com.
There are
1,084 jobs
currently posted on SocialWorkJobBank.com. Check it out today.
The Nancy A. Humphreys Institute for Political Social Work, CRISP, and Influencing State Policy recently announced the Voter Empowerment Campaign to encourage social workers and social work students to register people to vote in upcoming elections. See
http://www.votingissocialwork.org
for details.
Use these resources to help register voters in your community and to make sure your own voter registration is up-to-date.
---
NASW Releases Updated Standards on Social Work Practice in Health Care Settings
The National Association of Social Workers (NASW) has updated its Standards for Social Work Practice in Health Care Settings, giving social workers additional knowledge to help them provide effective care under the Affordable Care Act (ACA).
"There have been significant changes in the nation's health care landscape, so NASW pulled together social work experts to update our standards," said Heidi McIntosh, MSW, deputy director of programs at NASW. "In today's health care environment, social workers have found new roles and there is a great recognition of the value that social workers bring in ending health care inequities. These updated standards reflect that."
The standards highlight the following areas:
Social work responsibilities in the context of new health care delivery models
The social determinants of health and health disparities
The importance of cross-cultural knowledge and facilitation of culturally and linguistically appropriate care
Working in interprofessional teams and integrated care settings
Engaging in quality improvement and evaluation activities
Employing evidence-informed interventions
Advocating for appropriate workloads
---
White Hat Communications, publisher of THE NEW SOCIAL WORKER magazine and the Social Work E-News, has published several
books about social work
. These books make great gifts (for graduation, holidays, or other occasions) for yourself, or for your friends, students, and colleagues in social work!
HOW TO ORDER
All of our books are available through our secure online store at:
IN THIS ISSUE
Featured Excerpt

Job Corner/Current Job Openings
Reminders

NEWSLETTER NECESSITIES
You have subscribed to receive this free newsletter.
To unsubscribe, follow the "unsubscribe" link at the bottom of this newsletter. To change the address for your subscription, please use the "change email address" link at the bottom of this newsletter.

ABOUT THIS NEWSLETTER
THE NEW SOCIAL WORKER® SOCIAL WORK E-NEWS is published by:
White Hat Communications (publisher of THE NEW SOCIAL WORKER® magazine and THE NEW SOCIAL WORKER® ONLINE)
Harrisburg, PA 17110-0390
lindagrobman@socialworker.com

http://www.socialworker.com
Advertising: To place a job listing, sponsor this newsletter, place a banner ad on our website, or advertise in THE NEW SOCIAL WORKER magazine, email lindagrobman@socialworker.com for rates and further information.
News: Please send brief social work-related news items to lindagrobman@socialworker.com for consideration.
PRIVACY
Your subscription e-mail address will only be used to deliver this e-newsletter and to occasionally inform you of updates from its publisher. Your e-mail address will not be given to anyone else or used for any other purpose as a result of your subscription to this newsletter.
Copyright 2016 White Hat Communications. All rights reserved. Permission is granted to forward this entire newsletter, with all information intact, by email to social work colleagues, students, and others interested in social work, for personal use only. You may also print out this newsletter for personal use. All other uses of this material require permission from the publisher at: lindagrobman@socialworker.com