Hello --
Welcome to Issue
#214
of the
Social Work E-News!
Thank you for subscribing to receive this email newsletter, which is brought to you by the publisher of
The New Social Worker
magazine,
SocialWorker.com
,
SocialWorkJobBank.com
, and other social work publications.
Today is the 17th anniversary of the September 11, 2001, terrorist attacks. We remember the events of that day and the people whose lives were lost, where we were when we heard the news, and how that day changed our lives. In this newsletter, on September 21, 2001, I wrote: "
It remains to be seen how all of this will affect our lives and those of the clients social workers serve....
A couple of days ago...a user of our Web site's message board posted a message about the need to process the attacks with clients, and to also process our own reactions as social workers and as human beings who are affected both personally and professionally." Dr. Danna Bodenheimer wrote about this shared trauma on her clinical social work blog.

Our focus this month is on suicide prevention, as September is Suicide Prevention Month.
The New Social Worker
is collaborating with the
American Association of Suicidology
all this month on a
series of suicide prevention articles
written by experts in the field. Please check this page for new articles throughout the month of September.  Entries published so far are:
Don't forget -
The New Social Worker website
is a great place to find a variety of new and archived articles on job search, social work careers, practice, ethics, and more issues for new grads.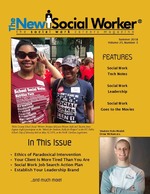 REMINDER
... Our
Summer issue is out!
(Fall issue is coming next month.) Read articles from the Summer issue at
http://www.socialworker.com
.
Here's a

quick link

for immediate download of the PDF edition for Summer 2018:
Most articles from the summer issue can be read on our website, as well. See listing below (after the "Featured Excerpt").
---
Have you subscribed to our mailing lists? You can go to
http://www.socialworker.com/Subscribe_to_The_New_Social_Worker
and
subscribe (free)
to receive an email reminder and table of contents of each issue of
The New Social Worker
magazine when it is available. If you are a subscriber to the E-News (which you are reading now), this does NOT mean that you are automatically subscribed to
The New Social Worker
magazine.
They are two different publications.
Are you one of our

172,000

+

fans on Facebook? Connect with us—we love connecting with you!
Until next time,
Linda Grobman, ACSW, LSW
Publisher/Editor
THE NEW SOCIAL WORKER®
Networking:
Social Work Leadership: Establish Your Leadership Brand as a Social Worker
Editor's Note: This excerpt is from the Summer 2018 issue of THE NEW SOCIAL WORKER.

Read the complete article at:
by Becky S. Corbett, MSW, ACSW, and Elizabeth J. Clark, Ph.D., MSW, MPH
     An organization's brand is what its clients, colleagues, community collaborators, partners, and vendors say about its staff, board of directors, products, and services when a representative from the organization is not around. In a similar way, your personal brand is what people say about you when you are not in the room. It is who you are and what you do. It is how your friends, family, neighbors, and colleagues see you. Jeff Bezos, CEO of Amazon, says, "A brand for a company is like a reputation for a person. You earn reputation by trying to do hard things well" (Brown, 2016, p. 1).
How can I develop my brand as a leader?
    One approach to developing your brand as a leader is using an organizational tool. This tool applies the Producktivity® Principles of Identify, Connect, and Organize—identify your core values and strengths, connect them to the elements that make up your brand, and organize a plan to establish your vision and implement your brand.
Where do I start?
Reflect. First of all, take time to really think about who you are. What makes you uniquely you? When you look in the mirror, who do you see? Do you see a grown-up professional who takes charge, or do you see someone insecure and uncertain? Are you pleased with your image, or are there things you want to change? Do you feel as if you are grounded and ready to move forward, or do you feel as if you are pretending to be someone you are not? Being self-aware is an important first step for leadership.
Complete an assessment. Do a thorough and comprehensive personal and professional assessment. Begin by conducting an Internet search on your name. Think about what you find. How are you portrayed over social media platforms, including LinkedIn? On social media outlets, who do you follow, and what do you "like"? Ask your friends, parents, grandparents, siblings, mentors, supervisors, and colleagues to describe your leadership skills and traits. Don't be defensive. Are there several traits that almost everyone recognizes? Note these as strengths. On the other hand, are there skills and talents you think you have that almost no one mentioned? If so, think about why that is the case. How can you make your leadership skills more apparent to others?
Here are selected highlights from the Summer 2018 issue:
Student Role Model - Drew McNamara (in PDF format only)
As social workers, we value honesty in our communications with clients. For some interventions, however, deception or lack of full disclosure is vital to effectiveness.
Preparing for your job search involves key steps that will make it more likely that you secure a social work job that is perfect for you.
Your personal brand is what people say about you when you are not in the room. It is who you are and what you do.
Using community-chosen terminology is an important means of respecting the identities and autonomy of disabled clients and other disabled individuals.
I do not mean to dismiss your feelings. I just want us to remember that our clients are really tired, too.
This article offers BSW and MSW practitioners a framework within which to think about their work with at-risk LGBTQ-identified youth who may be facing difficulties in their coming out process.
Gun violence plays a prominent role in social work practice. What can social workers do?
Google is exponentially powerful, and its algorithm is complex. Is it good for your social work client?
It is an ethical imperative to view clinical practice within the macro context as we strive to become life-long advocates and effective practitioners.
The heavy toll that can come from doing emotionally difficult work requires a conscious application of creativity and energy to move it forward.
Three very different summer 2018 movies - what can each of them teach us as social workers?
Book review of Brené Brown's Braving The Wilderness: The Quest for True Belonging and the Courage to Stand Alone.
Book review of Choose Hope (Always Choose Hope)
Book Review: Healing Justice: Holistic Self-Care for Change Makers
Book review of Healing Justice: Holistic Self-Care for Change Makers
...and more! For the full Table of Contents and full text of all articles in this issue, please download the PDF.
BONUS! Read recent web exclusive articles:
Find jobs
for new grads and experienced social work practitioners at
http://www.socialworkjobbank.com
, THE NEW SOCIAL WORKER's online job board and career center.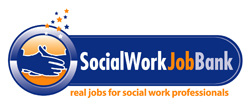 If you or your agency are
hiring social workers,
don't forget to post your jobs on SocialWorkJobBank.com. Please check the SocialWorkJobBank
"products/pricing" page
for job posting options and SPECIAL offers. 
Job seeker services are FREE—including searching current job openings, posting your confidential résumé/profile, and receiving email job alerts. Please let employers know that you saw their listings in the SOCIAL WORK E-NEWS and at SocialWorkJobBank.com.
There are
1,036 jobs
currently posted on SocialWorkJobBank.com. Check it out today.
High School Students Speak Up and Speak Out About Today's Timely Issues
by Silas W. Kelly, LMSW, Executive Producer
Smithtown, New York Youth Bureau and Youth Alliance members Victoria DiFiore, Abi Anand, Alexa Rand, Vaishnavi Ravichandar, Alexa Grimley, and Sydney Rose had some things they needed to say to other youth. The issues they passionately wanted to talk to young people about were: "Vaping," "Under-Age Drinking," "Peer-Pressure," and "Marijuana Use." These are issues they and their peers face on a daily basis. Some of their friends have fallen victim to these problems. Their director approached social worker Silas W. Kelly, LMSW, and asked if he could help them find a vehicle to get those messages out to as many young people as possible. They wanted to spread positive messages of hope and help regarding these critical issues plaguing today's youth. As the Executive Producer of this project, Silas Kelly and some of their counselors coached the students in PSA production. Then Silas teamed the Youth Bureau Students up with current Suffolk Community College students Joe Adleman and Kevin Nessler of the Radio/TV Program in Selden, NY. They handled all of the technical production of recording the PSAs and the mix-downs. Silas did the final post-production segments.  This is the final product:
Click below to listen:
---
Voting Is Social Work
The New Social Worker
is participating in the National Social Work Voter Mobilization Campaign, which has its online base at
VotingIsSocialWork.org
. The campaign's next webinar is scheduled for September 21:
Supporting Nonpartisan Voter Engagement in Hyper-Partisan Times
WEBINAR- Friday, September 21, 2018, 11:00am - 12:00pm ET (Approval for 1 CE pending)
Description: Many social workers and organizations are reluctant to support voter registration for clients and communities fearing accusations of partisanship. We will discuss the law as well as myths and strategies for staying neutral and nonpartisan while also encouraging clients and communities to be informed voters.
Register for 9/21/18 session here
---
Write for THE NEW SOCIAL WORKER
I am seeking a limited number of articles for THE NEW SOCIAL WORKER website and magazine. Is there an issue that you are passionate about that corresponds with an upcoming "awareness" month, week, or day; holiday; or time of year/season? This is a good way to identify a topic for a timely article.
Other topics of interest include: social work field placement issues, licensing, and career development.
Our style is conversational and educational, and web articles typically run 500-750 words. Feature articles typically run 1,250-1,500 words. We want positive articles that social workers can use to help them advance in their careers.
I also welcome submissions of poetry, photographs, illustrations, artwork, videos, audio, and other creative work depicting social work and related topics.
Submit articles to Linda Grobman with a subject line that says "Submission—(insert title or topic of submission)." Attach your submission as a Word file. Please include in this file: title of submission, your name as you want it to appear with your article, body of your submission, a brief bio about yourself.  I will then review your submission and let you know if I need anything else and/or whether it is accepted for publication.
Please email
Linda Grobman
with ideas for longer (1,250-1,500 words) "feature articles" for
THE NEW SOCIAL WORKER
magazine.
Thank you!
White Hat Communications, publisher of THE NEW SOCIAL WORKER magazine and the Social Work E-News, has published several
books about social work
. These books make great gifts (for graduation, holidays, or other occasions) for yourself, or for your friends, students, and colleagues in social work!
HOW TO ORDER
All of our books are available through our secure online store at:
Some of our books are also available as ebooks at
VitalSource
.
---
BEDTIME READING/GIFTS FOR GRADUATION/HOLIDAYS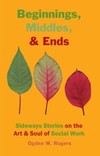 BEGINNINGS, MIDDLES, & ENDS: SIDEWAYS STORIES ON THE ART & SOUL OF SOCIAL WORK
With just the right blend of humor and candor, each of these stories contains nuggets of wisdom that you will not find in a traditional textbook. They capture the essence and the art and soul of social work.
---

Now in Paperback and Hardcover: ON CLINICAL SOCIAL WORK: MEDITATIONS AND TRUTHS FROM THE FIELD
is Dr. Danna Bodenheimer's NEW book. Published in July by The New Social Worker Press, it  reached #1 in new social work releases on Amazon.
The beautiful, full-color book - now in paperback and hardcover - makes a meaningful gift for you, a student, or a colleague. It is

available

 

now

at Amazon and Barnes and Noble (and other bookstores, too).
Jonathan Singer of the Social Work Podcast wrote the foreword to this book, and he said, "Danna pays attention to life's details with a psychotherapist's insight and writes about them with the passion of a slam poet. She speaks to the soul of social work and inspires us to think about more than just social work."
Jonathan B. Singer, Ph.D., LCSW, Associate Professor, Loyola University Chicago, Founder and host, Social Work Podcast
---
The A-to-Z Self-Care Handbook for Social Workers and Other Helping Professionals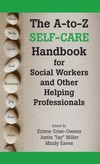 The A-to-Z format in this book provides 26 practical strategies for your personal self-care plan. Learn how to make a SMART plan and keep yourself accountable. Easy to read and essential for any social worker or helping professional.
IN THIS ISSUE
Editor's Eye

Job Corner/Current Job Openings

Reminders

NEWSLETTER NECESSITIES
You have subscribed to receive this free newsletter.
To unsubscribe, follow the "unsubscribe" link at the bottom of this newsletter. To change the address for your subscription, please use the "change email address" link at the bottom of this newsletter.

ABOUT THIS NEWSLETTER
THE NEW SOCIAL WORKER® SOCIAL WORK E-NEWS is published by:
White Hat Communications (publisher of THE NEW SOCIAL WORKER® magazine and THE NEW SOCIAL WORKER® ONLINE)
Harrisburg, PA 17110-0390
Advertising: To place a job listing, sponsor this newsletter, place a banner ad on our website, or advertise in THE NEW SOCIAL WORKER magazine, email lindagrobman@socialworker.com for rates and further information.
News: Please send brief social work-related news items to lindagrobman@socialworker.com for consideration.
PRIVACY
Your subscription email address will only be used to deliver this e-newsletter and to occasionally inform you of updates from its publisher. Your email address will not be given to anyone else or used for any other purpose as a result of your subscription to this newsletter.
Copyright 2018 White Hat Communications. All rights reserved. Permission is granted to forward this entire newsletter, with all information intact, by email to social work colleagues, students, and others interested in social work, for personal use only. You may also print out this newsletter for personal use. All other uses of this material require permission from the publisher at: lindagrobman@socialworker.com