Hello --
Welcome to Issue
#227
of the
Social Work E-News!
Thank you for subscribing to receive this email newsletter, which is brought to you by the publisher of
The New Social Worker
magazine,
SocialWorker.com
,
SocialWorkJobBank.com
, and other social work publications.
The New Social Worker website
is a great place to find a variety of new and archived articles on job search, social work careers, practice, ethics, technology, and more issues for new grads, as well as seasoned social work professionals.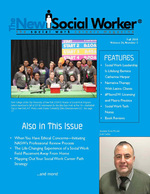 Here's a

quick link

for immediate download of the PDF edition for Fall 2019:
Highlights: initiating NASW's professional review process, field placement away from home, mapping your social work career path strategy, Dr. Bernice Harper, narrative therapy with Latinx clients, and more. See listing below (after the "Featured Excerpt").
We also publish web-exclusive articles on our website! See listings below of the most recent articles.
---
Have you subscribed to our mailing lists? You can go to
http://www.socialworker.com/Subscribe_to_The_New_Social_Worker
and
subscribe (free)
to receive an email reminder and table of contents of each issue of
The New Social Worker
magazine when it is available. If you are a subscriber to the E-News (which you are reading now), this does NOT mean that you are automatically subscribed to
The New Social Worker
magazine.
They are two different publications.
Are you one of our

179,200

+

fans on

Facebook

? Connect with us—we love connecting with you!
Until next time,
Linda Grobman, ACSW, LSW
Publisher/Editor
THE NEW SOCIAL WORKER®
October marks several observances, including but not limited to:
National Bullying Prevention Month
National Domestic Violence Awareness Month
Mental Illness Awareness Week (this week - October 6-12)
World Mental Health Day (October 10)
Job Corner/Current Job Openings
We are seeking a CEU Administrator to provide support and leadership to position us at the forefront of online professional development for social workers. The position involves identifying continuing education needs for social workers across all U.S. jurisdictions, managing documentation for our continuing education courses, pursuing course approvals where necessary, and ensuring compliance with best practices in continuing education for social workers. A leader in online education, our company is comprised of passionate individuals dedicated to providing an exceptional learning experience that enhances the lives and careers of the professionals we serve. We are certified as a great workplace by the independent analysts at Great Place to Work®. Learn more about us at continued.com.
---
Council on Aging of Southwestern Ohio is looking for full-time Care Managers and part-time (24 hours per week) Assessors who have a passion for working with the elderly and/or the disabled population. We are interested in those who have recently graduated to those with multiple years of experience. These positions require good computer skills, Microsoft Outlook email and scheduling knowledge, and the ability to innovate and adapt to change. Our mission is to "enhance lives by assisting people to remain independent through a range of quality services." We offer an engaging environment, awesome training (many trainings offer CEUs), great benefits, and the opportunity to work from home. Please visit our website www.help4seniors.org to apply.
---
SpringHealth Behavioral Health is expanding and looking for passionate social workers with ABA experience to join our teams in GA, KY, IN, and VA! Our clinicians meet the unique needs of adults and youth with ASD, IDD, and mental illness. If you're passionate about helping others live their best lives, we would love to talk to you!
Call us at (502) 424-2830 or email your resume to:
---
Find jobs
for new grads and experienced social work practitioners at
http://www.socialworkjobbank.com
, THE NEW SOCIAL WORKER's online job board and career center.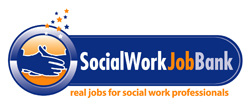 If you or your agency are
hiring social workers,
don't forget to post your jobs on SocialWorkJobBank.com. Please check the SocialWorkJobBank
"products/pricing" page
for job posting options and SPECIAL offers. 
Job seeker services are FREE—including searching
current job openings
, posting your confidential résumé/profile, and receiving email job alerts. Please let employers know that you saw their listings in the SOCIAL WORK E-NEWS and at SocialWorkJobBank.com.
Social Work Leadership Is Lifelong: Bernice Harper's Inspiring Career

Editor's Note: This excerpt is from THE NEW SOCIAL WORKER's Fall 2019 issue. Read the complete article at:
by Elizabeth J. Clark, Ph.D., MSW, MPH

The profession of social work has a long tradition of outstanding women leaders. If asked, you could easily come up with a list of pioneers and social work luminaries who have provided leadership, not only for establishing and developing our profession, but for leading the quest for social justice and better quality of life for our citizens. Names like Jane Addams, Jeannette Rankin, Mary Richmond, Edith Abbott, Frances Perkins, Bertha Reynolds, and more recent leaders like Dorothy Height, Barbara Mikulski, or Barbara Lee might come to mind. This article introduces you to a social work leader you may not know, but whose work has had a significant impact on several areas of practice and on many of our lives and those of our loved ones.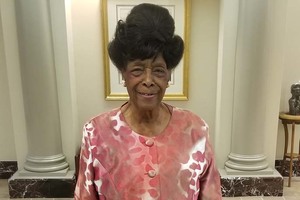 Dr. Bernice Catherine Harper has represented the most vulnerable and underserved and those most in need of available and affordable health care services in this country and abroad. She is especially known for her outstanding leadership in the hospice movement and for the national impact she had in establishing and financing hospice services under Medicare. Harper also authored a groundbreaking book on care for the dying in 1977 that helped to create the social work practice areas of medical (now health care) social work and what, today, we refer to as palliative care. She is aptly considered a transformational leader–-someone who creates an inspiring vision of the future, inspires others to engage in that vision, and then works continuously and collaboratively to deliver that vision.
One of 12 children in an African American family, Harper was born in the segregated south and began cleaning houses at age 10. She wanted to be a missionary in Africa, but didn't know how to become one.
She was smart and did very well in school. She entered Virginia State College, at the time a segregated Historically Black College, and majored in education and psychology. She needed help paying for college, and she so impressed the president of Virginia State College that he provided housing for her in his own home. He also helped her find a summer position with a Quaker family to serve as a companion to an older woman in Princeton, NJ. The luggage of a deceased family member, Beatrice Whitson, was stored there, and the initials "BW" were on the luggage. The family thought it must have been meant for Harper, whose maiden name was Wright. Beatrice Whitson had been a social worker and had established a college scholarship in social work. The family decided that the scholarship, along with the luggage, should go to Bernice Wright (Harper).
Harper considers this "something like divine intervention." She notes, "I knew absolutely nothing about social work. I knew what teachers and nurses did, and I even knew about sociology, but I didn't know what social work was." She felt she had been "called" to social work, and her career was set.
When segregation prevented her from pursuing a Master of Social Work degree in her home state of Virginia, she became one of the first out-of-state students at the University of Southern California, obtaining her MSW in 1948. She also became the first woman of color to earn a Master of Science in Public Health from Harvard University in 1959, and she was awarded an honorary doctorate by Faith Grant College in Birmingham, AL, in 1994.
Read the rest of this article at:
Selected articles from the Fall 2019 issue:
You have concerns about a social work colleague's conduct. What are your ethical obligations? What is the best way to proceed? Reporting to the National Association of Social Workers is one option. Is it warranted, and what does it entail?
Completing your social work field placement away from home, in another country or state, takes emotional fortitude. It also provides rich experiences that will change your life.
Quick response (QR) codes can become a tool for any social worker to serve the public in a positive way.
Wouldn't it be great if your GPS led you to your career destination? It won't, but you can map out your social work career path with these strategic steps.
Social work has a long tradition of outstanding women leaders. Dr. Bernice Harper is a leader who continues to inspire well past retirement. Learn from her 70-year social work career.
Fall brings a new academic year and new digital technologies for social work students. Here is your back-to-school pep talk and tech toolkit, all rolled into one.
Massive Open Online Courses (MOOCs) are not just for techies. They are offering more and more courses of interest to social workers. And you can take them in your pajamas.
Is a macro social work license necessary? #MacroSW hosted a Twitter chat on the topic of macro-level social work licensure.

Susan Mankita reviews Ethics and Values in Social Work: An Integrated Approach for a Comprehensive Curriculum - Second Edition.
Book Review of Stress, Trauma, and Decision-Making for Social Workers
- reviewed by Amy Ward.
Book Review of Headcase: LGBTQ Writers and Artists on Mental Health and Wellness
- reviewed by Joshua Sanchez.
Peter Kindle reviews Squeezed: Why Our Families Can't Afford America.
For the full Table of Contents and full text of all articles in this issue, please
download the PDF.
Recent Web-Exclusive Articles
University of Iowa National Poetry Contest for Social Workers

The University of Iowa School of Social Work National Poetry Contest for Social Workers in now open for submissions. The deadline is January 31, 2020. As in previous years, the 1st, 2nd, and 3rd place poems will be published in The New Social Worker. In addition, the writers of the top three poems will receive cash prizes.
---
Mental Health America 2019 Back to School Toolkit
Mental Health America has released its free
2019 Back to School Toolkit
to help increase understanding of stress and loneliness in children and teens and provide materials on the topic for parents, school personnel, and young people.
This year's toolkit includes:
Fact sheets for parents/teachers
Fact sheets for children/teens
Poster for use in schools
Key messages and statistics
Sample newsletter article; and
Sample social media post language and images.
---
MerckManuals.com Focuses on Recognizing Depression for Mental Illness Awareness Week
For Mental Illness Awareness Week, MerckManuals.com, an online medical reference, is highlighting expert information on depression and how to recognize the disorder.
The themed content, which is featured on 
www.merckmanuals.com/home
, includes:
a comprehensive essay on the symptoms and treatment of depression 
an illustrative pencil video that provides an overview of the disorder 
a challenging series of quiz questions on the topic of depression
a detailed infographic about "Life with Depression."
The compilation of related items showcased during the awareness campaign will be permanently stored on the website. The essay on depression can be accessed directly at any time at 
www.merckmanuals.com/depression
.
Mental Illness Awareness Week runs from Sunday, October 6, through Saturday, October 12, 2019.
---
Write for THE NEW SOCIAL WORKER
I am seeking a limited number of articles for THE NEW SOCIAL WORKER website and magazine. Is there an issue that you are passionate about that corresponds with an upcoming "awareness" month, week, or day; holiday; or time of year/season? Or an issue you have experienced as a social worker or social work student that you would like to share with peers? These are good places to start to identify a topic for a timely article for our website.
For the magazine, we are seeking articles on social work career development, field placement issues, and fields of practice.
Our style is conversational and educational, and web articles typically run 500-750 words. Feature articles typically run 1,250-1,500 words. We want positive articles that social workers can use to help them advance in their careers.
I also welcome submissions of poetry, photographs, illustrations, artwork, videos, audio, and other creative work depicting social work and related topics.
Submit articles to Linda Grobman with a subject line that says "Submission—(insert title or topic of submission)." Attach your submission as a Word file. Please include in this file: title of submission, your name as you want it to appear with your article, body of your submission, a brief bio about yourself.  I will then review your submission and let you know if I need anything else and/or whether it is accepted for publication.
Please email
Linda Grobman
with ideas for longer (1,250-1,500 words) "feature articles" for
THE NEW SOCIAL WORKER
magazine.
Thank you!
Days in the Lives of Social Workers: 62 Professionals Tell "Real-Life" Stories From Social Work Practice (5th Edition)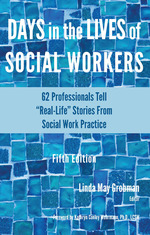 Spend a day with social workers in 62 different settings, and learn about the many career paths available to you. Did you ever wish you could tag along with a professional in your chosen field, just for a day? DAYS IN THE LIVES OF SOCIAL WORKERS allows you to take a firsthand, close-up look at the real-life days of 62 professional social workers as they share their stories. Join them on their journeys, and learn about the rewards and challenges they face.
"While the broadness of social work is what brings many people into the profession, at times it can be overwhelming. Fortunately, we have Linda May Grobman to help social workers navigate their careers through the eyes of those with real life experience. The 5th edition of Days in the Lives of Social Workers includes traditional and non-traditional career paths that offer a practical and realistic snapshot of the diverse fields of social work. An added bonus is the updated list of professional organizations, web resources, and social media, blogs and podcasts. This is a must have for social workers at any stage in their career!"
Jennifer Luna, MSSW
Director, Dinitto Career Center
The University of Texas at Austin, Steve Hicks School of Social Work
---
The A-to-Z Self-Care Handbook for Social Workers and Other Helping Professionals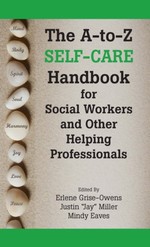 The A-to-Z format in this book provides 26 practical strategies for your personal self-care plan. Learn how to make a SMART plan and keep yourself accountable. Easy to read and essential for any social worker or helping professional.
---
BEDTIME READING/GIFTS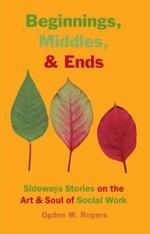 BEGINNINGS, MIDDLES, & ENDS: SIDEWAYS STORIES ON THE ART & SOUL OF SOCIAL WORK
With just the right blend of humor and candor, each of these stories contains nuggets of wisdom that you will not find in a traditional textbook. They capture the essence and the art and soul of social work.
---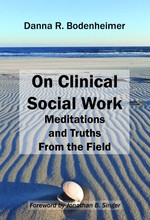 Now in Paperback and Hardcover: ON CLINICAL SOCIAL WORK: MEDITATIONS AND TRUTHS FROM THE FIELD
is Dr. Danna Bodenheimer's NEWEST book.

The beautiful, full-color book - now in paperback and hardcover - makes a meaningful gift for you, a student, or a colleague. It is

available

 

now

at Amazon and Barnes and Noble (and other bookstores, too).
Jonathan Singer of the Social Work Podcast wrote the foreword to this book, and he said, "Danna pays attention to life's details with a psychotherapist's insight and writes about them with the passion of a slam poet. She speaks to the soul of social work and inspires us to think about more than just social work."
Jonathan B. Singer, Ph.D., LCSW, Associate Professor, Loyola University Chicago, Founder and host, Social Work Podcast
---
White Hat Communications, publisher of THE NEW SOCIAL WORKER magazine and the Social Work E-News, has published several
books about social work
. These books make great gifts (for graduation, holidays, or other occasions) for yourself, or for your friends, students, and colleagues in social work!
HOW TO ORDER
Our books are available through our secure online store at:
Most of our publications are available at
Amazon.com
and other bookstores. (Some are available in Kindle format, as well as print.)
Many of our books are also available as ebooks at
VitalSource
.
---
IN THIS ISSUE
Editor's Eye
This Month

Job Corner/Current Job Openings

Featured Excerpt

News & Resources

Reminders

NEWSLETTER NECESSITIES
You have subscribed to receive this free newsletter.
To unsubscribe, follow the "unsubscribe" link at the bottom of this newsletter. To change the address for your subscription, please use the "change email address" link at the bottom of this newsletter.

ABOUT THIS NEWSLETTER
THE NEW SOCIAL WORKER® SOCIAL WORK E-NEWS is published by:
White Hat Communications (publisher of THE NEW SOCIAL WORKER® magazine and THE NEW SOCIAL WORKER® ONLINE)
Harrisburg, PA 17110-0390
Advertising: To place a job listing, sponsor this newsletter, place a banner ad on our website, or advertise in THE NEW SOCIAL WORKER magazine, email lindagrobman@socialworker.com for rates and further information.
News: Please send brief social work-related news items to lindagrobman@socialworker.com for consideration.
PRIVACY
Your subscription email address will only be used to deliver this e-newsletter and to occasionally inform you of updates from its publisher. Your email address will not be given to anyone else or used for any other purpose as a result of your subscription to this newsletter.
Copyright 2019 White Hat Communications. All rights reserved. Permission is granted to forward this entire newsletter, with all information intact, by email to social work colleagues, students, and others interested in social work, for personal use only. You may also print out this newsletter for personal use. All other uses of this material require permission from the publisher at: lindagrobman@socialworker.com