Hello --
Welcome to Issue
#212
of the
Social Work E-News!
Thank you for subscribing to receive this email newsletter, which is brought to you by the publisher of
The New Social Worker
magazine,
SocialWorker.com
,
SocialWorkJobBank.com
, and other social work publications.
If you would like to submit an item for our
"Self-Care Summer"
series (500 words or less), please send it to me (
Linda Grobman
) now for consideration. These can be short self-care exercises, thoughts about the importance and ethics of self-care, or other items relevant to self-care for social workers.
I am also seeking short (500 words or less) articles for an online series for Suicide Prevention Awareness Month in September. I am looking for short, practical articles about information social workers need to know about suicide. Please contact me
(Linda Grobman
) by August 1 if you have an idea for this series.
Don't forget -
The New Social Worker website
is a great place to find a variety of new and archived articles on job search, social work careers, practice, ethics, and more issues for new grads.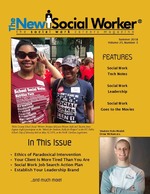 Here's a

quick link

for immediate download of the PDF edition for Summer 2018:
Most articles from the summer issue can be read on our website, as well. See listing below (after the "Featured Excerpt").
---
Have you subscribed to our mailing lists? You can go to
http://www.socialworker.com/Subscribe_to_The_New_Social_Worker
and
subscribe (free)
to receive an email reminder and table of contents of each issue of
The New Social Worker
magazine when it is available. If you are a subscriber to the E-News (which you are reading now), this does NOT mean that you are automatically subscribed to
The New Social Worker
magazine.
They are two different publications.
Are you one of our

171,000

+

fans on Facebook? Connect with us—we love connecting with you!
Until next time,
Linda Grobman, ACSW, LSW
Publisher/Editor
THE NEW SOCIAL WORKER®
Networking:
July marks several observances, including but not limited to:
Juvenile Arthritis Awareness Month
Minority Mental Health Awareness Month
International Day of Friendship (July 30)
World Day Against Trafficking in Persons (July 30)
Your Client Is More Tired Than You Are

Editor's Note: This excerpt is from the Summer 2018 issue of THE NEW SOCIAL WORKER.

Read the complete article at:
by Molly Skawski, MSW
Maybe you have read the title and your fingers are pulsing, anxious to fly across the keyboard and unleash your righteous fury. You are ready to scroll down directly to the comments section of the online version of this article and let me have it. You are ready to tell me, like the good social worker you are, that hardship is relative, that it is damaging to use "us" versus "them" statements, and that we must give ourselves permission to feel what we feel. And what do we feel? Exhaustion. Secondary trauma. Spinning wheels. To you, I say—I know.
I know, and thank you. I know, and thank you, but....
Your client is more tired than you are. She is probably hurting more than you are, and he probably has more to be angry about than you do (even if what he has to be angry about is the terrible situation that he caused himself).
I do not mean to dismiss or minimize your feelings. I know that the tired is real—the grief, the crippling imposter syndrome, the ever pouring out, the can-I-be-burnt-out-in-my-twenties(?!). I feel it. I just want us to remember that our clients are really, really tired, too. Maybe greater perspective can be a precursor to greater gratitude, and greater gratitude can be a precursor to sticking it out in this field on the days when we are absolutely certain that we cannot.  
As social workers, we have learned that we should not (no, never) use the phrase: "I know exactly how you feel." Okay, well, can I just...maybe...just this once?
I know exactly how you feel.
Even as I write those words, social work student sirens are going off in my head, because yes, we all have our individual professional and personal struggles. Total empathy is totally impossible. And yet, as important as it is to remember that our struggles are deeply individual, maybe it is equally important—freeing even—to remember that our struggles as helping professionals are also deeply universal.
In fact, in full disclosure (I know, we're not really supposed to do that either), last night I was hurting. The clients I thought I was cheering on toward the finish line dropped out of the race, every case review and court report needed my attention all at once, and another foster family had put in another 14-day notice asking for the removal of one of my teens (his seventh in four months). I was bone, body, and soul tired.
Maybe you have no idea of the struggle of another disrupted foster home. Instead, maybe you are all too familiar with the agonizingly slow pace of improved race relations in the United States. Maybe you are utterly overwhelmed by the manifestations of generational trauma in your community. My daily struggles are not the same as yours, but you are a social worker. That is all I need to know to know that you, too, have been bone, body, and soul tired....
Last night, I wondered aloud if any of what I was doing mattered. Had anyone's life been improved by my presence in it? Was change even possible? With more patience than I deserved, my husband lovingly talked me down from the edge of that cliff.
....This morning, the sun rose and so did I. I did show up to the office, and I rounded the corner to my cubicle to be greeted by the photographs of my children and families tacked haphazardly around my space. Those beautiful, tired clients of mine. And do you know what I wished in that moment? Not for five more minutes of sleep or an extended vacation. I wished that their hurts were the size of mine.
Few of my clients have the luxury of crying into a loved one's arms about their hurts. Most of my clients are in places of hurt that even my best empathy cannot get me to. Often, they are utterly alone in those places. For some of my clients, I am asking them to stay away from the people who have given them a sense of belonging—gangs or abusive relationships or drug buddies. Is it for their best interest? Yes, I think so. But I do not dare forget that it must also be terribly lonely.
Editor's Note: This excerpt is from the Summer 2018 issue of THE NEW SOCIAL WORKER. Read the complete article at:
---
Here are some highlights from the Summer 2018 issue:
Student Role Model - Drew McNamara (in PDF format only)
As social workers, we value honesty in our communications with clients. For some interventions, however, deception or lack of full disclosure is vital to effectiveness.
Preparing for your job search involves key steps that will make it more likely that you secure a social work job that is perfect for you.
Your personal brand is what people say about you when you are not in the room. It is who you are and what you do.
Using community-chosen terminology is an important means of respecting the identities and autonomy of disabled clients and other disabled individuals.
I do not mean to dismiss your feelings. I just want us to remember that our clients are really tired, too.
This article offers BSW and MSW practitioners a framework within which to think about their work with at-risk LGBTQ-identified youth who may be facing difficulties in their coming out process.
Gun violence plays a prominent role in social work practice. What can social workers do?
Google is exponentially powerful, and its algorithm is complex. Is it good for your social work client?
It is an ethical imperative to view clinical practice within the macro context as we strive to become life-long advocates and effective practitioners.
The heavy toll that can come from doing emotionally difficult work requires a conscious application of creativity and energy to move it forward.
Three very different summer 2018 movies - what can each of them teach us as social workers?
Book review of Brené Brown's Braving The Wilderness: The Quest for True Belonging and the Courage to Stand Alone.
Book review of Choose Hope (Always Choose Hope)
Book Review: Healing Justice: Holistic Self-Care for Change Makers
Book review of Healing Justice: Holistic Self-Care for Change Makers
...and more! For the full Table of Contents and full text of all articles in this issue, please download the PDF.
BONUS! Read recent web exclusive articles:
Healthcare
Partners, a DaVita Medical Group, is looking for a Full-Time Behavioral Health Therapist to join our team in Las Vegas. The clinicians we seek are those who practice medicine with a focus on patient care, not volume. We want our clinicians to take the time needed to truly address the patient's needs.
DaVita Medical Group offers competitive pay with financial incentives for yielding strong metrics on quality care while seeing a lower than average census. We provide our clinicians an excellent benefit package, which includes leadership pathways, CME reimbursement, paid license renewals and many other benefits, charitable sponsorships, and volunteer opportunities. Contact Anita Prince, Physician Recruiter, 702-528-6276 or aprince@hcpnv.com
Unrestricted Nevada LCSW license, current Nevada DEA certificate required prior to start date, at least 2 years of experience in Primary Care or Hospice, and must be comfortable with conducting home visits with high-risk patients
Experience working with a geriatric population.
---
NaphCare has an excellent opportunity for a Licensed Mental Health Professional (LCSW, LICSW, or LPC) to join our team at the Virginia Beach Correctional Facility! NaphCare Mental Health Professionals are responsible for providing mental health care within the scope of their license.

Current, unrestricted license in VA as a LCSW, LICSW, or LPC
Minimum of 3 years' clinical experience in a mental health care setting
Knowledge and experience in the identification and treatment of mental health and co-occurring substance abuse disorders, discharge planning, principles of social work, basic principles of individual and group behavior, suicide risk assessment, crisis de-escalation techniques
Working knowledge of psychotropic medications
If you want a career that will make a difference, choose the company that is different. NaphCare offers competitive benefits, including health, prescription, dental, Employment Assistance Program (EAP) services, vision and 401(k) plan. NaphCare offers term life insurance coverage at no cost to the employee and also provides PTO, paid holidays, and an array of voluntary benefits. Employees enrolled in our health insurance program receive prescriptions free of charge when filled at our in-house pharmacy or mail order program. We care about making a difference in the lives of others.
---
Find jobs
for new grads and experienced social work practitioners at
http://www.socialworkjobbank.com
, THE NEW SOCIAL WORKER's online job board and career center.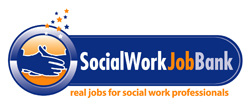 If you or your agency are
hiring social workers,
don't forget to post your jobs on SocialWorkJobBank.com. Please check the SocialWorkJobBank
"products/pricing" page
for job posting options and SPECIAL offers. 
Job seeker services are FREE—including searching current job openings, posting your confidential résumé/profile, and receiving email job alerts. Please let employers know that you saw their listings in the SOCIAL WORK E-NEWS and at SocialWorkJobBank.com.
There are
1,047 jobs
currently posted on SocialWorkJobBank.com. Check it out today.
Voting Is Social Work
The New Social Worker
is participating in the National Social Work Voter Mobilization Campaign, which has its online base at
VotingIsSocialWork.org
. According to the website, the campaign seeks to:
Raise awareness of the importance of voting to social work practice and social policy;
Integrate voter engagement activities into class and field education for all micro and macro students;
Provide information about voter mobilization skills and strategies to field instructors, students and faculty for use in agencies and the classroom, and
Ensure that all the people served by social workers have access to the vote.
Are you registered to vote, and is your registration updated? You can now register at our website (
www.socialworker.com
). Look for the "Rock the Vote" banner on our home page.
---
Write for THE NEW SOCIAL WORKER
I am seeking a limited number of articles for THE NEW SOCIAL WORKER website and magazine. Is there an issue that you are passionate about that corresponds with an upcoming "awareness" month, week, or day; holiday; or time of year/season? This is a good way to identify a topic for a timely article.
Other topics of interest include: social work field placement issues, licensing, and career development.
Our style is conversational and educational, and web articles typically run 500-750 words. Feature articles typically run 1,250-1,500 words. We want positive articles that social workers can use to help them advance in their careers.
I also welcome submissions of poetry, photographs, illustrations, artwork, videos, audio, and other creative work depicting social work and related topics.
Submit articles to Linda Grobman with a subject line that says "Submission—(insert title or topic of submission)." Attach your submission as a Word file. Please include in this file: title of submission, your name as you want it to appear with your article, body of your submission, a brief bio about yourself.  I will then review your submission and let you know if I need anything else and/or whether it is accepted for publication.
Please email
Linda Grobman
with ideas for longer (1,250-1,500 words) "feature articles" for
THE NEW SOCIAL WORKER
magazine.
Thank you!
White Hat Communications, publisher of THE NEW SOCIAL WORKER magazine and the Social Work E-News, has published several
books about social work
. These books make great gifts (for graduation, holidays, or other occasions) for yourself, or for your friends, students, and colleagues in social work!
HOW TO ORDER
All of our books are available through our secure online store at:
Some of our books are also available as ebooks at
VitalSource
.
---
BEACH/SUMMER READING/GIFTS FOR GRADUATION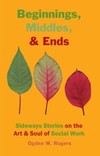 BEGINNINGS, MIDDLES, & ENDS: SIDEWAYS STORIES ON THE ART & SOUL OF SOCIAL WORK
With just the right blend of humor and candor, each of these stories contains nuggets of wisdom that you will not find in a traditional textbook. They capture the essence and the art and soul of social work.
---

Now in Paperback and Hardcover: ON CLINICAL SOCIAL WORK: MEDITATIONS AND TRUTHS FROM THE FIELD
is Dr. Danna Bodenheimer's NEW book. Published in July by The New Social Worker Press, it  reached #1 in new social work releases on Amazon.
The beautiful, full-color book - now in paperback and hardcover - makes a meaningful gift for you, a student, or a colleague. It is

available

 

now

at Amazon and Barnes and Noble (and other bookstores, too).
Jonathan Singer of the Social Work Podcast wrote the foreword to this book, and he said, "Danna pays attention to life's details with a psychotherapist's insight and writes about them with the passion of a slam poet. She speaks to the soul of social work and inspires us to think about more than just social work."
Jonathan B. Singer, Ph.D., LCSW, Associate Professor, Loyola University Chicago, Founder and host, Social Work Podcast
---
The A-to-Z Self-Care Handbook for Social Workers and Other Helping Professionals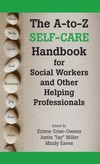 The A-to-Z format in this book provides 26 practical strategies for your personal self-care plan. Learn how to make a SMART plan and keep yourself accountable. Easy to read and essential for any social worker or helping professional.
IN THIS ISSUE
Editor's Eye
This Month
Featured Excerpt

Job Corner/Current Job Openings

Reminders

NEWSLETTER NECESSITIES
You have subscribed to receive this free newsletter.
To unsubscribe, follow the "unsubscribe" link at the bottom of this newsletter. To change the address for your subscription, please use the "change email address" link at the bottom of this newsletter.

ABOUT THIS NEWSLETTER
THE NEW SOCIAL WORKER® SOCIAL WORK E-NEWS is published by:
White Hat Communications (publisher of THE NEW SOCIAL WORKER® magazine and THE NEW SOCIAL WORKER® ONLINE)
Harrisburg, PA 17110-0390
Advertising: To place a job listing, sponsor this newsletter, place a banner ad on our website, or advertise in THE NEW SOCIAL WORKER magazine, email lindagrobman@socialworker.com for rates and further information.
News: Please send brief social work-related news items to lindagrobman@socialworker.com for consideration.
PRIVACY
Your subscription email address will only be used to deliver this e-newsletter and to occasionally inform you of updates from its publisher. Your email address will not be given to anyone else or used for any other purpose as a result of your subscription to this newsletter.
Copyright 2018 White Hat Communications. All rights reserved. Permission is granted to forward this entire newsletter, with all information intact, by email to social work colleagues, students, and others interested in social work, for personal use only. You may also print out this newsletter for personal use. All other uses of this material require permission from the publisher at: lindagrobman@socialworker.com