Hello --
Welcome to Issue #191 of the Social Work E-News! Thank you for subscribing to receive this email newsletter, which is brought to you by the publisher of The New Social Worker magazine, SocialWorker.com, SocialWorkJobBank.com, and other social work publications.
I just returned from an invigorating four days at the PA NASW conference in Valley Forge, PA. I want to welcome everyone who visited our exhibit at the conference and signed up for this newsletter and other publications at our exhibit table. It was great to see old friends and to meet and get to know some new ones!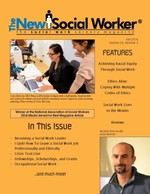 Here's a

quick link

for immediate download of the PDF edition for Fall 2016:
Most articles from the fall issue can be read on our website, as well. Highlights include: coping with multiple codes of ethics, getting funding for social work studies, how to quit your job professionally and ethically, occupational social work, internalized racial oppression, becoming a social work leader, developing an emotional sense of direction, and more!
---
The A-to-Z Self-Care Handbook for Social Workers and Other Helping Professionals
—edited by Erlene Grise-Owens, Justin "Jay" Miller, and Mindy Eaves
—is the latest book from The New Social Worker Press. The book, which takes readers through the alphabet to discover a variety of self-care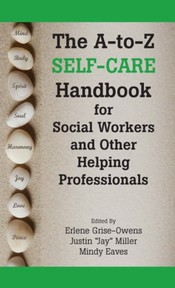 strategies and develop a personalized self-care plan, is now available in both print and Kindle formats.
Order the book now at:
This book is ideal for individuals or for group trainings on self-care. If your agency is interested in buying it in bulk for training or other purposes, please contact
me
.
...a caring and useful resource for helping professionals concerned about burnout, stress, staff turnover, and wellness.... By focusing on insights and reflections and providing resources and strategies, The A-to-Z Self-Care Handbook is a practical guide and an empowering book.
DR. BARBARA W. SHANK, Ph.D., MSW, Dean and Professor, School of Social Work, University of St. Thomas, St. Catherine University, Chair, Board of Directors, Council on Social Work Education
---
Have you subscribed to our mailing lists? You can go to
http://www.socialworker.com/Subscribe_to_The_New_Social_Worker
and
subscribe (free)
to receive an email reminder and table of contents of each issue of
The New Social Worker
magazine when it is available. If you are a subscriber to the E-News (which you are reading now), this does NOT mean that you are automatically subscribed to
The New Social Worker
magazine.
They are two different publications.
Are you one of our

154,000

+

fans on Facebook? Connect with us—we love connecting with you!
Until next time,
Linda Grobman, ACSW, LSW
Publisher/Editor
THE NEW SOCIAL WORKER®
Networking:
October marks several observances, including but not limited to:
Domestic Violence Awareness Month
National Breast Cancer Awareness Month
National Bullying Prevention Month
National Down Syndrome Awareness Month
Mental Illness Awareness Week (Oct. 2-8)
Achieving Racial Equity Through Social Work: Internalized Racial Oppression

Editor's Note: This excerpt is from the Fall 2016 issue of THE NEW SOCIAL WORKER. Read the complete article at:
by Mary Pender Greene, LCSW-R, CGP, Sandra Bernabei, LCSW, and Lisa V. Blitz, Ph.D., LCSW-R
     Heeding the NASW call to action on structural racism, our columns have discussed the principles of
Undoing Racism®
outlined by the People's Institute for Survival and Beyond (PISAB). We do this because racial disparities persist in areas touched by social work: child welfare, criminal justice, education, health, and wealth distribution, where outcomes for people of color are consistently worse than for White people. We have explored some of the complex reasons for this, and we now consider a factor that is often ignored or misunderstood: internalized racial oppression.
    Internalized racial oppression is a multigenerational process of accepting social messaging about one's standing in society and one's comparative value. Unless there are conscious, rigorous, and well-informed efforts to challenge them, social messages become internalized and, thus, invisible. Once invisible, the legacies of privilege and oppression become part of what is handed down through generations as social, cultural, and institutional norms and practices. Therefore, to understand structural racism, we must understand internalized racial oppression.
    Success for any person ultimately depends on the efforts of the individual, but until the barriers of racism are acknowledged and addressed, people of color must strive for achievement without the foundation provided to White people through imbedded systems of White privilege. White privilege includes historical and structural components that allow greater access to education, wealth, and power; it also includes cultural messages around race. White people can see themselves represented throughout American society, and can go through life without needing to consider their race when navigating social systems. White people do not need to consider race as a factor in their success or failure. Thus, White people can focus on their own skills, talents, and work ethics as keys to achievement, with cultural messages reinforcing the idea that they are deserving and capable of success.
    In contrast, people of color face daily challenges imposed by structural and institutional racism that are often invisible to White people. As they put energy and talent into efforts to achieve, people of color must respond, react, and filter through multiple factors related to their race: interpersonal microaggressions, cultural norms that inhibit expression, and structural barriers. These cultural messages reinforce the idea that people of color are suspect and only capable of success if they distance themselves from their culture: as individuals they may be deserving, but their group is associated with failure.
    Internalized racial oppression is not individual race bias; the focus is still on structural racism. We define racism as race prejudice plus power. Power is held by social, economic, and political institutions. Collective attitudes inform culture and institutions, and assumptions based on those attitudes become part of the structural norm. The norm becomes accepted and its history forgotten, and this forms the core of structural racism.
    The concept of
internalized racial oppression
includes internalized racial superiority (IRS) and internalized racial inferiority (IRI): two sides of the same coin, where IRS is designated as an oppression, not a privilege. As noted by Martin Luther King and others, people cannot be truly free if they participate in the subjugation of others, regardless of whether participation is intentional or if it is an unwitting consequence of maintaining the status quo through failure to oppose injustice.
Editor's Note: This excerpt is from the Fall 2016 issue of THE NEW SOCIAL WORKER. Read the complete article at:
---
Here are some highlights from the Fall issue:
Student Role Model: Jesse Bennett (in PDF version only)
...and more! For the full Table of Contents and full text of all articles in this issue, please dowload the PDF.
New on the Real World Clinical Social Work Blog:
BEDTIME READING/GIFTS FOR GRADUATES!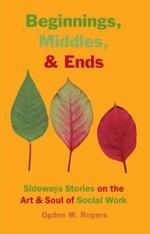 What does a life in social work look like?
You might look at it as a series of "sideways" stories! "If life were black and white, we'd have no need for social work." Read Ogden Rogers' collection,
Beginnings, Middles, & Ends: Sideways Stories on the Art & Soul of Social Work.
Available on
Amazon.com
(print and Kindle), Google Play (e-book), directly from the
publisher
, and other bookstores. Do you know a social worker or social work student who loves to read? This book is a welcome retreat from academic textbooks.
Beginnings, Middles, and Ends by Ogden W. Rogers is a thought-provoking book about the evolution of the author's career in the field of social work. The real-life stories are whimsical as well as enlightening. You follow the yellow brick road of a social work career and feel the passion and dedication that is required of those who are engaged in the social work profession.... A great read for anyone entering the profession, or if you are involved and feel your passion flickering, this book will surely re-ignite your love. --Mildred Mit Joyner, MSW, LCSW, Emerita Director and Professor of Social Work, West Chester University of Pennsylvania
---
Real World Clinical Social Work: Find Your Voice and Find Your Way
A ground-breaking book by Dr. Danna Bodenheimer, LCSW, from The New Social Worker Press
ISBN: 978-1-929109-50-0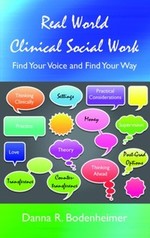 223 pages
Available now at:
"Danna Bodenheimer has written an insider's guide to clinical social work that doesn't make the reader feel like an outsider. This book is the clinical supervisor you always wanted to have: brilliant yet approachable, professional yet personal, grounded and practical, yet steeped in theory, and challenging you to dig deeper." Jonathan B. Singer, Ph.D., LCSW, Associate Professor of Social Work, Loyola University Chicago, Founder and Host, Social Work Podcast
---
Advertise With Us
If you would like to reach our audience of 45,000+ social workers and others interested in social work with information about your program or social work-related product, please contact Linda for information on advertising in THE NEW SOCIAL WORKER, the Social Work E-News, or on our website at SocialWorker.com.
LMSW - Broome County Correctional Facility
CBH Medical is hiring an LMSW at Broome County Correctional Facility. This is FT, offering full benefits. Must have Master's Degree in Social Work and be a Licensed Mental Health Social Worker in NY.
---
Find jobs
for new grads and experienced social work practitioners at
http://www.socialworkjobbank.com
, THE NEW SOCIAL WORKER's online job board and career center.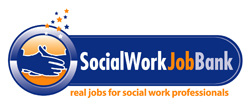 If you or your agency are
hiring social workers,
don't forget to post your jobs on SocialWorkJobBank.com. Please check the SocialWorkJobBank
"products/pricing" page
for job posting options and SPECIAL offers. 
Job seeker services are FREE—including searching current job openings, posting your confidential résumé/profile, and receiving e-mail job alerts. Please let employers know that you saw their listings in the SOCIAL WORK E-NEWS and at SocialWorkJobBank.com.
There are
1,054 jobs
currently posted on SocialWorkJobBank.com. Check it out today.
---
White Hat Communications, publisher of THE NEW SOCIAL WORKER magazine and the Social Work E-News, has published several
books about social work
. These books make great gifts (for graduation, holidays, or other occasions) for yourself, or for your friends, students, and colleagues in social work!
HOW TO ORDER
All of our books are available through our secure online store at:
IN THIS ISSUE
Featured Excerpt

Job Corner/Current Job Openings
Reminders

NEWSLETTER NECESSITIES
You have subscribed to receive this free newsletter.
To unsubscribe, follow the "unsubscribe" link at the bottom of this newsletter. To change the address for your subscription, please use the "change email address" link at the bottom of this newsletter.

ABOUT THIS NEWSLETTER
THE NEW SOCIAL WORKER® SOCIAL WORK E-NEWS is published by:
White Hat Communications (publisher of THE NEW SOCIAL WORKER® magazine and THE NEW SOCIAL WORKER® ONLINE)
Harrisburg, PA 17110-0390
lindagrobman@socialworker.com

http://www.socialworker.com
Advertising: To place a job listing, sponsor this newsletter, place a banner ad on our website, or advertise in THE NEW SOCIAL WORKER magazine, email lindagrobman@socialworker.com for rates and further information.
News: Please send brief social work-related news items to lindagrobman@socialworker.com for consideration.
PRIVACY
Your subscription e-mail address will only be used to deliver this e-newsletter and to occasionally inform you of updates from its publisher. Your e-mail address will not be given to anyone else or used for any other purpose as a result of your subscription to this newsletter.
Copyright 2016 White Hat Communications. All rights reserved. Permission is granted to forward this entire newsletter, with all information intact, by email to social work colleagues, students, and others interested in social work, for personal use only. You may also print out this newsletter for personal use. All other uses of this material require permission from the publisher at: lindagrobman@socialworker.com