Hello --
Welcome to Issue #194 of the Social Work E-News! Thank you for subscribing to receive this email newsletter, which is brought to you by the publisher of The New Social Worker magazine, SocialWorker.com, SocialWorkJobBank.com, and other social work publications.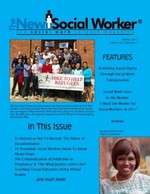 NEW!
The
Winter 2017
issue of
The New Social Worker
is available now! Read articles from the Winter issue at
http://www.socialworker.com
. 
Here's a

quick link

for immediate download of the PDF edition for Winter 2017:
Most articles from the winter issue can be read on our website, as well. Highlights include: ethics of documentation, the stages of change model, what social workers must know about hope, addiction in pregnancy, must-see movies for social workers in 2017, racial equity, social work in sports, what the social work licensing board does (and does not do), book reviews, and more!
---
With the new year upon us, here are some recently-published articles on thinking about New Year's Resolutions:
---
Deadline next week - January 16! Submit your entry for The New Social Worker's Social Work Month Project 2017!
We are now accepting submissions for Social Work Month, which is in March. See the
submission guidelines
on our website, or scroll down to the "news and resources" section in this newsletter for more details. I look forward to seeing your submission!
---
Have you subscribed to our mailing lists? You can go to
http://www.socialworker.com/Subscribe_to_The_New_Social_Worker
and
subscribe (free)
to receive an email reminder and table of contents of each issue of
The New Social Worker
magazine when it is available. If you are a subscriber to the E-News (which you are reading now), this does NOT mean that you are automatically subscribed to
The New Social Worker
magazine.
They are two different publications.
Are you one of our

156,000

+

fans on Facebook? Connect with us—we love connecting with you!
Until next time,
Linda Grobman, ACSW, LSW
Publisher/Editor
THE NEW SOCIAL WORKER®
Networking:
January marks several observances, including but not limited to:
National Birth Defects Prevention Month
National Winter Sports TBI Awareness Month
National Drug and Alcohol Facts Week (last week of January)
Martin Luther King  Jr. Day (January 16)
Ethics Alive! To Record or Not To Record: The Ethics of Documentation

Editor's Note: This excerpt is from the Winter 2017 issue of THE NEW SOCIAL WORKER. Read the complete article at:
by Allan Barsky, JD, MSW, Ph.D.
Social work documentation. Now, how exciting is that?! Yes, documentation is not exactly the most thrilling aspect of social work practice. In fact, sometimes the documentation process can be downright tedious. Still, if you want excitement in your professional life, try documenting in an incompetent, disrespectful, dishonest, incomplete, or disorganized manner. Nothing says "malpractice lawsuit" faster than situations in which social workers provide direct evidence of substandard practice in their client records. Conversely, good old boring records are vital to risk management, reducing the risk of malpractice lawsuits, professional disciplinary hearings, and agency discipline.
Standard 3.04 of the National Association of Social Workers (NASW) Code of Ethics (2008) provides social workers with guidance about documentation and record keeping. Part (a) states that social workers should ensure their documentation is "accurate and reflects the services provided." That makes sense. Be honest. End of sentence.
Part (b) instructs social workers to include sufficient information to "facilitate delivery of services and to ensure continuity of services provided to clients." Once again, this standard seems obvious. Records are supposed to support the provision of services. Social workers, supervisors, and colleagues need to know about the client's concerns, the client's goals, and the plans for reaching those goals. Good records can keep the helping professionals and clients on track, and ensure that services are provided in a competent and effective manner. For these purposes, comprehensive, and perhaps expansive record keeping might be suggested. Isn't it better to have more than enough information, rather than not enough?
Part (c), however, suggests that "social workers' documentation should protect clients' privacy to the extent that is possible and appropriate and should include only information that is directly relevant to the delivery of services." Ah, there's the rub. More is not always better. Given that clients have a right to privacy, documentation should be limited to what is relevant to service delivery. Even though most client records are "confidential," there are many people within the agency and beyond who could have access to all or parts of the records:
Supervisors and co-workers
Researchers and program evaluators
Government auditors or other officials responsible for monitoring and accountability
Insurance providers
Other agencies or people as authorized by client consent
In addition, client records may be used in courts under various circumstances—for instance, in child protection cases, in family law cases, in malpractice lawsuits, and in mental health hearings.  To protect client privacy, social workers should consider limiting what they document, so as not to embarrass clients or share information that clients may want to remain private.
"So," you may be asking, "how do I balance the need to provide full and accurate information in client records with the interest of protecting client confidentiality?" I'm glad you've asked. To address this balancing act, consider the following factors: laws, agency policies, client wishes, and social worker needs.
Editor's Note: This excerpt is from the Winter 2017 issue of THE NEW SOCIAL WORKER. Read the complete article at:
---
Here are some highlights from the Winter issue:
Student Role Model: Tanisha Bowman (in PDF version only)
Mobile Crisis Unit: Psychiatric Social Work on Wheels (in PDF version only)
Photos of Social Work Students in Action (in PDF version only)
...and more! For the full Table of Contents and full text of all articles in this issue, please dowload the PDF.
Director of Social Work
Bon Secours St. Petersburg

Bon Secours St. Petersburg seeks an experienced leader to serve our residents as Director of Social Work! We offer competitive compensation and a generous benefits package. As Director, you will be eligible for an annual bonus, as well as $5,000 in tuition assistance and up to $900 in wellness incentives. Relocation assistance is also available! We are seeking a compassionate leader to carry on a mission begun by the Sisters of Bon Secours nearly 200 years ago to bring good help to those in need, especially the poor and dying. 
---
Find jobs
for new grads and experienced social work practitioners at
http://www.socialworkjobbank.com
, THE NEW SOCIAL WORKER's online job board and career center.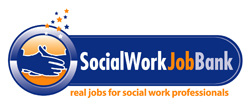 If you or your agency are
hiring social workers,
don't forget to post your jobs on SocialWorkJobBank.com. Please check the SocialWorkJobBank
"products/pricing" page
for job posting options and SPECIAL offers. 
Job seeker services are FREE—including searching current job openings, posting your confidential résumé/profile, and receiving email job alerts. Please let employers know that you saw their listings in the SOCIAL WORK E-NEWS and at SocialWorkJobBank.com.
There are
1,036 jobs
currently posted on SocialWorkJobBank.com. Check it out today.
The A-to-Z Self-Care Handbook for Social Workers and Other Helping Professionals
Edited by Erlene Grise-Owens, Justin "Jay" Miller, and Mindy Eaves. This is the latest book from The New Social Worker Press. The book, which takes readers through the alphabet to discover a variety of self-care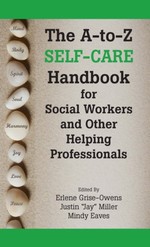 strategies and develop a personalized self-care plan, is now available in both print and Kindle formats.
Order the book now at:
This book is ideal for individuals or for group trainings on self-care. If your agency is interested in buying it in bulk for training or other purposes, please contact
me
.
...a caring and useful resource for helping professionals concerned about burnout, stress, staff turnover, and wellness.... By focusing on insights and reflections and providing resources and strategies, The A-to-Z Self-Care Handbook is a practical guide and an empowering book.
DR. BARBARA W. SHANK, Ph.D., MSW, Dean and Professor, School of Social Work, University of St. Thomas, St. Catherine University, Chair, Board of Directors, Council on Social Work Education
---
BEDTIME READING/GIFTS FOR SOCIAL WORKERS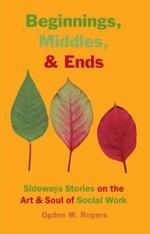 What does a life in social work look like?
You might look at it as a series of "sideways" stories! "If life were black and white, we'd have no need for social work." Read Ogden Rogers' collection,
Beginnings, Middles, & Ends: Sideways Stories on the Art & Soul of Social Work.
Available on
Amazon.com
(print and Kindle), Google Play (e-book), directly from the
publisher
, and other bookstores.
Do you know a social worker or social work student who loves to read? This book is a welcome retreat from academic textbooks.
Beginnings, Middles, and Ends by Ogden W. Rogers is a thought-provoking book about the evolution of the author's career in the field of social work. The real-life stories are whimsical as well as enlightening. You follow the yellow brick road of a social work career and feel the passion and dedication that is required of those who are engaged in the social work profession.... A great read for anyone entering the profession, or if you are involved and feel your passion flickering, this book will surely re-ignite your love. --Mildred Mit Joyner, MSW, LCSW, Emerita Director and Professor of Social Work, West Chester University of Pennsylvania
---
Real World Clinical Social Work: Find Your Voice and Find Your Way
A ground-breaking book by Dr. Danna Bodenheimer, LCSW, from The New Social Worker Press
ISBN: 978-1-929109-50-0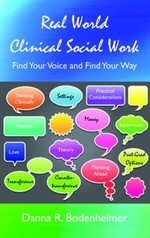 223 pages
Available now at:
"Danna Bodenheimer has written an insider's guide to clinical social work that doesn't make the reader feel like an outsider. This book is the clinical supervisor you always wanted to have: brilliant yet approachable, professional yet personal, grounded and practical, yet steeped in theory, and challenging you to dig deeper." Jonathan B. Singer, Ph.D., LCSW, Associate Professor of Social Work, Loyola University Chicago, Founder and Host, Social Work Podcast
---
Advertise With Us
If you would like to reach our audience of 47,000+ social workers and others interested in social work with information about your program or social work-related product, please contact Linda for information on advertising in THE NEW SOCIAL WORKER, the Social Work E-News, or on our website at SocialWorker.com.
Submit Your Entry
The New Social Worker's Social Work Month Project 2017

Deadline: January 16, 2017
The New Social Worker
is
seeking submissions
from social work practitioners, educators, and students for Social Work Month 2017. Please consider submitting your work for
The New Social Worker
magazine's online
Social Work Month Project.
     We invite you to submit a creative work that presents a positive view of social work on the micro, mezzo, and/or macro level. These can be, for example, writings or videos on what you like best about your social work career, the best/most important thing you've learned as a social worker and how you learned it, a moment in your career that inspired you, what you see as the main purpose of social work, dispelling myths about social work, social work ethics/values (for example, choose one of the core values in the NASW Code of Ethics), a story about social work, or your favorite area of social work practice. Don't limit yourself to these ideas, though. Use your imagination!
     Submissions may be in the form of:
Essay/creative writing (no more than 500 words)
Video
Memes
Other creative work
   Works that are accepted will be published on The New Social Worker website during March 2017 and may also appear on our various social media channels, such as Facebook, Twitter, and Instagram, and in our publications.
     Submissions that do not follow the instructions will not be considered.  Entries must be received by January 16, 2017.
---
Race/Related - from The New York Times
Race/Related is a newsletter from The New York Times that explores race and related issues. Find more information and subscribe to the free newsletter at:
---
White Hat Communications, publisher of THE NEW SOCIAL WORKER magazine and the Social Work E-News, has published several
books about social work
. These books make great gifts (for graduation, holidays, or other occasions) for yourself, or for your friends, students, and colleagues in social work!
HOW TO ORDER
All of our books are available through our secure online store at:
The above advertised program is not a social work degree program.
IN THIS ISSUE
Featured Excerpt

Job Corner/Current Job Openings
Words from Our Sponsors
Reminders

NEWSLETTER NECESSITIES
You have subscribed to receive this free newsletter.
To unsubscribe, follow the "unsubscribe" link at the bottom of this newsletter. To change the address for your subscription, please use the "change email address" link at the bottom of this newsletter.

ABOUT THIS NEWSLETTER
THE NEW SOCIAL WORKER® SOCIAL WORK E-NEWS is published by:
White Hat Communications (publisher of THE NEW SOCIAL WORKER® magazine and THE NEW SOCIAL WORKER® ONLINE)
Harrisburg, PA 17110-0390
lindagrobman@socialworker.com

http://www.socialworker.com
Advertising: To place a job listing, sponsor this newsletter, place a banner ad on our website, or advertise in THE NEW SOCIAL WORKER magazine, email lindagrobman@socialworker.com for rates and further information.
News: Please send brief social work-related news items to lindagrobman@socialworker.com for consideration.
PRIVACY
Your subscription email address will only be used to deliver this e-newsletter and to occasionally inform you of updates from its publisher. Your email address will not be given to anyone else or used for any other purpose as a result of your subscription to this newsletter.
Copyright 2017 White Hat Communications. All rights reserved. Permission is granted to forward this entire newsletter, with all information intact, by email to social work colleagues, students, and others interested in social work, for personal use only. You may also print out this newsletter for personal use. All other uses of this material require permission from the publisher at: lindagrobman@socialworker.com