Hello --
Welcome to Issue
#220
of the
Social Work E-News!
Thank you for subscribing to receive this email newsletter, which is brought to you by the publisher of
The New Social Worker
magazine,
SocialWorker.com
,
SocialWorkJobBank.com
, and other social work publications.
Happy Social Work Month!
Our
Social Work Month Project 2019
is underway, and we are celebrating all month long! Our Social Work Month series has two parts this year. First, we are featuring writings on the six core values of the social work profession - service, social justice, dignity and worth of the person, the importance of human relationships, integrity, and competence (from the NASW
Code of Ethics)
. Second, we have Social Work Month messages from leaders in our profession. Please follow the
Social Work Month 2019 page
all month, as new items are added each day.
Another "first" we have launched during this Social Work Month is
The New Social Worker Podcast Edition!
The podcast is available on
Anchor.fm
and many other podcast platforms, including Breaker, Stitcher, Google, Apple, Spotify, and others.
This week, I will be in Jacksonville, FL, at the Association of Baccalaureate Social Work Program Directors (BPD) conference. I'll be at Exhibit Booth #120 in the conference exhibit hall, tomorrow night through Saturday morning. I am excited to see colleagues and hope you are among them!
The New Social Worker website
is a great place to find a variety of new and archived articles on job search, social work careers, practice, ethics, and more issues for new grads.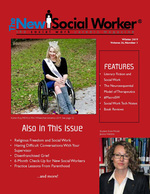 Here's a

quick link

for immediate download of the PDF edition for Winter 2019:
Highlights: religious freedom and social work ethics, Ms. Wheelchair America (a social worker), disenfranchised grief, difficult conversations, and more. See listing below (after the "Featured Excerpt").
Our next issue will be a combined Spring/Summer issue and will be out in mid-April.
---
Have you subscribed to our mailing lists? You can go to
http://www.socialworker.com/Subscribe_to_The_New_Social_Worker
and
subscribe (free)
to receive an email reminder and table of contents of each issue of
The New Social Worker
magazine when it is available. If you are a subscriber to the E-News (which you are reading now), this does NOT mean that you are automatically subscribed to
The New Social Worker
magazine.
They are two different publications.
Are you one of our

175,000

+

fans on Facebook? Connect with us—we love connecting with you!
Until next time,
Linda Grobman, ACSW, LSW
Publisher/Editor
THE NEW SOCIAL WORKER®
Networking:
March marks several observances, including but not limited to:
Social Work Month!
Women's History Month
American Red Cross Month
School Social Work Week (March 4-8)
Social Work Management Week (March 11-15)
World Social Work Day (March 19)
University of Mississippi
The School of Applied Sciences (SAS), Department of Social Work, University of Mississippi (R1 designation) seeks to employ 2 dynamic professionals to join its faculty at the Associate Professor level with the following qualifications:
Associate Professor of Social Work (Clinical Experience): The department is looking for someone who has particular experience with evidence-informed clinical practice, and service and who has 2 years' post-MSW clinical practice experience (and is eligible for clinical licensure in the State of Mississippi).
Associate Professor of Social Work (Macro Policy & Advocacy): The department is looking for someone who has experience in the macro policy and advocacy arena, with a particular focus on poverty issues, inequality concerns in the U.S. and the world, and oppression issues.
The successful candidate must have the education, professional commitment, and experience to carry out a vigorous program of research; classroom teaching; and service to the department, university, community, and the profession. Candidates should be able to: 1) demonstrate and maintain an active research agenda leading to publication in peer-reviewed journals; 2) demonstrate the ability to obtain federal grants or other external funds for state agency or community-based research projects; 3) develop multidisciplinary research connections on and off the UM campus; 4) teach across the curricula; 5) apply knowledge of EPAS 2015; and 6) perform administrative tasks as assigned. The teaching load will be six hours (two courses) per semester with a start date of Aug. 19th, 2019.
Minimum Education experience is a MSW and a Ph.D. in social work/social welfare or equivalent. Hiring is dependent upon experience and departmental budget.  Interested candidates should apply online at https://careers.olemiss.edu
---
Cow Creek Government Office - Roseburg, OR
Coordinating all psychosocial services; responsible for implementing educational programs, assessing problems and determining appropriate types and methods of treatment, and implementing intervention methodologies; functions in such areas as counseling, protective services, and family services.
Assist in the assessment, planning, arranging, and implementing of psychosocial programs.
Responsible for the content of education and counseling programs for both individual patients or groups of patients and serves as liaison to community, individuals, and groups as appropriate.
Counsel patients and interpret to professional and lay groups the special psychosocial needs of patients by identifying psychosocial disorders.
Conduct surveys and studies relating to psychosocial status and patterns of population groups as directed.
Review and evaluate recent psychosocial health research and interpret it to professionals and patients.
Perform short term counseling and crisis intervention as necessary.
Conduct report writing on a quarterly basis or as needed.
Prepare psychosocial educational materials as needed or required.
Coordinate with clinical, health education, community health and other staff members in the provision of services to patients. Provide referrals for services needed.
Coordinate with other organizational entities involved in psychosocial and mental health services.
Use tests, measurements, and measurement scale for general and specific assessments as well as objective patient criteria in the provision of services and evaluation procedures.
Writing, planning and implementing grant programs from its application to approval and utilization.
Provide in-service presentations to staff as needed or required.
Provide Tribal service information as an outreach worker such as required.
Assume other responsibilities as directed.
Master's degree in clinical social work required
3 years clinical experience required
License as Clinical Social Worker
Certified Alcohol & Drug Counselor Certification (preferred)
****TO APPLY FOR THIS POSITION, PLEASE CLICK ON THE LINK BELOW, PRINT OUT APPLICATION, AND SEND IT TO:
COW CREEK GOVERNMENT OFFICE
2371 NE STEPHENS, SUITE 100
---
Find jobs
for new grads and experienced social work practitioners at
http://www.socialworkjobbank.com
, THE NEW SOCIAL WORKER's online job board and career center.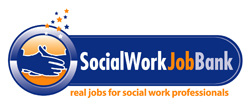 If you or your agency are
hiring social workers,
don't forget to post your jobs on SocialWorkJobBank.com. Please check the SocialWorkJobBank
"products/pricing" page
for job posting options and SPECIAL offers. 
Job seeker services are FREE—including searching
current job openings
, posting your confidential résumé/profile, and receiving email job alerts. Please let employers know that you saw their listings in the SOCIAL WORK E-NEWS and at SocialWorkJobBank.com.
Social Work Month 2019 - "Thank You" and Join Us for Six Core Values of Social Work, Leadership Messages
Editor's Note: This excerpt is from THE NEW SOCIAL WORKER's Social Work Month Project 2019.

Read the complete article at:
You can also LISTEN to this message on our NEW podcast!
by Linda May Grobman, MSW, ACSW, LSW

     It is THAT time of year again! March is
Social Work Month,
and
The New Social Worker
invites you to spend it with us. First and foremost, I want to THANK you for all you do.
     Each year, the National Association of Social Workers (NASW) chooses a theme for Social Work Month. This year, the theme is "
ELEVATE Social Work
." According to NASW, "During Social Work Month 2019, NASW will launch the 'Elevate Social Work' Campaign [to] educate the public about the contributions social workers have made to our society and why the profession is so vital to our nation. NASW also wants to use the campaign to begin a conversation to help social workers get better compensation for the work they do."
     For The New Social Worker's Social Work Month Project 2019, we will publish items throughout the month in two main areas:
Leaders in the social work profession have written Social Work Month greetings, focusing on the theme and inspirational topics for all social workers.
Social workers and social work students submitted essays on the six core values of social work, outlined in the Preamble to the NASW Code of Ethics.
     Why did
The New Social Worker
choose to focus on the six core values of social work this year? First of all, what
are
the six core values of social work? They are (from the
NASW
Code of Ethics,
2018):
service
social justice
dignity and worth of the person
the importance of human relationships
integrity
competence.
Read the rest of this article at:
Published March 1-12 in our Social Work Month 2019 Project:
(More will be posted daily throughout the month of March.)
Here are articles from the Winter 2019 issue:
Student Role Model - Jessica Watkins (in PDF format only)
How Literary Fiction Helps Us Become Better Social Workers (in PDF format only)
Practice Lessons Learned From Parenthood (in PDF format only)
For the full Table of Contents and full text of all articles in this issue, please
download the PDF.
Write for THE NEW SOCIAL WORKER
I am seeking a limited number of articles for THE NEW SOCIAL WORKER website and magazine. Is there an issue that you are passionate about that corresponds with an upcoming "awareness" month, week, or day; holiday; or time of year/season? This is a good way to identify a topic for a timely article for our website.
For the magazine, we are seeking articles on social work career development and field placement issues.
Our style is conversational and educational, and web articles typically run 500-750 words. Feature articles typically run 1,250-1,500 words. We want positive articles that social workers can use to help them advance in their careers.
I also welcome submissions of poetry, photographs, illustrations, artwork, videos, audio, and other creative work depicting social work and related topics.
Submit articles to Linda Grobman with a subject line that says "Submission—(insert title or topic of submission)." Attach your submission as a Word file. Please include in this file: title of submission, your name as you want it to appear with your article, body of your submission, a brief bio about yourself.  I will then review your submission and let you know if I need anything else and/or whether it is accepted for publication.
Please email
Linda Grobman
with ideas for longer (1,250-1,500 words) "feature articles" for
THE NEW SOCIAL WORKER
magazine.
Thank you!
The A-to-Z Self-Care Handbook for Social Workers and Other Helping Professionals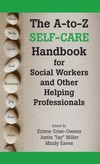 The A-to-Z format in this book provides 26 practical strategies for your personal self-care plan. Learn how to make a SMART plan and keep yourself accountable. Easy to read and essential for any social worker or helping professional.
---
BEDTIME READING/GIFTS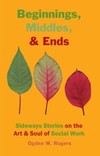 BEGINNINGS, MIDDLES, & ENDS: SIDEWAYS STORIES ON THE ART & SOUL OF SOCIAL WORK
With just the right blend of humor and candor, each of these stories contains nuggets of wisdom that you will not find in a traditional textbook. They capture the essence and the art and soul of social work.
---

Now in Paperback and Hardcover: ON CLINICAL SOCIAL WORK: MEDITATIONS AND TRUTHS FROM THE FIELD
is Dr. Danna Bodenheimer's NEWEST book.

The beautiful, full-color book - now in paperback and hardcover - makes a meaningful gift for you, a student, or a colleague. It is

available

 

now

at Amazon and Barnes and Noble (and other bookstores, too).
Jonathan Singer of the Social Work Podcast wrote the foreword to this book, and he said, "Danna pays attention to life's details with a psychotherapist's insight and writes about them with the passion of a slam poet. She speaks to the soul of social work and inspires us to think about more than just social work."
Jonathan B. Singer, Ph.D., LCSW, Associate Professor, Loyola University Chicago, Founder and host, Social Work Podcast
---
White Hat Communications, publisher of THE NEW SOCIAL WORKER magazine and the Social Work E-News, has published several
books about social work
. These books make great gifts (for graduation, holidays, or other occasions) for yourself, or for your friends, students, and colleagues in social work!
HOW TO ORDER
All of our books are available through our secure online store at:
Most of our publications are available at
Amazon.com
. (Some are available in Kindle format, as well as print.)
Many of our books are also available as ebooks at
VitalSource
.
---
IN THIS ISSUE
Editor's Eye
This Month

Job Corner/Current Job Openings

Have something to share?

Reminders

NEWSLETTER NECESSITIES
You have subscribed to receive this free newsletter.
To unsubscribe, follow the "unsubscribe" link at the bottom of this newsletter. To change the address for your subscription, please use the "change email address" link at the bottom of this newsletter.

ABOUT THIS NEWSLETTER
THE NEW SOCIAL WORKER® SOCIAL WORK E-NEWS is published by:
White Hat Communications (publisher of THE NEW SOCIAL WORKER® magazine and THE NEW SOCIAL WORKER® ONLINE)
Harrisburg, PA 17110-0390
Advertising: To place a job listing, sponsor this newsletter, place a banner ad on our website, or advertise in THE NEW SOCIAL WORKER magazine, email lindagrobman@socialworker.com for rates and further information.
News: Please send brief social work-related news items to lindagrobman@socialworker.com for consideration.
PRIVACY
Your subscription email address will only be used to deliver this e-newsletter and to occasionally inform you of updates from its publisher. Your email address will not be given to anyone else or used for any other purpose as a result of your subscription to this newsletter.
Copyright 2019 White Hat Communications. All rights reserved. Permission is granted to forward this entire newsletter, with all information intact, by email to social work colleagues, students, and others interested in social work, for personal use only. You may also print out this newsletter for personal use. All other uses of this material require permission from the publisher at: lindagrobman@socialworker.com