Hello --
Welcome to Issue #201 of the Social Work E-News! Thank you for subscribing to receive this email newsletter, which is brought to you by the publisher of The New Social Worker magazine, SocialWorker.com, SocialWorkJobBank.com, and other social work publications.
Summer is here and so is the Summer 2017 issue of The New Social Worker magazine!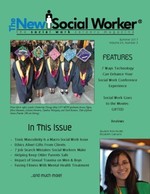 Here's a

quick link

for immediate download of the PDF edition for Summer 2017:
Most articles from the summer issue can be read on our website, as well. See listing below (after the "Featured Excerpt").
---
---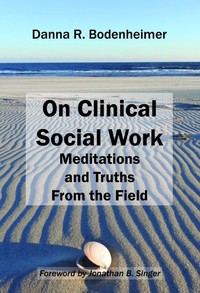 ON CLINICAL SOCIAL WORK: MEDITATIONS AND TRUTHS FROM THE FIELD
is Dr. Danna Bodenheimer's NEW book. Published last month by The New Social Worker Press, it has already reached #1 in new social work releases in the last 90 days on Amazon.
The beautiful, full-color, hardcover edition of this book makes a meaningful gift for you, a student, or a colleague.
It is

available
now
at
Amazon
and
Barnes and Noble
(maybe at your local bookstore, too).
Jonathan Singer of the Social Work Podcast wrote the foreword to this book, and he said, "Danna pays attention to life's details with a
psychotherapist's insight
and writes about them with the
passion of a slam poet.
She speaks to the soul of social work and inspires us to think about more than just social work."
Jonathan B. Singer, Ph.D., LCSW, Associate Professor, Loyola University Chicago, Founder and host, Social Work Podcast
We also have a supply
available from
our online store
, and we will send your order out to you right away!
---
Have you checked out our Self-Care Summer project?
There is still time to participate. Just
send me
(lindagrobman@socialworker.com)
a short essay, poetry, artwork, original music, or other creative work related to self-care and/or how you practice self-care, and I will consider it for publication on our website. See the
Self-Care summer guidelines
.
I will consider submissions throughout the summer season.
Have you subscribed to our mailing lists? You can go to
http://www.socialworker.com/Subscribe_to_The_New_Social_Worker
and
subscribe (free)
to receive an email reminder and table of contents of each issue of
The New Social Worker
magazine when it is available. If you are a subscriber to the E-News (which you are reading now), this does NOT mean that you are automatically subscribed to
The New Social Worker
magazine.
They are two different publications.
Are you one of our

165,000

+

fans on Facebook? Connect with us—we love connecting with you!
Until next time,
Linda Grobman, ACSW, LSW
Publisher/Editor
THE NEW SOCIAL WORKER®
Networking:
August marks several observances, including but not limited to:
National Minority Breastfeeding Month
National Immunization Awareness Month
Women's Equality Day (August 26)

Fusing Fitness With Mental Health Treatment in Supportive Housing and Related Settings

Editor's Note: This excerpt is from the Summer 2017 issue of THE NEW SOCIAL WORKER. Read the complete article at:
by David F. Brand, MSW
In 2011, I began working as a case manager at an East Harlem supportive housing site for adults with mental illness who have experienced homelessness. I had never worked with underserved adults, and I quickly noticed that the majority of tenants experienced obesity and related issues, such as hypertension, diabetes, asthma, and joint problems. Indeed, almost every client experienced a combination of those chronic, preventable health conditions.  
A year later, I started working at another supportive housing site, where I observed the same health issues among tenants. I later learned that people with mental illness die, on average, 25 years earlier than the general population, primarily resulting from those same chronic health problems (Parks, Svendsen, Singer, & Foti, 2006).    
With more experience, I frequently noted the connection between physical and mental health. For example, I worked with one woman whose intense knee pain typically confined her to her apartment. Her inactivity hastened weight gain, which placed more strain on her knees. Meanwhile, her pain and inactivity combined to exacerbate her depression and diminish her self-concept. I realized that to effectively treat and assist the whole person, we social service providers must seriously consider the relationship between physical and mental health.  
In 2013, I began facilitating a weekly "Healthy Living" group to address chronic, preventable health problems among individuals who lacked nutrition education, exercise experience, and access to exercise opportunities. Group members and I shopped for healthy, low-cost groceries; set fitness-related goals; and toured local gyms. However, I saw the need to provide more comprehensive preventive health programs for people in supportive housing. A year later, I earned my certification as a personal trainer, so I could fuse fitness and mental health programs for individuals in supportive housing and similar settings. 
While I was attending NYU for my MSW, Lantern Community Services hired me to facilitate fitness programs at two of the agency's sites. Lantern operates several supportive housing sites throughout New York City and has demonstrated its commitment to preventive wellness programs for community members.  
As a fitness consultant, I provide personal training for residents and lead exercise classes for clients and staff. I offer informal counseling and collaborate closely with the social service teams at each site to best serve clients. The individuals with whom I work have pursued exercise to support their substance use recovery goals, developed strong relationships with their neighbors, and achieved health goals, such as weight loss and stable blood pressure.
Editor's Note: This excerpt is from the Summer 2017 issue of THE NEW SOCIAL WORKER. Read the complete article at:
---
Here are some highlights from the Summer issue:
Student Role Model - Elizabeth Gamarra (in PDF format only)
...and much more! For the full Table of Contents and full text of all articles in this issue, please dowload the PDF. You can also watch my
Video Table of Contents
!
BONUS:  Read recent online exclusive articles:
KVC - Youth Peer Support Specialist - Nebraska
At KVC, you will enjoy a professional and innovative atmosphere focused on serving children and families in Nebraska.  We are starting a new program and are seeking an experienced specialist with social work background. The ideal candidate will have "lived with" experience. This Youth Peer Support Specialist will support our Parents and Children Together program.
---
KVC Behavioral Health Nebraska
Extended Family Homes Specialist
The EFH Specialist actively recruits and provides initial and ongoing training to Extended Family Homes (EFH). Primary responsibilities will be to provide direct support and ongoing services to the EFH's that are certified and trained through KVC and have placement individual(s) with developmental/intellectual disabilities. EFH Specialists will work to ensure that support and community resources are available for each EFH and for any individuals placed within their care. Leadership is required within all essential job functions and is demonstrated through positive and appropriate communication, community collaborations, excellent customer service, business and professional integrity. The EFH Specialist will have passion and respect for the mission and vision of the organization. Will meet outcomes to provide excellent services to individuals, youth, and families, and will help create a positive perspective of the overall public image of the organization.
To apply:
---
Family Solutions - Fredericksburg, Virginia

Family Solutions, an innovative provider of customized human services has positions open for School Social Workers. This involves the delivery of school social work services within public school settings as part of a contractual arrangement with local school divisions. Positions are located in the greater Fredericksburg, Virginia area.
The Social Worker (MSW required) will work as part of a school social work team providing counseling, social history assessments, crisis intervention, and truancy prevention/intervention. PT, FT, and contract positions available. 
---
Find jobs
for new grads and experienced social work practitioners at
http://www.socialworkjobbank.com
, THE NEW SOCIAL WORKER's online job board and career center.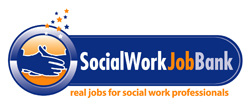 If you or your agency are
hiring social workers,
don't forget to post your jobs on SocialWorkJobBank.com. Please check the SocialWorkJobBank
"products/pricing" page
for job posting options and SPECIAL offers. 
Job seeker services are FREE—including searching current job openings, posting your confidential résumé/profile, and receiving email job alerts. Please let employers know that you saw their listings in the SOCIAL WORK E-NEWS and at SocialWorkJobBank.com.
There are
1,045 jobs
currently posted on SocialWorkJobBank.com. Check it out today.
BEDTIME READING/GIFTS FOR SOCIAL WORK GRADUATES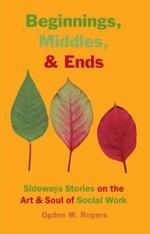 What does a life in social work look like?
You might look at it as a series of "sideways" stories! "If life were black and white, we'd have no need for social work." Read Ogden Rogers' collection,
Beginnings, Middles, & Ends: Sideways Stories on the Art & Soul of Social Work.
Available on
Amazon.com
(print and Kindle), Google Play (e-book), directly from the
publisher
, and other bookstores.
Do you know a social worker or social work student who loves to read? This book is a welcome retreat from academic textbooks.
Beginnings, Middles, and Ends by Ogden W. Rogers is a thought-provoking book about the evolution of the author's career in the field of social work. The real-life stories are whimsical as well as enlightening. You follow the yellow brick road of a social work career and feel the passion and dedication that is required of those who are engaged in the social work profession.... A great read for anyone entering the profession, or if you are involved and feel your passion flickering, this book will surely re-ignite your love. --Mildred Mit Joyner, MSW, LCSW, Emerita Director and Professor of Social Work, West Chester University of Pennsylvania
---
Real World Clinical Social Work: Find Your Voice and Find Your Way
A ground-breaking book by Dr. Danna Bodenheimer, LCSW, from The New Social Worker Press
ISBN: 978-1-929109-50-0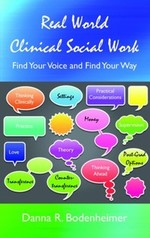 223 pages
Available now at:
"Danna Bodenheimer has written an insider's guide to clinical social work that doesn't make the reader feel like an outsider. This book is the clinical supervisor you always wanted to have: brilliant yet approachable, professional yet personal, grounded and practical, yet steeped in theory, and challenging you to dig deeper." Jonathan B. Singer, Ph.D., LCSW, Associate Professor of Social Work, Loyola University Chicago, Founder and Host, Social Work Podcast
---
Advertise With Us
If you would like to reach our audience of 47,000+ social workers and others interested in social work with information about your program or social work-related product, please contact Linda for information on advertising in THE NEW SOCIAL WORKER, the Social Work E-News, or on our website at SocialWorker.com.
First CRISP Political Boot Camp Gives Social Workers a Jump Start in the Political Arena
The Congressional Research Institute for Social Work and Policy (CRISP) hosted its first ever Political Boot Camp in Washington, D.C., from July 9 through 12, 2017, hosted by Gallaudet University.  This three-day intensive training was designed to help social workers get a jump start on a career in the political arena, where our knowledge, skills, values, and leadership are needed more than ever.
---
Write for THE NEW SOCIAL WORKER
I am seeking a limited number of articles for THE NEW SOCIAL WORKER website and magazine. Is there an issue that you are passionate about that corresponds with an upcoming "awareness" month, week, or day? This is a good way to identify a topic for a timely article.
Other topics of interest include: social work field placement issues, technology, self-care, licensing, and career development.
Our style is conversational and educational, and web articles typically run 500-750 words. Feature articles typically run 1,250-1,500 words. We want positive articles that social workers can use to help them advance in their careers.
I also welcome submissions of poetry, photographs, illustrations, artwork, videos, audio, and other creative work depicting social work and related topics.
Submit articles to Linda Grobman with a subject line that says "Submission—(insert title or topic of submission). Attach your submission as a Word file.  Please include in this file: title of submission, your name as you want it to appear with your article, body of your submission, a brief bio about yourself.  I will then review your submission and let you know if I need anything else and/or whether it is accepted for publication.
Please email
Linda Grobman
with ideas for longer (1,250-1,500 words) "feature articles" for
THE NEW SOCIAL WORKER
magazine.
Thank you!
---
White Hat Communications, publisher of THE NEW SOCIAL WORKER magazine and the Social Work E-News, has published several
books about social work
. These books make great gifts (for graduation, holidays, or other occasions) for yourself, or for your friends, students, and colleagues in social work!
HOW TO ORDER
All of our books are available through our secure online store at:
Some of our books are also available as ebooks at
VitalSource
.
IN THIS ISSUE
Featured Excerpt

Job Corner/Current Job Openings
Words from Our Sponsors
Reminders

NEWSLETTER NECESSITIES
You have subscribed to receive this free newsletter.
To unsubscribe, follow the "unsubscribe" link at the bottom of this newsletter. To change the address for your subscription, please use the "change email address" link at the bottom of this newsletter.

ABOUT THIS NEWSLETTER
THE NEW SOCIAL WORKER® SOCIAL WORK E-NEWS is published by:
White Hat Communications (publisher of THE NEW SOCIAL WORKER® magazine and THE NEW SOCIAL WORKER® ONLINE)
Harrisburg, PA 17110-0390
Advertising: To place a job listing, sponsor this newsletter, place a banner ad on our website, or advertise in THE NEW SOCIAL WORKER magazine, email lindagrobman@socialworker.com for rates and further information.
News: Please send brief social work-related news items to lindagrobman@socialworker.com for consideration.
PRIVACY
Your subscription email address will only be used to deliver this e-newsletter and to occasionally inform you of updates from its publisher. Your email address will not be given to anyone else or used for any other purpose as a result of your subscription to this newsletter.
Copyright 2017 White Hat Communications. All rights reserved. Permission is granted to forward this entire newsletter, with all information intact, by email to social work colleagues, students, and others interested in social work, for personal use only. You may also print out this newsletter for personal use. All other uses of this material require permission from the publisher at: lindagrobman@socialworker.com