Hello --
Welcome to Issue
#209
of the
Social Work E-News!
Thank you for subscribing to receive this email newsletter, which is brought to you by the publisher of
The New Social Worker
magazine,
SocialWorker.com
,
SocialWorkJobBank.com
, and other social work publications.
Webinar Update! Our first webinar,
Self-Care Wellshop™: Foundations & Fundamentals, was rescheduled. You still have time to register, but hurry, because it is TOMORROW, April 11. The second webinar,
on
negotiating your best salary and benefits,
is next Wednesday, April 18.
I am pleased (and excited!) to present top experts on these topics. Find out more and register for the webinars.
Registration is open - reserve your seat today!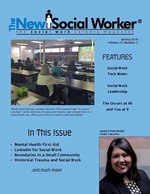 Here's a

quick link

for immediate download of the PDF edition for Spring 2018:
Most articles from the spring issue can be read on our website, as well. See listing below (after the "Featured Excerpt").
---
Have you subscribed to our mailing lists? You can go to
http://www.socialworker.com/Subscribe_to_The_New_Social_Worker
and
subscribe (free)
to receive an email reminder and table of contents of each issue of
The New Social Worker
magazine when it is available. If you are a subscriber to the E-News (which you are reading now), this does NOT mean that you are automatically subscribed to
The New Social Worker
magazine.
They are two different publications.
Are you one of our

171,000

+

fans on Facebook? Connect with us—we love connecting with you!
Until next time,
Linda Grobman, ACSW, LSW
Publisher/Editor
THE NEW SOCIAL WORKER®
Networking:
Do you have a calling to help others as a social worker? Earning a

 

Master of Social Work (MSW) degree

 

is key to a rewarding career in the field. 
The University of Southern California is one of the few elite research institutions to offer its MSW program online. Through the MSW@USC, you can earn a prestigious graduate degree from the top-ranked USC Suzanne Dworak-Peck School of Social Work without relocating.
The MSW@USC offers:
Live, face-to-face classes you can attend from wherever you have an Internet connection

Coursework that prepares you for in-demand positions working with children and families, aging adults, and military veterans

Clinical placements that enable you to help clients in your own community
We are now accepting applications for our upcoming cohorts. The sooner you apply, the sooner you can get started on the path to a fulfilling career. Request Information.
April marks several observances, including but not limited to:
Sexual Assault Awareness and Prevention Month
Alcohol Awareness Month
National Autism Awareness Month
National Child Abuse Prevention Month
National Minority Health Month
Why LinkedIn for Social Work?

Editor's Note: This excerpt is from the Spring 2018 issue of THE NEW SOCIAL WORKER. Jennifer Luna Jackson, a national leader in social work career development, will be the presenter at our April 18 webinar on negotiating your best salary and benefits.
Read the complete article at:
by Jennifer Luna Jackson, MSSW
LinkedIn is the most powerful networking site available today, helping social workers discover inside connections to people, organizations, careers, and community partners. It strengthens and extends existing networks of trusted contacts and provides a means to engage with professionals from multiple disciplines. Additionally, it serves as a gateway to meet new contacts among millions of users.
Most people think LinkedIn is only for job searching. Although LinkedIn is an invaluable tool for career development, it can also serve as a means for finding resources for your clients. This makes LinkedIn a career management network that you can use throughout the span of your career.
Why Social Work and LinkedIn?
Social workers are natural connectors. LinkedIn is a professional networking tool, strictly used for exchanging knowledge, ideas, events, professional resources, and employment opportunities, as well as for identifying experts. As social workers, we connect clients, organizations, interdisciplinary professionals, and systems. In that connector role, we navigate complex systems for our clients, and we are constantly seeking solutions to human problems that may require significant learning curves to find the answers we are looking for. LinkedIn can serve as an efficient "short cut" to making those connections. Additionally, it serves as an outlet that allows you to demonstrate your experience, increase your credibility, promote your cause, and build connections with experts in the field.
Whether you are new to the field or a seasoned professional, here are some tips for strategically using LinkedIn to help your clients and your career.
Your Profile
Before you begin to explore all of the benefits of LinkedIn for your clients, it is important to have your own profile up to date. Your LinkedIn profile provides a snapshot of your career, achievements, skills, and knowledge areas. It gives you a platform to enhance your visibility, manage your reputation, and provide a digital elevator speech through a professional summary. One of the most valuable assets of your LinkedIn profile is the ability to document your career through key words, posts, recommendations, and groups.
Professional Headshot
Your photo is the first impression that other users will notice on your profile. As you launch your career, and with your online presence being so important, it is worth the investment to get a professional headshot. Your headshot should look like you, fill the frame with your face, and have a subtle background that is not distracting. Often, professionals delay creating their LinkedIn profiles because they don't have a good professional headshot. With this in mind, make your headshot a priority, so you can move on to other sections of your profile.
Your Professional Headline
Your LinkedIn professional headline appears immediately below your name at the top of your profile. It is important to be strategic about your headline, so you can be found by current and future connections. If you do not create your own headline, LinkedIn will by default create one for you that includes your current position and organization. Since this information will already appear in your experience section, you don't want to repeat it in your headline. Use key words in your headline that describe your skills, areas of practice, geographical location, and/or titles that others may use when using services that are similar to yours. For example, rather than having a headline that reads: Social Worker, Any Social Service Agency Inc., you could build a stronger headline by using strategic key words: LMSW/Older Adults/Loss and Grief/Austin, TX.  Remember to use these same key words throughout your profile.
Editor's Note: This excerpt is from the Spring 2018 issue of THE NEW SOCIAL WORKER. Read the complete article at:
---
Here are some highlights from the Spring 2018 issue:
Student Role Model - Cindy Camacho (in PDF format only)
What are social workers' ethical obligations when they live in small communities and dual relationships are unavoidable? Boundaries can be complex, with no simple or perfect solutions. 
LinkedIn is the most powerful networking site available today. Have you created your professional profile and checked out all the site has to offer your social work career?
The growing Mental Health First Aid (MHFA) movement helps individuals identify, understand, and respond to signs of mental illness. Social workers are among both the trainers and the trainees. 
Historical trauma has emerged as a critical area of study in understanding and addressing long-term health problems in communities. 
You're finally done with classes and assignments. People are suggesting you find a mentor. Is that really necessary? 
Technology in higher education is constantly changing. Students and faculty continue to adapt to these changes. 
Disabled women are at significant risk of experiencing severe domestic violence. Social workers must become informed about the issue and work to become better allies. 
The Academy Awards ceremony usually features some social commentary. What would you say if you had a worldwide audience (and with social media, you do)? 
Book review of Helping the Suicidal Person 
Book review of Irvin Yalom's Becoming Myself: A Psychiatrist's Memoir 
Book review of Human-Animal Interactions: A Social Work Guide 
Book review of Funded! Successful Grantwriting for Your Nonprofit 
Book review of Managing the Psychological Impact of Medical Trauma: A Guide for Mental Health and Health Care Professionals. 
...and more! For the full Table of Contents and full text of all articles in this issue, please download the PDF.
Every Child, Inc. provides an array of individualized services and specialized approaches to birth, foster, and adoptive families and children of all ages.
For professionals seeking a fulfilling, but challenging work experience that could help advance career goals in psychology, social work, counseling, and non-profit administration, we may have the ideal fit. Check out our services and employment opportunities at everychildinc.org/employment/
Find jobs
for new grads and experienced social work practitioners at
http://www.socialworkjobbank.com
, THE NEW SOCIAL WORKER's online job board and career center.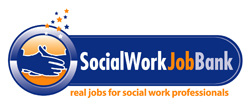 If you or your agency are
hiring social workers,
don't forget to post your jobs on SocialWorkJobBank.com. Please check the SocialWorkJobBank
"products/pricing" page
for job posting options and SPECIAL offers. 
Job seeker services are FREE—including searching current job openings, posting your confidential résumé/profile, and receiving email job alerts. Please let employers know that you saw their listings in the SOCIAL WORK E-NEWS and at SocialWorkJobBank.com.
There are
1,059 jobs
currently posted on SocialWorkJobBank.com. Check it out today.
Participate in a National Self-Care Study
Consider taking a survey about SELF-CARE!
The purpose of this research is to examine self-care practices among social workers. Should you choose to participate, you will complete the survey, which will take approximately six minutes.
After completing the survey, you can enter to win a chance at a $500 cash card.
Thanks for giving your time to this important study. To be eligible for the drawing, please complete the survey by May 1, 2018!
Justin "Jay" Miller, Ph.D., MSW, CSW
College of Social Work, University of Kentucky
---
The New Social Worker® Spring 2018 Webinar Series
Your career is important. You are important. We are pleased to bring you two expert presentations this spring to enhance your career.
---
Date: April 11, 2018
Time: 1:00-2:00 p.m. (EDT)
Date: April 18, 2018
Time: 1:00-2:00 p.m. (EDT)
We are excited to collaborate with
BSCorbett Consulting LLC
to bring you these experts as part of our Social Work Month (and beyond) celebration. We hope you will join us.


SPECIAL OFFER:
$49/one webinar or $79/both webinars

(1.0 hour of CE credit included per webinar,
approved by Kentucky Board of Social Work)
---
Write for THE NEW SOCIAL WORKER
I am seeking a limited number of articles for THE NEW SOCIAL WORKER website and magazine. Is there an issue that you are passionate about that corresponds with an upcoming "awareness" month, week, or day? This is a good way to identify a topic for a timely article.
Other topics of interest include: social work field placement issues, licensing, and career development.
Our style is conversational and educational, and web articles typically run 500-750 words. Feature articles typically run 1,250-1,500 words. We want positive articles that social workers can use to help them advance in their careers.
I also welcome submissions of poetry, photographs, illustrations, artwork, videos, audio, and other creative work depicting social work and related topics.
Submit articles to Linda Grobman with a subject line that says "Submission—(insert title or topic of submission). Attach your submission as a Word file.  Please include in this file: title of submission, your name as you want it to appear with your article, body of your submission, a brief bio about yourself.  I will then review your submission and let you know if I need anything else and/or whether it is accepted for publication.
Please email
Linda Grobman
with ideas for longer (1,250-1,500 words) "feature articles" for
THE NEW SOCIAL WORKER
magazine.
Thank you!
White Hat Communications, publisher of THE NEW SOCIAL WORKER magazine and the Social Work E-News, has published several
books about social work
. These books make great gifts (for graduation, holidays, or other occasions) for yourself, or for your friends, students, and colleagues in social work!
HOW TO ORDER
All of our books are available through our secure online store at:
Some of our books are also available as ebooks at
VitalSource
.
---
BEDTIME READING/GIFTS FOR GRADUATION

Now in Paperback and Hardcover! 

ON CLINICAL SOCIAL WORK: MEDITATIONS AND TRUTHS FROM THE FIELD
is Dr. Danna Bodenheimer's NEW book. Published in July by The New Social Worker Press, it  reached #1 in new social work releases on Amazon.
The beautiful, full-color book - now in paperback and hardcover - makes a meaningful gift for you, a student, or a colleague. It is

available

 

now

at Amazon and Barnes and Noble (and other bookstores, too).
Jonathan Singer of the Social Work Podcast wrote the foreword to this book, and he said, "Danna pays attention to life's details with a psychotherapist's insight and writes about them with the passion of a slam poet. She speaks to the soul of social work and inspires us to think about more than just social work."
Jonathan B. Singer, Ph.D., LCSW, Associate Professor, Loyola University Chicago, Founder and host, Social Work Podcast
---
The A-to-Z Self-Care Handbook for Social Workers and Other Helping Professionals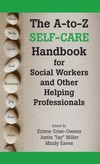 The A-to-Z format in this book provides 26 practical strategies for your personal self-care plan. Learn how to make a SMART plan and keep yourself accountable. Easy to read and essential for any social worker or helping professional.
IN THIS ISSUE
Editor's Eye
Classified Ads
This Month
Featured Excerpt

Job Corner/Current Job Openings

Reminders

NEWSLETTER NECESSITIES
You have subscribed to receive this free newsletter.
To unsubscribe, follow the "unsubscribe" link at the bottom of this newsletter. To change the address for your subscription, please use the "change email address" link at the bottom of this newsletter.

ABOUT THIS NEWSLETTER
THE NEW SOCIAL WORKER® SOCIAL WORK E-NEWS is published by:
White Hat Communications (publisher of THE NEW SOCIAL WORKER® magazine and THE NEW SOCIAL WORKER® ONLINE)
Harrisburg, PA 17110-0390
Advertising: To place a job listing, sponsor this newsletter, place a banner ad on our website, or advertise in THE NEW SOCIAL WORKER magazine, email lindagrobman@socialworker.com for rates and further information.
News: Please send brief social work-related news items to lindagrobman@socialworker.com for consideration.
PRIVACY
Your subscription email address will only be used to deliver this e-newsletter and to occasionally inform you of updates from its publisher. Your email address will not be given to anyone else or used for any other purpose as a result of your subscription to this newsletter.
Copyright 2018 White Hat Communications. All rights reserved. Permission is granted to forward this entire newsletter, with all information intact, by email to social work colleagues, students, and others interested in social work, for personal use only. You may also print out this newsletter for personal use. All other uses of this material require permission from the publisher at: lindagrobman@socialworker.com