Hello --
Welcome to Issue
#231
of the
Social Work E-News!
Thank you for subscribing to receive this email newsletter, which is brought to you by the publisher of
The New Social Worker
magazine,
SocialWorker.com
,
SocialWorkJobBank.com
, and other social work publications.
As we approach Valentine's Day this week, I am sending out much social work love to you, my friends, for the work you do every day. I often hear social workers say they love what they do, yet we are in a profession that is not always easy to love. We published a "
Love Letter to Social Work
" by social worker Susan Mankita, LCSW. I think she expresses her feelings about this complicated relationship in a way that many social workers can relate to.
Social Work Month
will be here before you know it!
The New Social Worker
will be publishing the annual Social Work Month Project series of essays
on our website
throughout the month of March. Please watch the site beginning March 1 for daily inspiration!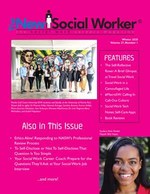 Here's a

quick link

for immediate download of the PDF edition for Winter 2020:
Highlights: responding to NASW's professional review process, self-disclosure, travel social work, preparing for job interview questions, self-care apps, and more. See listing below (after the "Featured Excerpt").
---
Have you subscribed to our mailing lists? You can go to
http://www.socialworker.com/Subscribe_to_The_New_Social_Worker
and
subscribe (free)
to receive an email reminder and table of contents of each issue of
The New Social Worker
magazine when it is available. If you are a subscriber to the E-News (which you are reading now), this does NOT mean that you are automatically subscribed to
The New Social Worker
magazine.
They are two different publications.
Are you one of our

180,000

+

fans on

Facebook

? Connect with us—we love connecting with you!
Until next time,
Linda Grobman, ACSW, LSW
Publisher/Editor
THE NEW SOCIAL WORKER®
February marks several observances, including but not limited to:
Black History Month

American Heart Month

Teen Dating Violence Awareness Month

Low Vision Awareness Month

World Day of Social Justice (February 20)

Job Corner/Current Job Openings
The Job: Come Grow with The Bair Foundation in Ohio!
Hiring - Social Workers and Therapists for Kent – Dayton – Columbus
*$2,000 SIGN-ON BONUS + FULL BENEFITS*
Responsible to support foster/adoptive families and ensure that the best care is provided to each foster/adoptive child.
LSW and a Bachelor's degree in Social Services or related field required.
Find jobs
for new grads and experienced social work practitioners at
http://www.socialworkjobbank.com
, THE NEW SOCIAL WORKER's online job board and career center.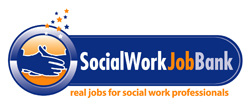 If you or your agency are
hiring social workers,
don't forget to post your jobs on SocialWorkJobBank.com. Please check the SocialWorkJobBank
"products/pricing" page
for job posting options and SPECIAL offers. 
Job seeker services are FREE—including
searching current job openings
, posting your confidential résumé/profile, and receiving email job alerts. Please let employers know that you saw their listings in the SOCIAL WORK E-NEWS and at SocialWorkJobBank.com.
To Self-Disclose or Not To Self-Disclose: That Question Is Too Simple
Editor's Note: This excerpt is from THE NEW SOCIAL WORKER's Winter 2020 issue. Read the complete article at:
by  Pamela Szczygiel, DSW, LICSW
     There are many gray areas in social work practice, and self-disclosure is no exception. Despite the fact that the literature typically frames self-disclosure as a complex and controversial use-of-self practice issue (Goldstein, 1994; Knight, 2012; Urdang, 2010), inquiring minds still want to know: "So...should I do it or not?" This is often the case for students and newer practitioners. And who can blame them? Social work practice is full of chaos and complexity, and sometimes it just feels reassuring to get a solid answer. As a teacher, I've said, "It depends," more times than I'd care to admit to excellent questions posed by students. So, last semester, when a student proposed, "Ahhh...can you please just tell us what we should say when a client asks us a personal question?" during a first semester practice course, I paused, collected my thoughts, and did my best to lay out reasons why the question of whether or not to self-disclose is tough to answer. What follows here are some musings and basic parameters to consider when thinking about this baffling practice issue.
First Things First: Let's Define It
    If a client asks me my age, should I tell them? If not, how should I respond? Should I tell my client where I'm going on vacation? Is it okay to have family photos in my office? When is it appropriate, if ever, to tell a client that I am also in recovery? Is there a difference between telling a client that I am in recovery from substance misuse vs. another form of mental illness? Is it okay to cry with clients?
    This is just a sampling of the range of common, highly debatable questions related to self-disclosure. What are your answers to the above questions? Do your answers depend on any of the following—theoretical orientation, scope of practice, practice setting, use-of-self, foundational social work values/theory, interpretation of the ethics code? 
    Generally speaking, self-disclosures come in two forms: self-revealing and self-involving (Knox & Hill, 2003). Nearly all clinicians self-disclose to clients in some way or another. If you wear a wedding ring, for example, you are disclosing something about your personal life to your clients. Let's consider the example of a clinician working with a client who endured several years of domestic abuse. In this situation, a clinician letting the client know that she is affected emotionally/viscerally by the clinical encounter is an example of a self-revealing disclosure: "I feel deeply moved by your account of leaving this relationship after years of turmoil and abuse." If the clinician informs the client that she, too, is a domestic abuse survivor, she is making a self-involving disclosure. It is easy to see why self-involving disclosures are the more controversial of the two. Although in both examples the clinician makes a choice not to be a "blank slate" in the therapy room and inserts her humanity, self-involving disclosures carry a greater risk (more on this later).
Self-Disclosure and Use-of-Self
    Although I've always tended toward minimal use of self-involving disclosures with clients, I can vividly recall an instance when a self-involving disclosure seemed to have a positive impact on treatment. I was working with a young adult client struggling to sift through a flood of mixed emotions prior to her wedding day, most stemming from complicated family dynamics. With the intention of validating just how stressful rites of passage can be (despite social messages that such events should be perfect), I briefly shared the story of my own wedding day, which began with a phone call early in the morning alerting my soon-to-be husband that his father had just died. My disclosure did seem validating to the client. It offered her a model for accepting the confusing and messy aspects of her experience—the anger and sadness regarding her family situation and the excitement and joy surrounding her marriage.
    Now, it's possible that the same disclosure in another clinical scenario would have backfired, which brings me to the next point: context is everything. We need to evaluate the situation at hand, the probable impact on the clinical relationship, and the likelihood that the disclosure will be helpful (or not) for the particular client (Urdang, 2010).
Read the rest of this article at:
Selected articles from the Winter 2020 issue:
You receive a notice that someone has issued a request for professional review, claiming you have breached the NASW Code of Ethics. What are your next steps? This is Part 2 of a 2-part series.
The social work literature typically frames self-disclosure as a complex and controversial use-of-self practice. Inquiring minds still want to know: "Should I do it or not?" That question is too simple.
Travel social workers work at short-term assignments in a variety of locations. Travel allows much time for self-reflection and growth.
Be ready for various interview formats and behavioral interviewing. Your Social Work Career Coach Jennifer Luna provides sample interview questions to help you prepare for your social work job interview.
Stephen asked social workers on Twitter what self-care apps they use. Most common were meditation and fitness apps.
Military spouses in social work face challenges such as needing to learn new local resources every few years, licensure mobility, and frequent termination with clients.
The New Social Worker's book review of Biased: Uncovering the Hidden Prejudice That Shapes What We See, Think and Do
The New Social Worker's book review of How To Be an Antiracist.
The New Social Worker's book review of People and Climate Change: Vulnerability, Adaptation, and Social Justice
The New Social Worker's book review of Old and High: A Guide to Understanding the Neuroscience and Psychotherapeutic Treatment of Baby Boom Adults' Substance Use, Abuse, and Misuse
The New Social Worker's book review of The Hospice Team: Who We Are and How We Care
Art is a powerful means of expression. These three art pieces by social work educator Wendy Turner address issues of racism, homophobia, and sexism.
This article was published in our Winter 2020 issue. We subsequently received feedback that led to its retraction and removal five days later on Monday, January 13. Click on above link for full retraction statement.

For the full Table of Contents and full text of all articles in this issue, please
download the PDF.
Recent Web-Exclusive Articles
Teen Dating Violence Awareness Month (TDVAM) Toolkit
February is Teen Dating Violence Awareness Month, or TDVAM. According to Loveisrespect.org:
...one in three teens in the U.S. will experience physical, sexual, or emotional abuse by someone they are in a relationship with before they become adults. And nearly half (43%) of college women report experiencing violent and abusive dating behaviors.

The 2020 TDVAM campaign theme is "#1Thing." The goal is for each person to learn one thing about teen dating violence and share it with a friend.
Each guide is downloadable in PDF format.

Write for THE NEW SOCIAL WORKER
I am seeking a limited number of articles for THE NEW SOCIAL WORKER website and magazine. Is there an issue that you are passionate about that corresponds with an upcoming "awareness" month, week, or day; holiday; or time of year/season? Or an issue you have experienced as a social worker or social work student that you would like to share with peers? These are good places to start to identify a topic for a timely article for our website.
For the magazine, we are seeking articles on social work career development, field placement issues, and fields of practice.
Our style is conversational and educational, and web articles typically run 500-750 words. Feature articles typically run 1,250-1,500 words. We want positive articles that social workers can use to help them advance in their careers.
I also welcome submissions of poetry, photographs, illustrations, artwork, videos, audio, and other creative work depicting social work and related topics.
Submit articles to Linda Grobman with a subject line that says "Submission—(insert title or topic of submission)." Attach your submission as a Word file. Please include in this file: title of submission, your name as you want it to appear with your article, body of your submission, a brief bio about yourself.  I will then review your submission and let you know if I need anything else and/or whether it is accepted for publication.
Please email
Linda Grobman
with ideas for longer (1,250-1,500 words) "feature articles" for
THE NEW SOCIAL WORKER
magazine.
Thank you!
FOR YOU OR A SOCIAL WORK FRIEND/COLLEAGUE
Days in the Lives of Social Workers: 62 Professionals Tell "Real-Life" Stories From Social Work Practice (5th Edition)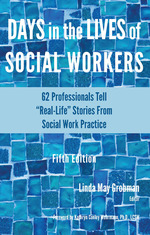 LOVE TO READ ABOUT WHAT SOCIAL WORKERS ARE DOING?
Spend a day with social workers in 62 different settings, and learn about the many career paths available to you. Did you ever wish you could tag along with a professional in your chosen field, just for a day? DAYS IN THE LIVES OF SOCIAL WORKERS allows you to take a firsthand, close-up look at the real-life days of 62 professional social workers as they share their stories. Join them on their journeys, and learn about the rewards and challenges they face.
"While the broadness of social work is what brings many people into the profession, at times it can be overwhelming. Fortunately, we have Linda May Grobman to help social workers navigate their careers through the eyes of those with real life experience. The 5th edition of Days in the Lives of Social Workers includes traditional and non-traditional career paths that offer a practical and realistic snapshot of the diverse fields of social work. An added bonus is the updated list of professional organizations, web resources, and social media, blogs and podcasts. This is a must have for social workers at any stage in their career!"
Jennifer Luna, MSSW
Director, Dinitto Career Center
The University of Texas at Austin, Steve Hicks School of Social Work
---
The A-to-Z Self-Care Handbook for Social Workers and Other Helping Professionals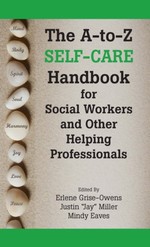 STAY ON TRACK WITH A SELF-CARE PLAN!
The A-to-Z format in this book provides 26 practical strategies for your personal self-care plan. Learn how to make a SMART plan and keep yourself accountable. Easy to read and essential for any social worker or helping professional.
---
BEDTIME READING/GIFTS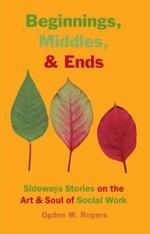 BEGINNINGS, MIDDLES, & ENDS: SIDEWAYS STORIES ON THE ART & SOUL OF SOCIAL WORK
A DELIGHTFUL GIFT FOR SOCIAL WORKERS AT ANY STAGE IN THEIR CAREERS
With just the right blend of humor and candor, each of these stories contains nuggets of wisdom that you will not find in a traditional textbook. They capture the essence and the art and soul of social work.
---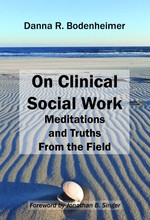 Available in Paperback and Hardcover: ON CLINICAL SOCIAL WORK: MEDITATIONS AND TRUTHS FROM THE FIELD
is Dr. Danna Bodenheimer's NEWEST book.

A MEANINGFUL AND BEAUTIFUL GIFT
The beautiful, full-color book - now in paperback and hardcover - makes a meaningful gift for you, a student, or a colleague.
Jonathan Singer of the Social Work Podcast wrote the foreword to this book, and he said, "Danna pays attention to life's details with a psychotherapist's insight and writes about them with the passion of a slam poet. She speaks to the soul of social work and inspires us to think about more than just social work."
Jonathan B. Singer, Ph.D., LCSW, Associate Professor, Loyola University Chicago, Founder and host, Social Work Podcast
---
White Hat Communications, publisher of THE NEW SOCIAL WORKER magazine and the Social Work E-News, has published several
books about social work
. These books make great gifts (for graduation, holidays, or other occasions) for yourself, or for your friends, students, and colleagues in social work!
ADDITIONAL INFORMATION

Find more information on our secure online store/catalog at:
Most of our publications are available at
Amazon.com
and other bookstores. (Some are available in Kindle format, as well as print.)
Many of our books are also available as ebooks at
VitalSource
.
---
Network with us:
Make sure you don't miss your copy of the Social Work E-News!
Your email program may sometimes think an email that you really want to read is unwanted and send it to your "junk" folder. To make sure you receive the Social Work E-News in your inbox, add newsletters@socialworkermail.com to your email program's safe sender list, or ask your organization's Information Technology department to whitelist it.

IN THIS ISSUE
Editor's Eye
This Month

Job Corner/Current Job Openings

Featured Excerpt

News & Resources

Reminders

NEWSLETTER NECESSITIES
You have subscribed to receive this free newsletter.
To unsubscribe, follow the "unsubscribe" link at the bottom of this newsletter. To change the address for your subscription, please use the "change email address" link at the bottom of this newsletter.

ABOUT THIS NEWSLETTER
THE NEW SOCIAL WORKER® SOCIAL WORK E-NEWS is published by:
White Hat Communications (publisher of THE NEW SOCIAL WORKER® magazine and THE NEW SOCIAL WORKER® ONLINE)
Harrisburg, PA 17110-0390
Advertising: To place a job listing, sponsor this newsletter, place a banner ad on our website, or advertise in THE NEW SOCIAL WORKER magazine, email lindagrobman@socialworker.com for rates and further information.
News: Please send brief social work-related news items to lindagrobman@socialworker.com for consideration.
PRIVACY
Your subscription email address will only be used to deliver this e-newsletter and to occasionally inform you of updates from its publisher. Your email address will not be given to anyone else or used for any other purpose as a result of your subscription to this newsletter.
Copyright 2020 White Hat Communications. All rights reserved. Permission is granted to forward this entire newsletter, with all information intact, by email to social work colleagues, students, and others interested in social work, for personal use only. You may also print out this newsletter for personal use. All other uses of this material require permission from the publisher at: lindagrobman@socialworker.com