Hello --
Welcome to Issue
#224
of the
Social Work E-News!
Thank you for subscribing to receive this email newsletter, which is brought to you by the publisher of
The New Social Worker
magazine,
SocialWorker.com
,
SocialWorkJobBank.com
, and other social work publications.
The New Social Worker website
is a great place to find a variety of new and archived articles on job search, social work careers, practice, ethics, technology, and more issues for new grads, as well as seasoned social work professionals.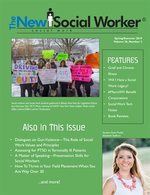 Here's a

quick link

for immediate download of the PDF edition for Spring/Summer 2019:
Highlights: gun violence dialogue and social work values, social work and autoimmune disease, your social work legacy, assessing for PTSD in terminally ill patients, loss and chronic illness, the technology monster, and more. See listing below (after the "Featured Excerpt").
Our next issue will be Fall 2019. In the meantime, we are publishing
articles by our columnists and others over the summer
on our website, so follow us on the social media platform of your choice to hear about these new articles! The first of our columnists' summer columns is on
ethics consultation
by Dr. Allan Barsky, published today!
---
Have you subscribed to our mailing lists? You can go to
http://www.socialworker.com/Subscribe_to_The_New_Social_Worker
and
subscribe (free)
to receive an email reminder and table of contents of each issue of
The New Social Worker
magazine when it is available. If you are a subscriber to the E-News (which you are reading now), this does NOT mean that you are automatically subscribed to
The New Social Worker
magazine.
They are two different publications.
Are you one of our

177,000

+

fans on

Facebook

? Connect with us—we love connecting with you!
Until next time,
Linda Grobman, ACSW, LSW
Publisher/Editor
THE NEW SOCIAL WORKER®
July marks several observances, including but not limited to:
Juvenile Arthritis Awareness Month
Minority Mental Health Awareness Month
International Day of Friendship (July 30)
World Day Against Trafficking in Persons (July 30)
and more.
Job Corner/Current Job Openings
Seeking FT Adoption Social Worker with Supervisory Experience for small Wynnewood Office of non-profit adoption agency. MSW Required. Min. 2 year adoption/child welfare experience. Day to day supervision of 2 social workers and 2 administrative staff. Working with and counseling pregnant women, and prospective adoptive parents: home studies, post placement visits and outreach. EOE
Please Include Cover Letter.
---
Find jobs
for new grads and experienced social work practitioners at
http://www.socialworkjobbank.com
, THE NEW SOCIAL WORKER's online job board and career center.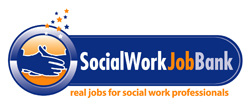 If you or your agency are
hiring social workers,
don't forget to post your jobs on SocialWorkJobBank.com. Please check the SocialWorkJobBank
"products/pricing" page
for job posting options and SPECIAL offers. 
Job seeker services are FREE—including searching
current job openings
, posting your confidential résumé/profile, and receiving email job alerts. Please let employers know that you saw their listings in the SOCIAL WORK E-NEWS and at SocialWorkJobBank.com.
What About Us? The Mental Health of Social Workers
Editor's Note: This excerpt is from THE NEW SOCIAL WORKER's Clinical Intersections blog, a collaboration with Walnut Psychotherapy Center in Philadelphia, PA.

This has been our

most popular

new article so far this year! Read the complete article at:
     I had a dream the other night about a client. It was a client I had only seen three times, probably two years ago or so. In the dream, she offered to act as the security guard for my newly widowed mother. She said it was to thank me for our work together.
     I am sure there are a lot of meanings that can be made of the dream, most of which I will probably think of with my therapist or forget about completely. But the obvious meaning that I draw from it, right off the bat, is that sometimes we want our clients to take care of us - not because we aren't good at our jobs or because we have some pathological need, but, instead, because it's hard to be in non-reciprocal relationships all day. Sometimes we get thanked and sometimes we don't. Most times we don't. And the need to be seen shows up somehow, in our waking life or sleep.
     This is all to say that it's hard to be a social worker. And this fact makes it necessary to discuss our mental health openly with each other, with our loved ones, with our supervisors, and with our families; as a fact of our lives that we need to tend to carefully, diligently, and thoughtfully. 
     Mental health exists on a continuum. We all have it. Sometimes we lean more toward mental health struggles, and sometimes we lean more toward mental health stability. We never stay in one place permanently. It is ridiculous to think that some of us struggle with mental illness and some of us don't. Our minds and psyches are all in this, and none of us are invulnerable to that reality.
     Here are some ways to pay close attention to where we are on the continuum at any given time.
1. Do daily body scans.
     The relationship between our minds and our bodies is correlated at an exactly 1:1 ratio. Sometimes information about how our mind is doing is stored in our body, and sometimes information about how our body is doing is stored in the mind. We have opportunities to discuss our minds in different settings, but the body is rarely invited into the conversation. It falls on us to bring it back. The other day, my watch gave me an alert that my heart rate was unusually high. It was during a particularly difficult conversation with a supervisee. But had my watch not alerted me to how my body was responding, I truly would not have known. We become so inoculated to our body's signals because of the pressures of our work that sometimes we cease being able to clearly hear them. Tune in and take the data seriously.
2. All buildings have maximum occupancy. What's yours?
     I am certain that all clients maintain psychological real estate in our minds. Some amounts of square footage we are aware of; some are less obvious to us. I have clients who occupy so much of my thoughts at times that I wonder how I have time to think about the other things in my life that really matter to me. This is particularly true when the cases have high levels of acuity and I am second guessing a lot of the decisions that I am making. Please know that you, too, have a limited amount of psychological square footage, and it needs to be used economically in order for you to experience sustainability during your career. You can assess your own max levels by the sheer numbers of clients you have, but the formula is rarely this simple. In fact, the more diverse your caseload, the more space you often have. But if you are dealing with recurring themes, diagnoses, and behaviors, it is easy to short circuit. It is really important to take your own limits seriously and to figure out how to establish boundaries around them...which leads me to my next suggestion.
Read the rest of this article at:
For the full Table of Contents and full text of all articles in this issue, please
download the PDF.
Recent Web-Exclusive Articles
Minority Mental Health Awareness Month Resources
---
National Association of Social Workers Calls for Abolishment of Cash Bail System
The National Association of Social Workers (NASW) says the cash bail system should be abolished across the nation, because it discriminates against people of color, women, and people who are lower income. 
"All people accused of crimes are considered innocent until proven guilty," said NASW Social Justice and Human Rights Manager Mel Wilson. "However, one out of three people accused of crimes – or about 450,000 Americans – languish in jail before trial because they cannot afford bail." 
The bail system also has insidious ripple effects. People who are incarcerated tend to experience poorer health and lose their jobs, housing, and custody of their children. 
People who are incarcerated are also more likely to accept plea bargains to get out of jail. People who can afford bail and are at home are less likely to plea bargain and more likely to go free. 
NASW recommends that the cash bail system and bail bondsman be eliminated. The ability for people who are accused of crimes to pay monetary sanctions should also be based on their income level or there should be a flat reduction in monetary sanctions.
"Ending the cash bail system would help our nation achieve more equity," Wilson said. "When people fight their cases from the community, rather than jail, they can continue contributing to those communities and avoid the harms caused by incarceration."
---
How Can Social Workers Help Immigrant Children and Families Separated at the Border?
---
Write for THE NEW SOCIAL WORKER
I am seeking a limited number of articles for THE NEW SOCIAL WORKER website and magazine. Is there an issue that you are passionate about that corresponds with an upcoming "awareness" month, week, or day; holiday; or time of year/season? This is a good way to identify a topic for a timely article for our website.
For the magazine, we are seeking articles on social work career development, field placement issues, and fields of practice.
Our style is conversational and educational, and web articles typically run 500-750 words. Feature articles typically run 1,250-1,500 words. We want positive articles that social workers can use to help them advance in their careers.
I also welcome submissions of poetry, photographs, illustrations, artwork, videos, audio, and other creative work depicting social work and related topics.
Submit articles to Linda Grobman with a subject line that says "Submission—(insert title or topic of submission)." Attach your submission as a Word file. Please include in this file: title of submission, your name as you want it to appear with your article, body of your submission, a brief bio about yourself.  I will then review your submission and let you know if I need anything else and/or whether it is accepted for publication.
Please email
Linda Grobman
with ideas for longer (1,250-1,500 words) "feature articles" for
THE NEW SOCIAL WORKER
magazine.
Thank you!
Days in the Lives of Social Workers: 62 Professionals Tell "Real-Life" Stories From Social Work Practice (5th Edition)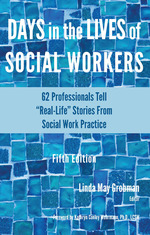 Spend a day with social workers in 62 different settings, and learn about the many career paths available to you. Did you ever wish you could tag along with a professional in your chosen field, just for a day? DAYS IN THE LIVES OF SOCIAL WORKERS allows you to take a firsthand, close-up look at the real-life days of 62 professional social workers as they share their stories. Join them on their journeys, and learn about the rewards and challenges they face.
"While the broadness of social work is what brings many people into the profession, at times it can be overwhelming. Fortunately, we have Linda May Grobman to help social workers navigate their careers through the eyes of those with real life experience. The 5th edition of Days in the Lives of Social Workers includes traditional and non-traditional career paths that offer a practical and realistic snapshot of the diverse fields of social work. An added bonus is the updated list of professional organizations, web resources, and social media, blogs and podcasts. This is a must have for social workers at any stage in their career!"
Jennifer Luna, MSSW
Director, Dinitto Career Center
The University of Texas at Austin, Steve Hicks School of Social Work
---
The A-to-Z Self-Care Handbook for Social Workers and Other Helping Professionals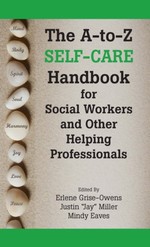 The A-to-Z format in this book provides 26 practical strategies for your personal self-care plan. Learn how to make a SMART plan and keep yourself accountable. Easy to read and essential for any social worker or helping professional.
---
BEDTIME READING/GIFTS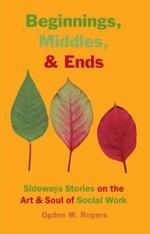 BEGINNINGS, MIDDLES, & ENDS: SIDEWAYS STORIES ON THE ART & SOUL OF SOCIAL WORK
With just the right blend of humor and candor, each of these stories contains nuggets of wisdom that you will not find in a traditional textbook. They capture the essence and the art and soul of social work.
---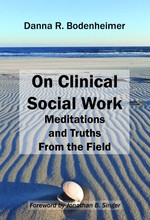 Now in Paperback and Hardcover: ON CLINICAL SOCIAL WORK: MEDITATIONS AND TRUTHS FROM THE FIELD
is Dr. Danna Bodenheimer's NEWEST book.

The beautiful, full-color book - now in paperback and hardcover - makes a meaningful gift for you, a student, or a colleague. It is

available

 

now

at Amazon and Barnes and Noble (and other bookstores, too).
Jonathan Singer of the Social Work Podcast wrote the foreword to this book, and he said, "Danna pays attention to life's details with a psychotherapist's insight and writes about them with the passion of a slam poet. She speaks to the soul of social work and inspires us to think about more than just social work."
Jonathan B. Singer, Ph.D., LCSW, Associate Professor, Loyola University Chicago, Founder and host, Social Work Podcast
---
White Hat Communications, publisher of THE NEW SOCIAL WORKER magazine and the Social Work E-News, has published several
books about social work
. These books make great gifts (for graduation, holidays, or other occasions) for yourself, or for your friends, students, and colleagues in social work!
HOW TO ORDER
Our books are available through our secure online store at:
Most of our publications are available at
Amazon.com
. (Some are available in Kindle format, as well as print.)
Many of our books are also available as ebooks at
VitalSource
.
---
Quick Link: Spring/Summer 2019

IN THIS ISSUE
Editor's Eye
This Month

Job Corner/Current Job Openings

Featured Excerpt

News & Resources

Reminders

NEWSLETTER NECESSITIES
You have subscribed to receive this free newsletter.
To unsubscribe, follow the "unsubscribe" link at the bottom of this newsletter. To change the address for your subscription, please use the "change email address" link at the bottom of this newsletter.

ABOUT THIS NEWSLETTER
THE NEW SOCIAL WORKER® SOCIAL WORK E-NEWS is published by:
White Hat Communications (publisher of THE NEW SOCIAL WORKER® magazine and THE NEW SOCIAL WORKER® ONLINE)
Harrisburg, PA 17110-0390
Advertising: To place a job listing, sponsor this newsletter, place a banner ad on our website, or advertise in THE NEW SOCIAL WORKER magazine, email lindagrobman@socialworker.com for rates and further information.
News: Please send brief social work-related news items to lindagrobman@socialworker.com for consideration.
PRIVACY
Your subscription email address will only be used to deliver this e-newsletter and to occasionally inform you of updates from its publisher. Your email address will not be given to anyone else or used for any other purpose as a result of your subscription to this newsletter.
Copyright 2019 White Hat Communications. All rights reserved. Permission is granted to forward this entire newsletter, with all information intact, by email to social work colleagues, students, and others interested in social work, for personal use only. You may also print out this newsletter for personal use. All other uses of this material require permission from the publisher at: lindagrobman@socialworker.com