Hello --
Welcome to Issue #193 of the Social Work E-News! Thank you for subscribing to receive this email newsletter, which is brought to you by the publisher of The New Social Worker magazine, SocialWorker.com, SocialWorkJobBank.com, and other social work publications.
I have been busy working on the Winter issue of The New Social Worker, which will be the first issue of our 24th year! I am very excited about the articles in this issue, which will be out in early January.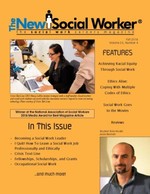 Here's a

quick link

for immediate download of the PDF edition for Fall 2016:
Most articles from the fall issue can be read on our website, as well. Highlights include: coping with multiple codes of ethics, getting funding for social work studies, how to quit your job professionally and ethically, occupational social work, internalized racial oppression, becoming a social work leader, developing an emotional sense of direction, and more!
---
The holiday season is upon us! Here are a couple of holiday-related articles we recently published
---
Submit your entry for The New Social Worker's Social Work Month Project 2017!
We are now accepting submissions for Social Work Month, which is in March. See the
submission guidelines
on our website, or scroll down to the "news and resources" section in this newsletter for more details. I look forward to seeing your submission!
---
Have you subscribed to our mailing lists? You can go to
http://www.socialworker.com/Subscribe_to_The_New_Social_Worker
and
subscribe (free)
to receive an email reminder and table of contents of each issue of
The New Social Worker
magazine when it is available. If you are a subscriber to the E-News (which you are reading now), this does NOT mean that you are automatically subscribed to
The New Social Worker
magazine.
They are two different publications.
Are you one of our

156,000

+

fans on Facebook? Connect with us—we love connecting with you!
Until next time,
Linda Grobman, ACSW, LSW
Publisher/Editor
THE NEW SOCIAL WORKER®
Networking:
December marks several observances, including but not limited to:
World AIDS Day (December 1)
Human Rights Day (December 10)
International Human Solidarity Day (December 20)
I Quit! How a Social Worker Can Leave a Social Work Job Professionally and Ethically

Editor's Note: This excerpt is from the Fall 2016 issue of THE NEW SOCIAL WORKER. Read the complete article at:
by Valerie Arendt, MSW, MPP
     Leaving your social work job can be a difficult decision. Figuring out if and when you should leave will have an impact on your career and your family. There are many reasons to leave a job:
Another exciting opportunity has come along.
You're stressed out.
The agency has poor leadership.
Your employer won't let you attend professional development. Ever.
They don't encourage your career growth, or there are no advancement opportunities.
It's not a right fit.
It's just time to move on.
All of the above.
    These reasons aren't unique in the social work profession, but there are some additional ethical considerations social workers need to think about before leaving their current positions. For whatever reason, you are ready to make a move. Here are a few steps to help you through the process of quitting your job with poise and without burning those essential professional bridges.
What To Do  Before You Quit
1. Update your résumé and tap into your network.
You should be doing this on an ongoing basis anyway, not just when you are ready to quit. Ideally, you will already have a job lined up before you quit, but sometimes employees need to exit quickly. Keeping up with your professional network and knowing what opportunities might be available for you are good life-long career strategies (see tool #3 of
9 Tools for Your Professional Social Worker Toolkit
in the Fall 2015 issue of The New Social Worker).
    2. Be discreet about your job search. Don't search for or apply for jobs while you are at work. This may get you fired. Do your online job search at home, but definitely use your professional work contacts to find out which organizations may be hiring.
    3. Start collecting your things. When you give notice of your departure you may be asked to leave immediately for security purposes. Many social workers don't expect this, but it does happen. If you have more than a boxful of personal items at your desk, quietly start taking things home, so there isn't a big scene if you are asked to leave on the day you resign.
    4. Write a letter of resignation. Give your employer documentation of your resignation. Keep it simple and positive, as this will likely go in the organization's file on you. Even if they treated you poorly, they did hire and employ you. Thank them for the job, and give them the date of your last day of employment.
    5. Give appropriate notice. Check your organization's policies on the amount of notice that is required. Two weeks is standard for entry-level positions, but if you are in a supervisory role or manage programs, a month is a decent amount of time for your employer to put a plan in place until your replacement is hired.
    6. Resign in person. Schedule an in-person meeting with your supervisor to give notice that you are leaving. Be prepared to be asked why you are quitting, but don't feel obligated to tell them everything if you are truly dissatisfied with your job or employer. You don't want to risk an emotional outburst from either side. Practice what you are going to say and restate what you have written in your resignation letter.
Editor's Note: This excerpt is from the Fall 2016 issue of THE NEW SOCIAL WORKER. Read the complete article at:
---
Here are some highlights from the Fall issue:
Student Role Model: Jesse Bennett (in PDF version only)
...and more! For the full Table of Contents and full text of all articles in this issue, please dowload the PDF.
New on the Real World Clinical Social Work Blog:
Recent Web Exclusives
New on the Self-Care A-to-Z Blog:
Director of Social Work
Bon Secours St. Petersburg

Bon Secours St. Petersburg seeks an experienced leader to serve our residents as Director of Social Work! We offer competitive compensation and a generous benefits package. As Director, you will be eligible for an annual bonus, as well as $5,000 in tuition assistance and up to $900 in wellness incentives. Relocation assistance is also available! We are seeking a compassionate leader to carry on a mission begun by the Sisters of Bon Secours nearly 200 years ago to bring good help to those in need, especially the poor and dying. 
---
Southwest Behavioral & Health Services - Arizona
Join Southwest Behavioral & Health Services, Arizona's largest and leading nonprofit community-based provider of behavioral health services, as we celebrate 40 years of helping people feel better and maximize their potential. If you're a compassionate, dedicated professional looking to make a positive impact in the lives of individuals, families, and communities, consider the following full-time opportunities:
Program Coordinator – Located in Bullhead City, AZ
Behavioral Health Professional – AZ statewide locations
Licensed or licensed eligible applicants highly encouraged to apply!
Competitive Salary Ranges of $47,000 - $65,000 (DOE)
100% Paid Benefits, Relocation Assistance, Sign-on bonus, Tuition and license Reimbursement Programs!
We provide an EXCELLENT compensation package including: Medical, Dental, Vision, Life, 403(b), Pet Insurance, 10 Paid Holidays and Generous Vacation & Sick Time!
Drug screen & background check required. EOE
---
Find jobs
for new grads and experienced social work practitioners at
http://www.socialworkjobbank.com
, THE NEW SOCIAL WORKER's online job board and career center.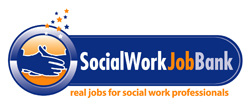 If you or your agency are
hiring social workers,
don't forget to post your jobs on SocialWorkJobBank.com. Please check the SocialWorkJobBank
"products/pricing" page
for job posting options and SPECIAL offers. 
Job seeker services are FREE—including searching current job openings, posting your confidential résumé/profile, and receiving email job alerts. Please let employers know that you saw their listings in the SOCIAL WORK E-NEWS and at SocialWorkJobBank.com.
There are
1,046 jobs
currently posted on SocialWorkJobBank.com. Check it out today.
Words From Our Sponsors: Holiday & Graduation Gift Ideas for Social Workers

The A-to-Z Self-Care Handbook for Social Workers and Other Helping Professionals
Edited by Erlene Grise-Owens, Justin "Jay" Miller, and Mindy Eaves. This
is the latest book from The New Social Worker Press. The book, which takes readers through the alphabet to discover a variety of self-care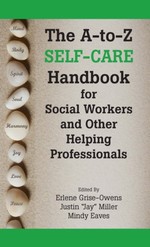 strategies and develop a personalized self-care plan, is now available in both print and Kindle formats.
Order the book now at:
This book is ideal for individuals or for group trainings on self-care. If your agency is interested in buying it in bulk for training or other purposes, please contact
me
.
...a caring and useful resource for helping professionals concerned about burnout, stress, staff turnover, and wellness.... By focusing on insights and reflections and providing resources and strategies, The A-to-Z Self-Care Handbook is a practical guide and an empowering book.
DR. BARBARA W. SHANK, Ph.D., MSW, Dean and Professor, School of Social Work, University of St. Thomas, St. Catherine University, Chair, Board of Directors, Council on Social Work Education
---
BEDTIME READING/GIFTS FOR GRADUATES & HOLIDAYS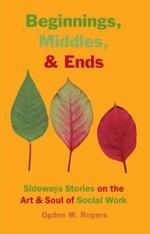 What does a life in social work look like?
You might look at it as a series of "sideways" stories! "If life were black and white, we'd have no need for social work." Read Ogden Rogers' collection,
Beginnings, Middles, & Ends: Sideways Stories on the Art & Soul of Social Work.
Available on
Amazon.com
(print and Kindle), Google Play (e-book), directly from the
publisher
, and other bookstores.
Do you know a social worker or social work student who loves to read? This book is a welcome retreat from academic textbooks.
Beginnings, Middles, and Ends by Ogden W. Rogers is a thought-provoking book about the evolution of the author's career in the field of social work. The real-life stories are whimsical as well as enlightening. You follow the yellow brick road of a social work career and feel the passion and dedication that is required of those who are engaged in the social work profession.... A great read for anyone entering the profession, or if you are involved and feel your passion flickering, this book will surely re-ignite your love. --Mildred Mit Joyner, MSW, LCSW, Emerita Director and Professor of Social Work, West Chester University of Pennsylvania
---
Real World Clinical Social Work: Find Your Voice and Find Your Way
A ground-breaking book by Dr. Danna Bodenheimer, LCSW, from The New Social Worker Press
ISBN: 978-1-929109-50-0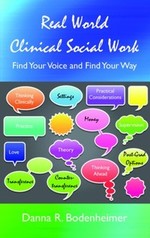 223 pages
Available now at:
"Danna Bodenheimer has written an insider's guide to clinical social work that doesn't make the reader feel like an outsider. This book is the clinical supervisor you always wanted to have: brilliant yet approachable, professional yet personal, grounded and practical, yet steeped in theory, and challenging you to dig deeper." Jonathan B. Singer, Ph.D., LCSW, Associate Professor of Social Work, Loyola University Chicago, Founder and Host, Social Work Podcast
---
Advertise With Us
If you would like to reach our audience of 47,000+ social workers and others interested in social work with information about your program or social work-related product, please contact Linda for information on advertising in THE NEW SOCIAL WORKER, the Social Work E-News, or on our website at SocialWorker.com.
Submit Your Entry
The New Social Worker's Social Work Month Project 2017

Deadline: January 16, 2017
The New Social Worker
is
seeking submissions
from social work practitioners, educators, and students for Social Work Month 2017. Please consider submitting your work for
The New Social Worker
magazine's online
Social Work Month Project.
     We invite you to submit a creative work that presents a positive view of social work on the micro, mezzo, and/or macro level. These can be, for example, writings or videos on what you like best about your social work career, the best/most important thing you've learned as a social worker and how you learned it, a moment in your career that inspired you, what you see as the main purpose of social work, dispelling myths about social work, social work ethics/values (for example, choose one of the core values in the NASW Code of Ethics), a story about social work, or your favorite area of social work practice. Don't limit yourself to these ideas, though. Use your imagination!
     Submissions may be in the form of:
Essay/creative writing (no more than 500 words)
Video
Memes
Other creative work
   Works that are accepted will be published on The New Social Worker website during March 2017 and may also appear on our various social media channels, such as Facebook, Twitter, and Instagram, and in our publications.
     Submissions that do not follow the instructions will not be considered.  Entries must be received by January 16, 2017.
---
National Poetry Contest for Social Workers
Deadline: January 1, 2017
Any social work student, faculty member, or alumnus from a social work program accredited by the Council on Social Work Education may participate in the National Poetry Contest for Social Workers, hosted by the University of Iowa School of Social Work.  The deadline for submissions is January 1, 2017. Poems should speak to hopes, dreams, fears, and experiences related to social work.
The purpose of the contest is to acknowledge the creative talent of social workers and to draw attention to social work as a profession. "Hosting the national poetry contest here in Iowa City is a natural extension of what the School of Social Work has been doing for decades," says faculty member Mercedes Bern-Klug, a founder of the poetry contest. "We have a 25-year track record of offering a Creative Writing Seminar for social workers and the University of Iowa is known as the 'writing university.' Iowa City is a UNESCO City of Literature. Writing is in the air."
There is no cost to enter the contest. One submission per social worker is allowed. Entries will be judged by a panel of social workers, writers, and poets. The top three submissions will be awarded cash prizes and published in The New Social Worker. All submissions that meet the requirements will be published in an electronic chapbook on the UI School of Social Work website.
---
White Hat Communications, publisher of THE NEW SOCIAL WORKER magazine and the Social Work E-News, has published several
books about social work
. These books make great gifts (for graduation, holidays, or other occasions) for yourself, or for your friends, students, and colleagues in social work!
HOW TO ORDER
All of our books are available through our secure online store at:
The above advertised program is not a social work degree program.
IN THIS ISSUE
Featured Excerpt

Job Corner/Current Job Openings
Words from Our Sponsors
Reminders

NEWSLETTER NECESSITIES
You have subscribed to receive this free newsletter.
To unsubscribe, follow the "unsubscribe" link at the bottom of this newsletter. To change the address for your subscription, please use the "change email address" link at the bottom of this newsletter.

ABOUT THIS NEWSLETTER
THE NEW SOCIAL WORKER® SOCIAL WORK E-NEWS is published by:
White Hat Communications (publisher of THE NEW SOCIAL WORKER® magazine and THE NEW SOCIAL WORKER® ONLINE)
Harrisburg, PA 17110-0390
lindagrobman@socialworker.com

http://www.socialworker.com
Advertising: To place a job listing, sponsor this newsletter, place a banner ad on our website, or advertise in THE NEW SOCIAL WORKER magazine, email lindagrobman@socialworker.com for rates and further information.
News: Please send brief social work-related news items to lindagrobman@socialworker.com for consideration.
PRIVACY
Your subscription email address will only be used to deliver this e-newsletter and to occasionally inform you of updates from its publisher. Your email address will not be given to anyone else or used for any other purpose as a result of your subscription to this newsletter.
Copyright 2016 White Hat Communications. All rights reserved. Permission is granted to forward this entire newsletter, with all information intact, by email to social work colleagues, students, and others interested in social work, for personal use only. You may also print out this newsletter for personal use. All other uses of this material require permission from the publisher at: lindagrobman@socialworker.com