Hello --
Welcome to Issue #198 of the Social Work E-News! Thank you for subscribing to receive this email newsletter, which is brought to you by the publisher of The New Social Worker magazine, SocialWorker.com, SocialWorkJobBank.com, and other social work publications.
I am looking for creative photos of Spring 2017 social work graduates for our next issue. If you have a really amazing and creative graduation photo (group photos would be awesome), please send to me,
Linda Grobman
, for consideration. Please include a caption with name(s) of those in the photo, as well as the name for the photo credit. Please ONLY send one (your best) photo. We will not be able to use all photos submitted.
Are you going to the
Network for Social Work Managers conference
, June 15-16, in New York City? I am planning to be there and hope to meet you if you will be there, too. They have some great keynote speakers lined up, and Erlene Grise-Owens will be presenting on organizational wellness, an important aspect of self-care.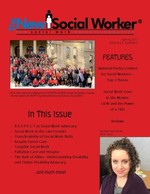 Reminder!
The
Spring 2017
issue of
The New Social Worker
is available now! Read articles from the Spring issue at
http://www.socialworker.com
. 
Here's a

quick link

for immediate download of the PDF edition for Spring 2017:
Most articles from the spring issue can be read on our website, as well. Highlights include:
ethics in social work advocacy
, social work in
Alaska
,
transferability of social work skills
from one practice area to another, respite foster care,
tangible
social work,
palliative care and hospice
,
online disability advocacy and allies
, volunteer opportunities, book reviews, and more!
Have you subscribed to our mailing lists? You can go to
http://www.socialworker.com/Subscribe_to_The_New_Social_Worker
and
subscribe (free)
to receive an email reminder and table of contents of each issue of
The New Social Worker
magazine when it is available. If you are a subscriber to the E-News (which you are reading now), this does NOT mean that you are automatically subscribed to
The New Social Worker
magazine.
They are two different publications.
Are you one of our

162,000

+

fans on Facebook? Connect with us—we love connecting with you!
Until next time,
Linda Grobman, ACSW, LSW
Publisher/Editor
THE NEW SOCIAL WORKER®
Networking:
May marks several observances, including but not limited to:
Mental Health Month
National Foster Care Month
Older Americans Month
National Teen Pregnancy Prevention Month

Changing Areas of Practice: The Transferability of Social Work Skills

Editor's Note: This excerpt is from the Spring 2017 issue of THE NEW SOCIAL WORKER. Read the complete article at: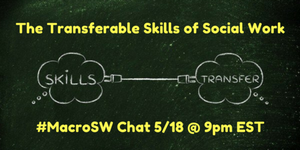 (NOTE:
The New Social Worker
will be co-hosting a #MacroSW Twitter chat on May 18 at 9 p.m. Eastern Time based on this article, with Valerie Arendt as the guest expert. Please watch our Facebook page, Twitter, or MacroSW.com for details and to join in the discussion.)
by Valerie Arendt, MSW, MPP

School social work, mental health social work, aging social work, medical social work, child welfare social work, military social work, macro social work. At the heart of these diverse areas of practice and expertise, we are all social workers and hold a variety of social work skills.    
When I review member résumés in my position at NASW-NC, I am often asked how one can portray the social work skills specific to one area of practice as transferable to another practice area. If you have spent the last five years working with children, this doesn't mean you can't successfully switch your area of practice to aging adults or program administration. Most of the time, being able to successfully articulate skills an open position requires is crucial to making the case for a practice move. Licensure may be a barrier, if you don't have one. But, in general, being able to switch from one area of social work practice to another is one benefit of our profession that enables us to continue to learn and grow.
Transferable skills are skills social workers develop in one setting that they can use and build upon in another setting. The ability to identify your transferable skills allows you to explore career opportunities where you can use your personal qualities and abilities as well as your professional knowledge and competence. That can be more important than the job titles you've held or where you've worked in the past.
Let's start by outlining the difference between hard skills and soft skills when it comes to defining your professional social work skillset on your résumé and articulating your value in an interview, job review, or to anyone who questions what a social worker does.
Transferable Soft Skills in Social Work
Soft skills are the personal qualities and interpersonal skills needed to perform a job. Soft skills for the social work profession are incredibly important. However, when considering including them on a résumé, examples are essential. I often see résumés of social workers who have a skills section and list soft skills with no supporting information, for example: Listening skills, Organized, Flexible, Teamwork, Patience, etc. To a hiring manager, these are just empty words on a page if there is no information to convey how you might actually possess these skills.
When articulated appropriately, these soft skills are actually considered hard skills for the social work profession. The key is to communicate how well you use these skills that make you a good social worker, regardless of area of practice. Here are a few examples.
Listening skills. One of the core tenets of being a competent social worker is the ability to actively listen. Paying attention to, and remembering, what a client tells you and responding with appropriate questions allows you to establish trust. Good listening skills are also critical in your work with colleagues, supervisors, volunteers, and community members.
Communication. The ability to read, write, and speak clearly to convey important information is essential. But for social workers, it is crucial to be able to communicate well with a variety of individuals, including clients, team members, and supervisors. Social workers should understand and be practiced at verbal and nonverbal communication, as well as be able to write clearly and concisely to communicate objectives, goals, and scope of services.
Self-care and coping with pressure. Stress and burnout in social work are real. Being able to articulate how you manage pressure is critical. Do you actively use supervision, set boundaries, seek out professional development opportunities? Outlining a self-care plan and following that plan as a social worker is, indeed, a valuable skill.
Editor's Note: This excerpt is from the Spring 2017 issue of THE NEW SOCIAL WORKER. Read the complete article at:
---
Here are some highlights from the Spring issue:
...and much more! For the full Table of Contents and full text of all articles in this issue, please dowload the PDF. You can also watch my
Video Table of Contents
!
Mental Health Professionals
Now Offering $2,000 Retention Bonus for Full-Time New Hires!
Centurion of Florida, a partnership with MHM Services and Centene, is one of the fastest growing correctional healthcare companies in the nation and is proud to be the provider of healthcare services to the Florida Department of Corrections.
We are seeking FT Mental Health Professionals to work at the Suwannee Correctional Institution in Live Oak, FL.
The Mental Health Professional provides mental health case management services to clients and consults with a multi-disciplinary team in providing comprehensive mental health care, including: intake and assessments, crisis intervention, treatment planning, and providing individual and group therapy.
We offer excellent compensation and comprehensive benefits, including:
• Health, dental, life, vision, and disability insurance
• 401k with employer match
• 20 paid days off plus 8 paid holidays
• Health savings account with matching employer contributions
• Tuition reimbursement NHSC Loan repayment is available for qualifying locations
Contact: Shanda Bourne
Phone: 601-255-1991
Fax: 601-348-0640
---
Find jobs
for new grads and experienced social work practitioners at
http://www.socialworkjobbank.com
, THE NEW SOCIAL WORKER's online job board and career center.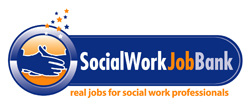 If you or your agency are
hiring social workers,
don't forget to post your jobs on SocialWorkJobBank.com. Please check the SocialWorkJobBank
"products/pricing" page
for job posting options and SPECIAL offers. 
Job seeker services are FREE—including searching current job openings, posting your confidential résumé/profile, and receiving email job alerts. Please let employers know that you saw their listings in the SOCIAL WORK E-NEWS and at SocialWorkJobBank.com.
There are
1,043 jobs
currently posted on SocialWorkJobBank.com. Check it out today.
The A-to-Z Self-Care Handbook for Social Workers and Other Helping Professionals
Edited by Erlene Grise-Owens, Justin "Jay" Miller, and Mindy Eaves. This is the latest book from The New Social Worker Press. The book, which takes readers through the alphabet to discover a variety of self-care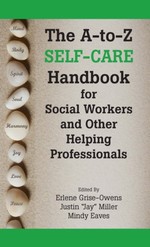 strategies and develop a personalized self-care plan, is now available in both print and Kindle formats.
Order the book now at:
This book is ideal for individuals or for group trainings on self-care. If your agency is interested in buying it in bulk for training or other purposes, please contact
Linda Grobman
.
...a caring and useful resource for helping professionals concerned about burnout, stress, staff turnover, and wellness.... By focusing on insights and reflections and providing resources and strategies, The A-to-Z Self-Care Handbook is a practical guide and an empowering book.
DR. BARBARA W. SHANK, Ph.D., MSW, Dean and Professor, School of Social Work, University of St. Thomas, St. Catherine University, Chair, Board of Directors, Council on Social Work Education
...well-researched and practice-based book that offers instructions, insights, and recommendations on incorporating self-care that can guide a person's practice in helping others.
Paula Lopez/PsychCentral.com
---
BEDTIME READING/GIFTS FOR SOCIAL WORK GRADUATES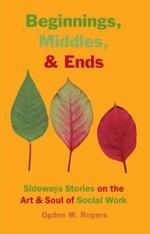 What does a life in social work look like?
You might look at it as a series of "sideways" stories! "If life were black and white, we'd have no need for social work." Read Ogden Rogers' collection,
Beginnings, Middles, & Ends: Sideways Stories on the Art & Soul of Social Work.
Available on
Amazon.com
(print and Kindle), Google Play (e-book), directly from the
publisher
, and other bookstores.
Do you know a social worker or social work student who loves to read? This book is a welcome retreat from academic textbooks.
Beginnings, Middles, and Ends by Ogden W. Rogers is a thought-provoking book about the evolution of the author's career in the field of social work. The real-life stories are whimsical as well as enlightening. You follow the yellow brick road of a social work career and feel the passion and dedication that is required of those who are engaged in the social work profession.... A great read for anyone entering the profession, or if you are involved and feel your passion flickering, this book will surely re-ignite your love. --Mildred Mit Joyner, MSW, LCSW, Emerita Director and Professor of Social Work, West Chester University of Pennsylvania
---
Real World Clinical Social Work: Find Your Voice and Find Your Way
A ground-breaking book by Dr. Danna Bodenheimer, LCSW, from The New Social Worker Press
ISBN: 978-1-929109-50-0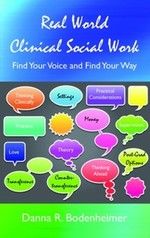 223 pages
Available now at:
"Danna Bodenheimer has written an insider's guide to clinical social work that doesn't make the reader feel like an outsider. This book is the clinical supervisor you always wanted to have: brilliant yet approachable, professional yet personal, grounded and practical, yet steeped in theory, and challenging you to dig deeper." Jonathan B. Singer, Ph.D., LCSW, Associate Professor of Social Work, Loyola University Chicago, Founder and Host, Social Work Podcast
Watch for Dr. Danna Bodenheimer's new book, ON CLINICAL SOCIAL WORK, coming soon!

---
Advertise With Us
If you would like to reach our audience of 47,000+ social workers and others interested in social work with information about your program or social work-related product, please contact Linda for information on advertising in THE NEW SOCIAL WORKER, the Social Work E-News, or on our website at SocialWorker.com.
National Association of Social Workers Strongly Opposes Legislation To Repeal Affordable Care Act
The National Association of Social Workers (NASW) has issued a statement opposing legislation designed to repeal the Affordable Care Act, stating that the legislation "...would have a devastating impact on the health of our nation's most vulnerable citizens and make it more difficult to provide affordable health care for poor and low-income Americans."
---
Write for THE NEW SOCIAL WORKER
I am seeking a limited number of articles for THE NEW SOCIAL WORKER website. Is there an issue that you are passionate about that corresponds with an upcoming "awareness" month, week, or day? This is a good way to identify a topic for a timely article.
Other topics of interest include: social work field placement issues, technology, self-care, licensing, and career development.
Our style is conversational and educational, and web articles typically run 500-750 words. We want positive articles that social workers can use to help them advance in their careers.
I also welcome submissions of poetry, photographs, illustrations, artwork, videos, audio, and other creative work depicting social work and related topics.
Submit articles to Linda Grobman with a subject line that says "Submission—(insert title or topic of submission). Attach your submission as a Word file.  Please include in this file: title of submission, your name as you want it to appear with your article, body of your submission, a brief bio about yourself.  I will then review your submission and let you know if I need anything else and/or whether it is accepted for publication.
Please email
Linda Grobman
with ideas for longer (1,250-1,500 words) "feature articles" for
THE NEW SOCIAL WORKER
magazine.
Thank you!
---
White Hat Communications, publisher of THE NEW SOCIAL WORKER magazine and the Social Work E-News, has published several
books about social work
. These books make great gifts (for graduation, holidays, or other occasions) for yourself, or for your friends, students, and colleagues in social work!
HOW TO ORDER
All of our books are available through our secure online store at:
IN THIS ISSUE
Featured Excerpt

Job Corner/Current Job Openings
Words from Our Sponsors
Reminders

NEWSLETTER NECESSITIES
You have subscribed to receive this free newsletter.
To unsubscribe, follow the "unsubscribe" link at the bottom of this newsletter. To change the address for your subscription, please use the "change email address" link at the bottom of this newsletter.

ABOUT THIS NEWSLETTER
THE NEW SOCIAL WORKER® SOCIAL WORK E-NEWS is published by:
White Hat Communications (publisher of THE NEW SOCIAL WORKER® magazine and THE NEW SOCIAL WORKER® ONLINE)
Harrisburg, PA 17110-0390
Advertising: To place a job listing, sponsor this newsletter, place a banner ad on our website, or advertise in THE NEW SOCIAL WORKER magazine, email lindagrobman@socialworker.com for rates and further information.
News: Please send brief social work-related news items to lindagrobman@socialworker.com for consideration.
PRIVACY
Your subscription email address will only be used to deliver this e-newsletter and to occasionally inform you of updates from its publisher. Your email address will not be given to anyone else or used for any other purpose as a result of your subscription to this newsletter.
Copyright 2017 White Hat Communications. All rights reserved. Permission is granted to forward this entire newsletter, with all information intact, by email to social work colleagues, students, and others interested in social work, for personal use only. You may also print out this newsletter for personal use. All other uses of this material require permission from the publisher at: lindagrobman@socialworker.com