Hello --
Welcome to Issue
#225
of the
Social Work E-News!
Thank you for subscribing to receive this email newsletter, which is brought to you by the publisher of
The New Social Worker
magazine,
SocialWorker.com
,
SocialWorkJobBank.com
, and other social work publications.
I want to welcome our new subscribers, especially those who are new social work students. You are embarking on a journey that will take you places you may have never even dreamed of and a future career in which you will make a difference but that will also have a profound impact on you as a person. Welcome to the wonderful world of social work.
Voting is social work! We all can make a huge impact through (1) voting ourselves and (2) encouraging others to vote and helping them get registered. We are once again participating in the Voting Is Social Work campaign. See the "News and Resources" section below for a link to our article on this from last year, as well as a link to register for a webinar that is taking place tomorrow!
The New Social Worker website
is a great place to find a variety of new and archived articles on job search, social work careers, practice, ethics, technology, and more issues for new grads, as well as seasoned social work professionals.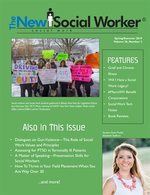 Coming soon: Our Fall issue! Our Spring/Summer issue is available NOW.
Read articles from the Spring/Summer issue at
http://www.socialworker.com
.
Here's a

quick link

for immediate download of the PDF edition for Spring/Summer 2019:
Highlights: gun violence dialogue and social work values, social work and autoimmune disease, your social work legacy, assessing for PTSD in terminally ill patients, loss and chronic illness, the technology monster, and more. See listing below (after the "Featured Excerpt").
Our next issue will be Fall 2019. In the meantime, we have published articles by our columnists and others throughout the summer! See listings below of these recent articles.
---
Have you subscribed to our mailing lists? You can go to
http://www.socialworker.com/Subscribe_to_The_New_Social_Worker
and
subscribe (free)
to receive an email reminder and table of contents of each issue of
The New Social Worker
magazine when it is available. If you are a subscriber to the E-News (which you are reading now), this does NOT mean that you are automatically subscribed to
The New Social Worker
magazine.
They are two different publications.
Are you one of our

178,000

+

fans on

Facebook

? Connect with us—we love connecting with you!
Until next time,
Linda Grobman, ACSW, LSW
Publisher/Editor
THE NEW SOCIAL WORKER®
August marks several observances, including but not limited to:
National Breastfeeding Month
National Immunization Awareness Month
Women's Equality Day (August 26)

Job Corner/Current Job Openings
Jersey Behavioral Care in Union, NJ, is looking for LSW/LCSW/LAC for individual, family, couple, and group counseling. Part/Full time. Flexible hours. Must be fluent in Spanish.
Phone: 732-685-7277
Contact Person: Felix Grinberg
---
International Paruresis Association - Executive Director

Function: To provide inspiring leadership toward the achievement of the organization's mission, vision, strategy, and its annual goals and objectives.
Reports to: Board of Directors
1. Supports Board of Directors, serving as the primary communicator between the Board and the staff.
2. Oversees the design, marketing, promotion, delivery, and quality of all services and initiatives.
3. Develops and recommends yearly budget for Board approval and prudently manages organization's resources within those budget guidelines according to current laws and regulations. Ensures tight financial controls are in place.
4. Effectively manages the human resources of the organization according to authorized personnel policies and procedures that fully conform to current laws and regulations.
5. Assures the organization and its mission, programs, products, and services are consistently presented in a strong, positive image to relevant stakeholders. Partners with other organizations to leverage efforts.
6. Oversees fundraising planning and implementation, including identifying resource requirements, researching funding sources, establishing strategies to approach funders, submitting proposals, and administrating fundraising records and documentation.
7. Serves as an advocate for the needs of persons with Paruresis, including educating policy-makers regarding the challenges of living with Paruresis and the current regulatory environment that presents barriers to this population.
1. Experience running a not-for-profit organization, preferably one with national scope.
2. Strong communication skills.
3. Experience with legislative advocacy.
4. Program management experience.
5. Strategic planning experience.
6. Fund development experience.
7. Understanding of budget process and monitoring.
8. Understanding and/or experience working with people who have paruresis.
Paid vacation, holidays and sick days
Equal Opportunity Policy: All qualified applicants who are authorized to work in the United States will receive consideration for employment without regard to race, religion, sex, color, national origin, ethnicity, age, genetic information, disability, or sexual orientation. The Age Discrimination in Employment Act prohibits discrimination on the basis of age with respect to individuals who are 40 years of age or older. Employees are subject to the provisions of the Workers' Compensation Act.

Contact Person: Steven Soifer
---
Boulder Jewish Family Service
Counselor/Care Manager II
Position Summary:  As a member of the Senior Solutions Department, will provide care management and counseling services to older adults, adults with disabilities, individuals experiencing poverty, and impacted family members in the Boulder JFS program.
Position located in Boulder, CO. JFS offers competitive pay and benefits, including generous holiday and leave programs.
Phone: 303-597-5000
Fax: 303-597-5009
Contact Person: Human Resources
---
Clinical Social Workers, MSW, FT, Days
Positions available in Social Services and Neurology departments. With a 609-licensed-bed hospital, 1100 physicians and 4500 employees, MedStar Georgetown University Hospital is one of the largest healthcare delivery networks in the Washington, D.C., area.
Provides direct services to patients and families related to hospitalization, dealing with illness and post-hospital planning. For Neurology, provides for the Department of Neurology – Multiple Sclerosis and Neuroimmunology Center, dealing with illness and post-hospital planning.
Provides social work consultation, leadership and teaching functions for designated medical departments, as well as for the community.
MSW degree from school of social work approved by the Council on Social Work Education.
Medical/acute care/crisis experience preferred.
DC licensure at the LICSW level.
Clinical social work knowledge and practice skills related to psychosocial aspects of illness.
To Express Your Interest in less than 60 seconds, please visit:
---
SpringHealth Behavioral Health is expanding and looking for passionate social workers with ABA experience to join our teams in GA, KY, IN, and VA! Our clinicians meet the unique needs of adults and youth with ASD, IDD, and mental illness. If you're passionate about helping others live their best lives, we would love to talk to you!
Call us at (502) 424-2830 or email your resume to:
---
Find jobs
for new grads and experienced social work practitioners at
http://www.socialworkjobbank.com
, THE NEW SOCIAL WORKER's online job board and career center.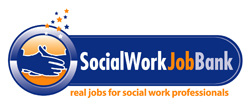 If you or your agency are
hiring social workers,
don't forget to post your jobs on SocialWorkJobBank.com. Please check the SocialWorkJobBank
"products/pricing" page
for job posting options and SPECIAL offers. 
Job seeker services are FREE—including searching
current job openings
, posting your confidential résumé/profile, and receiving email job alerts. Please let employers know that you saw their listings in the SOCIAL WORK E-NEWS and at SocialWorkJobBank.com.
Assessing for PTSD in Terminally Ill Patients
Editor's Note: This excerpt is from THE NEW SOCIAL WORKER's Spring/Summer 2019 issue. Read the complete article at:
by Scott Janssen MA, MSW, LCSW
Over the course of a lifetime, most people will experience at least one potentially traumatizing event. Some will develop posttraumatic stress disorder (PTSD); others will experience lingering after-effects, such as situational anxiety, hypervigilance, or patterns of avoidance. Underlying posttraumatic stress can accrue and be intensified by issues associated with aging, medical care, and terminal illness. Social workers working with such patients in geriatric, hospice, and palliative care settings may encounter challenges for patients that run counter to conventional end-of-life goals, such as effective symptom management, good communication, and a peaceful death.
Identifying such patients can be difficult. Symptoms of posttraumatic stress are often misattributed to personality or disease-related factors. Patients may be unaware that they are experiencing posttraumatic stress or may be reluctant to disclose this because of the fear of stigma, stoicism, or a preference to avoid painful memories. Limited energy and cognitive changes may hamper a patient's ability to provide information. Symptom management concerns or other end-of-life goals may take priority. Although information may emerge during conversations about concerns or coping, there may be issues related to privacy or trust that render assessment through direct inquiry problematic.
Standard PTSD assessment tools may send the wrong message to some patients who are sensitive to psychiatric labels or perceived inferences that they are being judged as having a psychiatric disorder. Social workers familiar with the many validated measures of assessing for PTSD may be able to adapt these with patients who are receptive, but what about patients with cognitive impairment, high levels of distrust, or who prefer to avoid the topic?
In such cases, the best approach may be a blend of trauma-sensitive observation and inquiry within the larger context of ongoing end-of-life care. Such an approach includes an awareness of patients whose life experiences place them at elevated risk for trauma exposure, identifying behaviors and symptoms suggestive of PTSD, recognizing trauma triggers and elevated nervous system responses, and the potential assessment-related uses of life review.
Read the rest of this article at:
Selected articles from the Spring/Summer 2019 issue:
For the full Table of Contents and full text of all articles in this issue, please
download the PDF.
Recent Web-Exclusive Articles
New in Self-Care Summer:
Voting Is Social Work Campaign Kickoff Webinar - August 21, 2019
Voting Is Social Work! Get involved in the campaign by attending the kickoff webinar THIS Wednesday, August 21, 2019, at 11 a.m. Eastern Time.
---
Write for THE NEW SOCIAL WORKER
I am seeking a limited number of articles for THE NEW SOCIAL WORKER website and magazine. Is there an issue that you are passionate about that corresponds with an upcoming "awareness" month, week, or day; holiday; or time of year/season? This is a good way to identify a topic for a timely article for our website.
For the magazine, we are seeking articles on social work career development, field placement issues, and fields of practice.
Our style is conversational and educational, and web articles typically run 500-750 words. Feature articles typically run 1,250-1,500 words. We want positive articles that social workers can use to help them advance in their careers.
I also welcome submissions of poetry, photographs, illustrations, artwork, videos, audio, and other creative work depicting social work and related topics.
Submit articles to Linda Grobman with a subject line that says "Submission—(insert title or topic of submission)." Attach your submission as a Word file. Please include in this file: title of submission, your name as you want it to appear with your article, body of your submission, a brief bio about yourself.  I will then review your submission and let you know if I need anything else and/or whether it is accepted for publication.
Please email
Linda Grobman
with ideas for longer (1,250-1,500 words) "feature articles" for
THE NEW SOCIAL WORKER
magazine.
Thank you!
Days in the Lives of Social Workers: 62 Professionals Tell "Real-Life" Stories From Social Work Practice (5th Edition)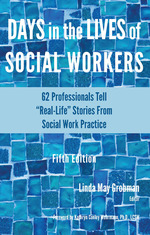 Spend a day with social workers in 62 different settings, and learn about the many career paths available to you. Did you ever wish you could tag along with a professional in your chosen field, just for a day? DAYS IN THE LIVES OF SOCIAL WORKERS allows you to take a firsthand, close-up look at the real-life days of 62 professional social workers as they share their stories. Join them on their journeys, and learn about the rewards and challenges they face.
"While the broadness of social work is what brings many people into the profession, at times it can be overwhelming. Fortunately, we have Linda May Grobman to help social workers navigate their careers through the eyes of those with real life experience. The 5th edition of Days in the Lives of Social Workers includes traditional and non-traditional career paths that offer a practical and realistic snapshot of the diverse fields of social work. An added bonus is the updated list of professional organizations, web resources, and social media, blogs and podcasts. This is a must have for social workers at any stage in their career!"
Jennifer Luna, MSSW
Director, Dinitto Career Center
The University of Texas at Austin, Steve Hicks School of Social Work
---
The A-to-Z Self-Care Handbook for Social Workers and Other Helping Professionals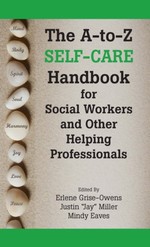 The A-to-Z format in this book provides 26 practical strategies for your personal self-care plan. Learn how to make a SMART plan and keep yourself accountable. Easy to read and essential for any social worker or helping professional.
---
BEDTIME READING/GIFTS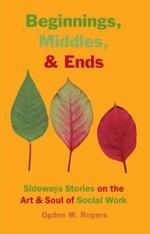 BEGINNINGS, MIDDLES, & ENDS: SIDEWAYS STORIES ON THE ART & SOUL OF SOCIAL WORK
With just the right blend of humor and candor, each of these stories contains nuggets of wisdom that you will not find in a traditional textbook. They capture the essence and the art and soul of social work.
---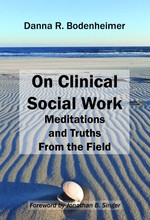 Now in Paperback and Hardcover: ON CLINICAL SOCIAL WORK: MEDITATIONS AND TRUTHS FROM THE FIELD
is Dr. Danna Bodenheimer's NEWEST book.

The beautiful, full-color book - now in paperback and hardcover - makes a meaningful gift for you, a student, or a colleague. It is

available

 

now

at Amazon and Barnes and Noble (and other bookstores, too).
Jonathan Singer of the Social Work Podcast wrote the foreword to this book, and he said, "Danna pays attention to life's details with a psychotherapist's insight and writes about them with the passion of a slam poet. She speaks to the soul of social work and inspires us to think about more than just social work."
Jonathan B. Singer, Ph.D., LCSW, Associate Professor, Loyola University Chicago, Founder and host, Social Work Podcast
---
White Hat Communications, publisher of THE NEW SOCIAL WORKER magazine and the Social Work E-News, has published several
books about social work
. These books make great gifts (for graduation, holidays, or other occasions) for yourself, or for your friends, students, and colleagues in social work!
HOW TO ORDER
Our books are available through our secure online store at:
Most of our publications are available at
Amazon.com
and other bookstores. (Some are available in Kindle format, as well as print.)
Many of our books are also available as ebooks at
VitalSource
.
---
Quick Link: Spring/Summer 2019

IN THIS ISSUE
Editor's Eye
This Month

Job Corner/Current Job Openings

Featured Excerpt

News & Resources

Reminders

NEWSLETTER NECESSITIES
You have subscribed to receive this free newsletter.
To unsubscribe, follow the "unsubscribe" link at the bottom of this newsletter. To change the address for your subscription, please use the "change email address" link at the bottom of this newsletter.

ABOUT THIS NEWSLETTER
THE NEW SOCIAL WORKER® SOCIAL WORK E-NEWS is published by:
White Hat Communications (publisher of THE NEW SOCIAL WORKER® magazine and THE NEW SOCIAL WORKER® ONLINE)
Harrisburg, PA 17110-0390
Advertising: To place a job listing, sponsor this newsletter, place a banner ad on our website, or advertise in THE NEW SOCIAL WORKER magazine, email lindagrobman@socialworker.com for rates and further information.
News: Please send brief social work-related news items to lindagrobman@socialworker.com for consideration.
PRIVACY
Your subscription email address will only be used to deliver this e-newsletter and to occasionally inform you of updates from its publisher. Your email address will not be given to anyone else or used for any other purpose as a result of your subscription to this newsletter.
Copyright 2019 White Hat Communications. All rights reserved. Permission is granted to forward this entire newsletter, with all information intact, by email to social work colleagues, students, and others interested in social work, for personal use only. You may also print out this newsletter for personal use. All other uses of this material require permission from the publisher at: lindagrobman@socialworker.com