Hello --
Welcome to Issue
#223
of the
Social Work E-News!
Thank you for subscribing to receive this email newsletter, which is brought to you by the publisher of
The New Social Worker
magazine,
SocialWorker.com
,
SocialWorkJobBank.com
, and other social work publications.
Congratulations to all NEW social work graduates since our last e-news! Welcome to the social work profession. Do you have a great graduation photo you would like to share? Tag us on Instagram (@newsocialworker) or Twitter (@newsocialworker).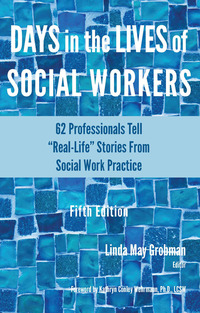 The
5th edition
of my book,
Days in the Lives of Social Workers,
has now been officially published! This new edition includes a total of 62 stories of social workers, each in a different role or setting. New chapters include social work in: a public library, a police department, anti-trafficking, opioid treatment, suicide prevention/intervention, adoption, a legislative office, arts-based programming, and social work education.
The mosaic design on the cover was inspired by NASW national president Kathryn Conley Wehrmann, Ph.D., LCSW, who wrote in her foreword to the book that it presents the mosaic of social work - a "mosaic of multiple 'tiles' held together by the core values...."
We are once again accepting submissions for
Self-Care Summer.
Please send your self-care related submission of 500 words or less in a Word file, or creative work (such as artwork in a JPG file), to
Linda Grobman
. I will be accepting these submissions throughout the summer. Please include your name, credentials, short (1-sentence) bio, email address, and (if you wish) a photo of yourself.
The New Social Worker website
is a great place to find a variety of new and archived articles on job search, social work careers, practice, ethics, technology, and more issues for new grads, as well as seasoned social work professionals.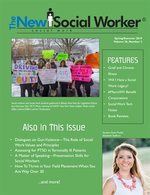 Here's a

quick link

for immediate download of the PDF edition for Spring/Summer 2019:
Highlights: gun violence dialogue and social work values, social work and autoimmune disease, your social work legacy, assessing for PTSD in terminally ill patients, loss and chronic illness, the technology monster, and more. See listing below (after the "Featured Excerpt").
Our next issue will be Fall 2019. In the meantime, we will publish articles by our columnists and others over the summer on our website, so follow us on the social media platform of your choice to hear about these new articles!
---
Have you subscribed to our mailing lists? You can go to
http://www.socialworker.com/Subscribe_to_The_New_Social_Worker
and
subscribe (free)
to receive an email reminder and table of contents of each issue of
The New Social Worker
magazine when it is available. If you are a subscriber to the E-News (which you are reading now), this does NOT mean that you are automatically subscribed to
The New Social Worker
magazine.
They are two different publications.
Are you one of our
177,000

+
fans on
Facebook
? Connect with us—we love connecting with you!
Until next time,
Linda Grobman, ACSW, LSW
Publisher/Editor
THE NEW SOCIAL WORKER®
June marks several observances, including but not limited to:
LGBTQ Pride Month
Men's Health Month
PTSD Awareness Day (June 27)
and more.
Job Corner/Current Job Openings
---
Find jobs
for new grads and experienced social work practitioners at
http://www.socialworkjobbank.com
, THE NEW SOCIAL WORKER's online job board and career center.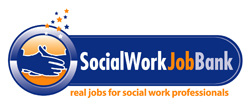 If you or your agency are
hiring social workers,
don't forget to post your jobs on SocialWorkJobBank.com. Please check the SocialWorkJobBank
"products/pricing" page
for job posting options and SPECIAL offers. 
Job seeker services are FREE—including searching
current job openings
, posting your confidential résumé/profile, and receiving email job alerts. Please let employers know that you saw their listings in the SOCIAL WORK E-NEWS and at SocialWorkJobBank.com.
Clinical Intersections: Grief, Trauma, and Complex Trauma - 5 Questions & Answers for Social Workers
Editor's Note: This excerpt is from THE NEW SOCIAL WORKER's Clinical Intersections blog, a collaboration with Walnut Psychotherapy Center.

Read the complete article at:
     There is such a heavy focus on trauma in social work treatment, and this focus is both essential and timely. There is trauma everywhere, whether in the foster care system or ongoing wars or simply the news. However, the more we use the word trauma to describe the sequelae from psychological stressors, the more we lose the nuance around the different ways that trauma can show up and make itself known. There is confusion around the distinction between trauma, complex trauma (otherwise known as C-PTSD, and grief. Below are some clarifying questions AND answers on how we can understand the differences between how trauma lives in one mind versus another.
Is it possible for people to have PTSD after an event that didn't threaten death, harm, or sexual violence? If so, would this fall under C-PTSD (Complex PTSD)? 
     The truth is that there is no simple answer to this question. The reason why is because the idea of an event threatening death or harm can be experienced subjectively, based on individual nervous symptoms, neurobiology, attachment histories, and past trauma. So, someone who has been in a nearly fatal car accident can get rear-ended several years later, and it can feel life-threatening because of how the original memory is stored in the brain.
     The other confounding issue is that of neglect. While neglect does not threaten immediate death or harm, it does diminish one's capacity to connect and relate to others. It also diminishes a person's ability to respond to their own internal cues about what is and is not dangerous. The impact of neglect, though not an obviously acute trauma, often takes the shape of Complex PTSD.
Can someone have PTSD or C-PTSD after a significant loss or death of someone close to them?
     A lot of people describe grief as a form of trauma. Sometimes grief does become trauma, and often it does not. To begin, we are all prepared for the fact that death is a part of life. We don't want to lose people, but somehow we are wired to do so and to adapt to the reality of loss. There are occasions, however, when this adaptation becomes complicated and morphs into a trauma.
     It is widely understood that a parent losing a child can result in trauma. This is because it feels out of the "natural" order of things. However, if that child had been sick for a while and there was a significant lead up to the loss, grief can remain as it is, a sad and upsetting state that does not result in traumatic or hypervigilant responses.
     Further, if a loss occurs at the hands of violence, it is more likely that the loss will manifest itself in a type of trauma, whether that is PTSD or C-PTSD. If that violence is witnessed, the risk of developing a trauma diagnosis increases. Our ability to remain squarely in the realm of grief often rests on how much meaning we can make of the loss and how openly we are able to discuss and process it over a lengthy period of time.
     The more underrepresented way that grief becomes PTSD is when something called a hagiography occurs. The word, though not commonly known, means to create a biography of someone (post mortem) that idealizes that figure. Upon someone's passing, there is a strong pull to start to discuss and hold memories of the person in a strictly positive light. In 1917, Sigmund Freud wrote about the distinction between mourning (grief) and melancholia (trauma or depression). He hypothesized that we are more likely to experience grief if we can tell the truth about who we lost and not create a fiction or fantasy about that person. He went on to suggest that a traumatized or depressive state would ensue if we were forced into some sort of secret keeping over how we really felt about the person who died. The secret keeping would be ensured by largely held ethics around "not speaking ill of the dead" or "only thinking positive thoughts."
     Shame and trauma are closely linked, and secret keeping, which is often created by the need to preserve fiction and fantasy, creates shame. The link between idealization of the dead and trauma is one that has long been considered but has not been widely discussed.
Read the rest of this article at:
For the full Table of Contents and full text of all articles in this issue, please
download the PDF.
Recent Web-Exclusive Articles
LGBTQ Pride Month Resources

June is LGBTQ Pride Month. This year, Pride Month marks the 50th anniversary of the Stonewall Uprising, which is known as the major turning point in the modern gay rights movement.
The U.S. Library of Congress maintains a
website dedicated to LGBTQ Pride Month
. The site offers a variety of educational resources on Stonewall, LGBTQ+ rights, LGBTQ+ history, and more, including:
About LGBTQ Pride Month
Stonewall at 50: LGBTQ+ Activism in the United States (exhibit on display at the Library of Congress throughout Pride Month)
Listing of research guides, arts collections, manuscripts, and other resources
Audio and video, including: StoryCorps project, Veterans History Project, LGBTQ+ history, and more
The New Social Worker
has published numerous articles on LGBTQ+ related issues. Access these articles through the
LGBT topic page
on our website.
The National Association of Social Workers (NASW) has a page dedicated to
LGBT content
, including practice tools, professional development, and policy/news.
The Council on Sexual Orientation and Gender Identity and Expression (CSOGIE) of the Council on Social Work Education (CSWE) has developed curriculum guides for affirmative social work education. Access these "Rainbow Papers" and additional information on CSOGIE activities at the
CSOGIE page
.
---
Write for THE NEW SOCIAL WORKER
I am seeking a limited number of articles for THE NEW SOCIAL WORKER website and magazine. Is there an issue that you are passionate about that corresponds with an upcoming "awareness" month, week, or day; holiday; or time of year/season? This is a good way to identify a topic for a timely article for our website.
For the magazine, we are seeking articles on social work career development, field placement issues, and fields of practice.
Our style is conversational and educational, and web articles typically run 500-750 words. Feature articles typically run 1,250-1,500 words. We want positive articles that social workers can use to help them advance in their careers.
I also welcome submissions of poetry, photographs, illustrations, artwork, videos, audio, and other creative work depicting social work and related topics.
Submit articles to Linda Grobman with a subject line that says "Submission—(insert title or topic of submission)." Attach your submission as a Word file. Please include in this file: title of submission, your name as you want it to appear with your article, body of your submission, a brief bio about yourself.  I will then review your submission and let you know if I need anything else and/or whether it is accepted for publication.
Please email
Linda Grobman
with ideas for longer (1,250-1,500 words) "feature articles" for
THE NEW SOCIAL WORKER
magazine.
Thank you!
Days in the Lives of Social Workers: 62 Professionals Tell "Real-Life" Stories From Social Work Practice (5th Edition)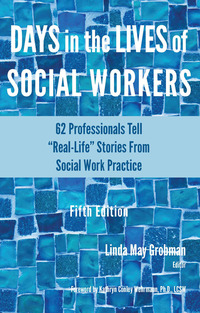 Spend a day with social workers in 62 different settings, and learn about the many career paths available to you. Did you ever wish you could tag along with a professional in your chosen field, just for a day? DAYS IN THE LIVES OF SOCIAL WORKERS allows you to take a firsthand, close-up look at the real-life days of 62 professional social workers as they share their stories. Join them on their journeys, and learn about the rewards and challenges they face.
---
The A-to-Z Self-Care Handbook for Social Workers and Other Helping Professionals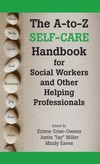 The A-to-Z format in this book provides 26 practical strategies for your personal self-care plan. Learn how to make a SMART plan and keep yourself accountable. Easy to read and essential for any social worker or helping professional.
---
BEDTIME READING/GIFTS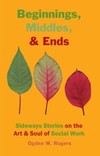 BEGINNINGS, MIDDLES, & ENDS: SIDEWAYS STORIES ON THE ART & SOUL OF SOCIAL WORK
With just the right blend of humor and candor, each of these stories contains nuggets of wisdom that you will not find in a traditional textbook. They capture the essence and the art and soul of social work.
---

Now in Paperback and Hardcover: ON CLINICAL SOCIAL WORK: MEDITATIONS AND TRUTHS FROM THE FIELD
is Dr. Danna Bodenheimer's NEWEST book.

The beautiful, full-color book - now in paperback and hardcover - makes a meaningful gift for you, a student, or a colleague. It is

available

 

now

at Amazon and Barnes and Noble (and other bookstores, too).
Jonathan Singer of the Social Work Podcast wrote the foreword to this book, and he said, "Danna pays attention to life's details with a psychotherapist's insight and writes about them with the passion of a slam poet. She speaks to the soul of social work and inspires us to think about more than just social work."
Jonathan B. Singer, Ph.D., LCSW, Associate Professor, Loyola University Chicago, Founder and host, Social Work Podcast
---
White Hat Communications, publisher of THE NEW SOCIAL WORKER magazine and the Social Work E-News, has published several
books about social work
. These books make great gifts (for graduation, holidays, or other occasions) for yourself, or for your friends, students, and colleagues in social work!
HOW TO ORDER
Our books are available through our secure online store at:
Most of our publications are available at
Amazon.com
. (Some are available in Kindle format, as well as print.)
Many of our books are also available as ebooks at
VitalSource
.
---
Quick Link: Spring/Summer 2019

IN THIS ISSUE
Editor's Eye
This Month

Job Corner/Current Job Openings

Featured Excerpt

News & Resources

Reminders

NEWSLETTER NECESSITIES
You have subscribed to receive this free newsletter.
To unsubscribe, follow the "unsubscribe" link at the bottom of this newsletter. To change the address for your subscription, please use the "change email address" link at the bottom of this newsletter.

ABOUT THIS NEWSLETTER
THE NEW SOCIAL WORKER® SOCIAL WORK E-NEWS is published by:
White Hat Communications (publisher of THE NEW SOCIAL WORKER® magazine and THE NEW SOCIAL WORKER® ONLINE)
Harrisburg, PA 17110-0390
Advertising: To place a job listing, sponsor this newsletter, place a banner ad on our website, or advertise in THE NEW SOCIAL WORKER magazine, email lindagrobman@socialworker.com for rates and further information.
News: Please send brief social work-related news items to lindagrobman@socialworker.com for consideration.
PRIVACY
Your subscription email address will only be used to deliver this e-newsletter and to occasionally inform you of updates from its publisher. Your email address will not be given to anyone else or used for any other purpose as a result of your subscription to this newsletter.
Copyright 2019 White Hat Communications. All rights reserved. Permission is granted to forward this entire newsletter, with all information intact, by email to social work colleagues, students, and others interested in social work, for personal use only. You may also print out this newsletter for personal use. All other uses of this material require permission from the publisher at: lindagrobman@socialworker.com