Hello --
Welcome to Issue #195 of the Social Work E-News! Thank you for subscribing to receive this email newsletter, which is brought to you by the publisher of The New Social Worker magazine, SocialWorker.com, SocialWorkJobBank.com, and other social work publications.
How are things going for you, in your life and your work? I just recently returned from vacation, and it reminded me that we all need times and spaces for renewal and replenishment. As social workers, we help clients take better care of themselves. Are you remembering to
take care of
you? 
This month's A-to-Z Self-Care blog post focuses on financial self care - it's
Frugal February
!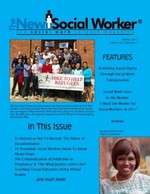 Reminder!
The
Winter 2017
issue of
The New Social Worker
is available now! Read articles from the Winter issue at
http://www.socialworker.com
. 
Here's a

quick link

for immediate download of the PDF edition for Winter 2017:
Most articles from the winter issue can be read on our website, as well. Highlights include: ethics of
documentation
, the
stages of change
model, what social workers must know about
hope
,
addiction in pregnancy
, must-see
movies
for social workers in 2017, racial
equity
, social work in
sports
, what the social work
licensing board
does (and does not do), book reviews, and more!
---
Valentine's Day is today! As social workers, we know that it is not all candy hearts and roses for everyone. Some have a difficult relationship with this day. This new article by social worker Sherry Saturno focuses on using your broken heart for good.
February is Black History Month! Did you hear that there is a new Black Heritage Series U.S.postage stamp, and it features Dorothy Height? And did you know that Dorothy Height - called the "Godmother of the civil rights movement" by Barack Obama - was a social worker, as well as an NASW Social Work Pioneer?  Read more about
Dorothy Height
and about the new postage
stamp
.
---
Have you subscribed to our mailing lists? You can go to
http://www.socialworker.com/Subscribe_to_The_New_Social_Worker
and
subscribe (free)
to receive an email reminder and table of contents of each issue of
The New Social Worker
magazine when it is available. If you are a subscriber to the E-News (which you are reading now), this does NOT mean that you are automatically subscribed to
The New Social Worker
magazine.
They are two different publications.
Are you one of our

157,000

+

fans on Facebook? Connect with us—we love connecting with you!
Until next time,
Linda Grobman, ACSW, LSW
Publisher/Editor
THE NEW SOCIAL WORKER®
Networking:
February marks several observances, including but not limited to:
Black History Month
American Heart Month
LGBT History Month (UK)
Teen Dating Violence Awareness Month
International Prenatal Infection Prevention Month
Rosa Parks Day - February 4 (in California and Missouri)
National Black HIV/AIDS Awareness Day - February 7
Susan B. Anthony Day - February 15
World Day of Social Justice - February 20
NEXT MONTH - Social Work Month! Be on the lookout for our Social Work Month Series. Thank you to everyone who sent in a submission. If you have not heard back from me, I will be in touch soon.

Is the Social Work Licensing Board for Me or Against Me?

Editor's Note: This excerpt is from the Winter 2017 issue of THE NEW SOCIAL WORKER. Read the complete article at:
by Brian Carnahan and Tracey Hosom
As public protection administrators with the State of Ohio Counselor, Social Worker, and Marriage and Family Therapist Board, we speak with applicants and licensees daily about a range of issues and topics. Some issues are simple, involving directing someone to a resource on our website or explaining a provision of the law. Others are more difficult, such as helping applicants understand why their current circumstances do not allow us to issue a license. It is in working through these difficult situations that an interesting question can arise: Is the board "for" or "against" licensees? Or perhaps: Why doesn't the board represent social work or counseling, or marriage and family therapy values? Why can't the board make decisions that are "best" for the applicant?
These are fair questions. After all, the three professions are listed in the title of our board in Ohio. (Other states' boards vary.) We have board members who represent these professions in their role as public protectors. It can be easy to confuse what the board does and what the board does not have the authority to accomplish.
The mission of our licensing board is public protection. In other words, the board exists to ensure that Ohio counselors, social workers, and marriage and family therapists are qualified, based on the laws and rules. When practitioners violate a rule or standard, the board can investigate and potentially discipline a licensee. Licensing board staff often have to make decisions in the context of issuing a license, which is separate and distinct from advocating for an individual to become licensed. The interests of the public take precedence over those of the individual.
Keeping in mind that licensees are not the "clients" of the board—rather, they are "customers"—can help when confronted with an issue. Although the board staff is here to help applicants or licensees achieve the best outcome for their individual situations, they cannot act as advocates for any applicant or licensee. The board must consider the public interest first and foremost.
The board is not an advocate for a profession, a set of values associated with that profession, or any political position—and the board is cognizant of these limitations. Advocating is the role of professional associations such as the National Association of Social Workers, the American Counseling Association, or the American Association of Marriage and Family Therapists. These organizations and their state affiliates advocate for the professional licensees, encourage their development, and promote the professions that they represent. Nonetheless, board staff recognize that the services provided by the board facilitate the licensee's or applicant's ability to pursue a career and earn a living.
Editor's Note: This excerpt is from the Winter 2017 issue of THE NEW SOCIAL WORKER. Read the complete article at:
---
Here are some highlights from the Winter issue:
Student Role Model: Tanisha Bowman (in PDF version only)
Mobile Crisis Unit: Psychiatric Social Work on Wheels (in PDF version only)
Photos of Social Work Students in Action (in PDF version only)
...and more! For the full Table of Contents and full text of all articles in this issue, please download the PDF.
     BONUS: Recent online articles on our website:
by Gary M. Grobman, Ph.D.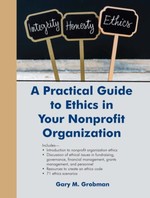 In recent years, fundraising has become quite sophisticated. Technology has advanced so that there is much less face-to-face contact with donors. Fundraising has become a profession, with credentialing, training, university courses, and specialized software that makes solicitation more efficient. Ethics codes have been advanced that address many of the issues that relate to fundraising (see Chapter 9). And despite all of this, there is a dark side, as well. High profile cases of fraud and mismanagement have made the public more cynical about whether their donations are really being funneled to charitable purposes. For example, a year-long investigation by CNN investigative reporter Drew Griffin found that 50 U.S. charities "devoted less than 4% of donations raised to direct cash aid. Some charities gave even less. Over a decade, one diabetes charity raised nearly $14 million and gave about $10,000 to patients. Six spent no cash at all on their cause.
The Chicago Tribune
disclosed irregularities within the "Save the Children Federation" child sponsorship program, in which donors who contributed to support individual children were not informed that their sponsored child had died as many as five years before.
     Among the ethical issues that are of particular interest in fundraising are:
1. Fundraisers should obey all laws, rules, and regulations. The federal government has laws that apply to fundraising disclosure, substantiation, and record-keeping. Forty states and the District of Columbia require registration and reporting. Some local governments have restrictions relating to solicitation, such as times telephone solicitors may call, door-to-door solicitation, or canning on public streets, or on private property without permission from the owner. Organizations should honor "no solicitation" postings. Organizations should train their fundraising staff to know about and comply with these laws, and be scrupulous in insisting that violators will be subject to discipline, even if the intent of the fundraiser was a good-faith effort to benefit the organization. Organization staff members should be encouraged to report violations of law and organization policies, and not look the other way when their colleagues engage in illegal or unethical activities that stain the reputation of the charitable sector in general and the organization in particular.
2. Privacy and confidentiality must be protected. Organizations must protect the identity of donors who provide a gift on condition that they remain anonymous. Donor information, including credit card information (see http://en.wikipedia.org/wiki/Payment_Card_Industry_Data_Security_Standard for information about Payment Card Industry Data Security Standard compliance), Social Security numbers, e-mail addresses, and prospect research files must be protected and not disclosed to anyone without a legitimate need to know this information, unless the donor agrees. Donors should be afforded the option to opt out of having their address and/or e-mail address shared with other nonprofit or commercial entities. Organizations that use the services of third-parties for fundraising, gift processing, data management, data analysis, and similar services that require the release of sensitive data outside of the organization must make it clear in their contracts that donor privacy and confidentiality will be protected.
3. Organizations should meticulously honor gift restrictions of the donor. From the organization's perspective, it may make perfect sense for there to be some flexibility in how a donor's gift is used, even if it is not quite consistent with the stated purpose of the gift. However, it is unethical to divert the gift for purposes other than those expected by the donor without that donor's express permission. There is certainly nothing wrong with alerting donors about alternative or related uses of their donations when the organization believes it is in their best interest to do so. If the organization solicits donations that are intended to be for unrestricted purposes, that should be clear to donors. Because there is a cost to tracking, managing, and reporting restricted gifts, many organizations will have some minimal threshold in their gift acceptance policy (see #4 below) that makes it clear that small donations are put to use where they are most needed by the organization.
Full-Time and Part-Time Intensive In-Home Counselors

Build your career with a 100+-year-old organization, as an intensive in-home counselor serving children and families in the Calhoun County area. The right candidate is well-organized, driven, and focused. Must have skills in assessment, treatment planning and service delivery.  Must be licensed in a qualified mental health field. Part-time counseling allows a great deal of flexibility; viable candidates must be willing to commit at least 8 hours/week to direct service delivery. Travel to clients' homes is required.

We are seeking talented professionals who are either Limited Licensed or Fully Licensed Social Workers or Counselors with their LLMSW/LMSW/LLPC/LPC/LMFT/MFT to provide therapy, psychological testing, and positive, strength-based support to individuals and their caregivers in the Community Mental Health System.  
Contact Person: Kathleen Fox
Phone: 517-630-2580
Director of Social Work
Bon Secours St. Petersburg

Bon Secours St. Petersburg seeks an experienced leader to serve our residents as Director of Social Work! We offer competitive compensation and a generous benefits package. As Director, you will be eligible for an annual bonus, as well as $5,000 in tuition assistance and up to $900 in wellness incentives. Relocation assistance is also available! We are seeking a compassionate leader to carry on a mission begun by the Sisters of Bon Secours nearly 200 years ago to bring good help to those in need, especially the poor and dying. 
---
Find jobs
for new grads and experienced social work practitioners at
http://www.socialworkjobbank.com
, THE NEW SOCIAL WORKER's online job board and career center.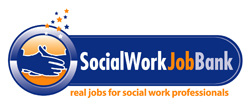 If you or your agency are
hiring social workers,
don't forget to post your jobs on SocialWorkJobBank.com. Please check the SocialWorkJobBank
"products/pricing" page
for job posting options and SPECIAL offers. 
Job seeker services are FREE—including searching current job openings, posting your confidential résumé/profile, and receiving email job alerts. Please let employers know that you saw their listings in the SOCIAL WORK E-NEWS and at SocialWorkJobBank.com.
There are
1,045 jobs
currently posted on SocialWorkJobBank.com. Check it out today.
The A-to-Z Self-Care Handbook for Social Workers and Other Helping Professionals
Edited by Erlene Grise-Owens, Justin "Jay" Miller, and Mindy Eaves. This is the latest book from The New Social Worker Press. The book, which takes readers through the alphabet to discover a variety of self-care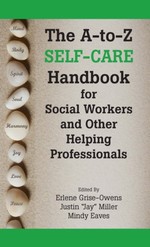 strategies and develop a personalized self-care plan, is now available in both print and Kindle formats.
Order the book now at:
This book is ideal for individuals or for group trainings on self-care. If your agency is interested in buying it in bulk for training or other purposes, please contact
me
.
...a caring and useful resource for helping professionals concerned about burnout, stress, staff turnover, and wellness.... By focusing on insights and reflections and providing resources and strategies, The A-to-Z Self-Care Handbook is a practical guide and an empowering book.
DR. BARBARA W. SHANK, Ph.D., MSW, Dean and Professor, School of Social Work, University of St. Thomas, St. Catherine University, Chair, Board of Directors, Council on Social Work Education
...well-researched and practice-based book that offers instructions, insights, and recommendations on incorporating self-care that can guide a person's practice in helping others.
Paula Lopez/PsychCentral.com
---
BEDTIME READING/GIFTS FOR SOCIAL WORKERS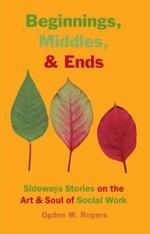 What does a life in social work look like?
You might look at it as a series of "sideways" stories! "If life were black and white, we'd have no need for social work." Read Ogden Rogers' collection,
Beginnings, Middles, & Ends: Sideways Stories on the Art & Soul of Social Work.
Available on
Amazon.com
(print and Kindle), Google Play (e-book), directly from the
publisher
, and other bookstores.
Do you know a social worker or social work student who loves to read? This book is a welcome retreat from academic textbooks.
Beginnings, Middles, and Ends by Ogden W. Rogers is a thought-provoking book about the evolution of the author's career in the field of social work. The real-life stories are whimsical as well as enlightening. You follow the yellow brick road of a social work career and feel the passion and dedication that is required of those who are engaged in the social work profession.... A great read for anyone entering the profession, or if you are involved and feel your passion flickering, this book will surely re-ignite your love. --Mildred Mit Joyner, MSW, LCSW, Emerita Director and Professor of Social Work, West Chester University of Pennsylvania
---
Real World Clinical Social Work: Find Your Voice and Find Your Way
A ground-breaking book by Dr. Danna Bodenheimer, LCSW, from The New Social Worker Press
ISBN: 978-1-929109-50-0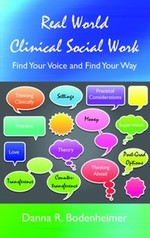 223 pages
Available now at:
"Danna Bodenheimer has written an insider's guide to clinical social work that doesn't make the reader feel like an outsider. This book is the clinical supervisor you always wanted to have: brilliant yet approachable, professional yet personal, grounded and practical, yet steeped in theory, and challenging you to dig deeper." Jonathan B. Singer, Ph.D., LCSW, Associate Professor of Social Work, Loyola University Chicago, Founder and Host, Social Work Podcast
---
Advertise With Us
If you would like to reach our audience of 47,000+ social workers and others interested in social work with information about your program or social work-related product, please contact Linda for information on advertising in THE NEW SOCIAL WORKER, the Social Work E-News, or on our website at SocialWorker.com.
Call for Workshop Submissions
NACSW's 67th ANNUAL CONVENTION AND TRAINING CONFERENCE
November 2-5, 2017  
Charlotte, North Carolina
Deadline: March 1, 2017
The North American Association of Christians in Social Work (NACSW) announces its 67th annual conference entitled "Advocating for Peace, Justice and Reconciliation in Communities." All are encouraged to submit proposals for workshop and poster presentations sensitive to the ethical integration of spirituality, faith, and social work practice. Presentations are encouraged that present model integration practices, report on research findings, and/or provide valuable information and insights relevant to the project of integrating spirituality, faith, and social work practice.
Workshop tracks include: 1. Direct Practice: Individuals, Couples, Families and Children; 2. Human Development, Diversity, and Behavior in the Environment; 3. Direct Practice: Groups and Communities; 4. Administration and Work with Organizations; 5. Public Administration and Policy; 6. Professional Relationships, Values, and Ethics; 7. Social Work Education; 8. Social Work Research; 9. Technology & Social Work; 10. Student-Focused; 11. Research and Practice with Ethnically Diverse Populations; 12. Empowering Communities; 13: Faith and Justice
All potential presenters are encouraged to contact Rick Chamiec-Case (
rick@nacsw.org
) with questions or to discuss ideas for workshop proposal submissions.
---
White Hat Communications, publisher of THE NEW SOCIAL WORKER magazine and the Social Work E-News, has published several
books about social work
. These books make great gifts (for graduation, holidays, or other occasions) for yourself, or for your friends, students, and colleagues in social work!
HOW TO ORDER
All of our books are available through our secure online store at:
IN THIS ISSUE
Featured Excerpt

Job Corner/Current Job Openings
Words from Our Sponsors
Reminders

NEWSLETTER NECESSITIES
You have subscribed to receive this free newsletter.
To unsubscribe, follow the "unsubscribe" link at the bottom of this newsletter. To change the address for your subscription, please use the "change email address" link at the bottom of this newsletter.

ABOUT THIS NEWSLETTER
THE NEW SOCIAL WORKER® SOCIAL WORK E-NEWS is published by:
White Hat Communications (publisher of THE NEW SOCIAL WORKER® magazine and THE NEW SOCIAL WORKER® ONLINE)
Harrisburg, PA 17110-0390
lindagrobman@socialworker.com

http://www.socialworker.com
Advertising: To place a job listing, sponsor this newsletter, place a banner ad on our website, or advertise in THE NEW SOCIAL WORKER magazine, email lindagrobman@socialworker.com for rates and further information.
News: Please send brief social work-related news items to lindagrobman@socialworker.com for consideration.
PRIVACY
Your subscription email address will only be used to deliver this e-newsletter and to occasionally inform you of updates from its publisher. Your email address will not be given to anyone else or used for any other purpose as a result of your subscription to this newsletter.
Copyright 2017 White Hat Communications. All rights reserved. Permission is granted to forward this entire newsletter, with all information intact, by email to social work colleagues, students, and others interested in social work, for personal use only. You may also print out this newsletter for personal use. All other uses of this material require permission from the publisher at: lindagrobman@socialworker.com