Hello --
Welcome to Issue #188 of the Social Work E-News! Thank you for subscribing to receive this email newsletter, which is brought to you by the publisher of The New Social Worker magazine, SocialWorker.com, SocialWorkJobBank.com, and other social work publications.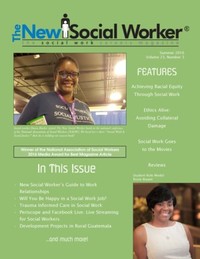 Here's a

quick link

for immediate download of the PDF edition for Summer 2016:
Most articles from the summer issue can now be read on our website, as well. Highlights include: trauma informed care, work relationships, Periscope and Facebook for social workers, being happy and successful in your social work job/career, and more!
---
Exciting News!
We talk and publish a
lot
about social worker self-care. It's an essential issue for social workers, both new and experienced. I am excited to announce that the newest book from
The New Social Worker Press
is now available!
The A-to-Z Self-Care Handbook for Social Workers and Other Helping Professionals
—edited by Erlene Grise-Owens, Justin "Jay" Miller, and Mindy Eaves—takes readers through the alphabet to discover a variety of self-care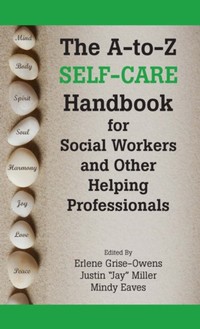 strategies and develop a personalized self-care plan. You can order it now at
Amazon.com
or
at our online store
. This book is ideal for individuals or for group trainings on self-care. If your agency is interested in buying it in bulk for training or other purposes, please contact
me
.
...a caring and useful resource for helping professionals concerned about burnout, stress, staff turnover, and wellness.... By focusing on insights and reflections and providing resources and strategies, The A-to-Z Self-Care Handbook is a practical guide and an empowering book.
DR. BARBARA W. SHANK, Ph.D., MSW, Dean and Professor, School of Social Work, University of St. Thomas, St. Catherine University, Chair, Board of Directors, Council on Social Work Education
In conjunction with the publication of this book, I want to make this a "self-care summer."  My goal is for every social worker and every agency/organization to make a commitment to self-care!
Please send me
(lindagrobman@socialworker.com)
a short essay, poetry, artwork, original music, or other creative work related to self-care and/or how you practice self-care, and I will consider it for publication on our website. Send your submission with the subject line
: "Submission: Self-Care Summer."
For more information and details on submissions, see our
Self-Care Summer page.
---
Have you subscribed to our mailing lists? You can go to
http://www.socialworker.com/Subscribe_to_The_New_Social_Worker
and
subscribe (free)
to receive an email reminder and table of contents of each issue of
The New Social Worker
magazine when it is available. If you are a subscriber to the E-News (which you are reading now), this does NOT mean that you are automatically subscribed to
The New Social Worker
magazine.
They are two different publications.
Are you one of our

150,000

+

fans on Facebook? Connect with us—we love connecting with you!
Until next time,
Linda Grobman, ACSW, LSW
Publisher/Editor
THE NEW SOCIAL WORKER®
Networking:
July marks several observances, including but not limited to:
Juvenile Arthritis Awareness Month
Minority Mental Health Awareness Month
Mandela Day (July 18)
World Hepatitis Day (July 28)
We All Have a Story: A Social Worker's Thank You
Editor's Note: This excerpt is from the Summer 2016 issue of THE NEW SOCIAL WORKER. Read the complete article at:
by Centaine Donovan, BSW
We all have a story. Some are action packed, full of adventures and overcoming diversity. Some are more laid back with a focus on the little things. These stories are a vital part of who we are and can influence the decisions we make in terms of location, friends, and career paths.
Many social workers have their own story that led them to social work as a profession. A lot of the stories I have heard, from co-workers, friends from school, and professors, are negative stories—stories in which they had a negative experience with a social worker and are therefore trying to change the profession, or be a better social worker than that person. It's great, as a young social worker coming through, to see these people who are adamant about changing the profession for the better, but it's sad to know that it's because of a negative experience. My story is different. I became a social worker because I had an amazing experience.  
When I was 13, my 2-year-old brother was diagnosed with cancer. Archie was transported to Starship Children's Hospital with a good prognosis if he got chemo and radiation therapy quickly. The day my parents and Archie arrived at Starship, they were met by the social worker, who talked them through the ways of the hospital and explained what was going to happen. Throughout the two weeks Archie spent at Starship, this social worker popped in at least once a day to check on how we were coping as a family, how Archie was doing, and to see if there was anything she could do to make this stressful time easier. She went out of her way to see us, even if it was for five minutes to say that she was really busy and would pop back in when she had a chance.
She would come in every day after the doctors' rounds and really make sure we understood the nitty gritty details of what was happening to Archie and what each procedure meant for him and for us. I remember, one day, she dragged the doctor back to explain something more simply, because he had walked away without checking whether we really understood the risks and benefits of a particular treatment. She fought tooth and nail for us as a family and for Archie to receive the very best care.
Editor's Note: This excerpt is from the Summer 2016 issue of THE NEW SOCIAL WORKER. Read the complete article at:
SUMMER READING/GIFTS FOR GRADUATES!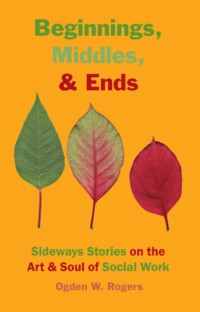 What does a life in social work look like?
You might look at it as a series of "sideways" stories! "If life were black and white, we'd have no need for social work." Read Ogden Rogers' collection,
Beginnings, Middles, & Ends: Sideways Stories on the Art & Soul of Social Work.
Available on
Amazon.com
(print and Kindle), Google Play (e-book), directly from the
publisher
, and other bookstores. Do you know a social worker or social work student who loves to read? This book is a welcome retreat from academic textbooks.
Beginnings, Middles, and Ends by Ogden W. Rogers is a thought-provoking book about the evolution of the author's career in the field of social work. The real-life stories are whimsical as well as enlightening. You follow the yellow brick road of a social work career and feel the passion and dedication that is required of those who are engaged in the social work profession.... A great read for anyone entering the profession, or if you are involved and feel your passion flickering, this book will surely re-ignite your love. --Mildred Mit Joyner, MSW, LCSW, Emerita Director and Professor of Social Work, West Chester University of Pennsylvania
---
Real World Clinical Social Work: Find Your Voice and Find Your Way
A ground-breaking book by Dr. Danna Bodenheimer, LCSW, from The New Social Worker Press
ISBN: 978-1-929109-50-0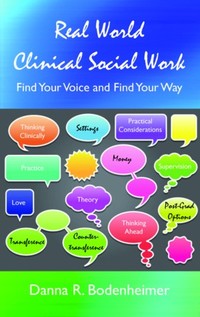 223 pages
Available now at:
"Danna Bodenheimer has written an insider's guide to clinical social work that doesn't make the reader feel like an outsider. This book is the clinical supervisor you always wanted to have: brilliant yet approachable, professional yet personal, grounded and practical, yet steeped in theory, and challenging you to dig deeper." Jonathan B. Singer, Ph.D., LCSW, Associate Professor of Social Work, Loyola University Chicago, Founder and Host, Social Work Podcast
---
Advertise With Us
If you would like to reach our audience of 45,000+ social workers and others interested in social work with information about your program or social work-related product, please contact Linda for information on advertising in THE NEW SOCIAL WORKER, the Social Work E-News, or on our website at SocialWorker.com.
Children's Counselor – Licensed, Bi-Lingual - Jersey Battered Women's Service
Full-time salaried position in Morris County. Duties include:  providing individual and group counseling for children impacted by domestic violence, parenting groups, family counseling.  Other duties will include engaging and supervising volunteers who will provide structured recreational activities. 
Qualifications:  MSW or related degree. Fluent in Spanish and English. Candidate must be willing to work evenings and some Saturdays, experience working with children, training in TF-CBT a plus.
---
Find jobs
for new grads and experienced social work practitioners at
http://www.socialworkjobbank.com
, THE NEW SOCIAL WORKER's online job board and career center.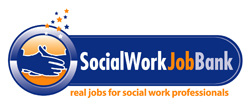 If you or your agency are
hiring social workers,
don't forget to post your jobs on SocialWorkJobBank.com. Please check the SocialWorkJobBank
"products/pricing" page
for job posting options and SPECIAL offers. 
Job seeker services are FREE—including searching current job openings, posting your confidential résumé/profile, and receiving e-mail job alerts. Please let employers know that you saw their listings in the SOCIAL WORK E-NEWS and at SocialWorkJobBank.com.
There are
1,041 jobs
currently posted on SocialWorkJobBank.com. Check it out today.
NASW, ASWB, CSWE, AND CSWA Request Comments on Draft Technology Standards in Social Work Practice
Comment Period Closes July 20, 2016
The National Association of Social Workers, Association of Social Work Boards, Council on Social Work Education, and the Clinical Social Work Association are seeking social workers' input and comments on the draft Technology Standards in Social Work Practice.  
To view the draft standards and make comments, see:
---
#MacroSW: #BlackLivesMatter Conversation to Action
by #MacroSW staff
The shootings of Alton Sterling and Philando Castile and the sniper attack on Dallas police are stirring racial tensions and left us saddened, grieving, and questioning how we move forward to create more just and safe communities. We are loudly saying enough is enough across social media and in quiet conversations with friends, family, and colleagues. We're tired of condolence statements and outraged by the little or no action by elected officials and leaders in our communities.
Social workers are uniquely equipped and want to constructively solve these challenging problems and create real solutions. After all, it's in our DNA to act, advocate, and heal, whether it's through smarter gun control, access to mental health treatment or legislation, or political participation and policy work. We will tackle inequities still prevalent, unacknowledged and exploited for political purposes. Many right now are fighting the good fight, and we're ready to roll up our sleeves to do more - but how, when, and where we can jump in is a big question for some of us.
Our #MacroSW group will direct our activities to engage our vast network of social workers who are ready to go beyond conversation to action and plug into current advocacy activities happening in communities. We will be sharing on 
@OfficialMacroSW
 about events, letter writing campaigns, or policy initiatives that need our support and participation. Also, you can:
Join and contribute to this Google document, which will curate an ongoing list of events, activities, petitions, rally dates, and so forth on a national and local level in which you can actively participate to make a difference. This crowdsourcing effort will create a robust listing of places you can plug into and apply your social work expertise.
Got an idea for a chat for us to discuss an advocacy effort? Contact us by direct message on @OfficialMacroSW, or email kbfrazee@gmail.com to let us know so we can schedule time in our weekly chats and offer our platform to curate the best ideas and research to help your cause.
Post on the #MacroSW hashtag anytime to continue to collaborate and have conversations. Please share resources and ideas.
Check out the new public list, Stop the Violence, on @OfficialMacroSW that curates a collection of resources, organizations, and individuals who are also taking action.
It will take all of us in big and small ways to change our country's current path, and as social workers, we will do what we have always done - give people who can't speak or act for themselves a voice.
White Hat Communications, publisher of THE NEW SOCIAL WORKER magazine and the Social Work E-News, has published several
books about social work
. These books make great gifts (for graduation, holidays, or other occasions) for yourself, or for your friends, students, and colleagues in social work!
HOW TO ORDER
All of our books are available through our secure online store at:
IN THIS ISSUE
Featured Excerpt

Job Corner/Current Job Openings
Reminders

NEWSLETTER NECESSITIES
You have subscribed to receive this free newsletter.
To unsubscribe, follow the "unsubscribe" link at the bottom of this newsletter. To change the address for your subscription, please use the "change email address" link at the bottom of this newsletter.

ABOUT THIS NEWSLETTER
THE NEW SOCIAL WORKER® SOCIAL WORK E-NEWS is published by:
White Hat Communications (publisher of THE NEW SOCIAL WORKER® magazine and THE NEW SOCIAL WORKER® ONLINE)
Harrisburg, PA 17110-0390
lindagrobman@socialworker.com

http://www.socialworker.com
Advertising: To place a job listing, sponsor this newsletter, place a banner ad on our website, or advertise in THE NEW SOCIAL WORKER magazine, email lindagrobman@socialworker.com for rates and further information.
News: Please send brief social work-related news items to lindagrobman@socialworker.com for consideration.
PRIVACY
Your subscription e-mail address will only be used to deliver this e-newsletter and to occasionally inform you of updates from its publisher. Your e-mail address will not be given to anyone else or used for any other purpose as a result of your subscription to this newsletter.
Copyright 2016 White Hat Communications. All rights reserved. Permission is granted to forward this entire newsletter, with all information intact, by email to social work colleagues, students, and others interested in social work, for personal use only. You may also print out this newsletter for personal use. All other uses of this material require permission from the publisher at: lindagrobman@socialworker.com