Hello --
Welcome to Issue #196 of the Social Work E-News! Thank you for subscribing to receive this email newsletter, which is brought to you by the publisher of The New Social Worker magazine, SocialWorker.com, SocialWorkJobBank.com, and other social work publications.
HAPPY SOCIAL WORK MONTH!
The New Social Worker's
Social Work Month Project 2017
is now underway. Thank you to all social workers for the important work you do! I hope you are having a wonderful month. Also, thank you to all who submitted entries for our project. We are publishing new items (essays, artwork, and poetry) each day throughout March, so please visit the
project's page
for these inspiring posts by social work students, practitioners, educators, and leaders.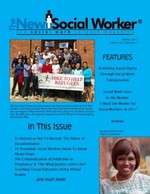 Reminder!
The
Winter 2017
issue of
The New Social Worker
is available now! Read articles from the Winter issue at
http://www.socialworker.com
. 
Here's a

quick link

for immediate download of the PDF edition for Winter 2017:
Most articles from the winter issue can be read on our website, as well. Highlights include: ethics of
documentation
, the
stages of change
model, what social workers must know about
hope
,
addiction in pregnancy
, must-see
movies
for social workers in 2017, racial
equity
, social work in
sports
, what the social work
licensing board
does (and does not do), book reviews, and more!
Have you subscribed to our mailing lists? You can go to
http://www.socialworker.com/Subscribe_to_The_New_Social_Worker
and
subscribe (free)
to receive an email reminder and table of contents of each issue of
The New Social Worker
magazine when it is available. If you are a subscriber to the E-News (which you are reading now), this does NOT mean that you are automatically subscribed to
The New Social Worker
magazine.
They are two different publications.
Are you one of our

161,000

+

fans on Facebook? Connect with us—we love connecting with you!
Until next time,
Linda Grobman, ACSW, LSW
Publisher/Editor
THE NEW SOCIAL WORKER®
Networking:
March marks several observances, including but not limited to:
National Social Work Month
Women's History Month
American Red Cross Month
Problem Gambling Awareness Month
School Social Work Week (March 6-10)
Social Work Management Week (March 6-10)
Social Work Week (Canada) (March 6-12)
World Social Work Day (March 21)
10 Essentials Social Workers Must Know About Hope

Editor's Note: This excerpt is from the Winter 2017 issue of THE NEW SOCIAL WORKER. Read the complete article at:
by Elizabeth J. Clark, Ph.D., ACSW, MPH
Few would dispute that social work is the profession of hope. It is, after all, the profession that works with marginalized, disadvantaged, and even devalued populations—what President Lyndon Johnson in his War on Poverty called people who live in "the outskirts of hope." Many factors contribute to the decision to become a social worker. Certainly, most of us want to make a difference in the world. Some see social work more as a calling than a career choice. Regardless of the reason for entering the field, social workers come to the profession with an essential hopefulness. Without hope, without a belief that positive change is possible, the profession would cease to exist.
In 2012, the National Association of Social Workers (NASW) held an annual conference with the theme of "Restoring Hope: The Power of Social Work." After the conference, 58 social work experts wrote essays that described examples of hope in their practices. Called Hope Matters, this collection of case studies spans the continuum of hope from the individual to society. It is a testimony to the importance of hope for our clients, our communities, and our nation (Clark & Hoffler, 2014). Equally important is that social workers combine hope with human rights, social justice, and advocacy. It is this activism that sets social work apart from other helping professionals.
While we recognize the power of hope in a general way, perhaps we have not paid enough attention to hope as a concept in our field. We rarely define it, assess it, measure it, research it, or use it as a clinical tool. We learn and discuss the importance of empowerment, resiliency, the strengths perspective, and advocacy, but hope is often overlooked as a resource. It is understudied and is rarely taught as a therapeutic asset in our classrooms. Yet, as indicated above, it provides the framework that underlies most of our interventions.  
Surprisingly, we have no entry for "hope" in the Encyclopedia of Social Work (Franklin, 2016) or the Social Work Dictionary (Barker, 2014). Several other major and important works, such as the Oxford Textbook of Palliative Care Social Work (Altilio & Otis-Green, 2011) and the Handbook of Oncology Social Work (Christ, Messner, & Behar, 2015), each have fewer than half a dozen references to "hope" in their almost 800-page volumes.
Not to be discounted, though, is the groundbreaking work of individual social workers who have been using hope clinically in their practices. Almost 30 years ago, oncology social worker David Callan (1989) described the value of hope in the counseling process. He developed a practical framework for assessing and enhancing a patient's hope with special attention to identifying sources of hope, distinguishing hope from denial, and using hope to change maladaptive behaviors.
Similarly, a decade ago, Koenig & Spano (2006) looked at the use of hope in gerontological social work. They challenged the assumption that social workers use hope effectively when working with older adults and encouraged incorporating hope-inducing models into clinical practice. They also emphasized that we need to examine the role hope plays in our educational programs, as well as the agencies in which social workers practice.
Other helping professions, especially psychology and nursing (Herth, 2001; Lopez & Snyder, 2009), have higher levels of training in using hope clinically. They also have developed formal assessment measures, such as the Nowotny Hope Scale in nursing (Nowotny, 1991) and hope measurement scales in psychology (Snyder, 2002). These instruments identify critical components of hope and provide direction for clinical interventions and future research.
One difficulty with hope is defining it. On a personal level, we each have our own definition of hope, but we may not fully understand the concept as it applies to others. To the untrained eye, hope may appear fairly uniform, and people believe that everyone hopes like they hope. In actuality, hope differs from person to person and from family to family.
Editor's Note: This excerpt is from the Winter 2017 issue of THE NEW SOCIAL WORKER. Read the complete article at:
---
Here are some highlights from the Winter issue:
Student Role Model: Tanisha Bowman (in PDF version only)
Mobile Crisis Unit: Psychiatric Social Work on Wheels (in PDF version only)
Photos of Social Work Students in Action (in PDF version only)
...and more! For the full Table of Contents and full text of all articles in this issue, please download the PDF.
Social Work Month Project 2017

Happy Social Work Month, Day 14! I am so excited about this year's project. Please visit the main
Social Work Month Project 2017 page
throughout the month of March. Items published so far are listed below:
---
Find jobs
for new grads and experienced social work practitioners at
http://www.socialworkjobbank.com
, THE NEW SOCIAL WORKER's online job board and career center.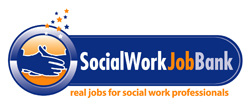 If you or your agency are
hiring social workers,
don't forget to post your jobs on SocialWorkJobBank.com. Please check the SocialWorkJobBank
"products/pricing" page
for job posting options and SPECIAL offers. 
Job seeker services are FREE—including searching current job openings, posting your confidential résumé/profile, and receiving email job alerts. Please let employers know that you saw their listings in the SOCIAL WORK E-NEWS and at SocialWorkJobBank.com.
There are
1,050 jobs
currently posted on SocialWorkJobBank.com. Check it out today.
The A-to-Z Self-Care Handbook for Social Workers and Other Helping Professionals
Edited by Erlene Grise-Owens, Justin "Jay" Miller, and Mindy Eaves. This is the latest book from The New Social Worker Press. The book, which takes readers through the alphabet to discover a variety of self-care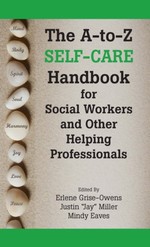 strategies and develop a personalized self-care plan, is now available in both print and Kindle formats.
Order the book now at:
This book is ideal for individuals or for group trainings on self-care. If your agency is interested in buying it in bulk for training or other purposes, please contact
me
.
...a caring and useful resource for helping professionals concerned about burnout, stress, staff turnover, and wellness.... By focusing on insights and reflections and providing resources and strategies, The A-to-Z Self-Care Handbook is a practical guide and an empowering book.
DR. BARBARA W. SHANK, Ph.D., MSW, Dean and Professor, School of Social Work, University of St. Thomas, St. Catherine University, Chair, Board of Directors, Council on Social Work Education
...well-researched and practice-based book that offers instructions, insights, and recommendations on incorporating self-care that can guide a person's practice in helping others.
Paula Lopez/PsychCentral.com
---
BEDTIME READING/GIFTS FOR SOCIAL WORKERS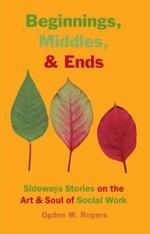 What does a life in social work look like?
You might look at it as a series of "sideways" stories! "If life were black and white, we'd have no need for social work." Read Ogden Rogers' collection,
Beginnings, Middles, & Ends: Sideways Stories on the Art & Soul of Social Work.
Available on
Amazon.com
(print and Kindle), Google Play (e-book), directly from the
publisher
, and other bookstores.
Do you know a social worker or social work student who loves to read? This book is a welcome retreat from academic textbooks.
Beginnings, Middles, and Ends by Ogden W. Rogers is a thought-provoking book about the evolution of the author's career in the field of social work. The real-life stories are whimsical as well as enlightening. You follow the yellow brick road of a social work career and feel the passion and dedication that is required of those who are engaged in the social work profession.... A great read for anyone entering the profession, or if you are involved and feel your passion flickering, this book will surely re-ignite your love. --Mildred Mit Joyner, MSW, LCSW, Emerita Director and Professor of Social Work, West Chester University of Pennsylvania
---
Real World Clinical Social Work: Find Your Voice and Find Your Way
A ground-breaking book by Dr. Danna Bodenheimer, LCSW, from The New Social Worker Press
ISBN: 978-1-929109-50-0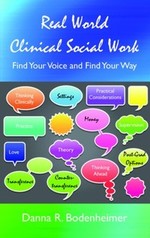 223 pages
Available now at:
"Danna Bodenheimer has written an insider's guide to clinical social work that doesn't make the reader feel like an outsider. This book is the clinical supervisor you always wanted to have: brilliant yet approachable, professional yet personal, grounded and practical, yet steeped in theory, and challenging you to dig deeper." Jonathan B. Singer, Ph.D., LCSW, Associate Professor of Social Work, Loyola University Chicago, Founder and Host, Social Work Podcast
---
Advertise With Us
If you would like to reach our audience of 47,000+ social workers and others interested in social work with information about your program or social work-related product, please contact Linda for information on advertising in THE NEW SOCIAL WORKER, the Social Work E-News, or on our website at SocialWorker.com.
Influencing State Policy Awards
There are three contest levels for students to participate in. This year's contests are as follows:
Click on the links to these awards to learn the eligibility rules for each contest and to see some of the projects from past awardees. Contest documents are available for downloading/posting should you find that useful in your organization.
---
NASW-NYS Suffolk Division Scholarships
The Suffolk Division of the National Association of Social Workers - New York State Chapter announces its 2017 Suffolk Division Social Work Student Scholarship Competition.
Submission Deadline: Friday, March 24, 2017
You must incorporate this year's theme, Social Workers Stand Up, into your submission.
Scholarships Available:
1 BSW Scholarship at $500
1 MSW Scholarship at $500
Each scholarship comes with a one-year paid NASW student membership.
Entry Requirements:
Be currently enrolled full-time at a BSW or MSW level in School of Social Work/Welfare
Have at least a GPA of 3.2
Winners are required to:
Attend the 2017 Annual Awards Ceremony
Be an active NASW Suffolk Division student member and ambassador
For further information, click the link below:
White Hat Communications, publisher of THE NEW SOCIAL WORKER magazine and the Social Work E-News, has published several
books about social work
. These books make great gifts (for graduation, holidays, or other occasions) for yourself, or for your friends, students, and colleagues in social work!
HOW TO ORDER
All of our books are available through our secure online store at:
IN THIS ISSUE
Featured Excerpt

Job Corner/Current Job Openings
Words from Our Sponsors
Reminders

NEWSLETTER NECESSITIES
You have subscribed to receive this free newsletter.
To unsubscribe, follow the "unsubscribe" link at the bottom of this newsletter. To change the address for your subscription, please use the "change email address" link at the bottom of this newsletter.

ABOUT THIS NEWSLETTER
THE NEW SOCIAL WORKER® SOCIAL WORK E-NEWS is published by:
White Hat Communications (publisher of THE NEW SOCIAL WORKER® magazine and THE NEW SOCIAL WORKER® ONLINE)
Harrisburg, PA 17110-0390
lindagrobman@socialworker.com

http://www.socialworker.com
Advertising: To place a job listing, sponsor this newsletter, place a banner ad on our website, or advertise in THE NEW SOCIAL WORKER magazine, email lindagrobman@socialworker.com for rates and further information.
News: Please send brief social work-related news items to lindagrobman@socialworker.com for consideration.
PRIVACY
Your subscription email address will only be used to deliver this e-newsletter and to occasionally inform you of updates from its publisher. Your email address will not be given to anyone else or used for any other purpose as a result of your subscription to this newsletter.
Copyright 2017 White Hat Communications. All rights reserved. Permission is granted to forward this entire newsletter, with all information intact, by email to social work colleagues, students, and others interested in social work, for personal use only. You may also print out this newsletter for personal use. All other uses of this material require permission from the publisher at: lindagrobman@socialworker.com