Hello --
Welcome to Issue
#211
of the
Social Work E-News!
Thank you for subscribing to receive this email newsletter, which is brought to you by the publisher of
The New Social Worker
magazine,
SocialWorker.com
,
SocialWorkJobBank.com
, and other social work publications.
Thank you
once again to everyone who attended our first live webinar series! We recorded the two webinars,
Self-Care Wellshop™: Foundations & Fundamentals
and
Negotiate Your Best Salary & Benefits,
and they are now available on demand.
Registration is open - 
purchase by June 30, 2018, and complete by July 31, 2018.
Summer is here (for those of us in the Northern Hemisphere!). This is a time of year when many people take some time off for vacation - a time to take stock of where we have been and where we are going, to evaluate how we are doing on our New Year's resolutions, and to make sure our self-care strategies are working for us.
For the past couple of summers, we have published a
"Self-Care Summer"
series. If you would like to submit an item for
Self-Care Summer
(500 words or less) for this year's series, please send it to me (
Linda Grobman
) for consideration. These can be short self-care exercises, thoughts about the importance and ethics of self-care, or other items relevant to self-care for social workers.
Don't forget -
The New Social Worker website
is a great place to find a variety of new and archived articles on job search, social work careers, practice, ethics, and more issues for new grads.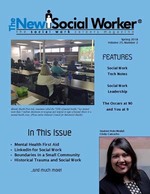 REMINDER
... Our
Spring issue is available!
(Summer issue is coming soon.) Read articles from the Spring issue at
http://www.socialworker.com
.
Here's a

quick link

for immediate download of the PDF edition for Spring 2018:
Most articles from the spring issue can be read on our website, as well. See listing below (after the "Featured Excerpt").
---
Have you subscribed to our mailing lists? You can go to
http://www.socialworker.com/Subscribe_to_The_New_Social_Worker
and
subscribe (free)
to receive an email reminder and table of contents of each issue of
The New Social Worker
magazine when it is available. If you are a subscriber to the E-News (which you are reading now), this does NOT mean that you are automatically subscribed to
The New Social Worker
magazine.
They are two different publications.
Are you one of our

171,000

+

fans on Facebook? Connect with us—we love connecting with you!
Until next time,
Linda Grobman, ACSW, LSW
Publisher/Editor
THE NEW SOCIAL WORKER®
Networking:
Preparing Social Workers for Underrepresented Communities
Loyola's New Online, Bilingual Master of Social Work (MSW)
The need has never been greater for social workers equipped to aid Latinx, immigrant, and refugee communities. Loyola University Chicago announces the nation's first
fully online, bilingual Master of Social Work
—taught in Spanish to prepare linguistically and culturally competent social workers.
Online Bilingual MSW Highlights:
100% online
Accredited by the Council on Social Work Education (CSWE)
No GRE required
No application fee
FAFSA applicants automatically considered for scholarships
Specialization in mental health and migration studies available
Find out why Loyola's School of Social Work is named among the Top 50 Graduate Social Work Schools in the nation by U.S. News & World Report.
Application Deadlines
July 1 – Fall Session
October 1 – Spring Session
June marks several observances, including but not limited to:
LGBT Pride Month
Men's Health Month
National Safety Month
PTSD Awareness Month
Father's Day - June 17
Social Workers Learn From and Raise Awareness Through Mental Health First Aid

Editor's Note: This excerpt is from the Spring 2018 issue of THE NEW SOCIAL WORKER.

Read the complete article at:
by Barbara Trainin Blank

With greater knowledge comes greater potential to confront a problem. The growing Mental Health First Aid (MHFA) movement helps individuals identify, understand, and respond to signs of mental illness.
MHFA originated in Australia, with some 24 other countries, including the United States, following suit. In the United States, it is the National Council for Behavioral Health—the unifying voice of America's health care organizations that deliver mental health and addictions treatment and services—that drives the movement.
Since the National Council introduced Mental Health First Aid USA, more than 1 million Americans have received training in it. Those who complete training are certified for three years.
MHFA is "often likened to CPR," says Betsy Schwartz, vice president of public education at the Council, located in DC. "It's different from treatment, just as doing CPR is not the same as being a cardiologist. Trained individuals continue to give MHFA until professional treatment is obtained or the crisis is resolved."
The training covers many different types of mental illness and offers an action plan represented by the acronym ALGEE: Assess for the risk of suicide or harm. Listen nonjudgmentally. Give reassurance and information. Encourage appropriate professional help. Encourage self-help and other support strategies. There are specialized MHFA modules for adults, youth, older adults, college students, police, veterans, and EMTs.
Several populations have particularly been targeted to receive training, including social work and public safety. At the International Association of Chiefs of Police conference in Philadelphia on October 23, 2017, the organization announced that more than 80,000 public safety officers have been trained in the first year of the One Mind Campaign, which aims to train 100 percent of law enforcement in MHFA for Public Safety.    
This reflects the realization that approximately one in 10 police calls involves a person with mental illness, making police the nation's de facto first responders to mental health crises. The ability of public safety officers to respond effectively to such crises is enhanced, as well, by the growing trend of police departments hiring social workers.
The Pennsylvania Department of Corrections (PADOC) recently completed a training program for all members of the Harrisburg Bureau of Police to help identify mental illness and appropriately respond to individuals in crisis.
Social workers are also among those who become MHFA instructors. Certified instructors are required to order manuals and prepare course materials and resources for all their participants. Upon completion of a class, instructors must provide participant evaluations to Mental Health First Aid USA.
Certified instructors may teach the 8-hour Mental Health First Aid course to any interested audiences in the community. Those trained have included social workers, as well as educators and school administrators, members of faith communities, health and human services workers, homeless shelter workers, nurses, physicians, substance-use treatment professionals, persons with mental illness or addictions and their families, and concerned citizens.
Editor's Note: This excerpt is from the Spring 2018 issue of THE NEW SOCIAL WORKER. Read the complete article at:
---
Here are some highlights from the Spring 2018 issue:
Student Role Model - Cindy Camacho (in PDF format only)
What are social workers' ethical obligations when they live in small communities and dual relationships are unavoidable? Boundaries can be complex, with no simple or perfect solutions. 
LinkedIn is the most powerful networking site available today. Have you created your professional profile and checked out all the site has to offer your social work career?
The growing Mental Health First Aid (MHFA) movement helps individuals identify, understand, and respond to signs of mental illness. Social workers are among both the trainers and the trainees. 
Historical trauma has emerged as a critical area of study in understanding and addressing long-term health problems in communities. 
You're finally done with classes and assignments. People are suggesting you find a mentor. Is that really necessary? 
Technology in higher education is constantly changing. Students and faculty continue to adapt to these changes. 
Disabled women are at significant risk of experiencing severe domestic violence. Social workers must become informed about the issue and work to become better allies. 
The Academy Awards ceremony usually features some social commentary. What would you say if you had a worldwide audience (and with social media, you do)? 
Book review of Helping the Suicidal Person 
Book review of Irvin Yalom's Becoming Myself: A Psychiatrist's Memoir 
Book review of Human-Animal Interactions: A Social Work Guide 
Book review of Funded! Successful Grantwriting for Your Nonprofit 
Book review of Managing the Psychological Impact of Medical Trauma: A Guide for Mental Health and Health Care Professionals. 
...and more! For the full Table of Contents and full text of all articles in this issue, please download the PDF.
BONUS! Read recent web exclusive articles:
Hometown Health Centers is seeking a Licensed Clinical Social Worker to diagnose and treat mental, behavioral, and emotional disorders. The Licensed Clinical Social Worker will work with clients to develop treatment plans designed to improve well-being and assist with adjusting to the challenges within their lives. Must be able to work a flexible schedule with some evening hours required. Bilingual English/Spanish a plus. Hometown Health Centers helps people live healthier lives by improving health outcomes and health equity through quality primary care and preventative services. Come see what we're all about.
| | | | |
| --- | --- | --- | --- |
| Contact Person: |  Anna Comerie |   Phone: |  5183701441 Ext. 4227 |
| Email Address: | jobs@hhchc.org |   Fax: | 518-346-3526 |
---
Every Child, Inc. provides an array of individualized services and specialized approaches to birth, foster, and adoptive families and children of all ages.
For professionals seeking a fulfilling, but challenging work experience that could help advance career goals in psychology, social work, counseling, and non-profit administration, we may have the ideal fit. Check out our services and employment opportunities at everychildinc.org/employment/
Find jobs
for new grads and experienced social work practitioners at
http://www.socialworkjobbank.com
, THE NEW SOCIAL WORKER's online job board and career center.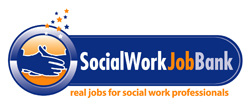 If you or your agency are
hiring social workers,
don't forget to post your jobs on SocialWorkJobBank.com. Please check the SocialWorkJobBank
"products/pricing" page
for job posting options and SPECIAL offers. 
Job seeker services are FREE—including searching current job openings, posting your confidential résumé/profile, and receiving email job alerts. Please let employers know that you saw their listings in the SOCIAL WORK E-NEWS and at SocialWorkJobBank.com.
There are
1,033 jobs
currently posted on SocialWorkJobBank.com. Check it out today.
Congratulations Awardees!
Congratulations to the following social workers and others who will be honored at "A Night at the Awards: A Night To Remember" on June 22 at the NASW national conference in Washington, DC:
Flavio F. Marsiglia, PhD, MSW - Knee/Wittman Lifetime Achievement Award
James R. MacKay, PhD, MSW - Knee/Wittman Lifetime Achievement Award
Virna Little, PSYD, LCSW-R, SAP, CCM - Knee/Wittman Outstanding Achievement Award
Ambassador Wendy R. Sherman - International Rhoda G. Sarnat Award
Jay Berlin, PhD - Public Citizen of the Year
Kimber Nicoletti-Martinez, LCSW - Social Worker of the Year
Ruth Brandwein, PhD, MSW - Lifetime Achievement Award
Knoxville, Tennessee Mayor Madeline Rogero - Public Elected Official of the Year
Congratulations to social worker Dr. Robert Schachter on receiving the 2018 Chauncey Alexander Lifetime Achievement Award. The award will be presented June 14 at the national conference of the Network for Social Work Management in San Diego, CA.
---
Doin' the Work - a New Podcast
Doin' The Work: Frontline Stories of Social Change, is a new social work-related podcast, hosted and produced by Shimon Cohen, LCSW. The podcast highlights people working for social change through interviews with social workers and those in related fields, educators, and activists about their work and personal stories of how they got into this work.
Five episodes have been published since its launch in March 2018, covering topics such as mental health, trauma, self-care, advocacy, consulting, reproductive justice, racial equity, research, rural social work, dementia, policy advocacy, incarceration, reentry, prevention, criminal justice reform, drug policy and decriminalization, racially biased policy, and coalition building. You can listen and subscribe to via
Apple Podcasts
,
Google Play
,
Stitcher
, and other podcast listening apps, or through the website:
https://dointhework.podbean.com/
.
---
MerckManuals.com Steers Older Drivers to Safety
June Is National Safety Month
In June, MerckManuals.com, an online medical reference, will highlight expert information on the challenges faced by older drivers, the health conditions that may be a factor, and the simple and often inexpensive modifications that may improve their driving performance.
Visitors to the website can access background information on
"The Older Driver" at any time at:
www.merckmanuals.com/olderdriver
The Federal Highway Administration estimates that there are more than 41 million licensed drivers age 65 and older in the United States. These older drivers have an increased crash risk (per miles driven) when compared to middle-aged drivers.
But a survey, taken in the past year, of nearly 3,000 U.S. drivers age 65 and older found that fewer than 10 percent made use of simple safety adaptations, according to the AAA Foundation for Traffic Safety. Examples cited include seat cushions to improve sight lines, as well as to reduce back and hip pain, pedal extensions to create a safer distance from the steering wheel/airbag, and steering wheel covers to improve grip.
The themed content will include:
A List of Warning Signs of Unsafe Driving
Commentary on Simple Adjustments That Could Keep Seniors Driving Longer
Essays Describing the Effects of Aging on the Body
An Infographic about Driving Safely from the National Institute on Aging
"Driving provides freedom, independence, and key social interactions within communities that many people take for granted in their younger years, yet the privilege of driving is based on the ability to safely operate an automobile," said Dr. Peggy P. Barco, OTD, Assistant Professor of Occupational Therapy at Washington University Medical School in St. Louis. "Some, but not all, age-related health conditions have the potential to negatively impact daily life activities and this may include driving. When a specific condition involves concerns related to driving, it should be viewed as a flashing yellow traffic signal: a warning that adjustments should be explored and driving privileges may need to be assessed."
---
The New Social Worker® Spring 2018 Webinar Series - Now Available on Demand
Your career is important. You are important.
We are pleased to bring you two expert presentations to enhance your career.
---
Dr. Erlene Grise-Owens and Dr. Justin "Jay" Miller, co-editors of The A-to-Z Self-Care Handbook for Social Workers and Other Helping Professionals

Jennifer Luna Jackson, Director of the DiNitto Center for Career Services at the University of Texas at Austin, Steve Hicks School of Social Work

We are excited to collaborate with
BSCorbett Consulting LLC
to bring you these experts as part of our Social Work Month (and beyond) celebration. We hope you will join us.
Both webinars, presented live in April 2018, have been recorded and are now available on demand through June 30, 2018. (You have until July 30 to complete the programs.)

$49/one webinar or $79/both webinars

---
Write for THE NEW SOCIAL WORKER
I am seeking a limited number of articles for THE NEW SOCIAL WORKER website and magazine. Is there an issue that you are passionate about that corresponds with an upcoming "awareness" month, week, or day; holiday; or time of year/season? This is a good way to identify a topic for a timely article.
Other topics of interest include: social work field placement issues, licensing, and career development.
Our style is conversational and educational, and web articles typically run 500-750 words. Feature articles typically run 1,250-1,500 words. We want positive articles that social workers can use to help them advance in their careers.
I also welcome submissions of poetry, photographs, illustrations, artwork, videos, audio, and other creative work depicting social work and related topics.
Submit articles to Linda Grobman with a subject line that says "Submission—(insert title or topic of submission)." Attach your submission as a Word file. Please include in this file: title of submission, your name as you want it to appear with your article, body of your submission, a brief bio about yourself.  I will then review your submission and let you know if I need anything else and/or whether it is accepted for publication.
Please email
Linda Grobman
with ideas for longer (1,250-1,500 words) "feature articles" for
THE NEW SOCIAL WORKER
magazine.
Thank you!
White Hat Communications, publisher of THE NEW SOCIAL WORKER magazine and the Social Work E-News, has published several
books about social work
. These books make great gifts (for graduation, holidays, or other occasions) for yourself, or for your friends, students, and colleagues in social work!
HOW TO ORDER
All of our books are available through our secure online store at:
Some of our books are also available as ebooks at
VitalSource
.
---
BEDTIME READING/GIFTS FOR GRADUATION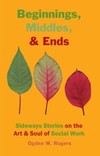 BEGINNINGS, MIDDLES, & ENDS: SIDEWAYS STORIES ON THE ART & SOUL OF SOCIAL WORK
With just the right blend of humor and candor, each of these stories contains nuggets of wisdom that you will not find in a traditional textbook. They capture the essence and the art and soul of social work.
---

Now in Paperback and Hardcover: ON CLINICAL SOCIAL WORK: MEDITATIONS AND TRUTHS FROM THE FIELD
is Dr. Danna Bodenheimer's NEW book. Published in July by The New Social Worker Press, it  reached #1 in new social work releases on Amazon.
The beautiful, full-color book - now in paperback and hardcover - makes a meaningful gift for you, a student, or a colleague. It is

available

 

now

at Amazon and Barnes and Noble (and other bookstores, too).
Jonathan Singer of the Social Work Podcast wrote the foreword to this book, and he said, "Danna pays attention to life's details with a psychotherapist's insight and writes about them with the passion of a slam poet. She speaks to the soul of social work and inspires us to think about more than just social work."
Jonathan B. Singer, Ph.D., LCSW, Associate Professor, Loyola University Chicago, Founder and host, Social Work Podcast
---
The A-to-Z Self-Care Handbook for Social Workers and Other Helping Professionals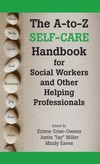 The A-to-Z format in this book provides 26 practical strategies for your personal self-care plan. Learn how to make a SMART plan and keep yourself accountable. Easy to read and essential for any social worker or helping professional.
IN THIS ISSUE
Editor's Eye
Classified Ads
This Month
Featured Excerpt

Job Corner/Current Job Openings

Reminders

NEWSLETTER NECESSITIES
You have subscribed to receive this free newsletter.
To unsubscribe, follow the "unsubscribe" link at the bottom of this newsletter. To change the address for your subscription, please use the "change email address" link at the bottom of this newsletter.

ABOUT THIS NEWSLETTER
THE NEW SOCIAL WORKER® SOCIAL WORK E-NEWS is published by:
White Hat Communications (publisher of THE NEW SOCIAL WORKER® magazine and THE NEW SOCIAL WORKER® ONLINE)
Harrisburg, PA 17110-0390
Advertising: To place a job listing, sponsor this newsletter, place a banner ad on our website, or advertise in THE NEW SOCIAL WORKER magazine, email lindagrobman@socialworker.com for rates and further information.
News: Please send brief social work-related news items to lindagrobman@socialworker.com for consideration.
PRIVACY
Your subscription email address will only be used to deliver this e-newsletter and to occasionally inform you of updates from its publisher. Your email address will not be given to anyone else or used for any other purpose as a result of your subscription to this newsletter.
Copyright 2018 White Hat Communications. All rights reserved. Permission is granted to forward this entire newsletter, with all information intact, by email to social work colleagues, students, and others interested in social work, for personal use only. You may also print out this newsletter for personal use. All other uses of this material require permission from the publisher at: lindagrobman@socialworker.com