Hello --
Welcome to Issue #187 of the Social Work E-News! Thank you for subscribing to receive this email newsletter, which is brought to you by the publisher of The New Social Worker magazine, SocialWorker.com, SocialWorkJobBank.com, and other social work publications.
My heart has been heavy with sadness and grief since I heard about the devastating mass shooting Sunday morning at The Pulse, a gay nightclub in Orlando, Florida. I have not stopped thinking about this senseless act. My thoughts are with everyone affected in any way, and I extend my appreciation for social workers who are providing assistance. The Florida Chapter of NASW has issued a
statement
.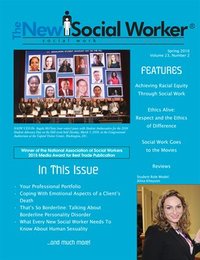 Here's a

quick link

for immediate download of the PDF edition for Spring 2016:
Exciting News!
We talk and publish a
lot
about social worker self-care. It's an essential issue for social workers, both new and experienced. As I mentioned last month,
The New Social Worker Press
is publishing a new book on self-care strategies for social workers.
The A-to-Z Self-Care Handbook for Social Workers and Other Helping Professionals
—edited by Erlene Grise-Owens, Justin "Jay" Miller, and Mindy Eaves—will be officially launched this summer. You can
pre-order it now at our online store
. This book is ideal for group trainings on self-care. If your agency is interested in buying it in bulk for training or other purposes, please contact me.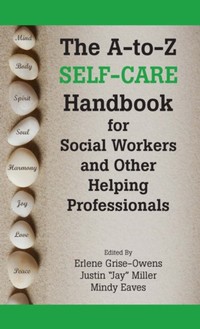 In conjunction with the publication of this book, I want to make this a
"self-care summer."
Please send me
(lindagrobman@socialworker.com)
a short essay, poetry, artwork, original music, or other creative work related to self-care and/or how you practice self-care, and I will consider it for publication on our website. Send your submission by July 1, 2016, with the subject line
: "Submission: Self-Care Summer."
---
I am excited that the National Association of Social Workers national conference begins next week. I am looking forward to seeing colleagues and friends, and hope to meet YOU if you are attending! I will be exhibiting in the exhibit hall, Booth #908 (The New Social Worker Press). Please stop by and say hello, and take a look at this new book, as well as all of our books and other goodies!
If you are not able to make it to the NASW conference in person, there is a
virtual conference
option for you! The virtual conference will be offering live streaming and more. See details below under "News and Resources."
---
Have you subscribed to our mailing lists? You can go to
http://www.socialworker.com/Subscribe_to_The_New_Social_Worker
and
subscribe (free)
to receive an email reminder and table of contents of each issue of
The New Social Worker
magazine when it is available. If you are a subscriber to the E-News (which you are reading now), this does NOT mean that you are automatically subscribed to
The New Social Worker
magazine.
They are two different publications.
Are you one of our

148,000

+

fans on Facebook? Connect with us—we love connecting with you!
Until next time,
Linda Grobman, ACSW, LSW
Publisher/Editor
THE NEW SOCIAL WORKER®
Networking:
June marks several observances, including but not limited to:
Men's Health Month
National Safety Month
LGBT Pride Month
National Cancer Survivors Day (June 5)
Father's Day (June 19)
National HIV Testing Day (June 27)
Social Work Grad School: Now or Later?
Editor's Note: This excerpt is from the Spring 2016 issue of THE NEW SOCIAL WORKER. Read the complete article at:
by Ann Crandell-Williams, LMSW
     As faculty members in an undergraduate social work department, my colleagues and I frequently discuss with students the possible advantages of continuing one's education beyond the undergraduate level—especially those who express an interest in fields or positions that generally require a master of social work degree (MSW). With deadlines for MSW programs quickly approaching, students frequently ask my opinion regarding whether they should pursue their MSW immediately following graduation, or whether they should wait until some time has passed, typically after they get some experience as a professional social worker.  
    Some grumble and roll their eyes at me (affectionately, or so I like to think) as I tell them, "Well, that's up to you!" We social workers, whether educators or practitioners, strongly believe in self-determination and empowerment, and we understand that students are more likely to commit to a plan they choose for themselves.
    "Now or later?" There is no universally right answer to this question. This decision should be based on life goals, both professional and personal. It is imperative to devise a plan most consistent with those goals. There are potential advantages and disadvantages to consider for each choice, and there are many options and programs from which to choose.  
NOW: Attend a full-time program immediately.
    After receiving that bachelor of social work (BSW) degree, continuing on to graduate school in the fall, as a full-time MSW student, has its advantages. Many students express that they are currently "in the groove" of college life and would prefer to continue on their current path until completion. Their BSW studies are fresh in their minds, which will certainly strengthen their foundation for education at the next level. Students have developed effective study skills, habits, and a routine that works for them. Why quit now?
    Traditional students who entered and graduated from college immediately after high school also may not have some of the obligations that may occur during a "settling down" period. Children, a serious partner, bills, a steady job, and/or a mortgage are priorities that take a significant amount of resources. Balancing priorities such as these, although possible, is a challenge that could be delayed until after one's education is completed.
    Although social workers often don't choose this career because it is financially lucrative, many students want to improve their education because it improves their job prospects. Upon graduation with an MSW, a student may be qualified for a wider range of positions with better hours, pay, and opportunities for advancement. However, depending on the intended area of practice and the geographic location, sometimes students may be disappointed to find out that they must start out in an entry level position anyway, in order to gain experience. This is not always the case, and many positions require an MSW to get a foot in the door.
LATER: Wait a year or more, and then go back.
    Sometimes, BSW students are ready to get out there and practice.  They may feel burned out on college life and can't picture spending another minute in a classroom. Students may feel satisfied that a BSW level position will be perfect for them at this point, or forever. Most students seem to expect that we, their instructors or other mentors, will be disappointed with this decision. They assume that because we spend time discussing graduate school, it's an expectation. Some students may think we are concerned about them not following through on the intention to "go back later." Not true!
Editor's Note: This excerpt is from the Spring 2016 issue of THE NEW SOCIAL WORKER. Read the complete article at: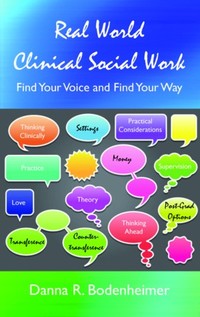 SUMMER READING/GIFTS FOR GRADUATES!
Real World Clinical Social Work: Find Your Voice and Find Your Way
A ground-breaking book by Dr. Danna Bodenheimer, LCSW, from The New Social Worker Press
ISBN: 978-1-929109-50-0
223 pages
Available now at:
"Danna Bodenheimer has written an insider's guide to clinical social work that doesn't make the reader feel like an outsider. This book is the clinical supervisor you always wanted to have: brilliant yet approachable, professional yet personal, grounded and practical, yet steeped in theory, and challenging you to dig deeper." Jonathan B. Singer, Ph.D., LCSW, Associate Professor of Social Work, Loyola University Chicago, Founder and Host, Social Work Podcast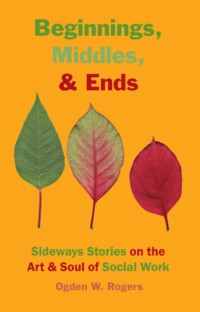 What does a life in social work look like?
You might look at it as a series of "sideways" stories! "If life were black and white, we'd have no need for social work." Read Ogden Rogers' collection,
Beginnings, Middles, & Ends: Sideways Stories on the Art & Soul of Social Work.
Available on
Amazon.com
(print and Kindle), Google Play (e-book), directly from the
publisher
, and other bookstores. Do you know a social worker or social work student who loves to read? This book is a welcome retreat from academic textbooks.
---
Advertise With Us
If you would like to reach our audience of 45,000+ social workers and others interested in social work with information about your program or social work-related product, please contact Linda for information on advertising in THE NEW SOCIAL WORKER, the Social Work E-News, or on our website at SocialWorker.com.
Mental Health Therapist
The Mental Health Therapist is responsible for coordinating and providing case management, group therapy and biopsychosocial assessment services to patients as well as group, individual and family counseling for patients within the facility. He/she demonstrates expertise in case management, development of patient resources, vocational counseling, discharge/continuing care planning, and placement of patients. He/she works with the treatment team to plan and coordinate the patient's movement through the continuum of care.
Responsibilities: 
Conducting chemical dependency evaluations, as well as chemical abuse/dependency aspects of treatment plans and treatment plan updates
Assisting patients in developing measurable chemical dependency related discharge goals and objectives
Providing liaison services between patient and family
Updating treatment plans regularly
Qualifications: 
Minimum of Master's Degree in Psychology, Mental Health Counseling, Social Work or related field  REQUIRED (must be license eligible)
One year of experience as Case Manager or Therapist preferred
Chemical Dependency experience strongly preferred
The following licenses are a plus!

Licensed Chemical Dependency Counselor (LCDC)
Licensed Professional Counselor (LPC)
Licensed Clinical Social Worker (LCSW)
Licensed Marriage & Family Therapist (LMFT)
The Watershed is Joint Commission accredited and fully licensed by the State of Texas.
The Watershed welcomes applicants in recovery to apply! Applicants in recovery must have a minimum of 1 full year of abstinence from drugs/alcohol to be eligible for employment.
Our competitive compensation and excellent benefits package for full time employees includes:
Medical and Dental Insurance
Supplemental Insurance
401(k) Plan
Paid Time Off (PTO) Plan  
The Watershed Treatment Programs, Inc. is an Equal Opportunity Employer and maintains a Drug Free Workplace. Local candidates desired, no relocation offered.
---
Find jobs
for new grads and experienced social work practitioners at
http://www.socialworkjobbank.com
, THE NEW SOCIAL WORKER's online job board and career center.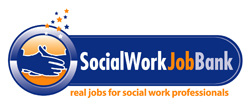 If you or your agency are
hiring social workers,
don't forget to post your jobs on SocialWorkJobBank.com. Please check the SocialWorkJobBank
"products/pricing" page
for job posting options and SPECIAL offers. 
Job seeker services are FREE—including searching current job openings, posting your confidential résumé/profile, and receiving e-mail job alerts. Please let employers know that you saw their listings in the SOCIAL WORK E-NEWS and at SocialWorkJobBank.com.
There are
1,085 jobs
currently posted on SocialWorkJobBank.com. Check it out today.
NASW Virtual Conference Will Livestream Portions of 2016 National Conference
The National Association of Social Workers (NASW) will livestream portions of its 2016 national conference on June 22-25, allowing subscribers to remotely access some of the keynote speakers and plenary and breakout sessions that focus on social work leadership, social justice and equity, excellence in ethics, clinical social work practice, and innovations in social work practice.
"NASW is excited to offer livestreaming so more social workers can experience the national conference," NASW Director of Professional and Workforce Development Raffaele Vitelli said. "Registrants will not only get real-time access to conference events but will also get to visit a virtual conference exhibit hall and get on-demand access to sessions for up to 90 days after the event."
Conference keynote speakers include Congresswoman and social worker Kyrsten Sinema; U.S. Secretary of Veterans Affairs Robert A. McDonald; author and social entrepreneur Wes Moore; and Nancy Lublin, CEO and founder of Crisis Text Line and Dress for Success. Their appearances will be livestreamed.
All four plenary sessions will also be available through livestream. They are Transforming Lives Through Trauma Informed Care; Advocating for the Dignity and Worth of the Person; Decision 2016: An Election Forecast; and The Power of Youth Voice to Achieve Social Justice.
The 2016 conference offers more than 100 breakout sessions, 15 of which will be livestreamed. Five of the virtual livestreamed sessions will focus on ethics, five on clinical social work, and the remaining five on other social work topics.
The full price for the 2016 national conference livestreaming is $200 for NASW members and $300 for non-members, and participants can earn up to 15.5 continuing education credits. À la carte pricing options are available. For more and to register for the virtual conference, go to
https://virtualconference.socialworkers.org
.
White Hat Communications, publisher of THE NEW SOCIAL WORKER magazine and the Social Work E-News, has published several
books about social work
. These books make great gifts (for graduation, holidays, or other occasions) for yourself, or for your friends, students, and colleagues in social work!
HOW TO ORDER
All of our books are available through our secure online store at:
IN THIS ISSUE
Featured Excerpt

Job Corner/Current Job Openings
Reminders

NEWSLETTER NECESSITIES
You have subscribed to receive this free newsletter.
To unsubscribe, follow the "unsubscribe" link at the bottom of this newsletter. To change the address for your subscription, please use the "change email address" link at the bottom of this newsletter.

ABOUT THIS NEWSLETTER
THE NEW SOCIAL WORKER® SOCIAL WORK E-NEWS is published by:
White Hat Communications (publisher of THE NEW SOCIAL WORKER® magazine and THE NEW SOCIAL WORKER® ONLINE)
Harrisburg, PA 17110-0390
lindagrobman@socialworker.com

http://www.socialworker.com
Advertising: To place a job listing, sponsor this newsletter, place a banner ad on our website, or advertise in THE NEW SOCIAL WORKER magazine, email lindagrobman@socialworker.com for rates and further information.
News: Please send brief social work-related news items to lindagrobman@socialworker.com for consideration.
PRIVACY
Your subscription e-mail address will only be used to deliver this e-newsletter and to occasionally inform you of updates from its publisher. Your e-mail address will not be given to anyone else or used for any other purpose as a result of your subscription to this newsletter.
Copyright 2016 White Hat Communications. All rights reserved. Permission is granted to forward this entire newsletter, with all information intact, by email to social work colleagues, students, and others interested in social work, for personal use only. You may also print out this newsletter for personal use. All other uses of this material require permission from the publisher at: lindagrobman@socialworker.com